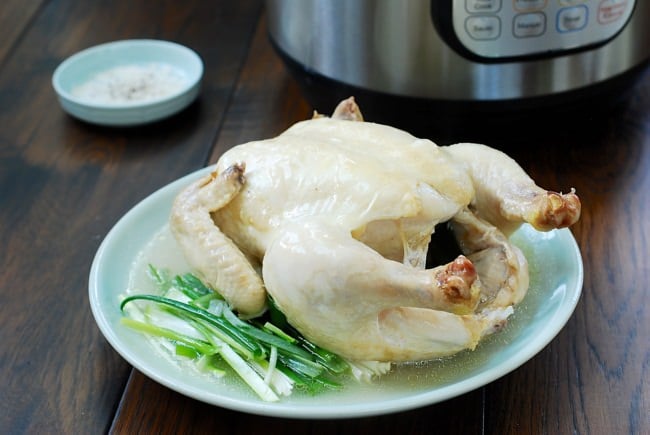 This pressure cooker chicken has become one of my favorite ways to cook and enjoy chicken! It takes no effort yet yields a tender, moist chicken as well as sweet, creamy rice porridge. If you like chicken and Korean porridge (juk, 죽), you'll love this recipe!
Baeksuk (백숙) is a Korean boiled chicken soup that's similar to samgyetang (삼계탕), ginseng chicken soup), and often cooked in a pressure cooker in Korean homes. It's traditionally made with a whole chicken, garlic and scallion without any seasonings and served with a salt and pepper mix for dipping and seasoning at the table.
When rice is added to baeksuk and cooked until the rice at the bottom is scorched, but the rest of the rice is velvety soft porridge, it's called nurungji baeksuk (누룽지 백숙). Nurungji is scorched or slightly burnt rice that's enjoyed by Koreans for its nuttiness.
If you omit the sweet rice from this recipe, it's simply baeksuk, which gives you a soup instead.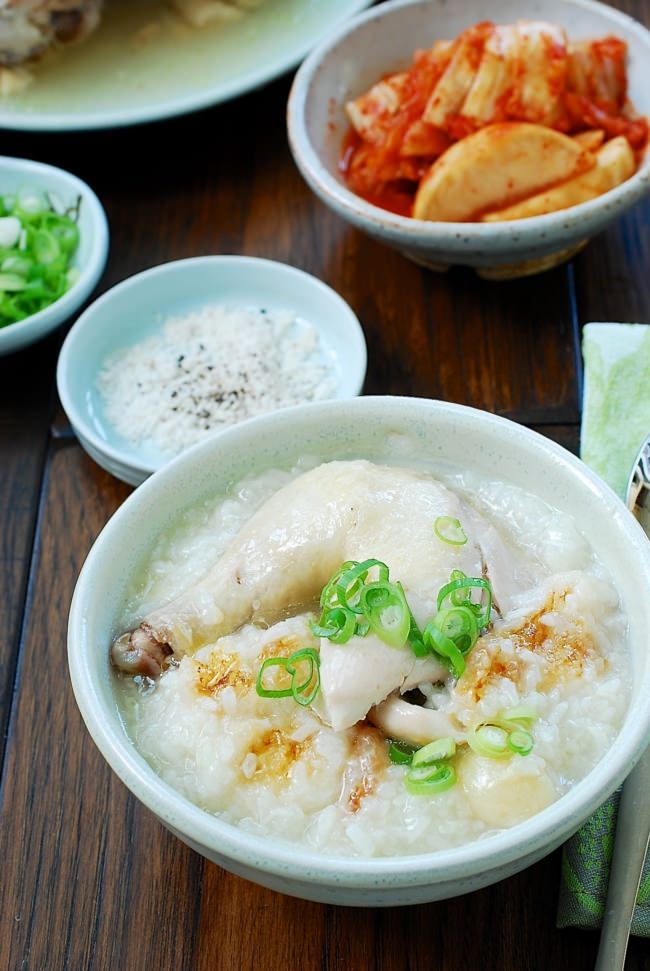 To prepare the whole chicken, I cut out as much fat as possible with kitchen shears. My sister-in-law actually skins the whole chicken, so, if you're concerned about the fat, you can do the same thing.
For the right texture, this dish is typically made with sweet rice (aka glutinous rice) or chapssal (찹쌀) in Korean. If you want a thicker nurungji, you can cook the rice for a few more minutes after removing the chicken.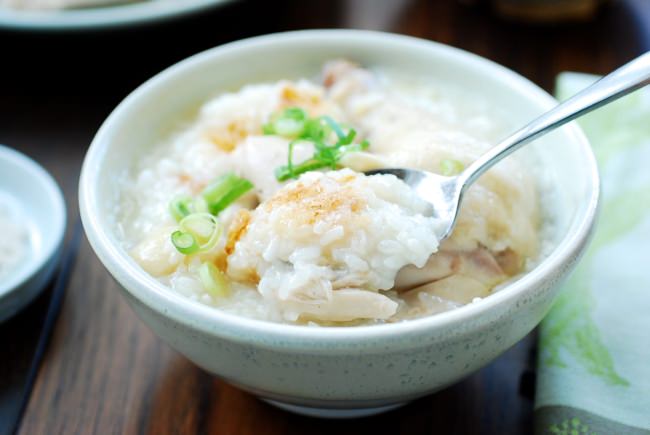 Traditionally, baeksuk was much simpler and more affordable dish than samgyetang because a chicken was simply boiled in water with garlic and scallions. These days, traditional samgyetang ingredients such as ginseng, jujube, chestnuts, etc. are also commonly added to baeksuk. I sometimes use these ingredients too in my baeksuk, but kept it simple here.
You can serve the chicken and rice porridge separately, or with chicken pieces/meat on top of the porridge. Either way, serve it with salt and pepper on the side, so the diners can enjoy the chicken dipped in the salt mix and season the porridge to their taste. All you need is good old kimchi with this delicious chicken and porridge dish!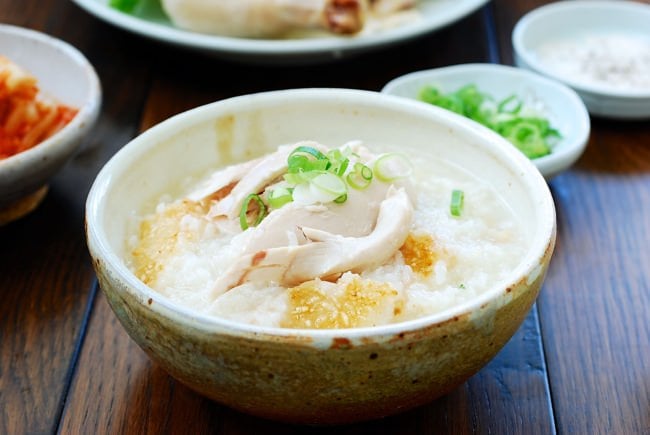 Print Recipe
Pressure Cooker Nurungji Baeksuk (Boiled Chicken with Rice)
Pressure cooker nurungji baeksuk -- tender, moist boiled chicken with creamy rice porridge!
Ingredients
1

whole chicken

3 to 4 pounds

1-1/2

cups

sweet rice

glutinous rice, chapssal (찹쌀)

1

large scallion

daepa, 대파

5

plump garlic cloves

2

thin slices of ginger

about 1 inch round

Salt and pepper

4

cups

water

or 2 cups good quality chicken stock and 2 cups of water
Instructions
Trim off the excess fat from the chicken. You can also skin the chicken for less fat.

Rinse the sweet rice, drain, and add to the pressure cooker/Instant Pot.

Place the chicken on top of the rice. Add the scallion, garlic and ginger along with 4 cups of water (or 2 cups of chicken stock and 2 cups water).

Close the lid tightly. Press the "poultry" function, and using the "-" button, decrease the time to 25 minutes. When finished, the Instant Pot will automatically turn to the "Keep Warm" mode. Leave the pressure cooker alone for about 10 minutes before opening the lid.

Remove the chicken. You can turn the instant pot back on for an additional 5 minutes if you want thicker nurungji. Let it sit for about 10 minutes before scraping off the nurungji. Remove ginger and scallion. You can remove the garlic cloves as well, if desired.