This Instant Pot adaptation of a classic Korean chicken dish is so quick and easy! It's packed with so much flavors!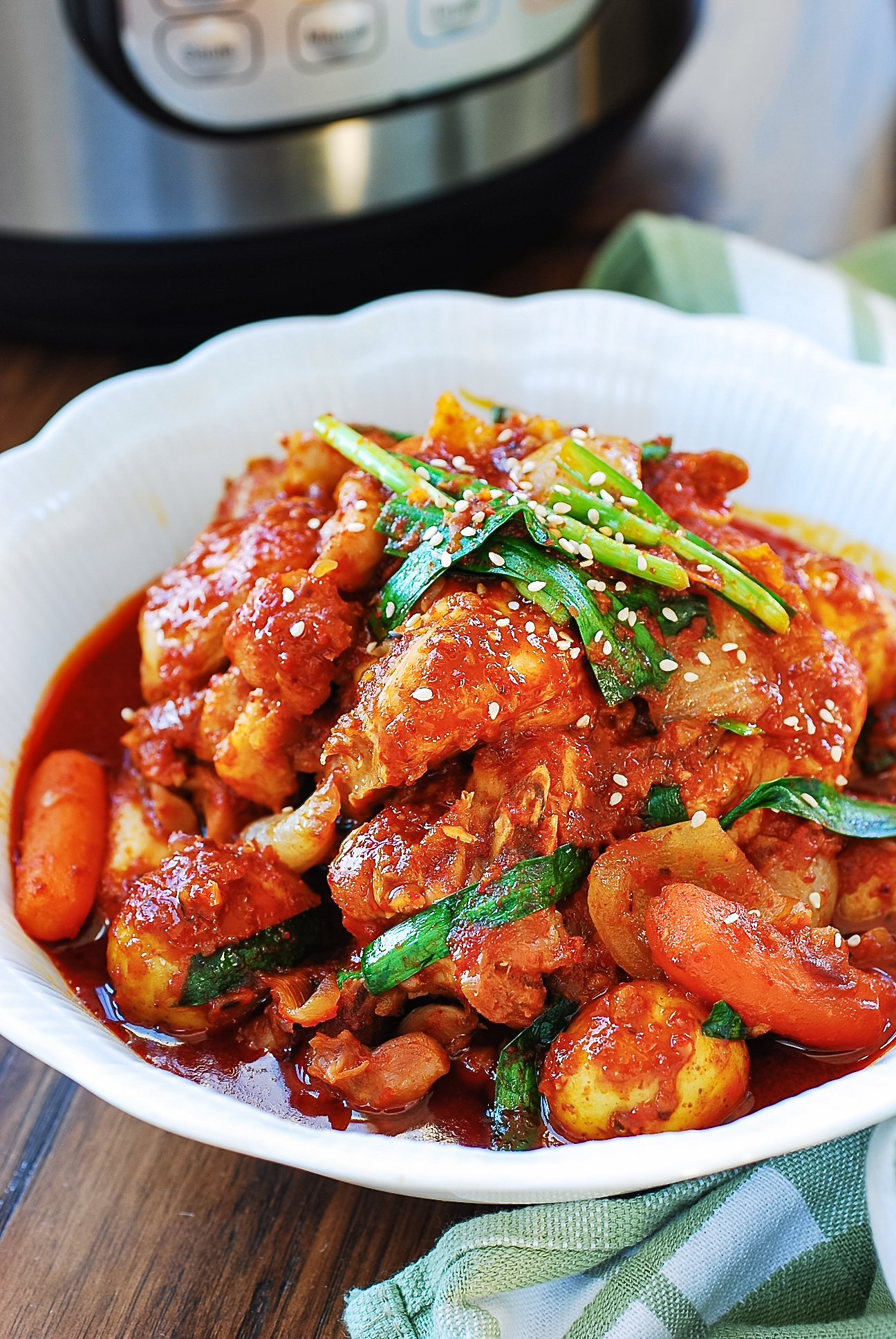 My love for the Instant Pot grows with each use! I've been making this classic Korean chicken dish, called dakbokkeumtang (닭볶음탕) or dakdoritang (닭도리탕), using the Pressure Cooker function of the Instant Pot. I love how quick this juicy, flavorful dish is!
With this Instant Pot recipe, a few minutes to sear, a few minutes for pressure to build up, and 10 minutes to pressure cook! That's it!
The flavor of this Instant Pot adaptation is very similar to my stove top recipe — spicy, savory, and slightly sweet! However, I've made a few minor changes for this recipe, adding some doenjang (된장, Korean fermented soybean paste) and oyster sauce, which are packed with intense savory flavors.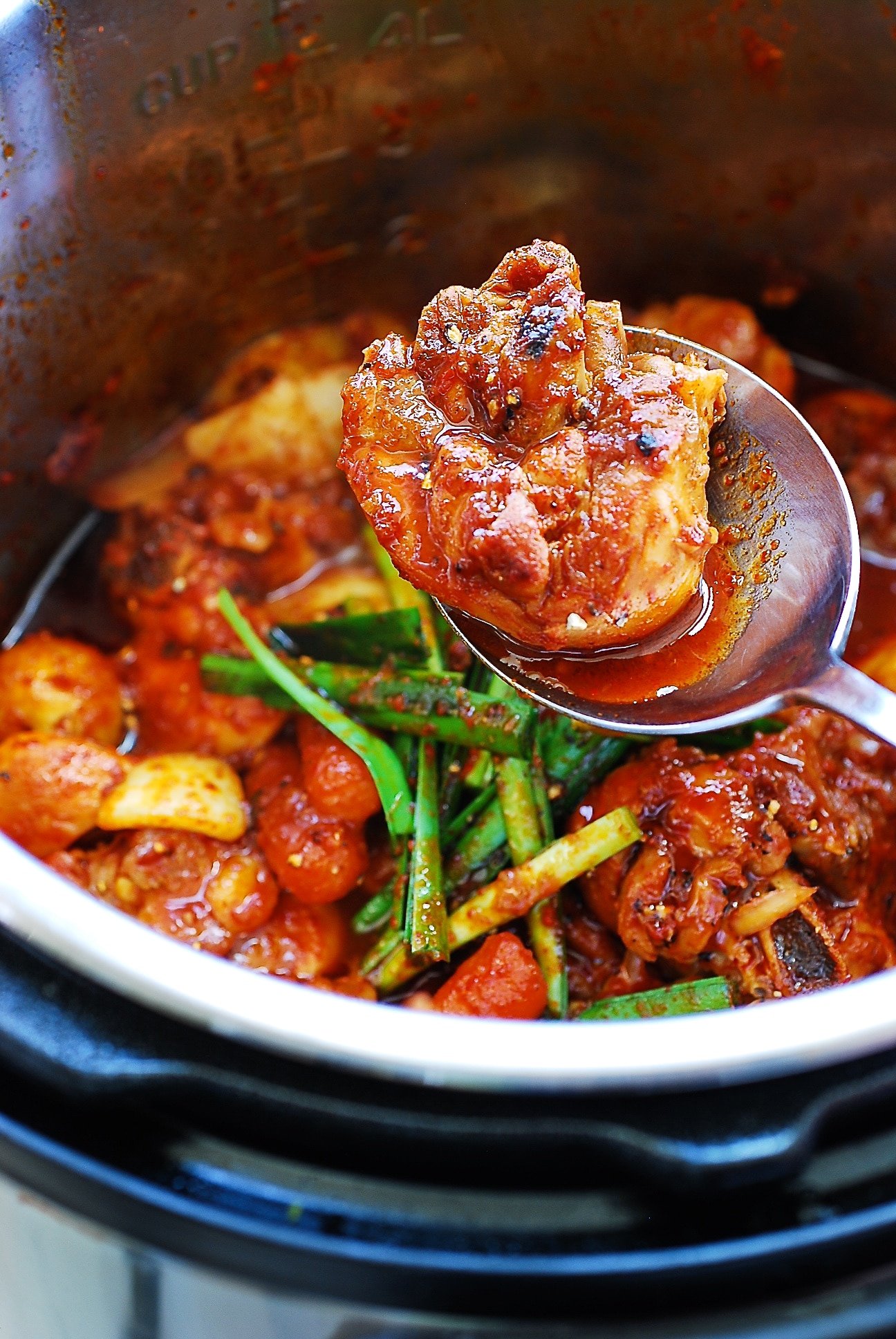 What chicken parts to use
Dakbokkeumtang is made with small, bone-in chicken pieces. Since this dish is very commonly made at home, markets in Korea sell whole chicken pre-cut for this dish.
Korean markets around here also carry small chicken pieces which are labeled for dakbokkeumtang or dakdoritang, but they are usually large drumsticks cut in half crosswise. I used them in this post. Wings, small drumsticks, and thighs are all good choices.
If the chicken parts are big and you don't want to bother cutting them in half through the bones, make a couple of slits on the thick parts of the meat for the sauce to penetrate well.

Frequently asked questions:
Can I use boneless and/or skinless chicken parts? Although not the best option, you can certainly use boneless and/or skinless chicken. If using boneless, reduce the cooking time by a couple of minutes.
Do I need to add water to this recipe? The sauce (which includes 1/4 cup water or broth) and other ingredients in this recipe yield sufficient liquid for pressure cooking, leaving a good amount of sauce at the end. The sauce is delicious mixed in with steamed rice.
Can I cook this recipe in a slow cooker or over the stove top? Yes, you can. Simply omit 1/4 cup water (or broth) from the sauce recipe and follow the applicable cooking methods in my original dakdoritang post which provides both slow cooker and stove top methods.
What do I need to adjust if I want to use a stove-top pressure cooker? You can sear the chicken in a skillet before adding to your pressure cooker. Also, stovetop pressure cookers have a higher pressure point. You will need to reduce the cooking time slightly depending on your pressure cooker.
Will this sauce be good for braising other types of meat? The sauce will be great with any meat of your choice.
More braised chicken recipes:
Dakdoritang (dakbokkeumtang) – stove top and slow cooker
Slow Cooker Dakjjim
Jjimdak (braised chicken) – stove top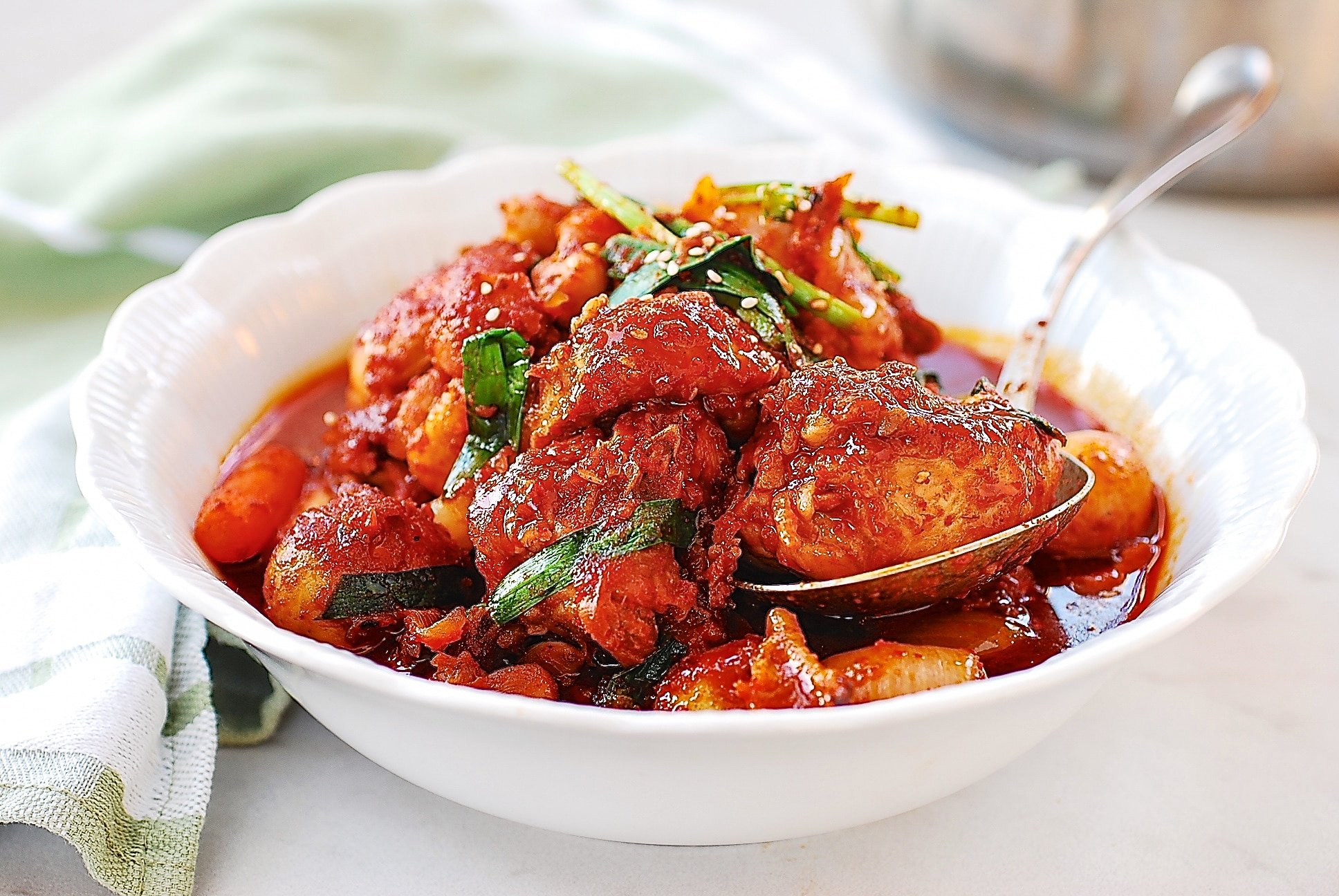 For more Korean cooking inspirations, follow along on YouTube, Pinterest, Twitter, Facebook, and Instagram.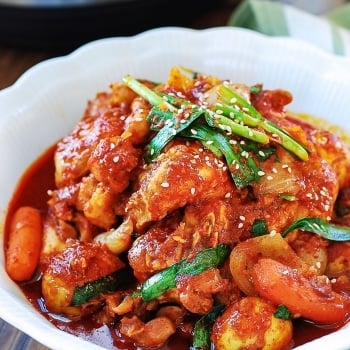 Pressure Cooker Dak Bokkeumtang (Korean Spicy Chicken Stew)
Print Recipe
Ingredients
2.5

pounds

bone-in chicken parts

cut into small pieces (excess fat removed)

6

ounces

potatoes

cut in big chunks (or mini potatoes)

1/2

medium onion

cut in big chunks

2

small carrots

cut in big chunks (or baby carrots)

2

scallions or a few stalks of garlic chives
Sauce
3

tablespoons

gochugaru

3

tablespoons

sugar

2

tablespoons

gochujang

1/2

tablespoon

doenjang

2

tablespoons

rice wine

4

tablespoons

oyster sauce or soy sauce

1

tablespoon

minced garlic

1

teaspoon

grated ginger

black pepper to taste

1/4

cup

water or chicken broth

1

tablespoon

sesame oil

1

teaspoon

sesame seeds
Instructions
Combine the sauce ingredients except sesame oil and seeds, and mix well.

Rinse the chicken pieces, drain, and pat dry with paper towels.

Press the "Saute" button on the Instant Pot. When the pot is hot, add 1 tablespoon of canola or vegetable oil. Sear the pieces in two batches.

Place all the chicken pieces in the pot, and add the potatoes, onion, and carrots. Pour the sauce over, and mix well to evenly coat the chicken and vegetables.

Close the lid tightly, and seal the vent. Press the "poultry" function, and using the "+" or "-" button, adjust the time to 10 minutes. When finished, the Instant Pot will automatically turn to the "Keep Warm" mode. Turn the pressure valve to "venting" to quickly release the pressure. Open the lid.

Stir in the scallion (or garlic chives) and the sesame oil and sesame seeds. If you want, remove the meat and vegetables from the pressure cooker, turn the Instant Pot Saute function back on, and reduce the sauce to the desired level with the lid open.