Sigeumchi namul is an easy Korean side dish (banchan) made with spinach. Simply blanch the spinach and season it. This recipe shows different ways to season the spinach.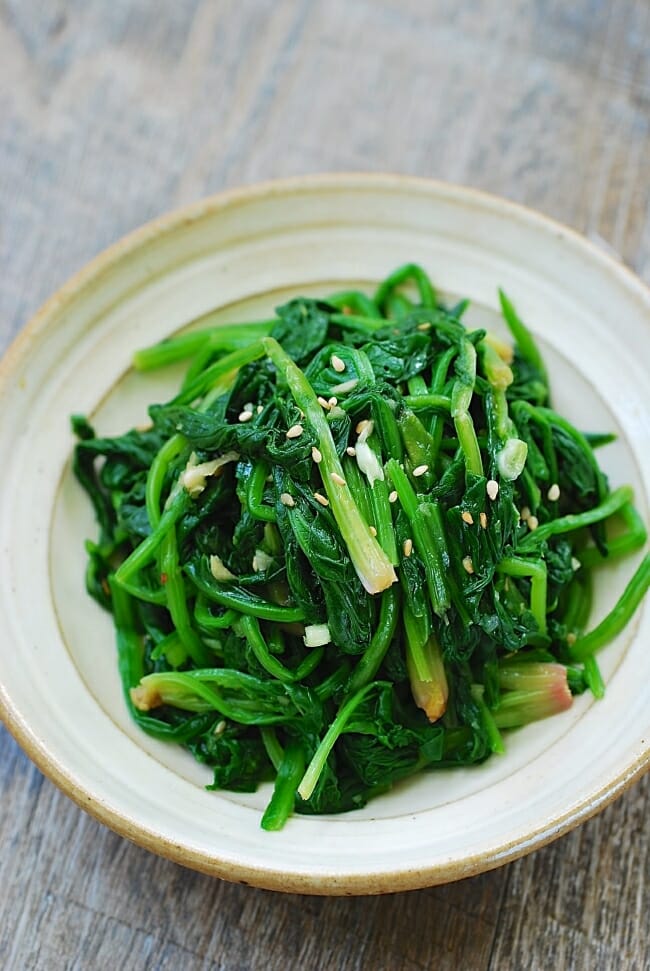 Sigeumchi namul (시금치나물) is a simple Korean side dish (banchan, 반찬) made with spinach. Namul is the general term that refers to a seasoned vegetable dish, and sigeumchi means spinach in Korean.
There are an infinite number of vegetables used to make nauml dishes in Korea. Spinach is one of the most common ones. It typically is served as part of the three color vegetable dishes (
samsaek namul
) served on traditional holidays. Sigeumchi namul is also highly common in
bibimbap
.
Although the cooking time and seasonings vary, making namul dishes with green leafy vegetables usually involves blanching the vegetables and squeezing out the water content, followed by seasoning with a few basic ingredients. If you have these simple techniques down, you can make namul dishes with many different vegetables! Try it with baby kale, watercress, snow pea tips, etc.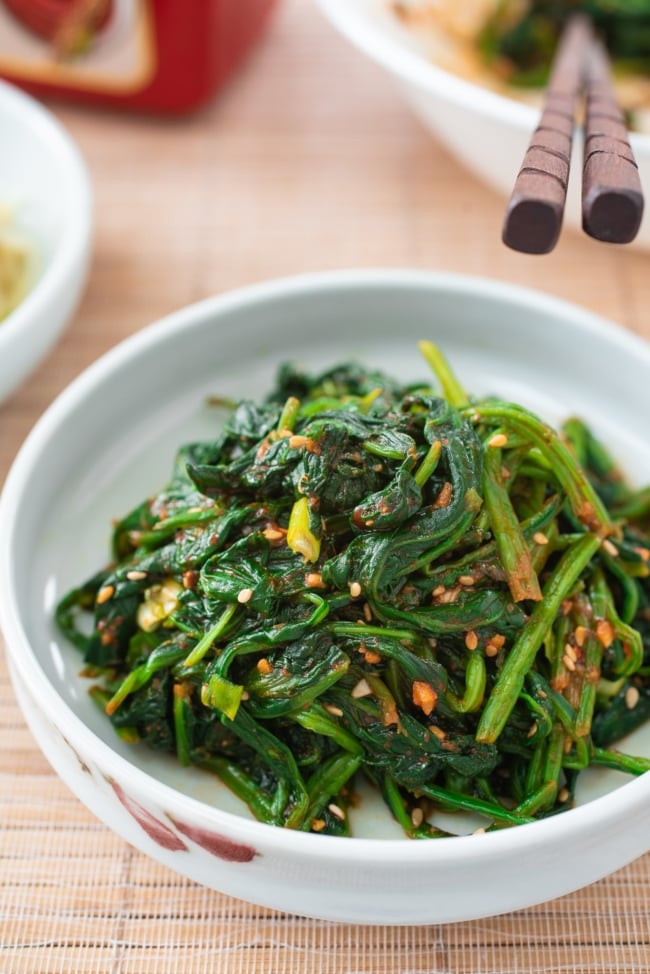 As I usually do for my
bibimbap
recipe, you can simply season the spinach with salt along with some minced garlic, sesame oil and sesame seeds.
You can also season the spinach with guk ganjang, 국간장 (Korean soup soy sauce) instead of salt. Guk ganjang is a traditional soy sauce made as a byproduct of making doenjang, 된장 (Korean fermented soybean paste). While it's better known as soy sauce for soups, it's common for namul dishes, especially in country cooking. It adds a little umami boost to the vegetables!
Another ingredient that's great for sigeumchi namul is gochujang (Korean red chili pepper paste). Gochujang gives so much flavor and a little spicy kick!
Try all these different options and let me know which one is your favorite.
More vegetable side dishes:
Watercress Namul
Putbaechu (Young Cabbage) Doenjang Muchim
Sesame Broccoli
15 Korean Vegetable Side Dishes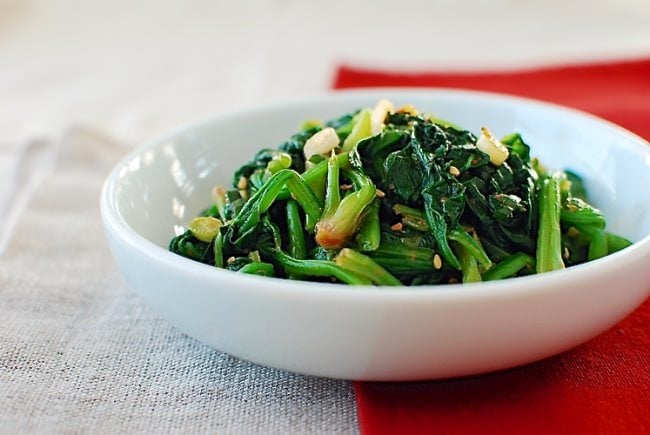 Watch How to Make It

If you tried this recipe, please rate the recipe and let me know how it turned out for you in the comment section below. Stay in touch by following me on YouTube,Pinterest,Twitter,Facebook, andInstagram.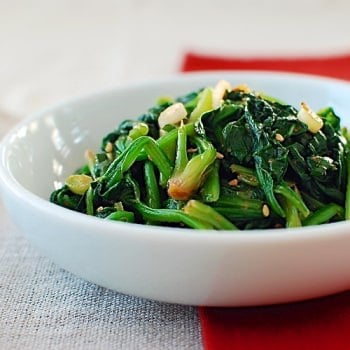 Sigeumchi Namul (Korean Spinach Side Dish)
Side Dish
Print Recipe
Ingredients
Mild
1

bunch spinach

about 10 ounces

1

scallion

chopped

2

teaspoons

guk ganjang, 국간장 (soup soy sauce)

or use salt to taste

1

teaspoon

minced garlic

1/2

teaspoon

sugar

1

teaspoon

sesame oil

1

teaspoon

sesame seeds

salt and pepper to taste
Spicy
1

bunch spinach

about 10 ounces

1

scallion

chopped

2 to 3

teaspoons

gochujang 고추장 (Korean red chili pepper paste)

2

teaspoons

soy sauce

1

teaspoon

minced garlic

1/2

teaspoon

sugar

1

teaspoon

sesame oil

1

teaspoon

sesame seeds
Instructions
Trim off the roots from the spinach. Wash thoroughly until there is no sand in the water. Blanch the spinach in salted boiling water until wilted, 20 to 30 seconds.

Quickly remove the spinach from the pot and shock in icy cold water to stop the cooking.

Drain and gently squeeze out excess water. Cut into 3-inch lengths.

Add the remaining ingredients and mix everything well by hand, loosening/separating the spinach pieces that have been clumped up together. It will take about 10 minutes for the flavor of the seasonings to seep into the spinach.
Notes
Have a bowl of ice water ready before blanching the spinach.
This recipe was originally posted in February 2011. It's been updated with new photos and more information.