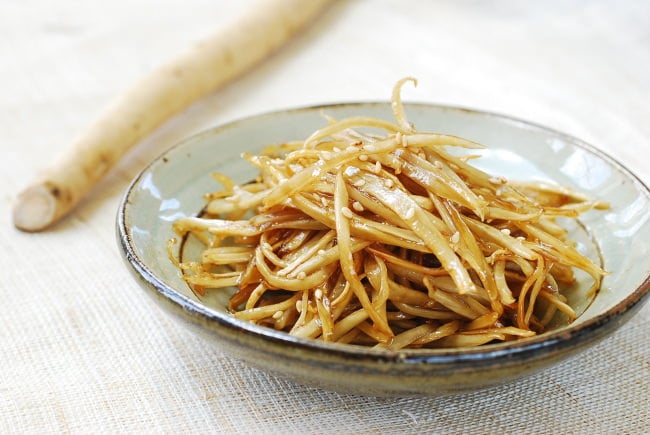 Autumn is a good time to start eating more root vegetables. Burdock root (ueong, 우엉) is very popular in Korea and other Asian countries. It's full of nutrients and an excellent source of fiber. I love the root'ssweet, earthy flavor and crisp, chewy texture! Ueong jorim (우엉 조림) is a simple dish to make by lightly braising in a sweet, soy sauce.
Gently scrape off the skin with a knife or the back of a knife. Since the root is pretty fibrous, I like to cut it into match sticks. Once it's cut, the root will turn brown quickly. You can soak it in vinegar water to prevent discoloring, but it's really not necessary for this dish as it will be braised in a dark sauce anyway. You will lose some flavor if you soak in water.
Ueong jorim is simply delicious as a side dish for any Korean meal. It's also great as a gimbap filling.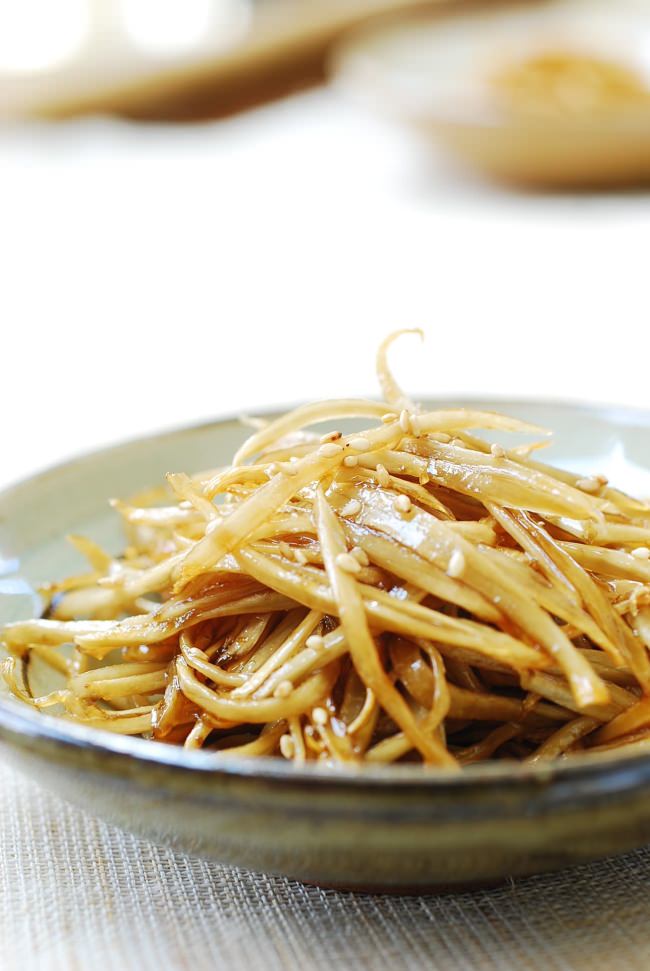 The tableware (except the glassware) shown in the final photos of this post are sponsored by Huue Craft, an online store dedicated to the finest Korean pottery tableware. They ship worldwide to over 25 countries. Visit Huue Craft online store for the beautiful tableware created by five of the renowned potters in Korea!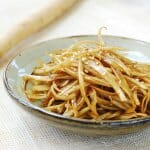 Ingredients
1

burdock root

about 1/2 pound

1

tablespoon

sesame oil

or perilla seed oil - deulgireum, 들기름

1-1/2

tablespoons

soy sauce

2

tablespoons

rice syrup

jocheong, 조청 or corn syrup (mulyeot, 물엿)

1/4

teaspoon

sesame seeds