Make kimchi with summer cucumbers. It's easy, crisp, crunchy and deliciously refreshing!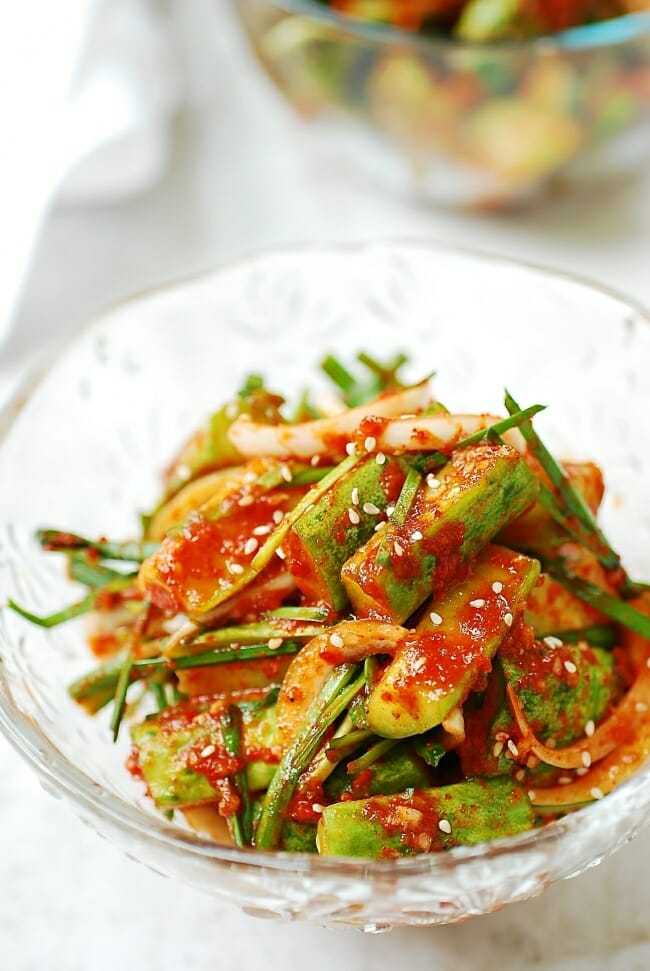 If you ask me which is the easiest kimchi you can try to make this summer, I'd say this cucumber kimchi (oi kimchi, 오이김치)! It's summer, and we all should be eating more cucumbers. This recipe is super easy! Simply cut up the cucumbers, salt briefly, and then mix with the seasoning!
As such, it's an excellent alternative to the stuffed cucumber kimchi, oi sobagi (오이 소박이), if you don't want to bother stuffing the cucumbers.
Because the cucumbers are cut similar to cubes, this cucumber kimchi is also called oi kkakdugi (오이깍두기), named after cubed radish kimchi — kkakdugi.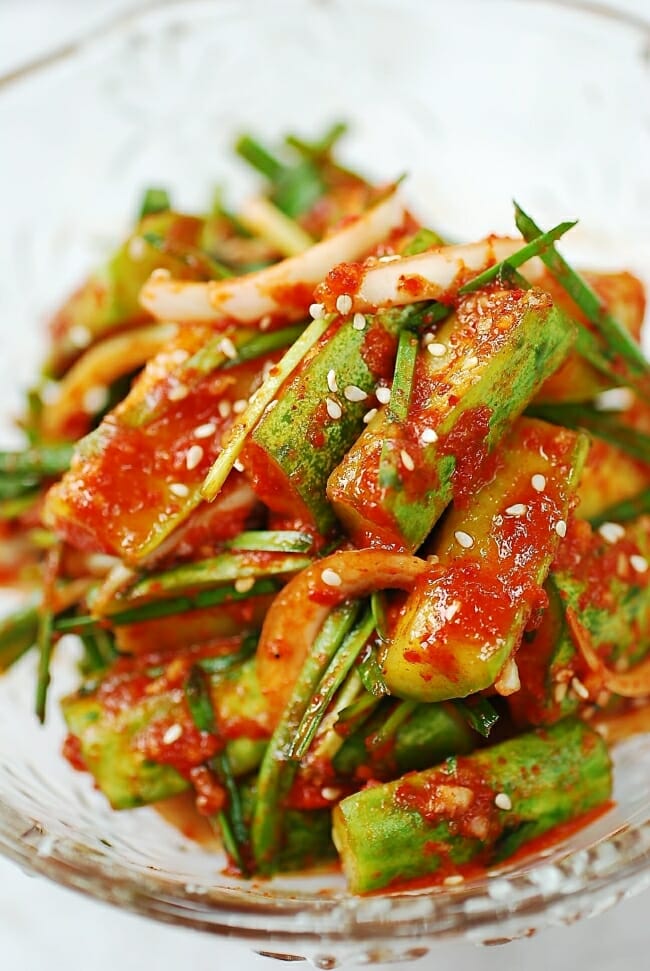 Cucumbers and other vegetables
As mentioned in the stuffed cucumber kimchi recipe, use Korean cucumbers if available. Otherwise, use a thin-skinned variety with crisp flesh and small seeds such as Kirby, Persian, Japanese, or English cucumbers. If you have a choice, select cucumbers that are firm and slender. Thicker cucumbers tend to have more seeds and softer flesh.
In this update, I also used Korean garlic chives (buchu, 부추), which is commonly added to oi kimchi in Korea. It's easier now to find garlic chives around here, and summer garlic chives are tender and delicious. You can leave them out if you can't find them. Simply use some scallions instead.
A little bit of julienned carrot or red pepper will give the kimchi a nice pop of color.

Oi kimchi seasoning
Because this is kimchi, unlike oi muchim, I use salted shrimp (saeujeot/saewujeot, 새우젓) and fish sauce (myeolchiaekjeot, 멸치액젓). The ratio of these two ingredients is always a matter of preference among Korean cooks. In general, more salted shrimp is used than fish sauce in summer kimchi for a lighter taste, but it's really up to you!
How to make cucumber kimchi vegan?
This is actually a question for all kimchi types. There are various ways to make vegan kimchi depending on kimchi types and personal preference. For this cucumber kimchi, use Korean soup soy sauce (gukganjang, 국간장) as a substitute for salted shrimp and/or fish sauce. Use an equal amount and supplement with salt as necessary, or simply use salt to season the cucumbers.
How long will this kimchi stay good?
You can eat this kimchi on the same day you make it. However, it will get better over a few days. If you like it ripe, leave it out at room temperature overnight to expedite the fermentation process. Then, refrigerate. It will be good for a week or two, depending on the salt level.
More cucumber recipes
Oi muchim (spicy cucumber salad)
Oi sobagi (stuffed cucumber kimchi)
Oiji (Korean pickled cucumbers)
Oi naengguk (chilled cucumber soup)
Oi bokkeum (stir-fried cucumbers)

For more Korean cooking inspirations, follow along on YouTube, Pinterest, Twitter, Facebook, and Instagram.
Ingredients
3

Korean cucumbers or 5 – 6 Kirby pickling cucumbers

about 1.5 pounds

1

tablespoon

coarse sea salt

less if using table salt

2 to 3

ounces

garlic chives buchu

부추

1/4

medium onion
Seasonings:
2 to 3

tablespoons

Korean red chili pepper flakes gochugaru

고추가루

1

tablespoon

salted shrimp saeujeot

새우젓

1

tablespoon

or fish sauce

myulchi aekjeot (멸치액젓)

2

teaspoons

minced garlic

1/2

teaspoon

grated ginger

1

tablespoon

sugar

1

teaspoon

roasted sesame seeds
Instructions
Cut the cucumbers crosswise into about 1-1/2 inch-long pieces. Quarter each piece lengthwise. Sprinkle the salt evenly all over the cucumber pieces. Let them sit for about 30 minutes.

Drain the cucumbers well in a strainer to remove any water released. Do not rinse the cucumbers.

Cut the garlic chives into 1-1/2 inch long pieces. Thinly slice the onions.

Add the onions and garlic chives along with all the remaining ingredients to the salted cucumbers. Toss everything until the cucumbers are well coated with the seasoning. The cucumbers will look dry at this point, but will release moisture as they absorb the seasonings.
Notes
You can start eating this kimchi on the same day. If you like it ripe, leave it out at room temperature for a few hours to overnight to expedite the fermentation process. Then, refrigerate.
I originally posted this recipe in August 2011. It's updated here with new photos, more information, and an improved recipe.