Kimbap is the most popular on-the-go meal in Korea! Learn how to make classic kimbap at home with my step-by-step guide!
What is kimbap (or gimbap)?
Gimbap (김밥) is a Korean seaweed rice roll filled with a variety of delicious fillings. Gim is dried sheets of seaweed, and bap means rice.
We all grew up on these rice rolls. They were a must for our school field trips and outdoor activities as well as family road trips! Whether it's the anticipation the night before or watching the early morning preparation by mom to pack these in lunch boxes, there is no other dish that takes me back to my childhood like these seaweed rice rolls!
Today, gimbap is the most popular on-the-go meal in Korea. You can practically find gimbap everywhere, and it's popular with adults and kids alike. Try them yourself and be prepared to fall in love with these delicious Korean rice rolls.
There are many variations of gimbap these days, but the best one for me is the classic gimbap my mother used to make for us on our field trip/picnic days.
It takes some time to prepare the individual fillings, but the process is easy and fun.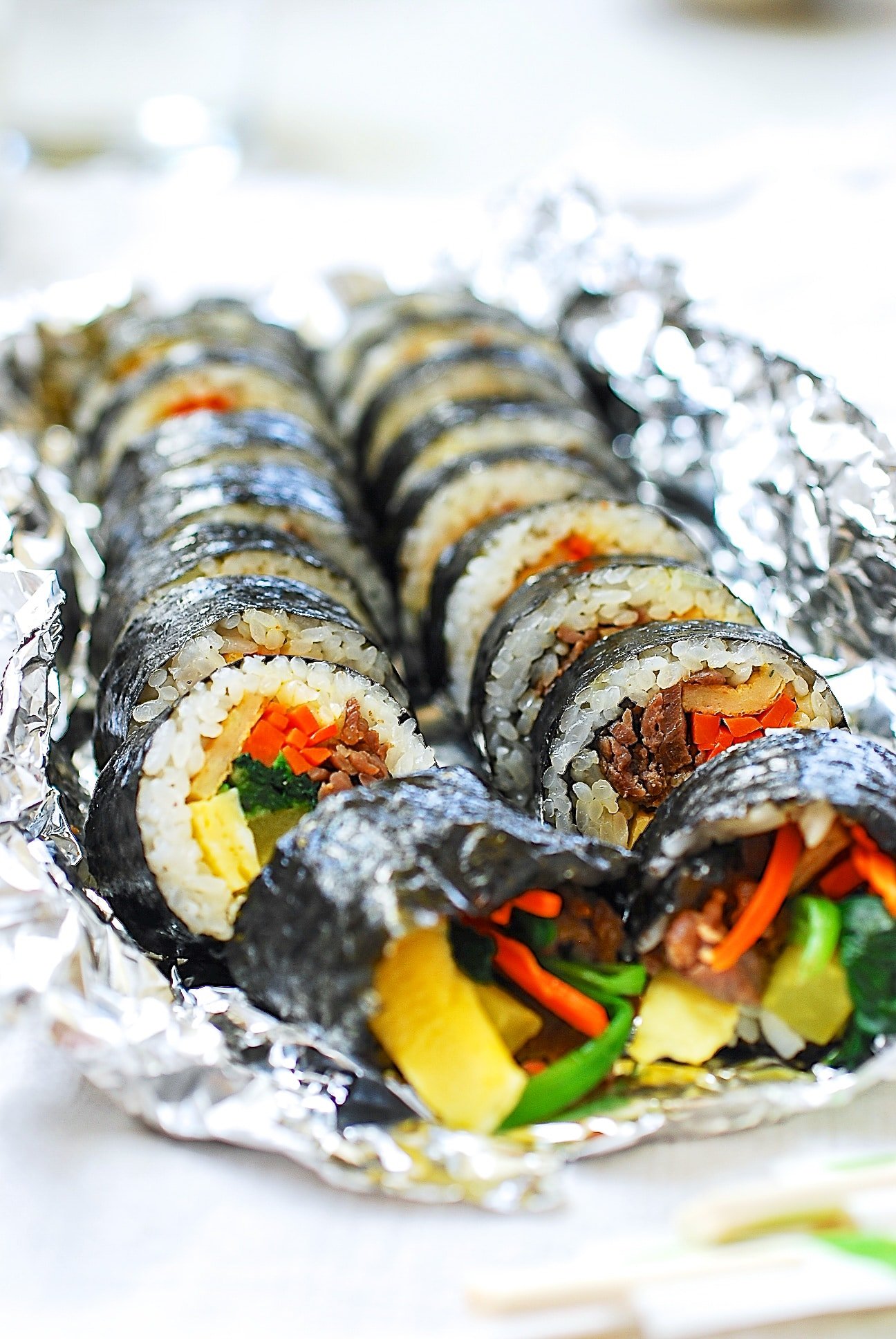 Rice for gimbap
Gimbap rice is typically made with white, short grain rice. For healthier options, you can mix in some brown rice or multigrain rice.
It's important to cook the rice slightly drier than normal by using a bit less water. Then, lightly season it with sesame oil and salt for a nutty and savory note.
Gim (seaweed sheets)
For making gimbap, seaweed sheets need to be slightly thick to be able to hold the rice and all the fillings. They are also lightly roasted. You can find seaweed sheets for rice rolls (aka sushi) at Korean/Asian markets.
Variations
Although gimbap fillings have evolved to include all sorts of things, the classic ingredients are yellow pickled radish (danmuji), eomuk (fish cake), carrots, spinach, eggs, and beef. You can use any tender cut of beef. Thin bulgogi meat or ground beef works fine as well.
Braised burdock root (우엉) is also commonly used in classic gimbap. You can usually find packages burdock root pre-prepared for gimbap next to yellow pickled radishes (danmuji). Or, you can make your own, using my recipe.
With different fillings cooked individually, gimap has an interesting combination of textures and flavors.
Everything is well seasoned, so we don't usually eat gimbap with a sauce.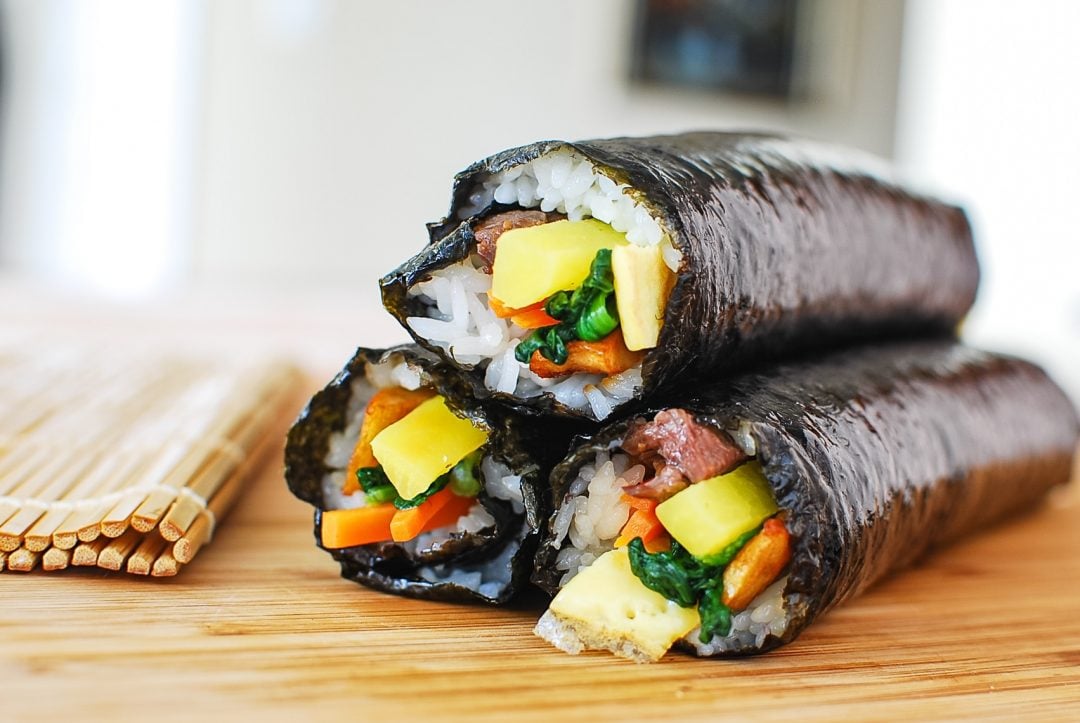 Rolling gimbap
How hard is the rolling process? It takes some practice, but don't be scared! You'll find it much easier with your second roll. Just remember to roll it tightly by putting firm, even pressure with your hands all over the roll.
Ready to roll?
Tips for the perfect gimbap
Freshly cooked rice is best for making gimbap.
Mix the rice with sesame oil and salt while the rice is still warm.
Wet your fingers before spreading the rice onto the seaweed to prevent the rice from sticking to your hands. It's easiest to have a small bowl with water next to your rolling-station so that you can wet your hand in between rolls.
Use a sharp knife for cutting your rolls. You need to make a clean slicing motion and make the full slice in one go without pressing on the roll.
Store the sliced gimbap in an airtight container. Gimbap is best eaten on the day it's made, but you can keep it in the fridge and reheat either in the microwave or in a pan. Sometimes, we dip refrigerated gimbap in egg batter and pan fry. A delicious way to revive gimbap!
More gimbap recipes
Tofu gimbap – vegan gimbap
Mini gimbap (Mayak gimbap)
Tuna gimbap
Myulchu gimbap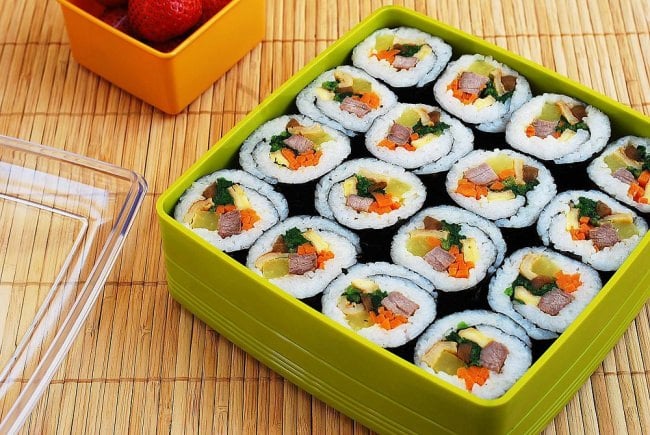 For more Korean cooking inspirations, follow along on YouTube, Pinterest, Twitter, Facebook, and Instagram.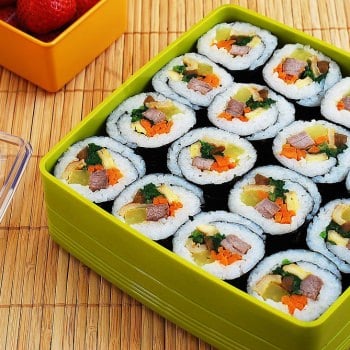 Gimbap (Korean dried seaweed rice rolls)
Main Course, Snack
Print Recipe
Ingredients
2

cups

uncooked short grain rice

standard measuring cup not the cup that comes with a rice cooker

1

tablespoon

sesame oil

salt to taste

start with 1/2 teaspoon
For the beef
8

ounces

lean tender beef, cut into 1/2 inch-thick long strips

(or bulgogi meat or ground beef)

2

teaspoons

soy sauce

1

teaspoon

rice wine

(or mirin)

1

teaspoon

sugar

1

teaspoon

sesame oil

1/2

teaspoon

minced garlic
For the vegetables
1

bunch spinach, about 8 ounces

1

teaspoon

sesame oil

salt to taste - about 1/4 teaspoon

2

medium carrots, julienned (or 1/2-inch thick long strips)

5

yellow pickled radish (danmuji, 단무지) strips, 1/2-inch thick
For the fish cake
1

sheet fish cake - eomuk (어묵)

1

teaspoon

soy sauce

1/2

teaspoon

sugar

1/2

teaspoon

sesame oil

2

eggs

5

gimbap gim (김밥용 김), seaweed sheets
Instructions
Cook the rice using a little less water than usual. (Freshly cooked rice is best for gimbap.)

Cut the beef into thin strips (about 1/2-inch thick). Mix well with the next 5 seasoning ingredients. Stir-fry over medium-high heat until cooked through, 2 - 3 minutes.

Bring a large pot of water to a boil over high heat and prepare an ice bath. Blanch the spinach, place immediately in the ice bath, then squeeze out water. Season with the sesame oil and salt.

Julienne the carrots. Heat a lightly oiled pan over medium-high heat. Stir-fry the carrots until softened. Lightly season with a pinch of salt.

Crack and beat the eggs, in a bowl with a spoon or a fork. Stir in a pinch of salt. Heat a small non-stick pan over medium-low heat. Add the eggs to the pan. When the bottom is set, flip it over. Transfer to a cutting board. Cut lengthwise into 3/4-inch thick strips.


Cut the fish cake lengthwise into 3/4-inch thick strips. Heat the pan with a little bit of oil over medium heat. Stir fry with the soy sauce, sugar, sesame oil and a little bit (about 1 teaspoon) of vegetable oil over medium heat until softened, about 2 minutes.

Arrange all the ingredients together on a plate.When all the other ingredients are ready, remove the rice from the rice cooker.

While the rice is still hot, add the sesame oil and salt. Mix well by lightly folding with a rice paddle or large spoon until evenly seasoned. Add more salt to taste. The rice will cool down during this process and be ready to be used.

Put a sheet of nori, shiny side down and longer side towards you, on a cutting board or a bamboo mat if available. Spread about 3/4 cup to 1 cup of rice evenly over the seaweed sheet, using a rice paddle or your fingers preferably.

Lift the entire bottom edge with both hands and roll over the filling away from you, tucking in the filling with your fingers.

Put firm pressure over the roll with the help of the bamboo mat, if using, to close everything in tightly. Then, continue to roll again, putting pressure evenly over the roll using both hands.

Rub or brush the roll with a little bit of sesame oil for extra flavor and shiny look. Apply a little bit of sesame oil to a sharp knife. (This will keep rice from sticking to the knife. Repeat as necessary after each cut. Wipe the knife with a damp towel if the rice still sticks.) Cut the roll into 1/2-inch thick bite sizes.
This gimbap recipe was originally posted in May 2012. I've updated it here with more information, new photos and minor changes to the recipe.