You can make this vegan bibimbap without a trip to a Korean market. This simple bibimbap recipe uses vegetables you can find in your local grocery stores.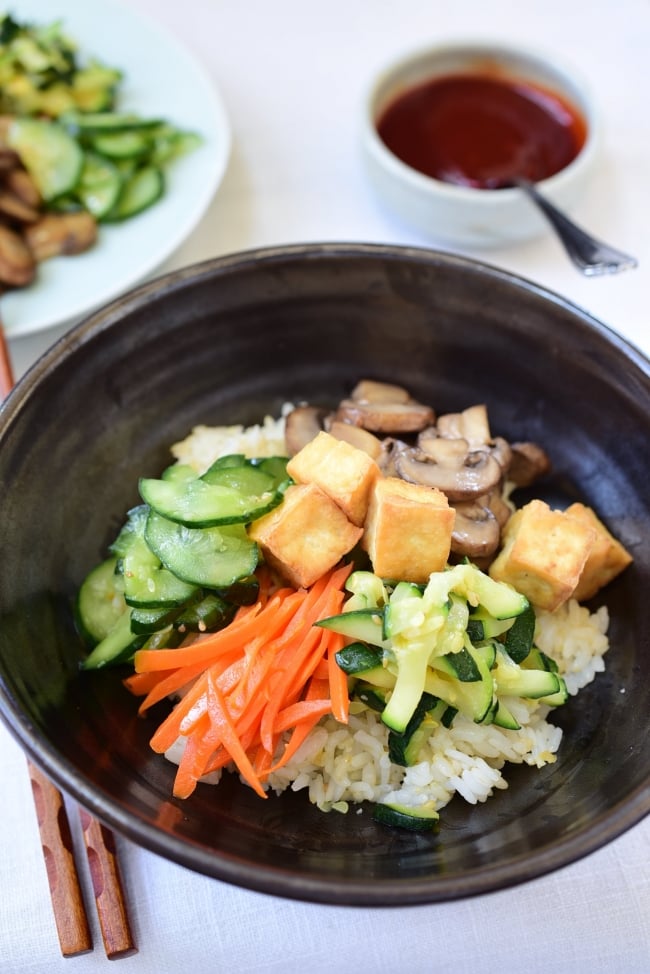 One of the nice things about bibimbap is its versatility. It can be made in many different ways with any combination of vegetables and proteins. As such, you can use leftover side dishes from previous meals or quickly cut up and blanch or sauté whatever ingredients you have in the fridge. You will always end up with a whole satisfying meal!
I previously posted two bibimbap recipes on the blog – traditional bibimbap and tuna bibimbap. Here, I created a simple vegan bibimbap recipe with tofu as the protein choice.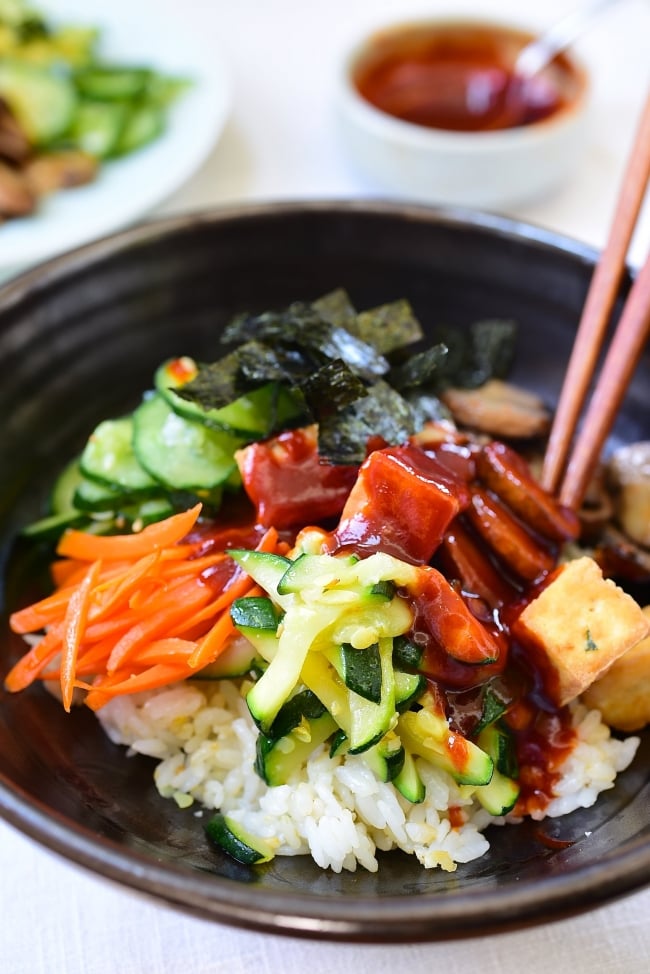 Vegetable options for vegan bibimbap
The vegetables I used in this bibimbap recipe can easily be found in your local grocery stores, so you can make bibimbap without a trip to a Korean market! You all have gochujang, right?
For Korean bibimbap, the vegetable choices are endless: zucchini, baby kale, carrots, mushrooms, cucumber, spinach, watercress, turnip greens, Swiss chard, broccoli slaw, orange or red color bell peppers, red cabbages, dried seaweed sheet (gim), etc. You only need 3 or 4 of these vegetables to make a delicious Korean rice bowl.
In this recipe, I also pan-fried some tofu cubes to enhance the nutty flavor of the tofu and to give it a nice chewy texture.
How to make bibimbap sauce
To make the bibimbap sauce, I used a little bit of apple cider to thin gochujang while adding a fruity sweetness. Korean plum extract will be great as well if you have it, or you can simply use sugar and thin it with water. See my other bibimbap sauce.
How to serve bibimbap
As shown in my traditional bibimbap recipe, you can make this tofu version in a dolsot (stone/earthenware). If you don't own one of those, try it with a cast iron pan or a casserole dish.
Who says bibimbap has to be served in a huge bowl? I recently attended a Korean event where bibimbap was served in small clear plastic cups. What a cute idea for a large group (also for your children)! Your picky eater might even eat a cup of bibimbap full of vegetables.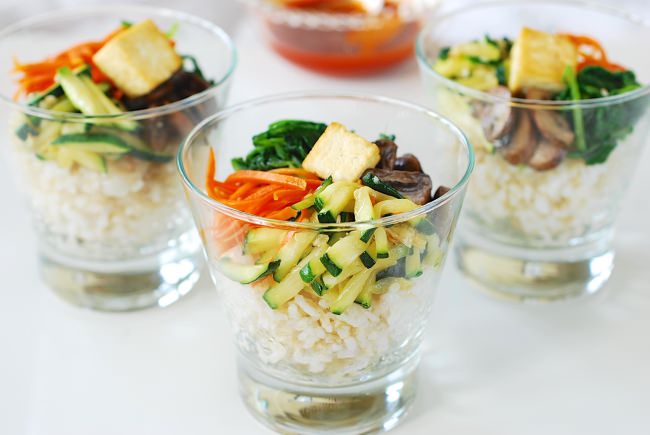 For more Korean cooking inspiration, follow along on YouTube, Pinterest, Twitter, Facebook, and Instagram.
Ingredients
4

servings cooked rice

1

medium zucchini

5

ounces

baby kale

or spinach or watercress

2

medium carrots

or 1 orange bell pepper

10

mushroom caps

crimini, white, or shiitake

8

ounces

tofu

1

teaspoon

minced garlic

sesame oil

cooking oil
2

tablespoons

gochujang

2

tablespoons

apple cider

or 1 tablespoon Korean plum extract, maesilcheong and 1 tablespoon water
Instructions
Cook the rice in a rice cooker or following package directions, using a little less water than called for. Rice for bibimbap should be slightly drier than usual for best results.

Cut the zucchini into match sticks. Sprinkle with 1/2 teaspoon of salt, and let sit for 10 to 15 minutes. Squeeze out the liquid. Heat a pan with a little bit of oil. Add the zucchini and 1/2 teaspoon minced garlic. Sauté for 2 - 3 minutes over medium high heat. Stir in 1 teaspoon sesame oil.

Blanch the baby kale briefly in salted boiling water. Drain quickly, and shock in cold water. Drain again, and squeeze out the water. Toss with 1/2 teaspoon garlic, 1/2 teaspoon sesame oil, and salt and pepper to taste.

Cut the carrots into match sticks. Heat the pan again with a little bit of oil. Sauté the carrots for 1 - 2 minutes over medium high heat until slightly softened. Sprinkle with salt and pepper to taste.

Remove the stems off the mushrooms and cut into 1/4-inch thin slices. Sauté in the lightly oiled pan for 2 - 3 minutes over medium high heat.

Cut the tofu into about 3/4-inch cubes, and lightly sprinkle with salt. Heat the pan with a tablespoon of oil, and pan-fry the tofu until all sides are lightly golden.

Place a serving of rice in a bowl. Nicely arrange a small amount of each prepared vegetable over the rice and top with a few tofu pieces. Drizzle a little sesame oil over. Serve with the red pepper paste sauce.
Notes
See the other bibimbap recipe if you want to add cucumber, or other vegetables.