A hearty and spicy chicken soup with minimal ingredients! It takes less than 30 minutes from start to finish! Still flavorful and satisfying!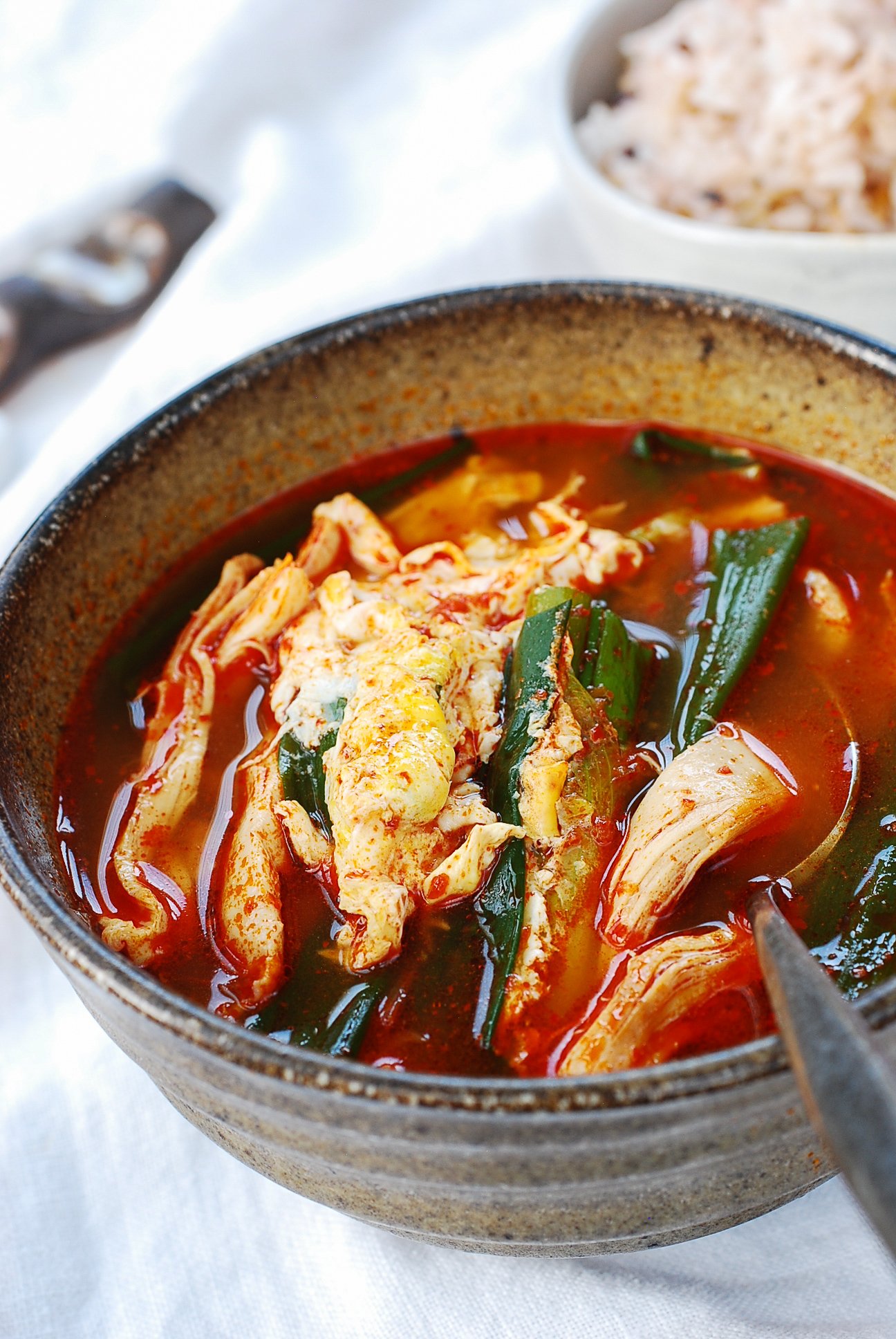 This chicken soup is a simple and easy version of dakgaejang (닭개장), which is a chicken variation of yukgaejang (육개장), a hearty, spicy beef soup. I love it because the recipe calls for minimal ingredients and takes less than 30 minutes from start to finish! Still flavorful and satisfying!
Typically, dakgaejang is made with a whole chicken and lots of scallions and other vegetables such as gosari (fernbrake fiddleheads), bean sprouts, and mushrooms. In the past, I showed you how to make dakgaejang with leftovers of a roasted whole chicken or turkey, using the stock made with leftover bones.
This recipe has two main ingredients — chicken breast and scallions. The chicken can have the skin and bones. Adjust the time if using bone in. You can use chicken thighs as well. To keep the chicken tender and moist, I cook the chicken over relatively low heat. It only takes about 10 minutes to cook, and the resulting broth is nice and refreshing!
To make the soup even more delicious, use good quality chicken stock, instead of water, to boil the chicken if you want.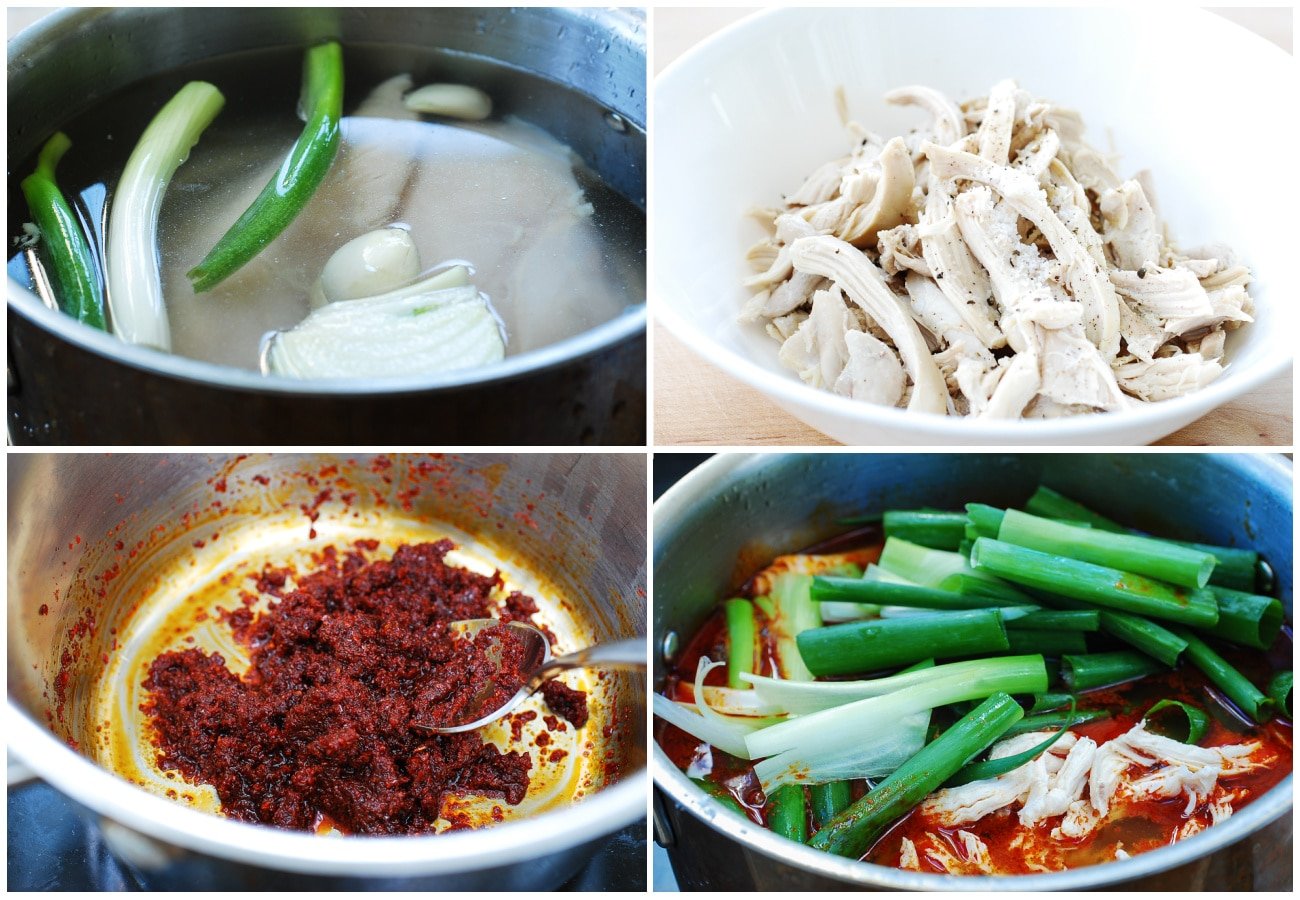 Since the scallion is the only vegetable in the soup, use lots of them! The large variety of scallions (daepa, 대파) is generally preferred for soups if you can find them. They are more flavorful! Lately, I've been able to find them in Korean markets around here.
If you want, you can always throw in some mung bean sprouts (sukju namul, 숙주나물) and/or mushrooms as well.
Dakgaejang is a summer favorite in Korea as a nourishing soup that boosts the energy level during hot summer days, but this hearty, comforting soup is great all year long! Not to mention weeknight friendly!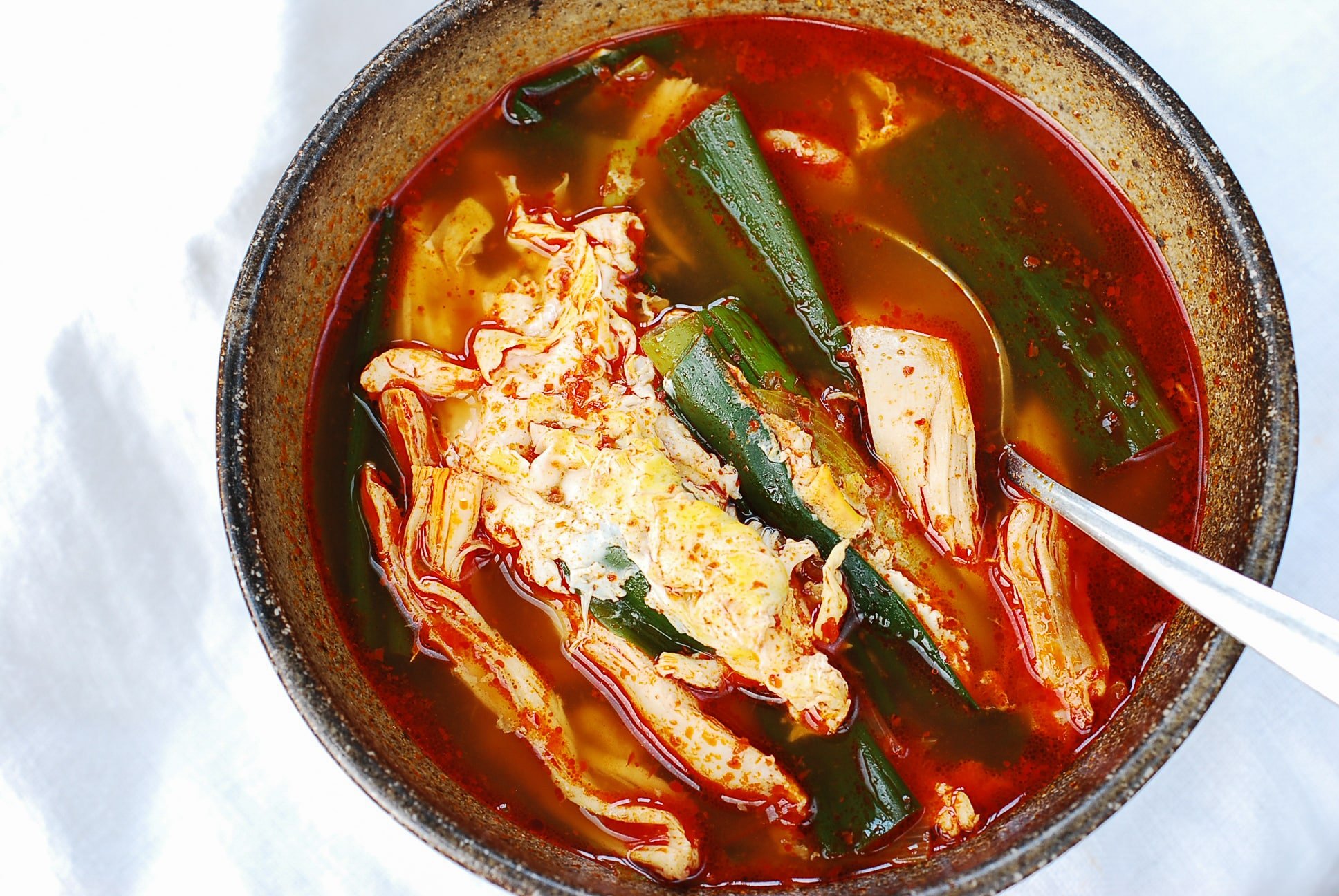 For more Korean cooking inspirations, follow along on YouTube, Pinterest, Twitter, Facebook, and Instagram.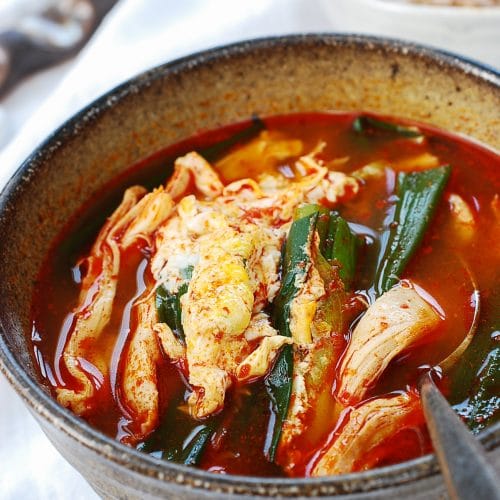 Ingredients
Chicken
1

pound

chicken breast or thigh

fat removed

1/4

medium onion

1

scallion

4 to 5

garlic cloves
Vegetables
3 to 4

scallions

1 or 2 if using the large variety, cut into 2-inch pieces
Seasoning
1

tablespoon

sesame oil

1

tablespoon

gochugaru

1/2

tablespoon

soup soy sauce

gukganjang, 국간장

1

teaspoon

minced garlic

salt and pepper
Other
1

large egg

lightly beaten
Instructions
Add the chicken breast, onion, scallion, and garlic to a medium size pot along with 5 cups of water. Bring it to a boil over high heat. Reduce the heat to medium low. Cover, and continue to boil for about 7 to 8 minutes.

Turn the heat off and remove the chicken to a bowl. Strain the broth into another bowl, remove any visible fat and discard the aromatic vegetables. When cool enough to handle, remove the skin and bones if any, shred the chicken and season with salt and pepper.

In the same pot, heat the sesame oil until hot (but not smoking hot) over low heat. Add the chili pepper flakes and turn the heat off. Stir gently until the oil turns red and the chili pepper flakes become pasty. Do not burn the flakes. Mix in the soup soy sauce and garlic.

Add the broth to the pot, and bring it to a boil. Add the meat and scallions into the stock. Continue to boil for an additional 3 – 4 minutes. Add salt and pepper to taste. Gently drizzle the egg over the soup before turning off the heat. Do not stir. Serve with a bowl of rice.