This is an easy kimchi you can make with tender green onions (also called scallions). Pa kimchi is especially delicious with thin variety of green onions which peaks in spring.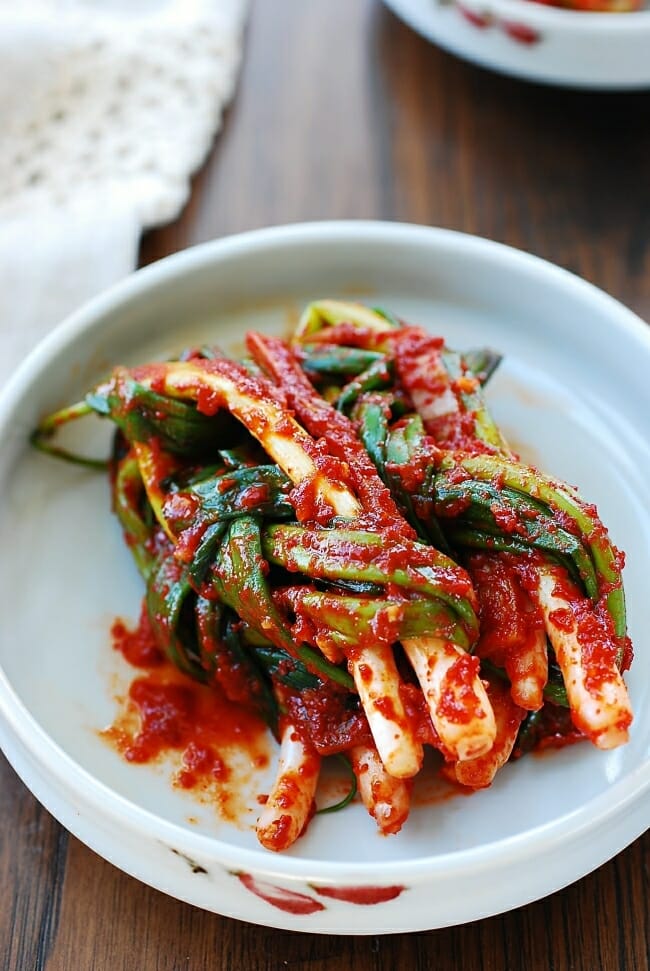 I've shared sixteen kimchi recipes so far on this blog, and here's another one! This easy kimchi made with tender green onions (also called scallions) is a favorite of mine. Green onions are called pa (파) in Korean. Pa kimchi (파김치) is popular in the spring, when the thin variety of green onions is in season.
Which green onions to use
There are two types of thin green onions in Korea — jjokpa (쪽파), and silpa (실파). Jjokpa is a small variety that has dark green leaves and slightly bulged out white stems. On the other hand, silpa simply is regular scallions that are harvested early when they are young and tender. Jjokpa is sweeter with a stronger aroma, so it's typically used in dishes such as pa kimchi, pajeon, and pa ganghwe, while silpa is used more as a garnish or herb.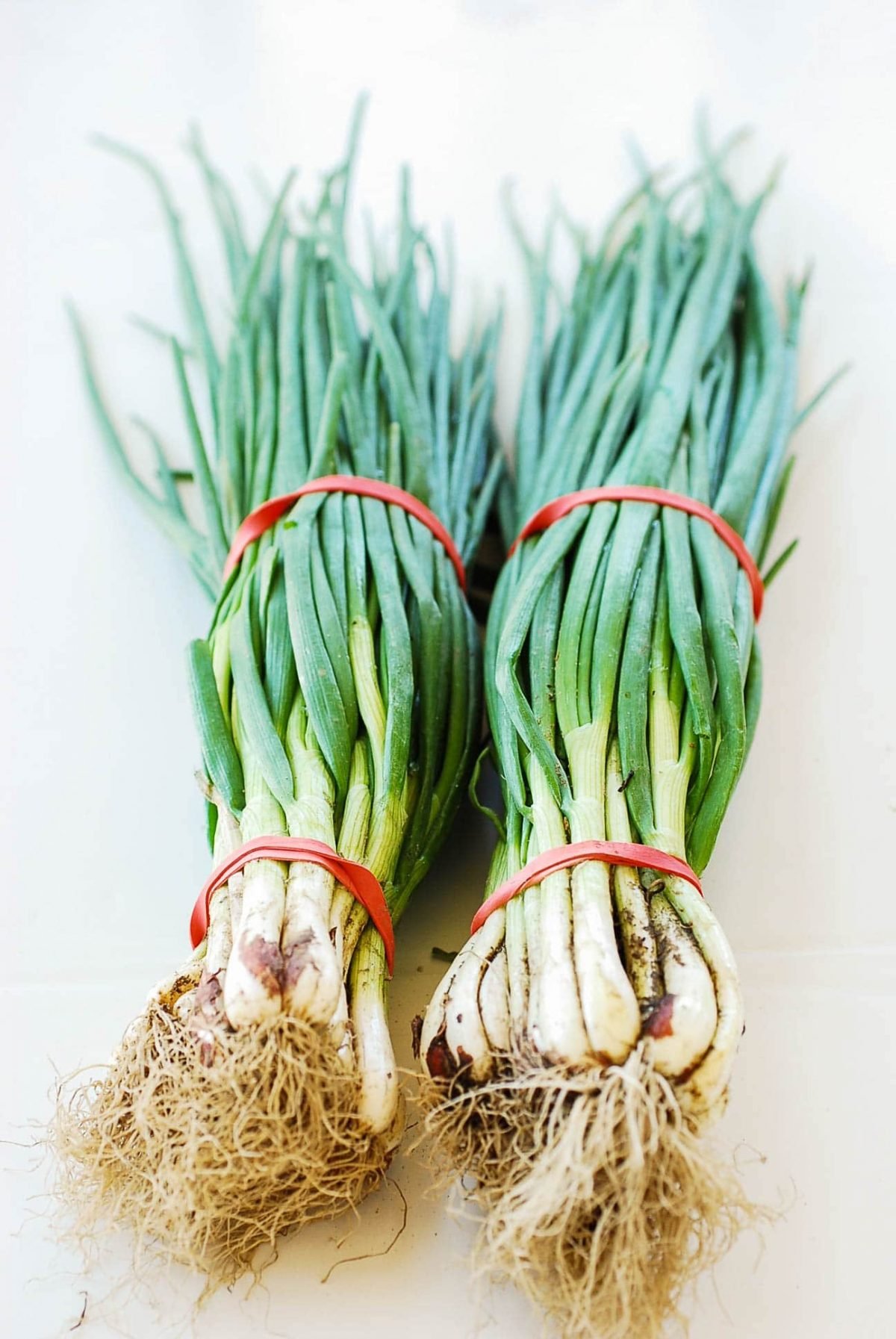 Unfortunately, jjokpa is not that common outside Korea, so I often make this kimchi with regular scallions that are nicely thin (silpa). Use jjokpa if you can find them. They briefly appear at Korean markets around here in spring.
How to make pa kimchi
Pa kimchi is typically seasoned with myulchiaekjeot (fermented fish sauce made with anchovies). Some people pre-salt the green onions with fish sauce, but I don't find it necessary.
For a vegan version, you can substitute the fish sauce with soup soy sauce.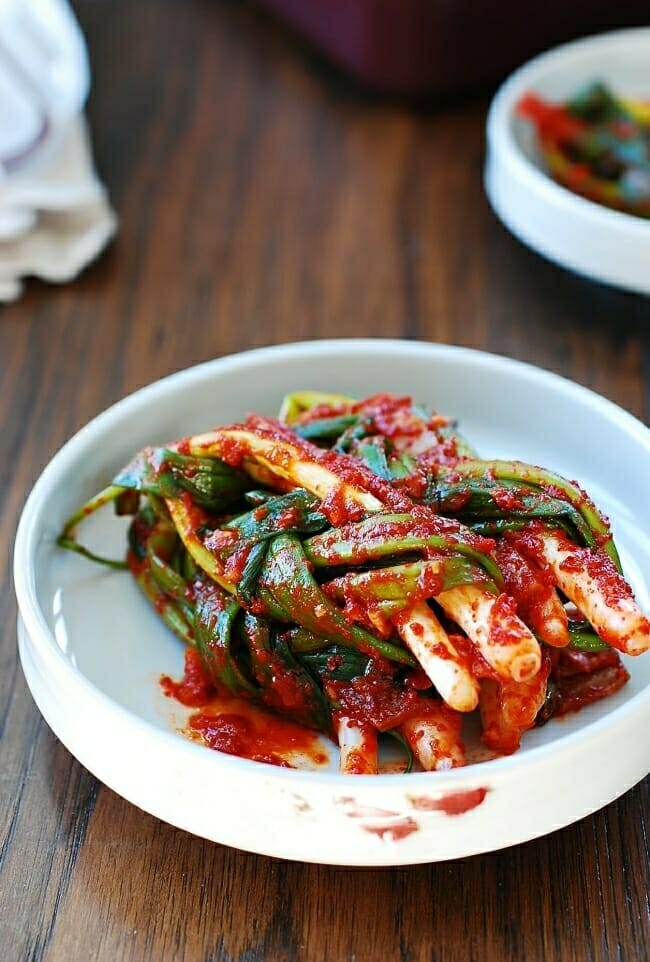 The one ingredient that's nice to add but absolutely optional is dried (or half-dried) squid, mareun ojingeo (마른오징어), which is a popular snack food in Korea. I got the idea from a Korean culinary travel TV show which featured kimchi making in a coastal town of Korea. It works as an umami booster while adding an interesting chewy texture to the kimchi.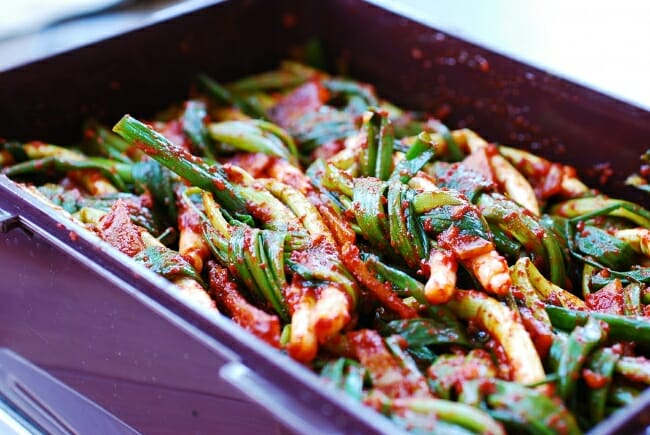 For more Korean cooking inspirations, follow on YouTube, Pinterest, Twitter, Facebook, and Instagram.
Ingredients
1

pound

thin scallions

silpa or jjokpa

4

tablespoons

gochugaru, (고추가루, red chilli pepper flakes)

4

tablespoons

myulchi aekjeot (멸치액젓, fish sauce)

2

teaspoons

sugar

1

tablespoon

minced garlic

1

teaspoon

grated ginger

1

small dried or half-dried squid body (about 3 ounce), mareun ojingeo - optional
Instructions
Clean the green onions by removing the root part and any tough/brown outer skins. Wash them thoroughly a couple of times. Shake off excess water, and drain well.

Mix all the seasoning ingredients in a bowl.

Cut the dried squid into about 2-inch long thin strips. Soak in water until slightly softened if very dry and hard, but this is generally not necessary.

In a large bowl, gently rub the seasoning mixture all over the green onions and the optional squid to evenly coat them.

Hold a couple of green onions together, and fold them before arranging in an airtight container to store. Another option is to tie them together by wrapping the other end of the green onion around the white part, making a circle in the middle, and then running the leafy part through the circle.

Keep it at room temperature for a day, and then refrigerate. Pa kimchi can be eaten right away, but the flavor develops as it ferments over 2 to 3 weeks in the fridge. Run a knife (or a pair of kitchen scissors) through the folded or tied green onions a couple of times to serve.