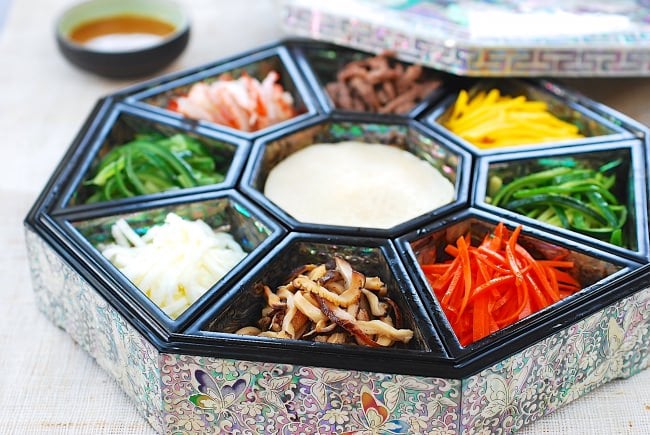 Happy New Year, everyone! What better way to kick off the new year than with this beautiful and nutritionally well-balanced dish called gujeolpan (구절판)?
Historically being a royal court dish during the Joseon Dynasty, gujeolpan consists of 8 delicate fillings served around thin crepe-like wheat flour pancakes called miljeonbyeong (밀전병). It's a dish served on traditional holidays such as lunar New Year and other special occasions.
I often prepare this for elderly birthdays in my family as the centerpiece of the table. It never fails to impress the diners! Also, this dish is where the design inspiration of the Korean Bapsang logo came from!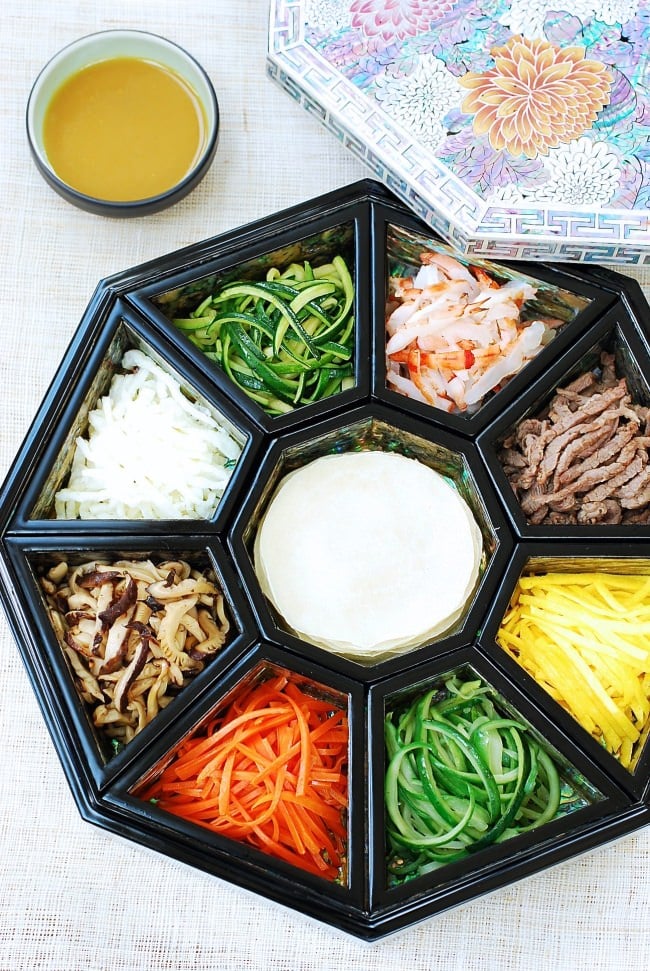 Gujeolpan actually refers to a platter with nine sections that's used to serve traditional delicacies. "Gu" means number 9, "jeol" sectioned, and "pan" a tray or a platter. In some Asian culture, the number nine holds a symbolic meaning of fullness and harmony. Gujeolpan as a dish carries that meaning by offering a harmony of colors, textures, and nutrients.
I have a fancy gujeolpan inlaid with mother of pearl — thanks to my sister-in-law in Korea who sent it to me years ago! Before that, I simply used a large plate to serve this dish. You can do the same thing.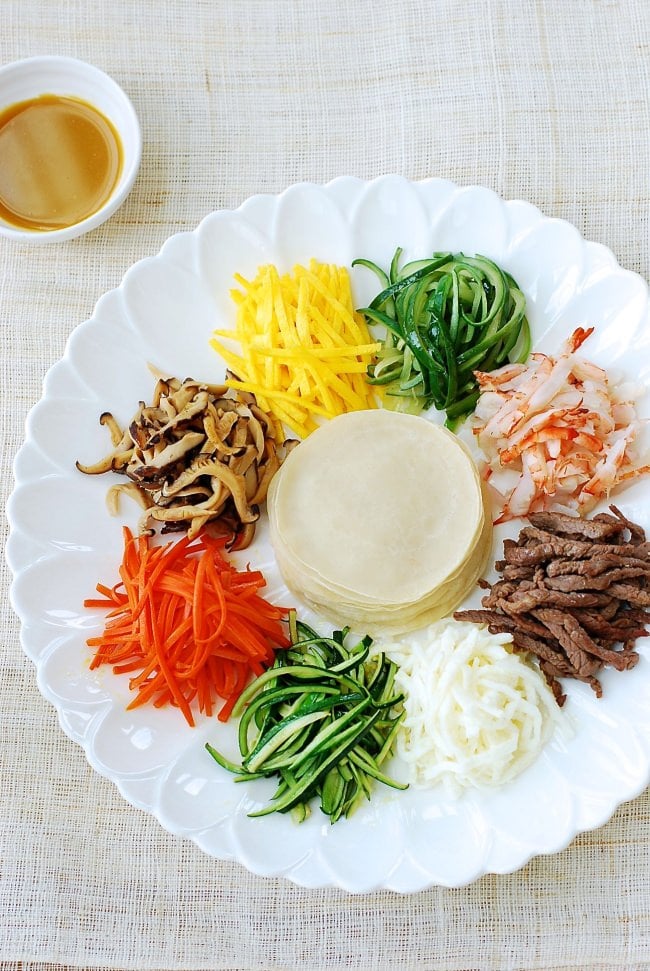 The dish usually contains different vegetables, meat and seafood. As with many Korean dishes, gujeolpan reflects 5 Korean traditional colors, obangsaek (오방색), — white, black, red, yellow, and blue, which represent hope and longevity. In cooking, blue is substituted for green.
You can use any ingredients you like, but try to reflect the 5 different colors. Other filling options are mung bean sprouts, onions, different types of mushrooms, yellow, orange or red bell peppers, beets, minari, etc.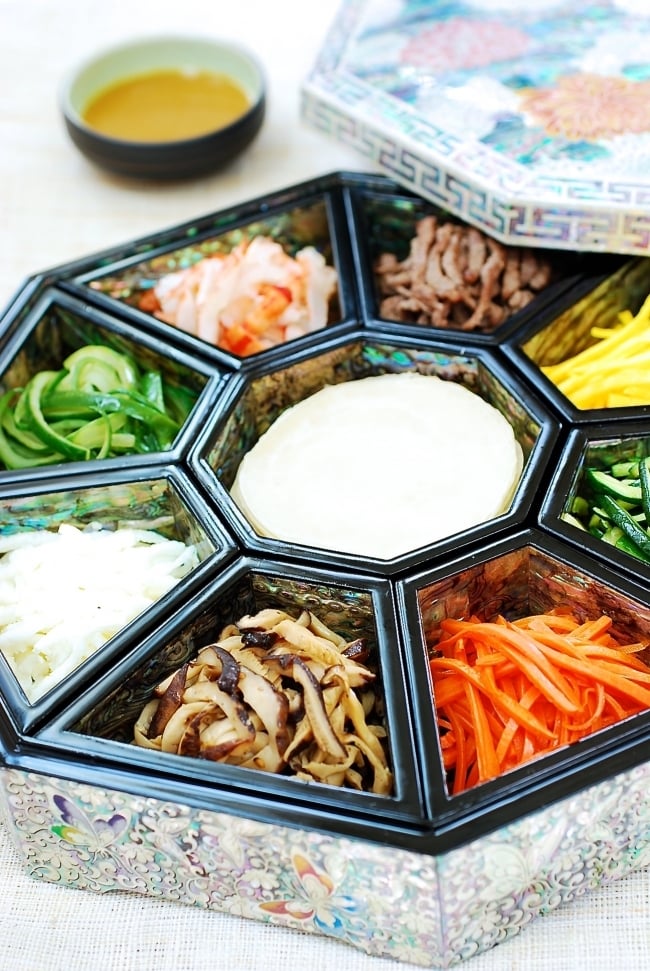 Don't let the appearance of the dish intimidate you! Yes, there are quite a few ingredients, and preparing them is a bit time consuming. However, the cooking methods are pretty simple, and you only need to make a little bit for each section. Trust me, it's well worth the effort for this beautiful and healthy dish!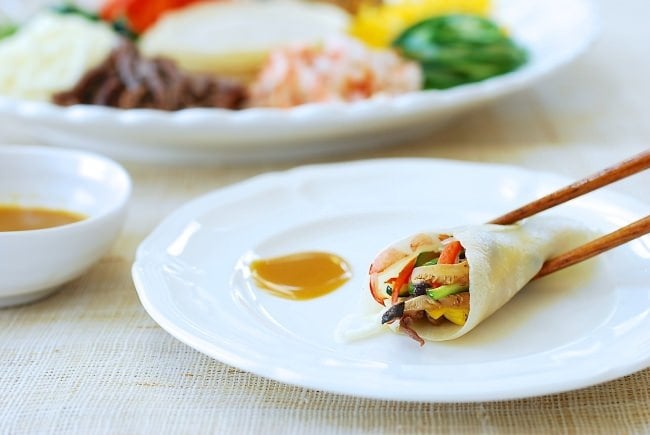 For more Korean cooking inspirations, follow along on YouTube, Pinterest, Twitter, Facebook, and Instagram.
Ingredients
Beef
4

ounces

lean beef

2

teaspoons

soy sauce

1

teaspoon

sugar

1/2

teaspoon

minced garlic

1

teaspoon

sesame oil

Pinch

pepper
Mushrooms
3

dried shiitake mushrooms

soaked (or 3 ounces fresh shiitake)

1/2

teaspoon

soy sauce

1/4

teaspoon

garlic

1/4

teaspoon

sugar

1

teaspoon

sesame oil

pinch

salt and pepper
Other ingredients
2

kirby cucumbers

or 1 long variety cucumber

1

medium zucchini

1

medium carrot

5

large shrimp

de-veined

3

large eggs

Batter:

makes about 24 pancakes

1

cup

flour

1/2

teaspoon

salt

1 - ⅓

cup

water
Dipping Sauce
1

tablespoon

prepared hot mustard

1

teaspoon

sugar

1

tablespoon

vinegar

1

teaspoon

soy sauce

1

tablespoon

water

or maesilcheong, Korean plum extract
Instructions
Cut the beef into thin strips (about 3-inch long). Remove the stems off the soaked mushrooms. If the mushrooms are thick, place the stem side down, and carefully slice parallel to the cutting board. Then cut into thin strips.

Season the beef and mushrooms with the seasoning ingredients.

Cut the cucumbers crosswise into 2-½ inch long sections. Cut each one into thin sheets discarding the seedy part, and then cut into matchsticks.

Cut the zucchini crosswise into 2-½ inch long sections. Cut each one into thin sheets, discarding the soft, seedy part, and then cut into matchsticks.

Cut the carrot into matchsticks.

Bring a small pot of water to a boil. To keep the shrimp straight after cooked, insert a toothpick straight through the leg part of each shrimp. Cook briefly, about a minute. Quickly drain and dump in cold water to stop cooking. Drain again. Remove the toothpicks. Cut into thin strips.

Add the flour and salt to a bowl. Stir in 1 - ⅓ cups of cold water, and mix well. The batter should be thin.

Separate the eggs. Lightly beat the white by gently cutting it with a spoon. Stir the yoke with a spoon until smooth. Heat a lightly oiled nonstick skillet over medium low heat. Pour each egg part into a thin layer, spreading with a spoon. Cook each side briefly. Do not brown the egg. Cool then first cut into 2-½ inch wide sheets, and then into thin strips.

Heat the pan over medium high, add a half tablespoon of oil, and briefly cook each ingredient, sprinkling with a pinch of salt, in this order: cucumber, zucchini, carrot, mushroom, and beef,. Transfer to a large plate.

Heat a lightly oiled non-stick pan over medium low heat. Add one tablespoon of the pancake mixture into the pan, and spread it evenly into a thin round shape (about 3 inch round) with a back of the spoon. Cook until the edges start to lift up slightly, about 30 seconds, and flip over for another 30 seconds. Transfer to a large plate. Repeat until all the mixture is used.

Arrange the filling ingredients, placing the same/similar color foods on opposite sides. Stack the pancakes up and place in the center section of the platter.

In a small bowl, mix the hot mustard paste and sugar until the sugar is dissolved. Add the remaining liquid ingredients and mix well again. Serve with the gujeolpan.