This slow cooker version of a Korean chicken soup is so easy to make! You can use a whole chicken cut up or any combination of chicken cut parts.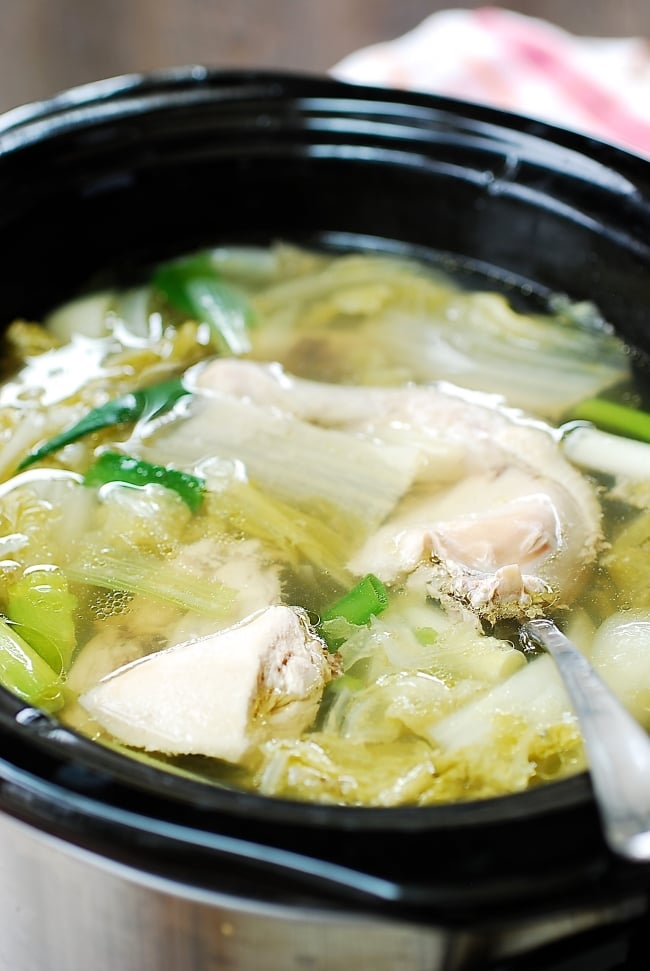 This slow cooker version of a Korean chicken soup is so easy to make! It's called dak baechu guk (닭배추국). Dak (닭) is chicken, baechu (배추) is napa cabbage, and guk (국) is soup. Baechu guk is usually made with beef broth or anchovy broth, and sometimes flavored with doenjang (fermented soybean paste). It also works very well with chicken broth!
I often use a whole chicken cut up, but you can use any (or any combination of) chicken parts you want. When I don't use a whole chicken, I use bone-in, skin-on thighs and legs. They stay tender through long, slow cooking and add richness to the broth. That doesn't mean you can't use skinless chicken breast if you want a lighter and cleaner soup.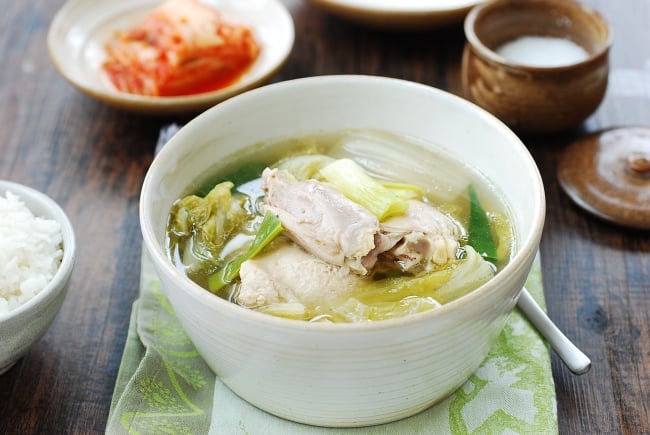 I really love the soft, sweet napa cabbage in this soup. Use an ample amount of the large, thick outer leaves. They cook down quite a bit, but hold up pretty well to hours of slow cooking.
I like to serve up the soup as is along with dipping salt on the side, but you can remove the bones from the chicken pieces and shred the meat and add back to the soup to serve.
It takes minimal effort to put together the ingredients. The slow cooker does the rest to create a flavorful soup with tender chicken and soft vegetables!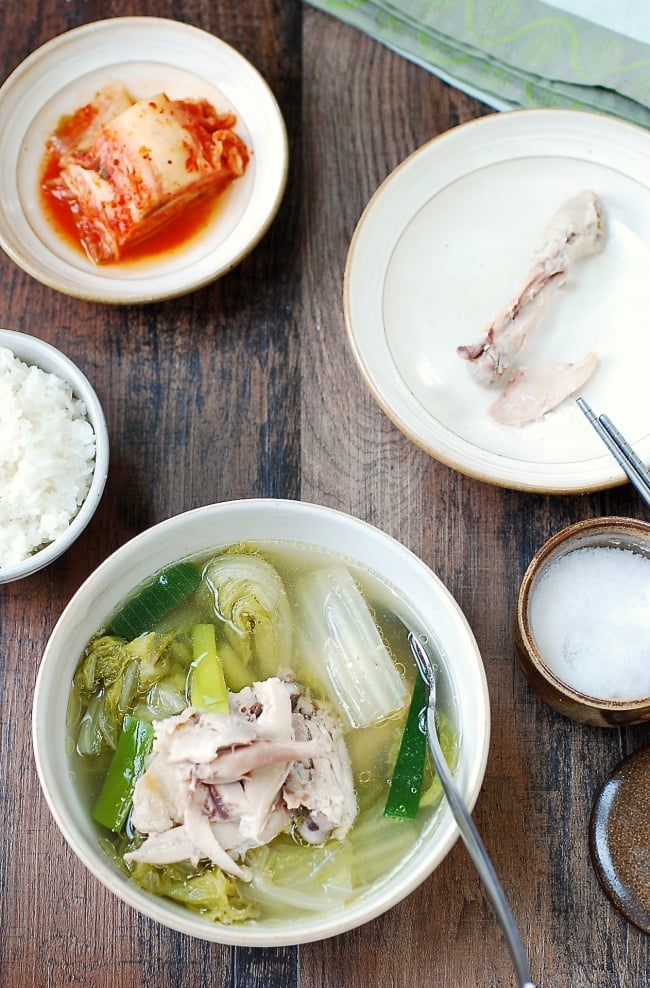 For more Korean cooking inspirations, follow along on YouTube, Pinterest, Twitter, Facebook, and Instagram.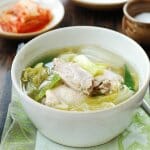 Ingredients
3

pounds

cut chicken parts

bone-in, skin-on preferably

12

ounces

napa cabbage

thick, outer leaves preferably (see note)

1/2

medium onion

6 to 7

plump garlic cloves

3

thin ginger slices

about 1 inch round

salt and pepper

2

scallions
Instructions
Clean the chicken, trim off excess fat and place in the slow cooker.

Roughly cut the cabbage leaves into big pieces. Cut the onion into 4 big wedges. Add the cabbage, onion, garlic, and ginger to the slow cooker. Add water to fill up to ⅔ of the slow cooker (about 8 cups). Add 1 tablespoon (2 teaspoons if using very fine salt) of salt and 1/4 teaspoon pepper.

Cover, and cook for about 4 hours on high or 6 hours on low. Cut the scallions into about 2-inch length pieces, and drop into the soup, with a few minutes remaining. Add salt and pepper to taste.

Remove the excess fat. You can spoon off the fat, or use a fat separator. You can transfer the chicken and vegetables to another pot, and strain the broth if you like cleaner broth.