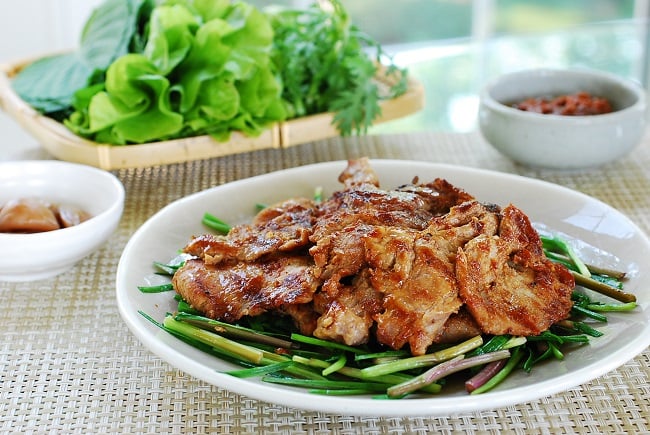 The blog finally has a new look. I wanted a warm and clean look with user-friendly navigation and a recipe index with images. It's getting there! While undertaking the makeover, I went with something I had long avoided – switching the blog host to WordPress from Blogger. I'm not tech savvy, so I didn't want to change anything that's complicated. But I learned some of the features I wanted to add to the blog (such as the recipe index with images) were easier to do with WordPress.
Now let's talk about today's recipe. This doenjang (된장) marinated pork is another great option for your Korean BBQ this summer. Doenjang is Korean fermented soybean paste. No doubt the pork dish marinated in a spicy gochujang sauce — dwaeji bulgogi (aka jeyuk bokkeum) is more popular these days. But this preparation, which is also known as maekjeok (맥적), dates back to early Korean history long before chili peppers were introduced to Korea. Maek refers to people of Goguryeo (고구려), one of the three ancient Kingdoms, and jeok means skewered meat.
Maekjeok evolved over time, and it's believed to be the origin of today's bulgogi. Over 1000 years later during Joseon Dynasty, it was served in Royal Court as seen in the famous Korean drama Daejanggeum (대장금), if you watched it.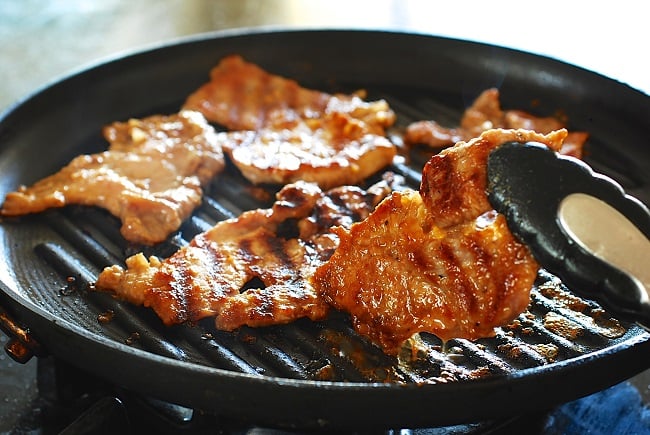 Pork butt (aka Boston butt) is the best cut of meat for this dish. Pork loin works well too. The salty, savory doenjang adds a deep umami flavor to the pork without overpowering it. I added a little bit of acidity in the marinade to brighten the doenjang taste and bring the flavors together.
Doenjang flavored pork pairs well with buchu (garlic chives). I served it on a bed of stir-fried garlic chives and minari (water dropwort). These vegetables are in season and can be found in Korean markets. Serve with red or green leaf lettuce, in which to wrap the meat, along with ssamjang.
For more grilling recipes, visit here.
Have you tried this steamed egg recipe? Please rate the recipe below by either clicking the stars or leaving a comment! And make sure to share your creations by tagging me on Instagram! Stay in touch by following me on Pinterest, Twitter, Facebook, and Instagram.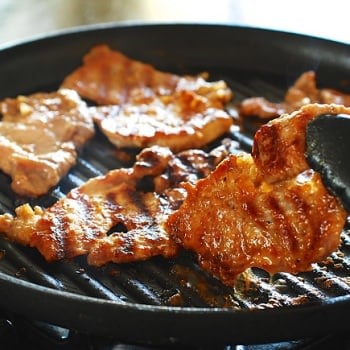 Maekjeok (Doenjang Marinated Pork)
Ingredients
1

pound

pork

Boston butt or loin, thinly sliced (about 1/4-inch thick)
For the marinade:
1-1/2

tablespoons

doenjang

Korean fermented soybean paste

2

tablespoons

soy sauce

2

tablespoons

rice wine

1

teaspoon

vinegar or lemon juice

1

tablespoon

sesame oil

2

tablespoons

honey

1

tablespoon

sugar

2

tablespoons

grated onion

1

tablespoon

minced garlic

1

teaspoon

finely grated

or juiced ginger

pepper to taste
Optional vegetables:
4

ounces

buchu

garlic chives, (or mix with minari)

If unavailable, substitute with 1 medium  onion, thinly sliced

salt to taste

oil for stir-frying
For the wraps:
1

or 2 heads of red or green leaf lettuce

10 to 15

perilla leaves

kkaennip

crown daisy

ssukgat

ssamjang
Instructions
Thinly slice the meat (about 1/4-inch thick), if not pre-sliced.

Combine all the marinade ingredients in a bowl and mix well.

Add the meat, and mix well until evenly coated. Marinate at least for 30 minutes.

Cut the optional vegetables into 2 - 3 inch lengths. Heat a skillet with a tablespoon of oil, and briefly stir-fry the vegetables until slightly wilted. Salt to taste. Transfer to a plate.

Heat a grill pan or a skillet over medium high heat and add the pork slices. Immediately lower the heat to medium. The marinade will burn if the heat is too high. Cook until the pork is cooked through and slightly caramelized, one to two minutes each side. Turn over a couple of times to prevent the marinade from burning.

Serve on a bed of the optional stir-fried vegetables along with the vegetables for the wraps and ssamjang.