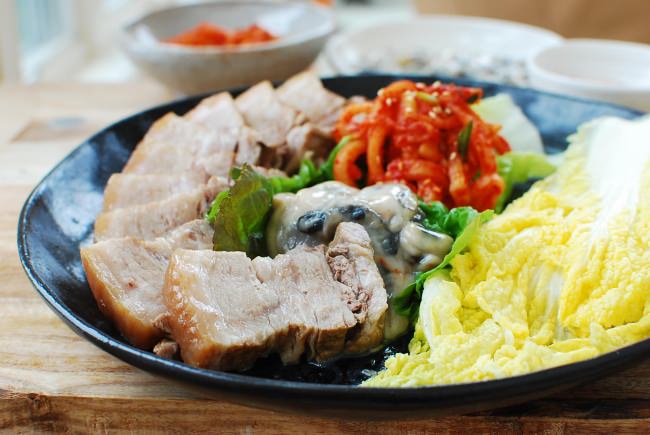 Bossam (보쌈) is a boiled pork dish. The meat is boiled in a flavorful brine until tender and served thinly sliced. At the table, each person wraps the meat in salted napa cabbage leavesalong with radish salad (
musaengchae/muchae
) and salted shrimp. Bossam is a family favorite, so it's a dish I make quite often when my extended family get together.
Salted napa cabbage is traditional, but you can also use lettuce and/or perilla leaves to make wraps.
Every time I make or eat this dish, I think of my father. He loves it! My father was born and raisedin Jeju Island, where Korea's most flavorful pork (meat from black pig) comes from. So, he knows his pork!When it was time to make kimchi, my mother would boil big chunks of pork. Because there was plenty of salted cabbage and radish stuffing, all we needed was boiled pork to have a delicious bossam feast.
Uncommon forhis generation of Korean men, my father spent (still does) a lot of time in the kitchen helping my mother, especially onkimchi making days. He was always the one who cut the meat into thin slices. Then, with his hands wet from pork fat, he would pick a cabbage leaf, place a slice of meat on it, top it with a dollop of the radish mix and a pinch of salted shrimp, and roll it upand enjoy the much deservedbossam. Sometimes,he would add fresh garlic slices, chili pepper slices, and/or fresh oysters.
My father also loves it simply wrapped in a piece of we
ll fermented
kimchi
with some saewujeot (salted shrimp). Delicious!
Pork belly (samgyupsal, 삼겹살) and Boston butt (moksal, 목살) are the most commonly used cuts for this dish. Some people also use picnic shoulder (apdarisal, 앞다리살).
Korean cooks add a variety of ingredients to the boiling liquid to eliminate the unique smell of pork and flavor the meat. The addition of doenjang (fermented soybean paste) is not surprising because pork and doenjang go very well together in dishes like doenjang jjigae.
Many years ago, word got around, among us Korean home cooks, that coffee was the secret ingredient. Well not so secret anymore. We all use it.
You will hardly taste doenjang or coffee from the boiled meat. They simply enhance the natural flavor of the pork. The result is rich, but subtly flavored, deliciously moist meat!
Now, can you imagine the textural contrasts and the burst of flavors when you bite into this pork wrap?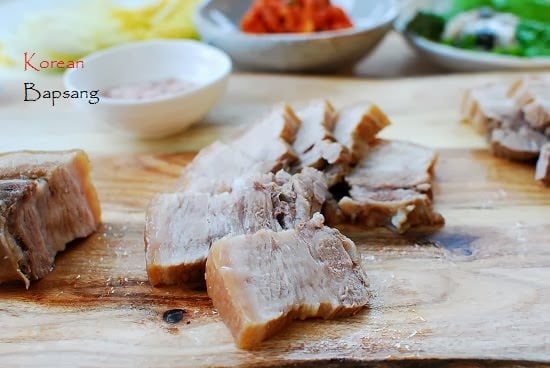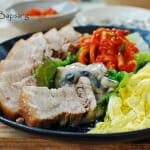 Ingredients
For the wraps
tender inner parts of 1 napa cabbage

salted* (or red or green leaf lettuce)

* Dissolve 1/2 cup coarse salt in 4 cups of water, and soak the cabbage leaves until softened, 2 to 4 hours. Rinse and drain well.

Radish salad

musaengchae - See recipe.

saewujeot

salted shrimp
For the meat
2

whole fresh pork belly about 3-inch wide cut

about 2.5 pounds

1/2

medium onion

2 - 3

white parts of large scallions

7 - 8

plump garlic cloves

1

inch

ginger piece

sliced

1

teaspoon

whole black peppers

1-1/2

tablespoons

doenjang

fermented soybean paste

1

teaspoon

instant coffee

or a cup of brewed coffee

1

teaspoon

salt

2

bay leaves

10

cups

water
Instructions
Bring the water and all the brine ingredients to a boil over medium high heat, and continue to boil for 5 minutes.

Add the pork belly and boil for 20 minutes, uncovered. Reduce the heat to medium low, and cook, covered, until the meat is very tender, 40 to 50 minutes. Turn the heat off, and cool the meat in the cooking liquid. This will keep the meat moist.

Thinly slice the meat and serve with the salted cabbage (or lettuce), saewujeot, and musaengchae.
Notes
Keep any leftover meat in the cooking liquid. Boil the meat in the liquid to reheat. This prevents the meat from drying out.