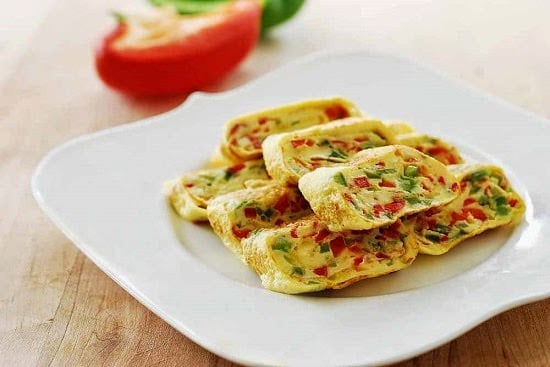 Washington, D.C. is truly beautiful this time of the year!
At the end of cold, snowy March,
magnolias and daffodils were among
the first signs of spring in the city.
I couldn't help but go out and marvel at them every day during my lunch break at work.
Last week, the weather turned warm just in time for the peak of Cherry Blossoms.
They were late to bloom, and u
nfortunately, their short lives were cut even shorter by bad weather that followed. While they were here, the blossoms were gorgeous!
Today's recipe is another version of gyeran mari, a Korean-style rolled omelette.I previously showed you two types of gyeran mari, one made with carrot and scallion and the other with gim (nori). This one is similar to the one made with carrot and scallion, but this time I used red and green peppers. Asparagus is another good vegetable choice in the spring. I also used a bit easier method here by mixing the chopped vegetables in the egg mixture before cooking. As I said in the previous post, cook the eggs over gentle heat. If the heat is too high, you'll end up with tough eggs that will break when folded. If you don't cook the eggs enough, the rolled egg will be runny in the middle.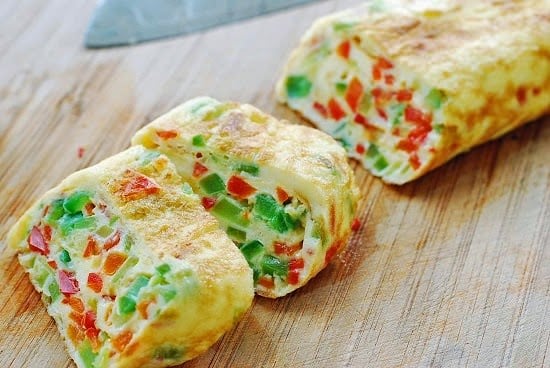 ¼ red bell pepper, finely chopped
¼ green bell pepper, finely chopped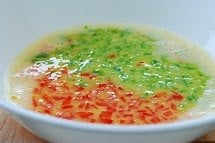 Crack and beat the eggs in a bowl with a spoon or a fork, until the yolks and whites are blended well with no visible strings of whites. Stir in the chopped vegetables and salt.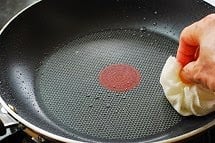 Add a teaspoon of vegetable oil to a medium size non-stick pan and distribute the oil evenly using a napkin or paper towel. Preheat over medium low heat, until it feels hot when you place your hand 2 to 3 inches above the bottom of the pan.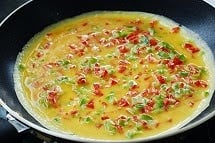 Add the egg mixture to the pan, reserving a tablespoon or two to use as glue for the last fold. Swirl it around to cover the pan. Let it cook until the top begins to set but is still slightly wet.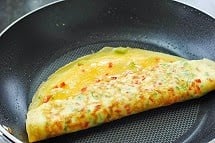 Using a spatula, lift one end of the egg (about 1-1/2 inches) and fold it over. Reduce the heat or raise the pan away from the heat for a little while if the bottom is browning.Lift the folded part and fold it again, repeating until only one fold remains. Spread the reserved egg mixture over the unfolded end. When the egg addition is set but still slightly wet, finish folding the omelette. Leave it on the hot pan for a few more seconds.
Remove from the pan and let cool for about 5 minutes. Slice the egg into thick, even pieces.
Here are some photos of the blossoms I took…
Magnolias around the Smithsonian Castle.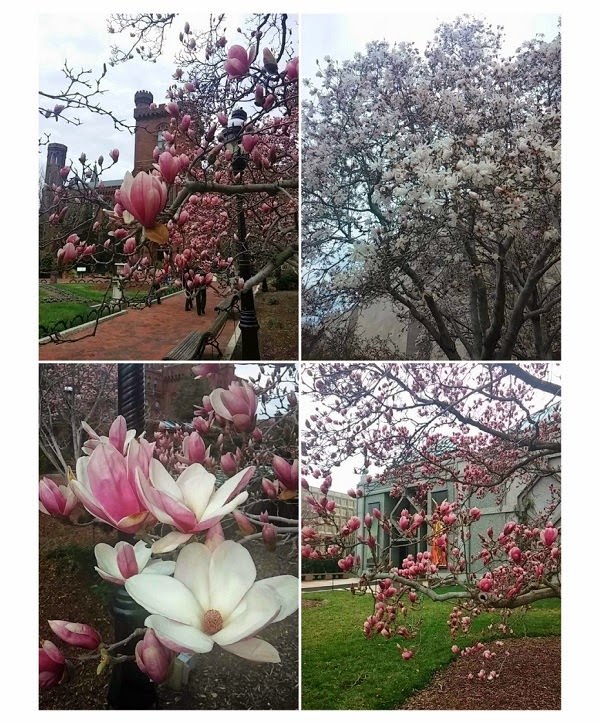 Cherry Blossoms around the Tidal Basin.
Cherry blossoms in my yard.