Moist, tender, and flavorful Korean braised chicken (dakjjim) made in the slow cooker!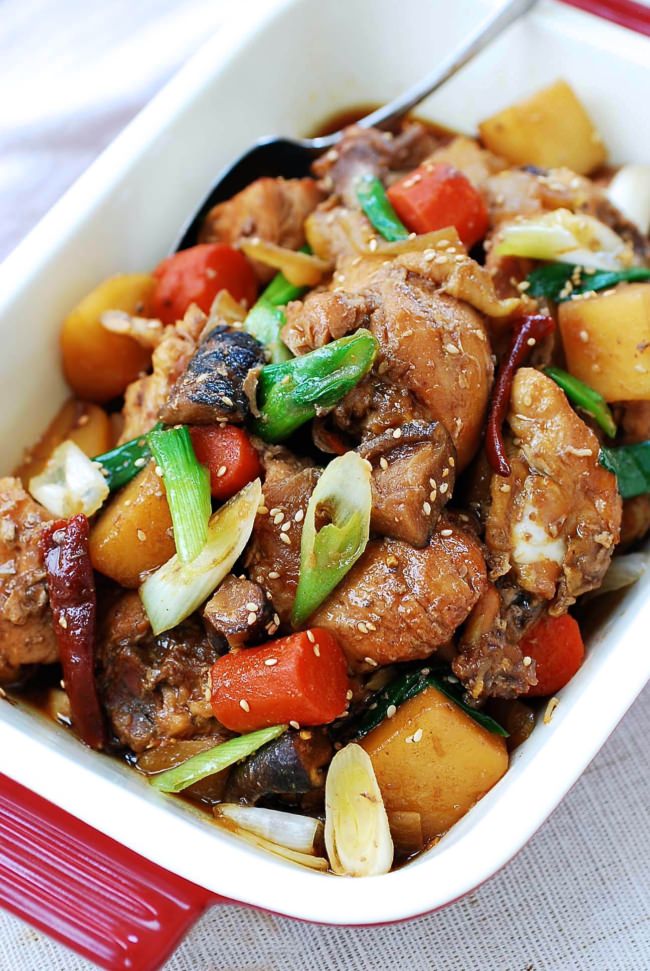 This slow cooker chicken recipe is adapted from my stove top dakjjim (also called jjimdak) recipe. I love the results! Thanks to my 11-year old Crock-pot, it takes much less effort on my part to make this moist and tender chicken that's full of flavor.
A frequently asked question on my slow cooker recipes is whether any water or broth is needed in addition to the sauce in the recipe. The answer is no! Slow cooking brings out a lot of natural juices from the meat and vegetables with little evaporation. So, you'll end up with much more liquid than you started with.
I usually cut up a whole chicken into serving pieces to make dakjjim (닭찜). I love all the different pieces I get from cutting up a whole chicken for rich dishes such as this one. Plus, I get the backbone that I usually freeze to make stock at a later time. What a deal! See how to cut up a whole chicken here.
If you're buying cut-up chicken, bone-in and skin-on thighs and drum sticks will be the best for this recipe because they lend much more juice and flavors to the sauce.
Unlike dakdoritang (닭도리탕), a chicken dish that is cooked in a red spicy sauce, this dakjjim recipe is braised in a sweet and savory sauce. It gets the spicy kick from fresh or dried hot peppers. You can always leave them out if you or your kids don't care for spicy food.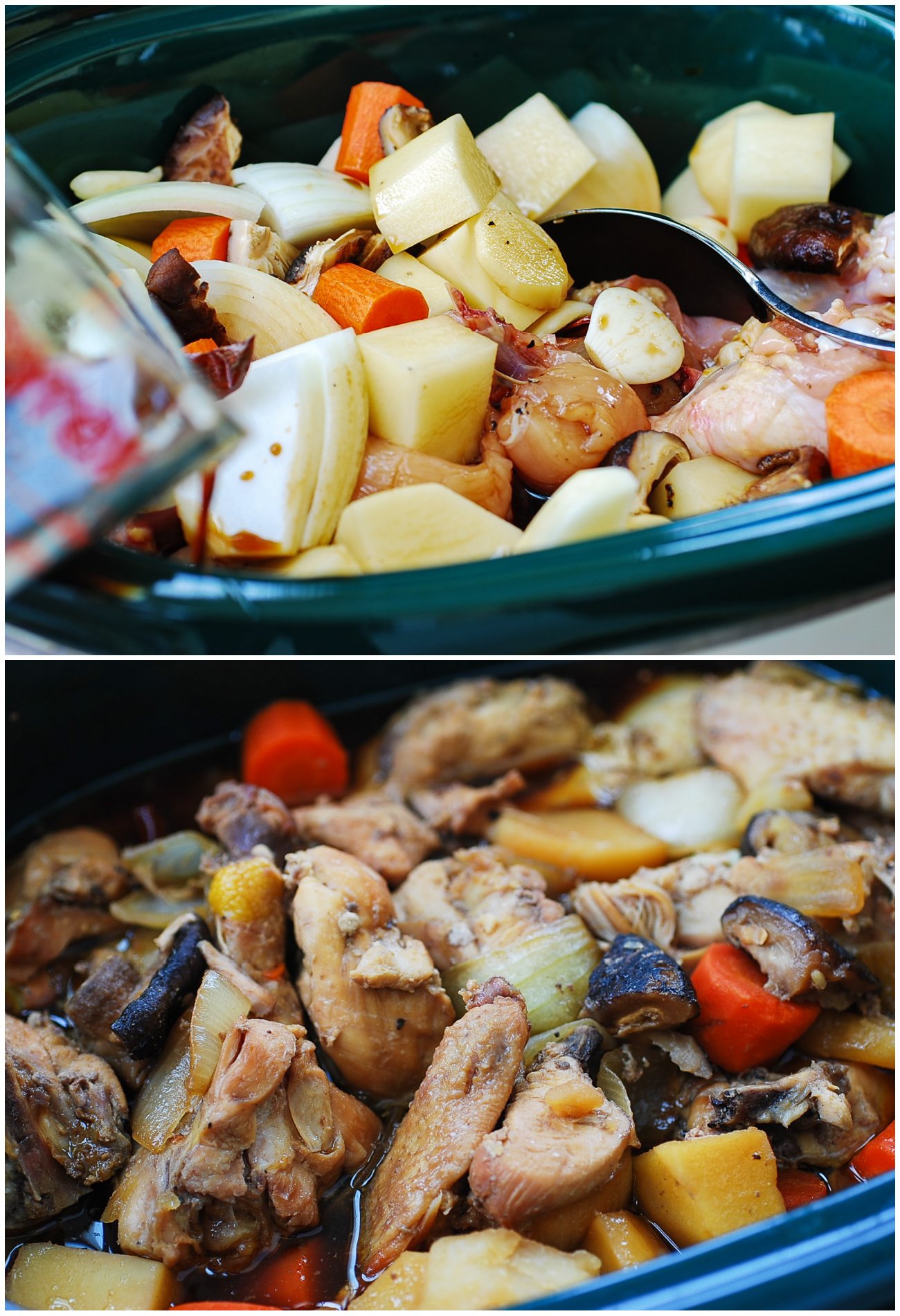 Slow cooking the chicken
The cooking steps are pretty standard for slow cooker recipes – prepare the ingredients, place them in the slow cooker, and cook either on high or low heat.
In this recipe, I added an optional extra step at the end, which I think completes the dish nicely. Pour everything into a large pot and boil over high heat on the stove top, uncovered, for a few minutes, to achieve a slightly thick, glossy sauce.
More slow cooker recipes:
Slow cooker chicken soup with napa cabbage
Slow cooker beef bulgogi
Slow cooker braised beef shank meat with root vegetables
Slow cooker spicy pork ribs
Slow cooker galbijjim (beef short ribs)
More braised chicken recipes:
Pressure Cooker Dakbokkeumtang
Jjimdak (Braised chicken)
Dakdoritang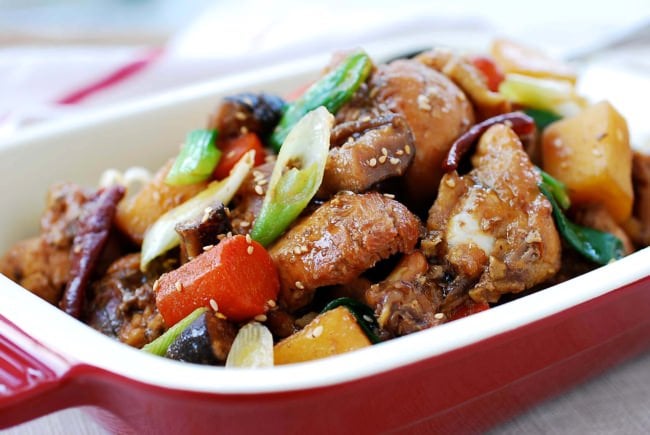 For more Korean cooking inspirations, follow along on YouTube, Pinterest, Twitter, Facebook, and Instagram.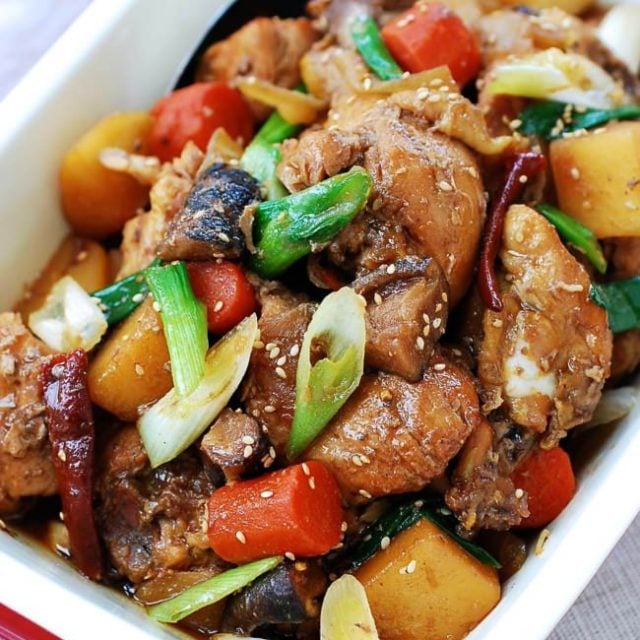 Ingredients
1

medium size chicken cut up

about 2.5 pounds of cut pieces

2

medium potatoes

cut into large chunks

1

medium carrot

cut into large chunks

1/2

large onion

cut into large chunks

4

– 5 mushroom caps

shiitake, white, or baby bella, cut into large chunks

6

– 8 plump garlic cloves

3

– 4 thin ginger slices

1-inch round

2

– 3 dried whole red chili peppers

or green chili peppers or jalapenos – optional

2

scallions, roughly chopped
Sauce
⅓

cup

soy sauce

2

tablespoons

dark brown sugar

2

tablespoons

oyster sauce

or 2 more tablespoons soy sauce.

3

tablespoons

rice wine

or mirin

2

tablespoons

honey

or 2 to 3 more tablespoons brown sugar

1/4

teaspoon

pepper

2

teaspoons

sesame oil

1

teaspoon

sesame seeds
Instructions
Clean and cut the chicken into small pieces (2 to 3-inch sizes). Trim off excess fat. Drain thoroughly or pat dry with paper towels. Place the chicken and vegetables, except scallions, in the slow cooker. Pour in the sauce and toss everything well. (You can prepare ahead of time up to this point and keep it in the fridge.)

Cover, and cook for about 4 hours on high or 6 hours on low. Stir to rotate the chicken over midway through the process, if you're home. Stir in the scallions, sesame oil, and sesame seeds with a few minutes remaining, or see the optional step below.
Optional Step
Transfer to a large pot. Cook, uncovered, over high heat until the liquid is reduced and slightly thickened, 6 to 8 minutes. Stir in the scallions, sesame oil, and sesame seeds. Turn the heat off as soon as the scallions are slightly wilted.