Hotteok is a popular street snack in Korea. It's a sweet treat made by pan-frying yeast dough stuffed with a brown sugar and nut filling. You can easily make it at home with this easy to follow recipe!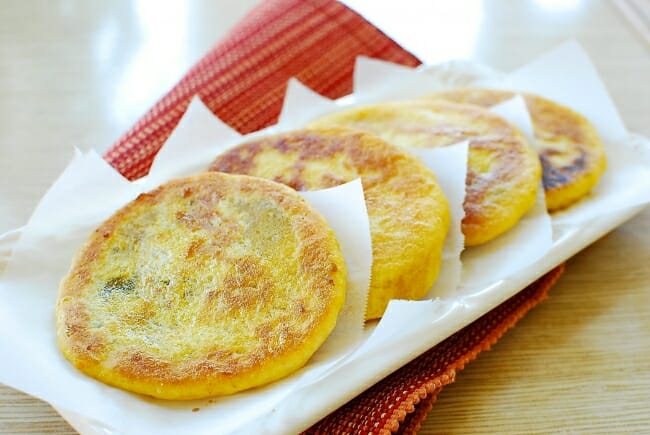 I have a sweet treat to share with you today! A delicious hotteok (or hoddeok) recipe! Hotteok is a popular street snack in Korea. It's basically a pan-fried yeast dough stuffed with a brown sugar and nut filling. Eaten hot off the griddle on the street, hotteok is especially popular on cold days.
It also reminds me of my trip to Korea in late October two years ago. My parents had traveled over there to get home country care for my mother's illness. Soon after, I followed them to help them out.
One day, after having stayed at the hospital all night, I decided to go to Insadong for a little break. Strolling around, I ran into a hotteok stand with a long line of people. It got me curious, and before I knew it I was in line. I later learned that this place, called Teolbone (Beard man's) Hotteok, was very famous for their signature glutinous rice and corn hotteok.
Although it was not the traditional hotteok that I grew up with, it was quite delicious! It certainly warmed up my soul when I was tired and weary on an unusually cold October day.
When I returned home, I experimented with different ingredients and ratios to recreate it. However, that is not the recipe I am sharing here today. Because it's pumpkin season, I've tweaked it a little to make pumpkin hotteok. After a couple of trials, I was very happy with how these came out. They are chewy, gooey and nutty!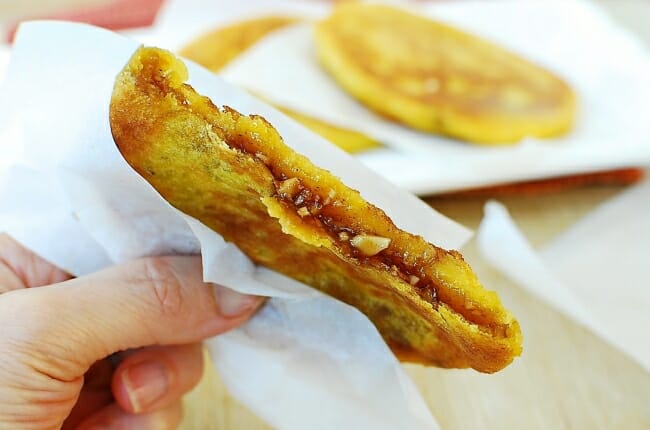 Hobak hotteok (Pumpkin stuffed Korean pancake)
Dessert, Snack
Print Recipe
Ingredients
1

package Active Dry yeast

2-1/4 teaspoons

⅓

cup

warm water

2

tablespoons

sugar

1

tablespoon

canola or corn oil

1/2

cup

warm milk

1/2

cup

warm kabocha or pumpkin puree

either fresh* or canned

1-3/4

cups

all purpose flour

3/4

cup

glutinous rice powder

aka sweet rice

1

teaspoon

salt

canola or corn oil for pan frying
Filling:
1/4

cup

sugar

1/4

cup

brown sugar

1

teaspoon

cinnamon powder

3

tablespoons

of assorted nuts

peanuts, walnuts, almonds, pine nuts, etc., finely chopped

1/2

teaspoon

vanilla extract
Instructions
Warm a large bowl by rinsing it with warm water. Add ⅓ cup of warm water to the bowl. Stir in the sugar, oil and yeast. Let it sit for about 10 minutes until the yeast has bubbled up.

Sift the flour, glutinous rice powder, and salt together. Add the milk, pumpkin and flour mix to the yeast water. Knead until everything is well incorporated. The dough will be a little sticky.

Cover with plastic wrap. Place it in a warm place and let it rise until doubled, about an hour.

Prepare the filling by chopping the nuts and mixing all the filling ingredients well.

Bring the dough down by reshaping into a round. Let it sit for another 20 - 30 minutes until doubled again.

Start heating a pan with a couple of tablespoons of oil over medium heat. Lightly oil your hands. Tear a big enough piece to make an about 2 to 2-1/2-inch ball. Flatten into a thick disk, creating a shallow well in the middle. Add a tablespoon of the filling and lightly press it down with the spoon.

Carefully gather the edges together, pinching to seal. (This might take some practice.)

Put the sealed side down on the pan, flattening a little by pressing it down with an oiled hand or spatula. Cook for a minute, and then flip over. Press down for a few seconds to flatten. Cook until both sides are golden brown. Repeat the process with the remaining dough.
Notes
Hotteok freezes well. You can reheat them in a toaster or toaster oven and enjoy delicious hotteok any time.