Gamjatang is a spicy, hearty stew made with pork bones. You can make this restaurant favorite at home with this easy to follow recipe.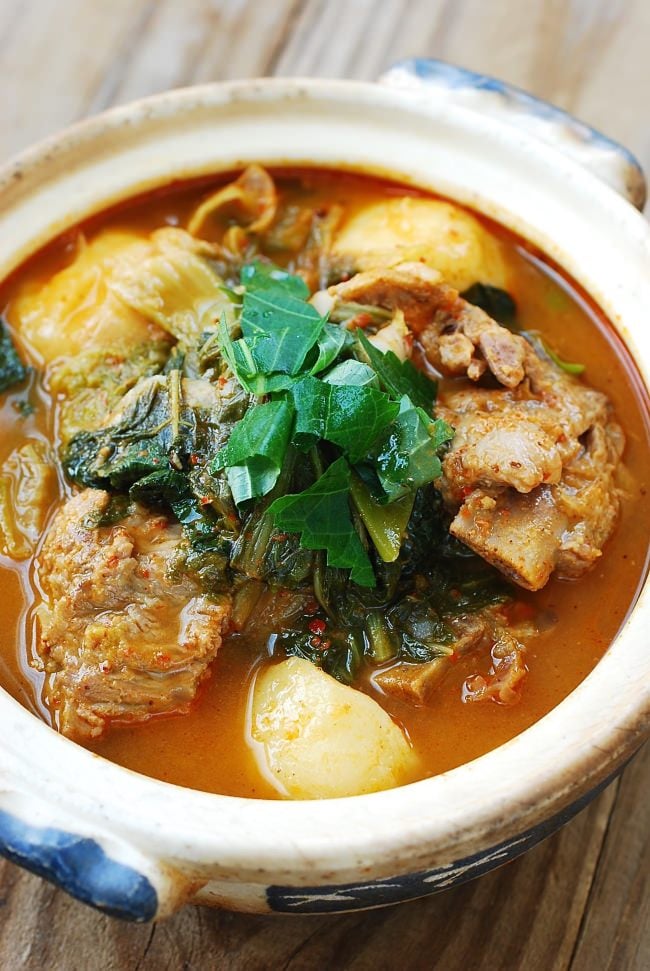 What is Gamjatang?
Gamjatang (감자탕) is a spicy, hearty stew made with pork bones. Gamja (감자) is a Korean word that's more commonly used for potato, but for this dish, gamja actually refers to a part of the pork spine. Honestly, I didn't even know this until I started researching the origin of gamjatang for this post. Well, we learn something new every day!
Ironically, this stew traditionally includes large chunks of potatoes, gamja, so even most Koreans think that's where the name of the stew came from. They probably wonder why potatoes in the dish seem extra rather than the main event.
Indeed, this dish is all about pork bones! They are used to make a deeply flavored, milky stew base, and the attached meat is fall-off-the-bone tender and delicious.
How to make gamjatang
You will need to soak the pork bones to remove excess blood. Next, briefly cook the bones in boiling water and discard the water to further remove the impurities from the bones. Then, boil the bones with the aromatic vegetables until the meat is tender and the broth is milky. This is the traditional technique used to cook meat bones in Korean cooking. See galbitang and seolleongtang.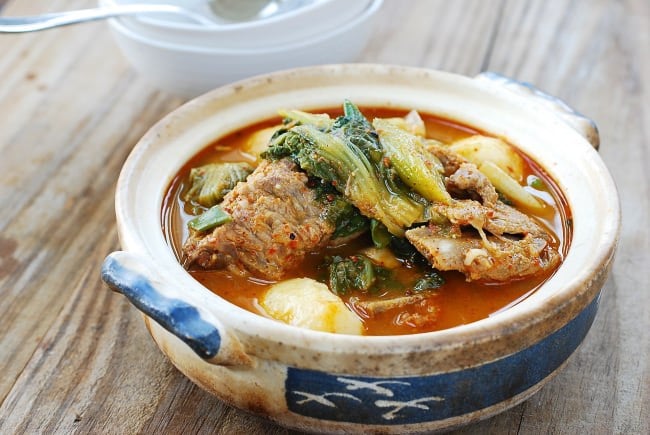 You can make this stew simply with pork bones and potatoes, but this dish typically include boiled napa cabbage or young cabbage (putbaechu, 풋배추). I love the addition of the cabbages!
The stew is flavored with typical Korean condiments such as doenjang (Korean fermented soybean paste), gochujang (Korean red chili pepper paste), and gochugaru (Korean red chili pepper flakes). The most unique ingredient, however, is crushed perilla seeds (ddeulkkaegaru, 들깨가루) and fresh perilla leaves (kkaennip, 깻잎), which gives the stew distinct nutty flavors.
I know you probably don't want to buy crushed perilla seeds just for this one recipe. But, perilla seeds are so distinctly flavorful! Use it in ddeulkkae soondubu jjigae or use as a substitute for sesame seeds in many Korean dishes, especially in namul dishes or bibim guksu.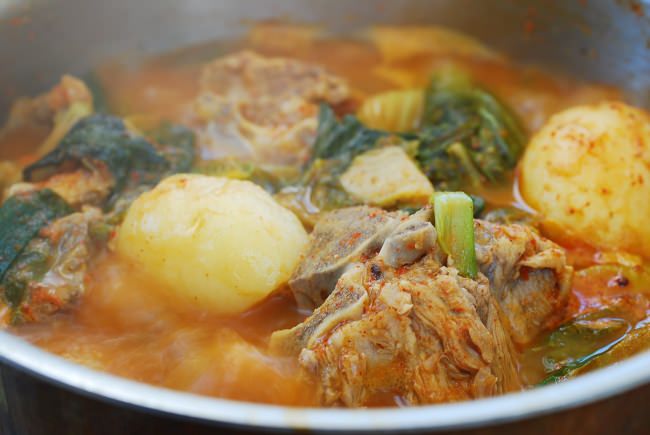 For more Korean cooking inspirations, follow along on YouTube, Pinterest, Twitter, Facebook, and Instagram.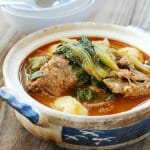 Ingredients
For the broth
2

pounds

of pork spine or neck bones

1/2

small onion

5

garlic cloves

4

thin ginger slices

about 1-inch rounds

1

scallion white part
For the stew
5 to 6

ounces

young cabbage, putbaechu, 풋배추 or napa cabbage (1 cup, boiled)

3

small white potatoes

6 to 8

perilla leaves, kkaennip, 깻잎, roughly sliced

2

scallions, roughly sliced

1

tablespoon

crushed perilla seeds, 들깨가루

Or sesame seeds
For the seasoning
1

tablespoon

gochugaru (Korean red chili pepper flakes) -- use a teaspoon or 2 more for a spicier stew)

1

tablespoon

gochujang (Korean red chili pepper paste)

1

tablespoon

doenjang (Korean fermented soybean paste)

1

tablespoon

gukganjang, 국간장, soup soy sauce

or fish sauce

1

tablespoon

minced garlic

Salt and pepper to taste