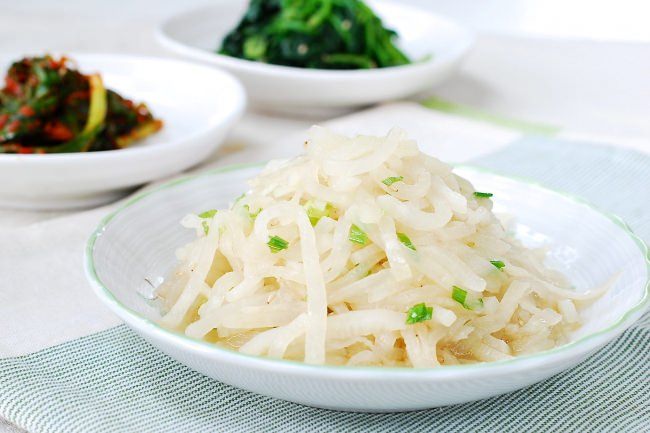 This is a side dish that you should add to your list of favorite fall/winter Korean side dishes. It's simple, nutritious, and tasty!
N

amul
is the general term that refers to a seasoned vegetable side dish. Made with
mu (or moo),
Korean radish
,
this dish is called
mu namul.
If you remember from my
kkakdugi
post, Korean radish is a variety of white radish (aka
daikon
) and has firm crisp flesh and a slightly sweet and peppery taste. According to the data provided by the United States Department of Agriculture, white radish is a good source of Vitamin B6, calcium, iron, magnesium, dietary fiber, vitamin C, folate, potassium and copper. Read
more
.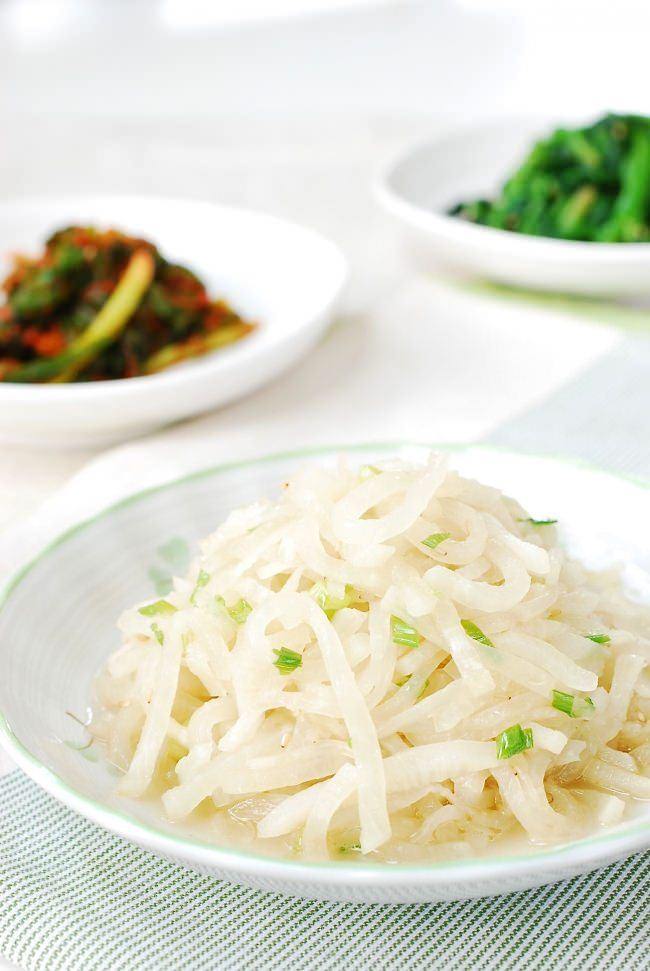 In season, the radish tastes so good in its natural state that you really don't need to add much of anything else to make this dish delicious. My problem is that I can't stop eating raw pieces while I'm preparing the dish.
The typical cooking method for this dish is a combination of stir-frying and steaming. The julienned radish is first stir-fried with a little bit of oil, and then covered and cooked over low heat for a steaming effect. The result is a healthy vegetable dish that is mildly flavored and naturally sweet. Enjoy!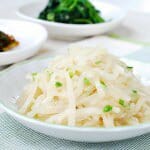 Mu Namul (Radish Side Dish)
a Korean side dish made with white radish!
Ingredients
1

pound

Korean radish

mu/moo

1

tablespoon

vegetable oil

2

teaspoons

soup soy sauce

optional

salt to taste

start with 1/4 teaspoon, if using soup soy sauce, otherwise 1/2 teaspoon

1

teaspoon

minced garlic

1

scallion

finely chopped

2

teaspoons

sesame oil

1/2

teaspoon

sesame seeds
Instructions
Clean the radish. Peel the skin if necessary. You don't need to peel if the skin is smooth and clean.Cut the radish into match sticks (use a mandoline if available).

Heat a large skillet with a tablespoon of oil over medium heat. Add the radish sticks with the optional soup soy sauce, salt, and garlic and cook for 4 - 5 minutes, stirring well, until the radish sticks become wilted and translucent.

Add 1/4 cup of water. Reduce the heat to medium low, cover, and cook for an additional 3 - 4 minutes, until it reaches the desired level of softness. Taste and adjust seasoning and/or cooking time as needed. Right before turning off the heat, add the chopped scallion, sesame oil, and sesame seeds, and stir well. Serve warm.