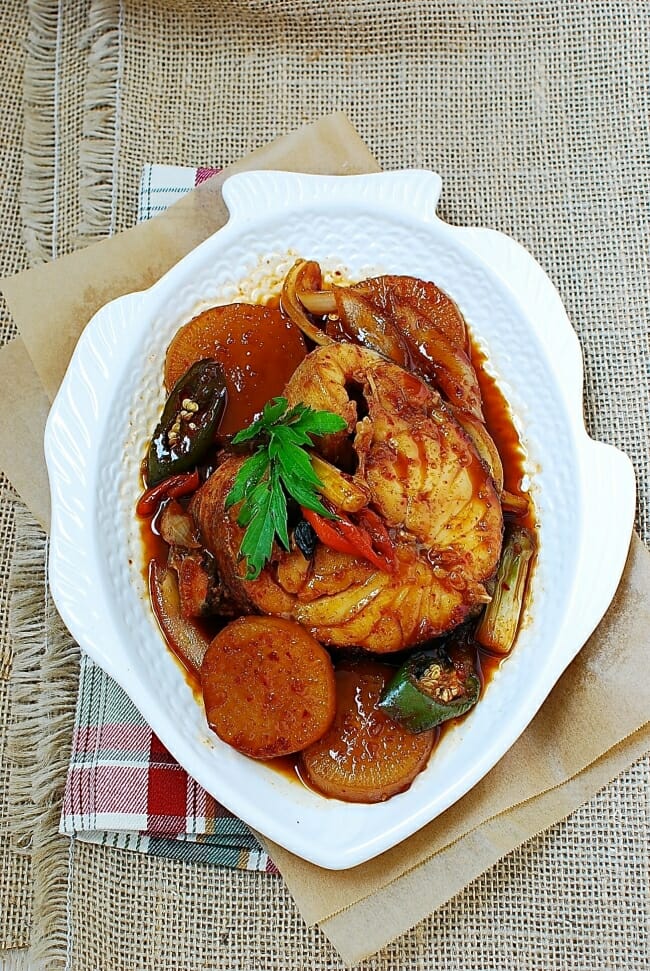 Whenever we go to NYC, we make every attempt to drive out to Flushing, where there is a high concentration of Korean restaurants. Last time we ate at one of favorite restaurants, I had a wonderful dish called daegu jorim (soy braised black cod, aka sablefish). I enjoyed it so much I decided to make it at home.
Jorim refers to dishes that are braised or cooked in a sauce. (See my dubu jorim and gamja jorim). Braised fish is very popular in Korean cuisine. It's made with just about any fish. Typically, chunks of white radish (mu, 무), onion, and chili peppers are also added.
If you can't find a white radish, substitute it with potatoes.
Black cod is a premium white fish that has silky texture and sweet, delicate flavor. It's native to the Pacific, so it's expensive and not widely available here in the East Coast. I used Atlantic cod in this recipe instead. You can also use Pacific cod or any white flesh fish such as sea bass.
I first boil the sauce with the radish and aromatic vegetables until the radish turns soft. Then, the fish is added to the thickened sauce that is full of flavors. I use this method so I don't overcook the white delicate fish that doesn't take much time to cook.
It's the perfect sweet and savory combination, with just enough heat from gochujang and chili peppers, that makes this dish so great!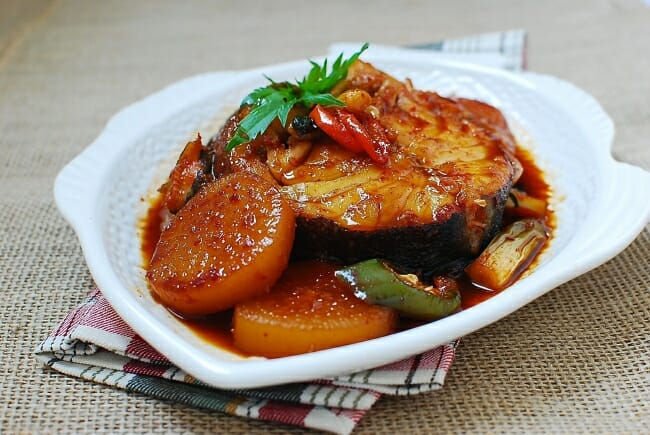 If you tried this soy braised cod fish recipe, please rate the recipe and let me know how it turned out for you in the comment section below. Stay in touch by following me on YouTube, Pinterest, Twitter, Facebook, and Instagram.
Ingredients
2

pieces

of cod fish

or black cod steaks or fillets

6

– 8 ounces Korean white radish

mu, cut into about 1/2-inch thick large chunks

2

garlic cloves

thinly sliced

2

– 3 thinly sliced ginger pieces

1/2

small onion

sliced (1/4-inch thick)

1

or 2 green and/or red chili peppers

or jalapenos, thinly sliced

1

– 2 scallions

cut into 2-inch lengths
Sauce:
5

tablespoons

soy sauce

3

tablespoons

rice wine

1

tablespoon

mirin

2

teaspoons

gochujang

red chili pepper paste

1

teaspoon

gochugaru

optional

2

tablespoons

sugar

1

teaspoon

sesame oil

1

– 1/2 cup anchovy broth

or water
Instructions
Clean the fish. Prepare the vegetables.

In a pan, add the radish, garlic, ginger, and sauce. Boil over medium high heat until the sauce is slightly thickened and the radish becomes soft, about 10 minutes. Add the onion and chili peppers and boil for another 3- 4 minutes.

Add the fish, and boil for 4-5 minutes, depending on the thickness of the fish. Carefully flip them over, and boil for another 4-5 minutes, repeatedly pouring the thickened sauce over the fish with a spoon. Serve with a bowl of rice.