This veggie-packed Korean street toast is easy and delicious! Experience the streets of Korea with a few ingredients you most likely have in your fridge.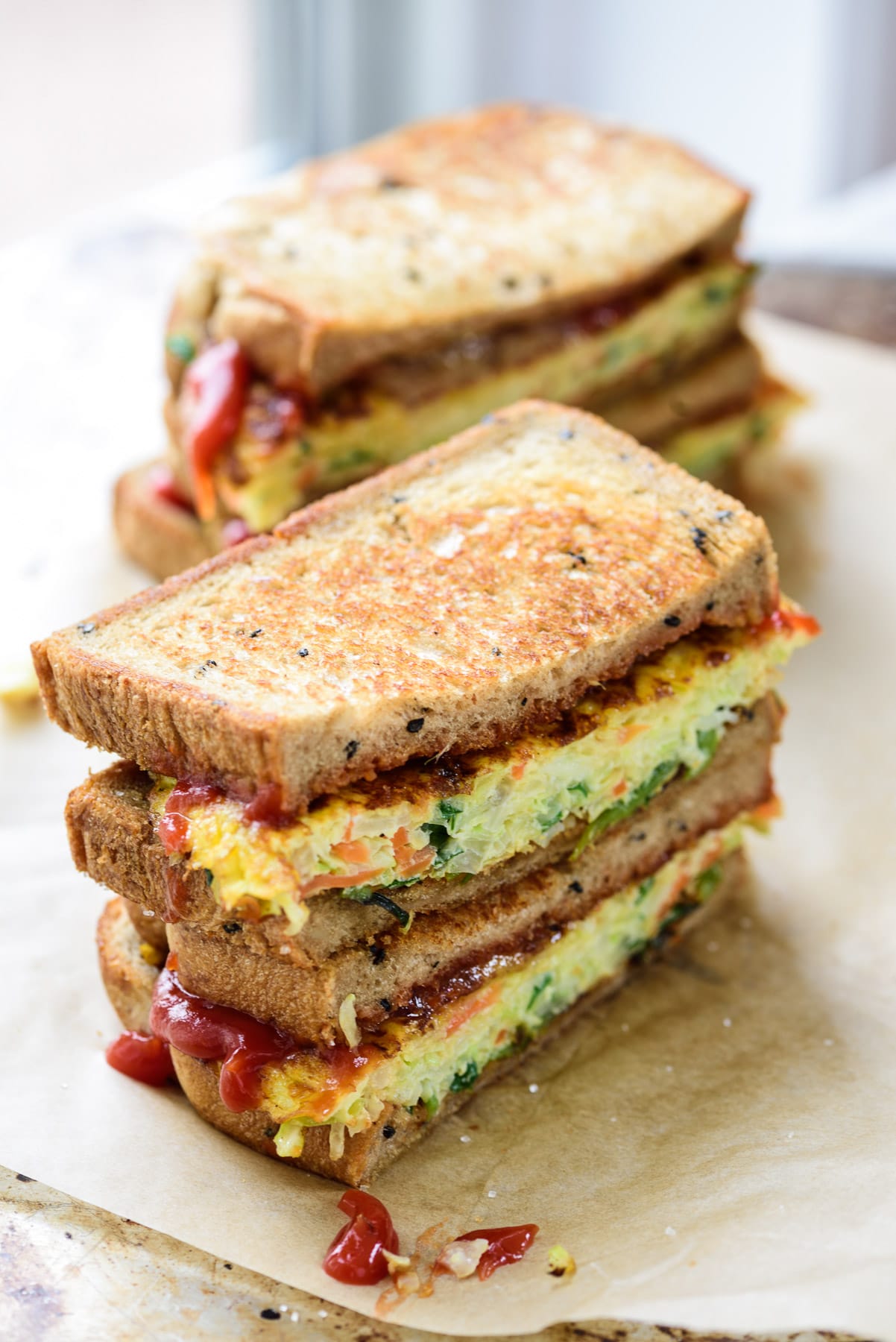 Korean street toast, known as gilgeori toast (길거리 토스트), is a popular grab-and-go egg sandwich that's delicious and filling. Gilgeori means street in Korean. Whenever I'm in Seoul, I enjoy one of these from a street cart to go with my morning coffee as often as I can.
There are infinite variations created by street vendors and fast food joints. The classic street egg toasts, however, typically include thinly sliced cabbage and other vegetables and are topped with sugar and condiments such as ketchup, mayonnaise and mustard. Often, a slice(s) of ham and/or cheese is added or offered as an option.
Famous Halmeoni Toast (grandma toast)
I've had several different ones, but my favorite is this veggie-packed egg toast by famous Halmeoni Toast (할머니 토스트) in Changdong neighborhood of Seoul. Halmeoni means grandma in Korean. Years ago, I saw a TV program featuring this 84 year old halmeoni who had been cooking up gilgeori toasts for 20 some years, and was still running the business because she wanted to stay active and interact with people. How inspiring!!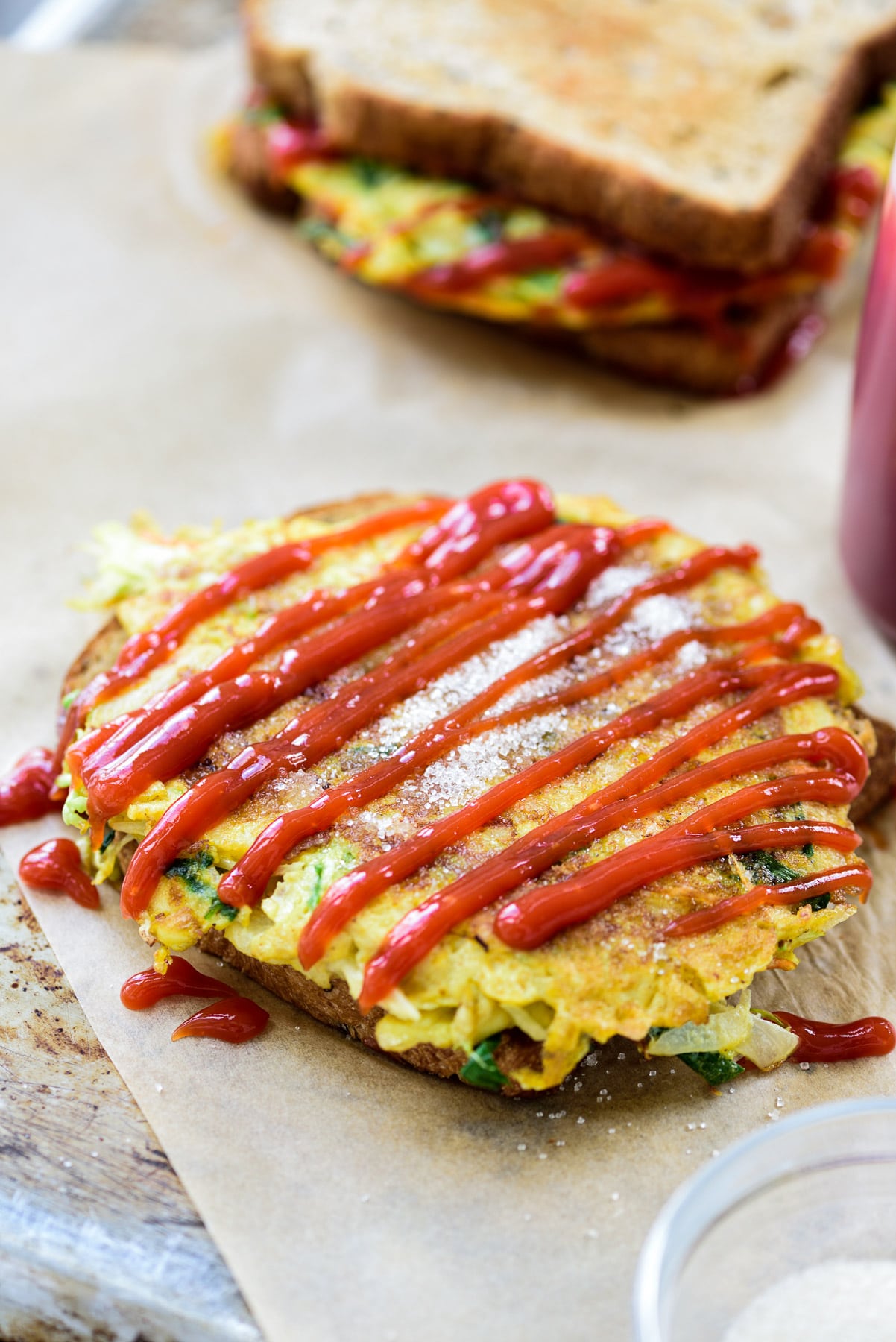 Her street toasts were highly popular for being very big and loaded with veggies for 2,000 won (less than $2) each at the time in 2018. She would sprinkle a heaping spoonful of sugar on top of the veggie omelet, followed by a good squirt of ketchup.
Sadly, Halmeoni passed away in February 2021, and her street cart was eventually closed down by the local government. Recently, her Vietnamese daughter-in-law, who used to help the aging mother-in-law with the business, reopened it at a different location in the same neighborhood. It's wonderful to see the legacy of Halmeoni Toast being continued by her daughter-in-law. I can't wait to visit the place next time I go to Korea.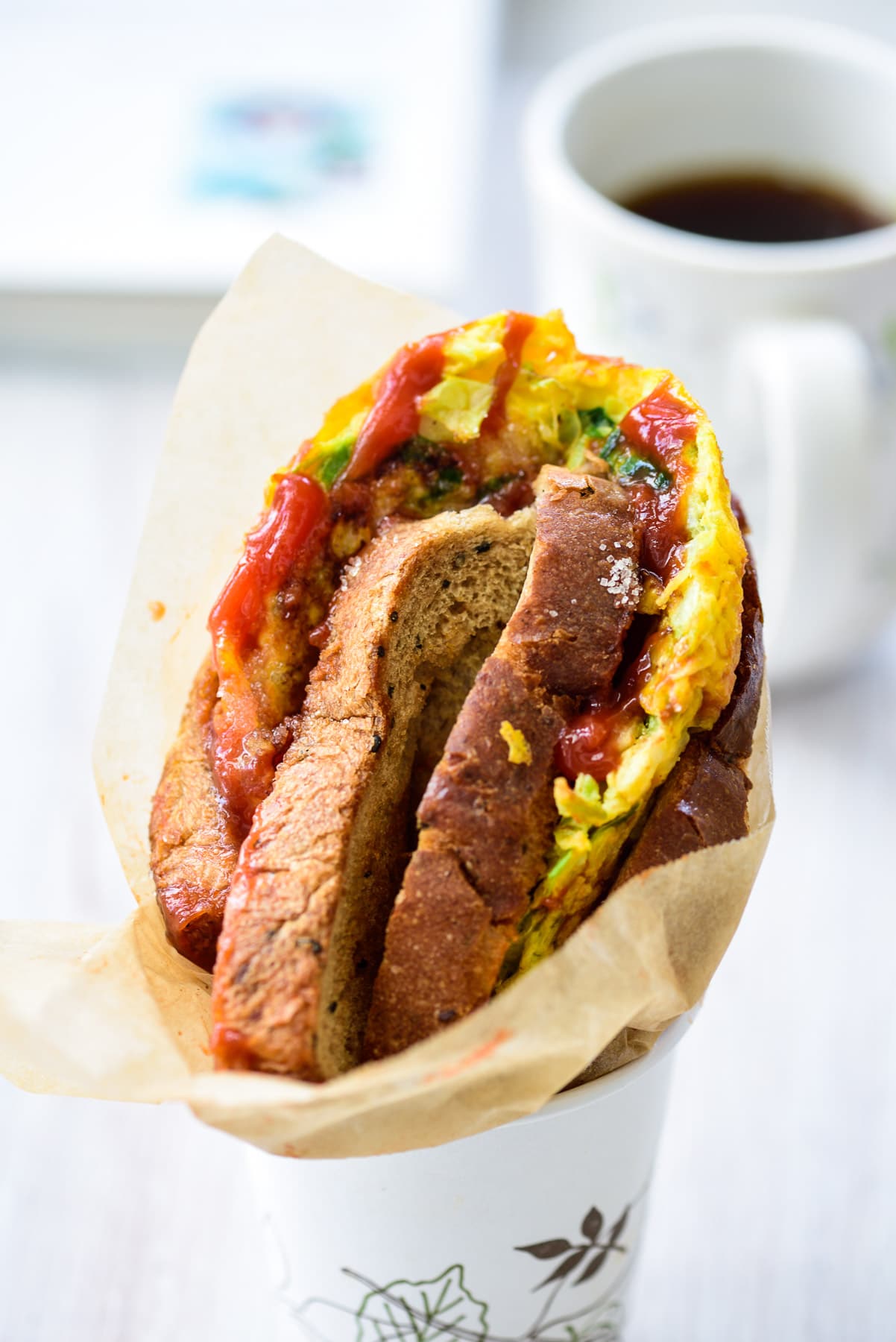 Korean street toast ingredients
Bread
Most gilgeori toasts are made with simple white bread slices toasted in a pan with margarine. You can also use whole wheat, multigrain or Asian milk bread. I usually use multi-grain milk bread from a Korean bakery.
Vegetables
For vegetables, Halmeoni Toast uses thinly sliced green cabbage, onion, carrot and buchu (garlic chives). The cabbage is the main vegetable. If you don't have garlic chives you can use a scallion. To make it as big as hers, use about 4 to 5 ounces (1 cup packed) of sliced veggies for each sandwich.
Egg
Halmeoni Toast uses one egg per sandwich with lots of vegetables. You can adjust the egg-to-vegetable ratio to taste, but to truly experience Halmeoni toast, try it with one and then increase to 1.5 (3 for 2 sandwiches) to 2 eggs next time, if you like.
Margarine or butter
Korean street vendors generally use margarine to toast bread and cook other ingredients. Butter is a great substitute. Olive oil is a healthier option if preferred, but I recommend you use margarine or butter if you're trying it for the first time.
How to make Korean street toast
To make a toast, place the veggies (reserving about 1/5) and egg in a deep bowl or cup and mix everything up by hitting them down and stirring with a pair of tongs or a fork. This breaks down the veggies and incorporates everything together, reducing the volume.
When frying up the egg mixture, add the reserved fresh veggies on top, just like how Halmeoni toasts are made.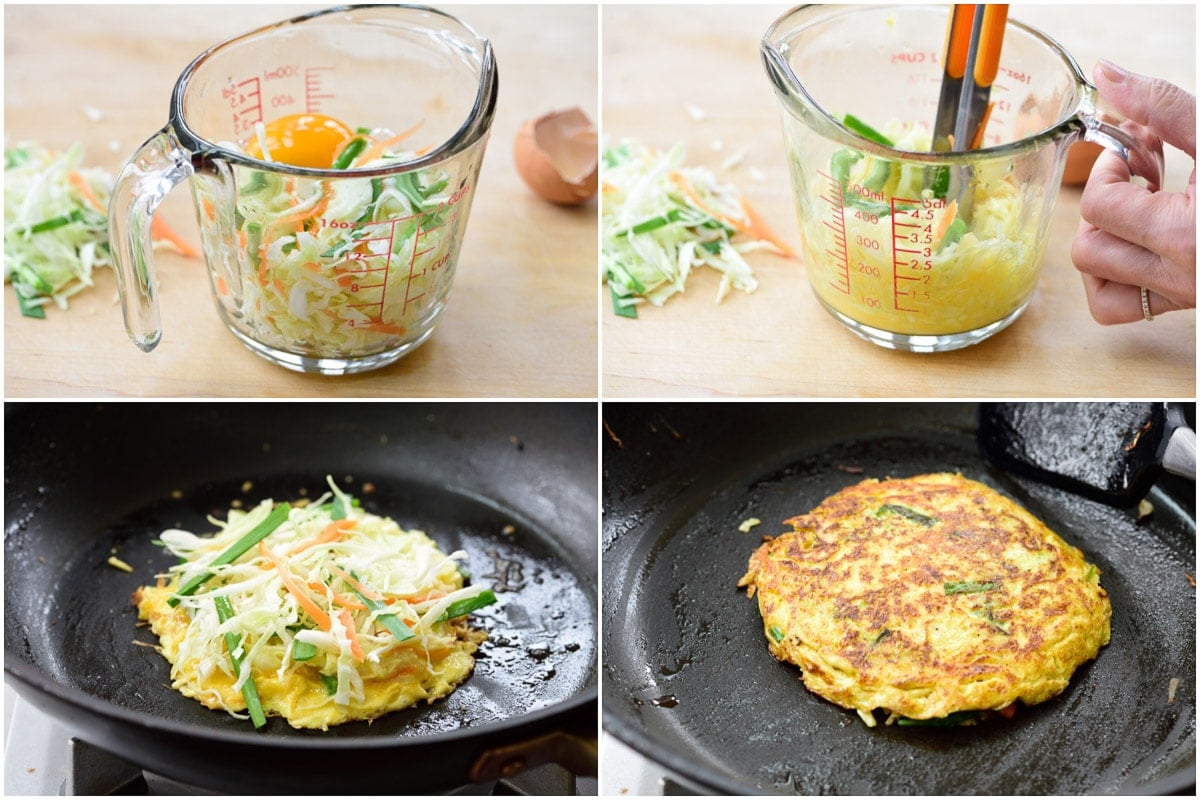 To finish up, place the veggie omelet on top of a toast. Sprinkle it with sugar and squirt ketchup to taste on top. I know some of you are skeptical about the sugar. I was too. In her TV interview, Halmeoni said sugar makes it more delicious. And I agree. It really enhances the sweetness of the veggies and taste of the savory toast. Again, to experience Halmeoni toast, try it once and decide how you like it.
This recipe makes one sandwich, but to make more, you can easily multiply the measurements by the number you want to make. I usually slice enough vegetables at once for several toasts, and keep them in the fridge. It comes in very handy when you need a quick breakfast or brunch.
More Korean Street Food
Tteokbokki
Hotteok
Kimbap
Mini kimbap
Dalgona candy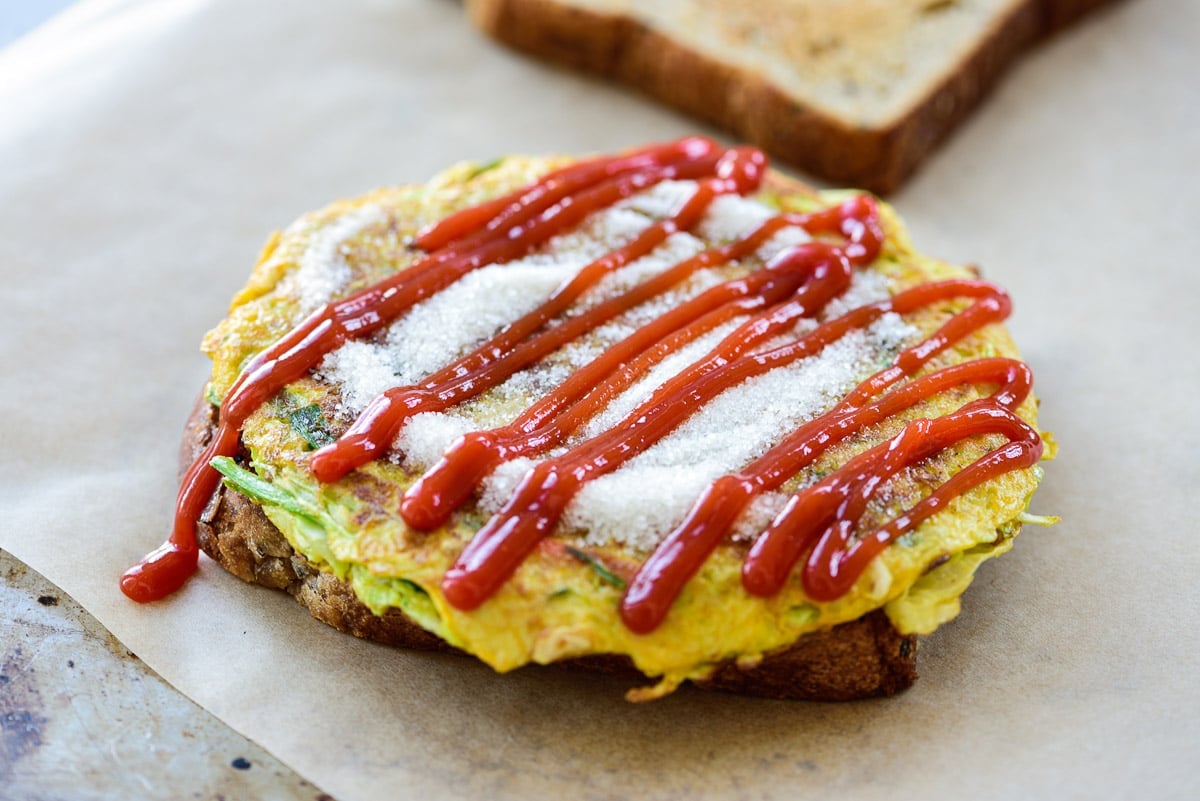 For more Korean cooking inspirations, follow along on YouTube, Pinterest, Twitter, Facebook, and Instagram.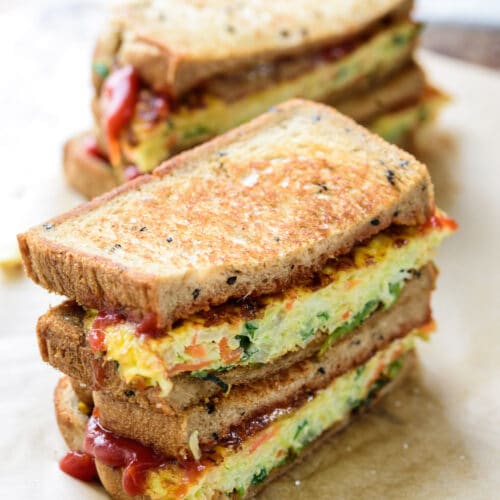 Ingredients
2

slices

bread (white, wheat, multi-grain, or milk bread)

3

ounces

green cabbage, yangbaechu (양배추) up to 4 ounces

1 cup, packed

½

small carrot (about 0.5 ounces)

¼

small onion (about 0.5 ounces)

2

stalks

garlic chives, buchu (or 1 small scallion)

1

large egg

see note

salt and pepper to taste

2

tablespoons

butter (or margarine or olive oil), or to taste, divided

sugar to taste

Halmeoni Toast uses a heaping tablespoon

ketchup to taste
Instructions
Thinly slice the cabbage, onion, and carrot. Cut the garlic chives into about 1.5-inch long pieces. If using a scallion, thinly slice diagonally.

In a large non-stick pan, melt butter or margarine (use as needed or to taste) over medium heat. Place both slices of the bread, moving them around and flipping over. Toast until golden-brown, 1 to 2 minutes on each side. Transfer to a plate.

In a small, deep bowl or cup (2-cup size), place the veggies (reserving about 1/5) along with a pinch of salt. Crack the egg in it. Mix everything well by hitting them down with a pair of tongs or a fork until the veggies and egg are well incorporated and reduced in volume, about 20 seconds.

In the same pan, melt some more butter or margarine over medium heat. Add the egg and veggie mixture, flattening and shaping it to a large round with a spatula. Place the reserved veggies on top. Cook the mixture until it turns lightly golden, about 3 minutes. Carefully flip it over with a spatula, add more butter or margarine, and cook the other side for about 2 minutes.

Place the omelet on one piece of toast. Sprinkle it with sugar and top with a good squirt of ketchup to taste, and place the other slice of bread on top and serve.
Notes
You can adjust the egg-to-vegetable ratio, but to truly experience Halmeoni toast, try it with one egg and then increase to 1.5 (3 for 2 sandwiches) to 2 eggs next time, if you like.