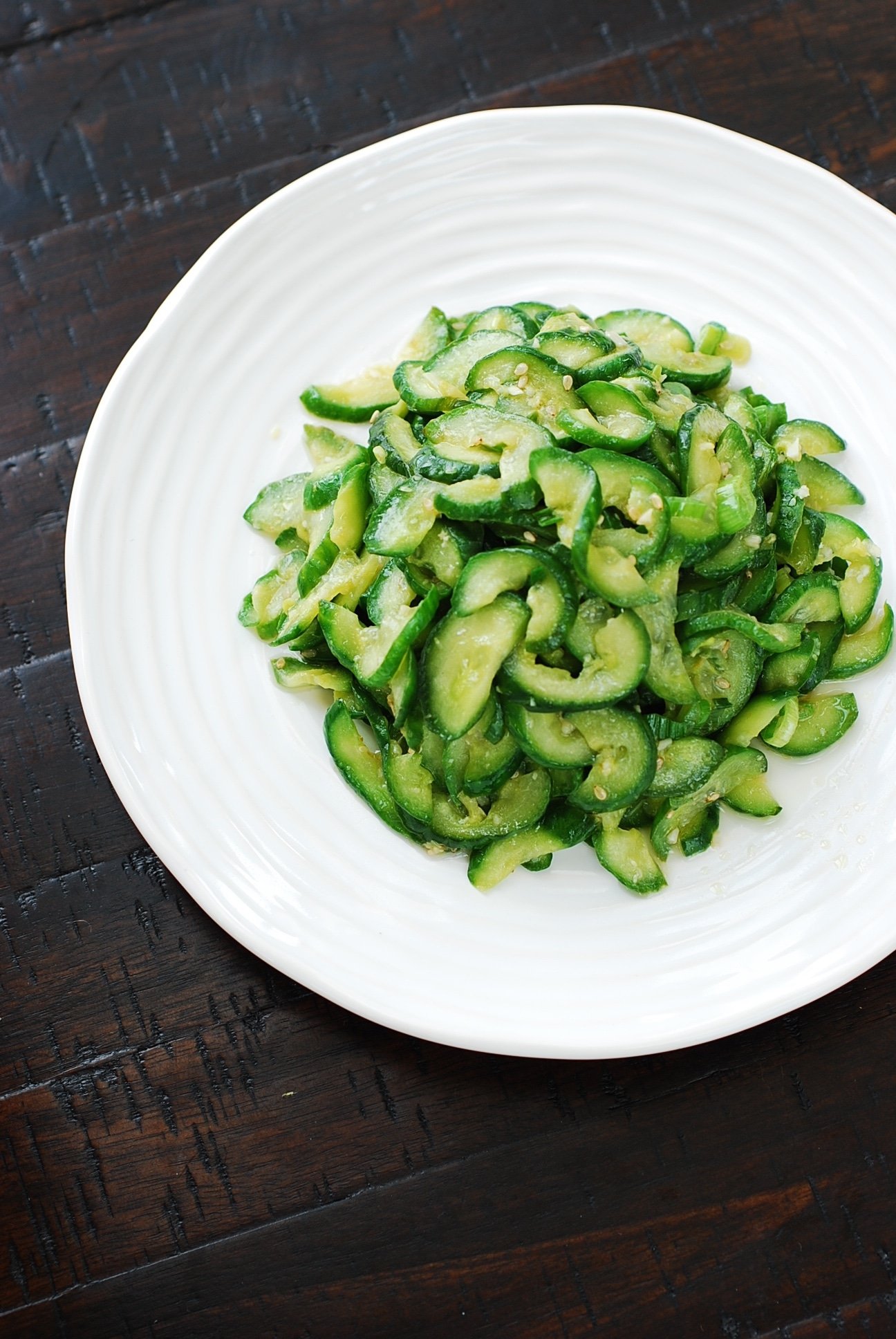 This stir-fried cucumber side dish is quick and easy to make. We call it oi bokkeum (오이볶음). Oi is cucumber, and bokkeum means stir-fried. We prepare cucumbers in many different ways. Some are prepared raw, salted, and/or seasoned either mildly or spicy for Korean side dishes. In my bibimbap recipe, you can find a mildly seasoned cucumber side dish, and spicy oi muchim is always very popular.
I know stir-frying cucumbers may sound a little strange to some of you, but it's commonly done in Korean cooking. Stir-frying brings out the sweetness of the cucumbers, and it's quite delicious! It will be a nice addition to your Korean side dish repertoire.
Any thin-skinned, crunchy variety of cucumbers are good for this dish. Of course, Korean cucumbers are perfect for this dish. Persian cucumbers seem to be always available around here. They are crunchy, sweet, and have delicately thin skin. English cucumbers, which are usually sold wrapped in plastic, are also great for this dish.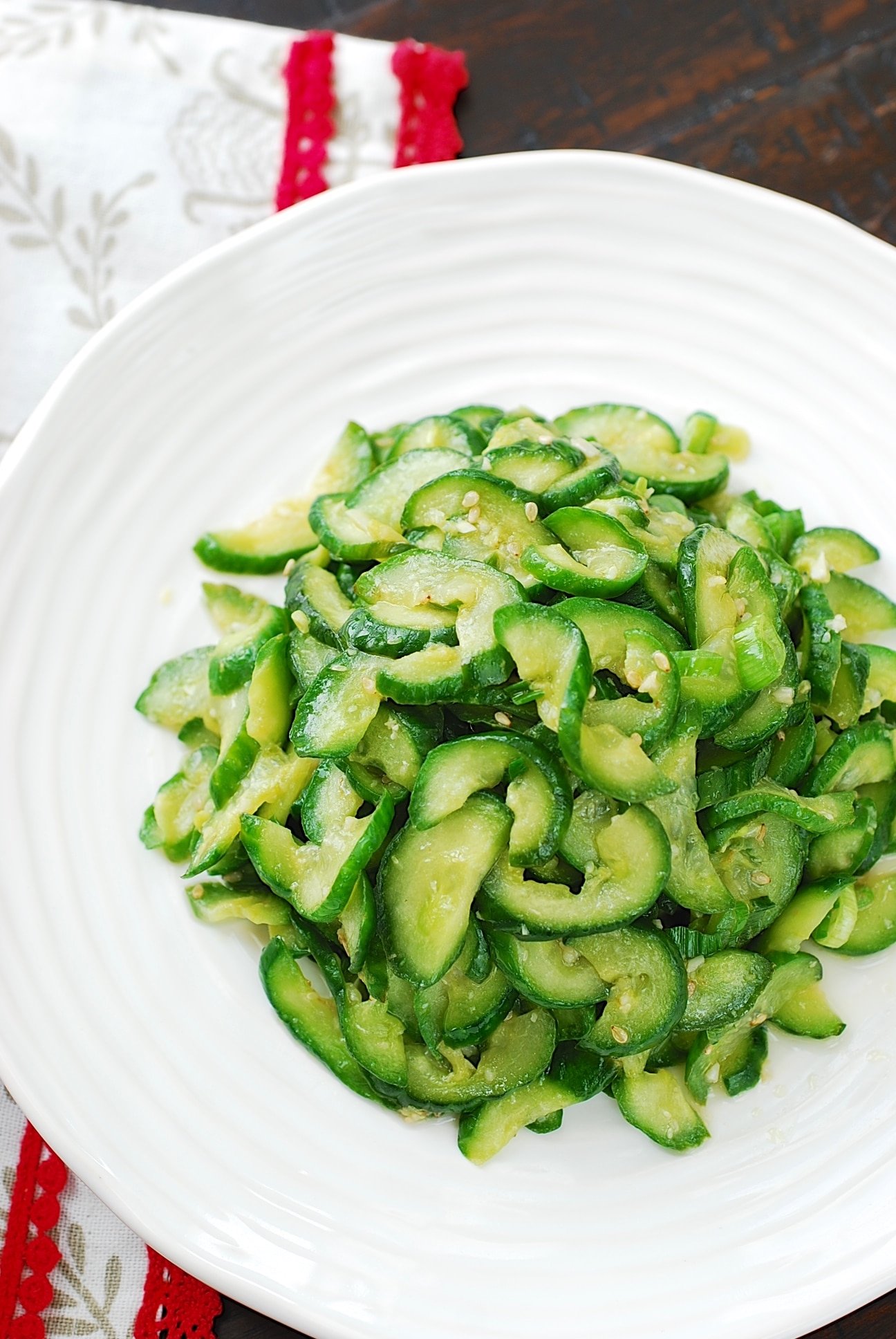 You need to lightly salt the cucumbers first to draw out water, and then tightly squeeze out the water content. This process keeps the cucumbers crunchy even after being stir-fried.
The key is to stir fry quickly and not to overcook the cucumbers, so the cucumbers maintain the nice green color as well as the crunchy texture.
This is vegan! However, you can always add some ground (or thin strips) beef, pork, chicken, etc. Simply, season separately and cook the meat through first before adding the cucumbers to the pan.
More cucumber recipes
Oi muchim (spicy cucumber side dish)
Oi kimchi (cucumber kimchi)
Oi sobagi (stuffed cucumber kimchi)
Oiji (Korean pickled cucumbers)
Oi naengguk (chilled cucumber soup)
Jangajji (Vegetable pickles)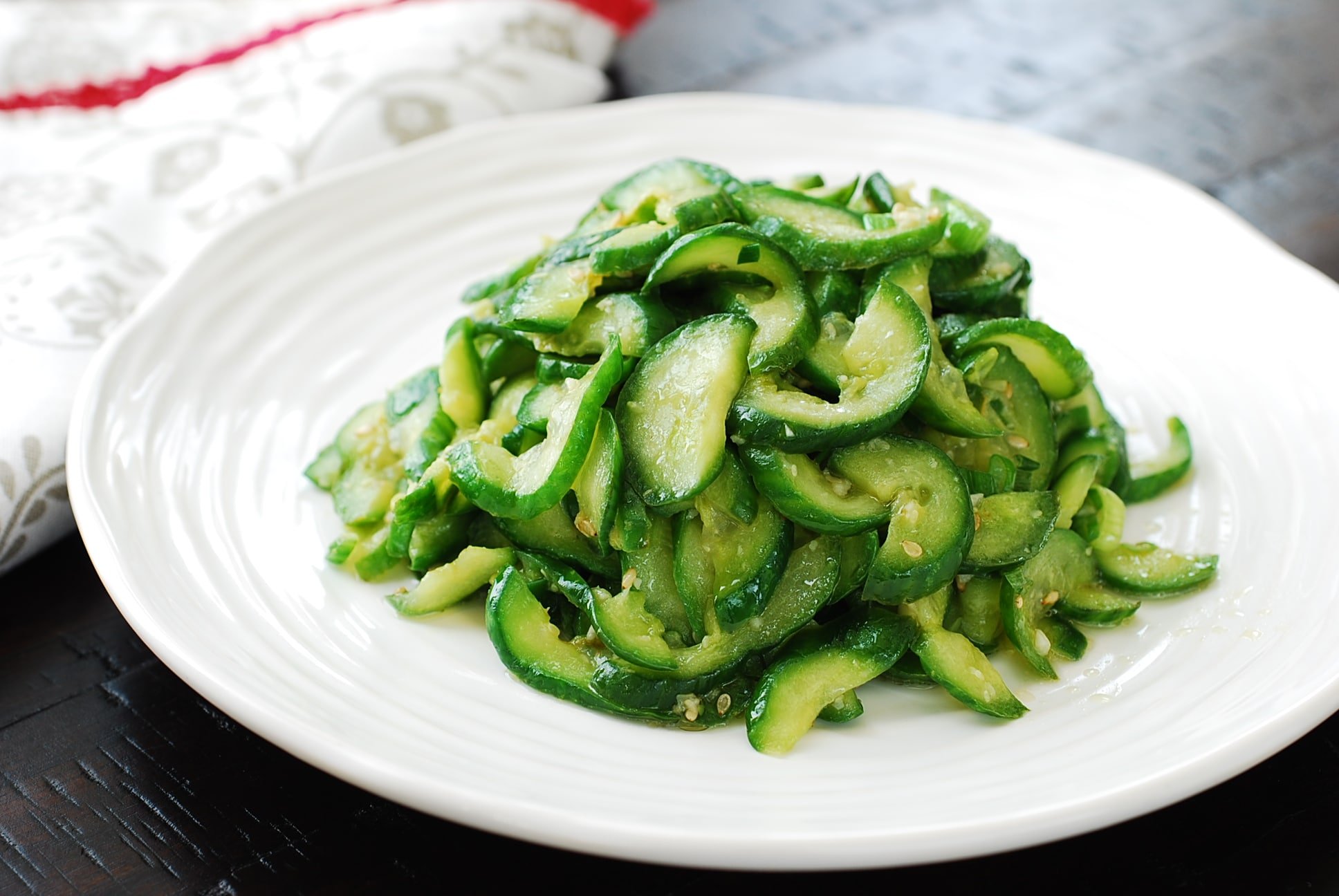 Have you tried this stir-fried cucumber recipe? Please rate the recipe below and leave a comment! Stay in touch by following me on YouTube,Pinterest,Twitter,Facebook, andInstagram.
Ingredients
1

pound

cucumbers (about 4 to 5 short varieties such as Kirby or Persian or 1 English cucumber)

1.5

teaspoons

salt

1

tablespoon

vegetable or canola oil

1

teaspoon

minced garlic

1

scallion

finely chopped

1

teaspoon

sesame oil

1/2

teaspoon

sesame seeds (preferably crushed)
Instructions
Cut the cucumbers in half lengthwise, and then thinly slice crosswise slightly diagonally. If the cucumbers are thin, you can simply cut into thin rounds.

Toss the cucumber slices with one and a half teaspoons of salt to coat evenly. Let sit for about 10 minutes.

Tightly squeeze out the water content from the salted cucumber slices. Don't worry about bruising them. They will recover when stir-fried.

Heat a pan over high heat. Add 1/2 tablespoon of cooking oil. Quickly stir in the garlic. Add the cucumbers. Stir-fry for a minute until the cucumbers are slightly cooked. Do not overcook. Turn off the heat. Toss well with the scallion, sesame oil, and sesame seeds.