Kongguksu is a refreshing noodle dish in which noodles are served in savory soy milk. Perfect for hot summer days!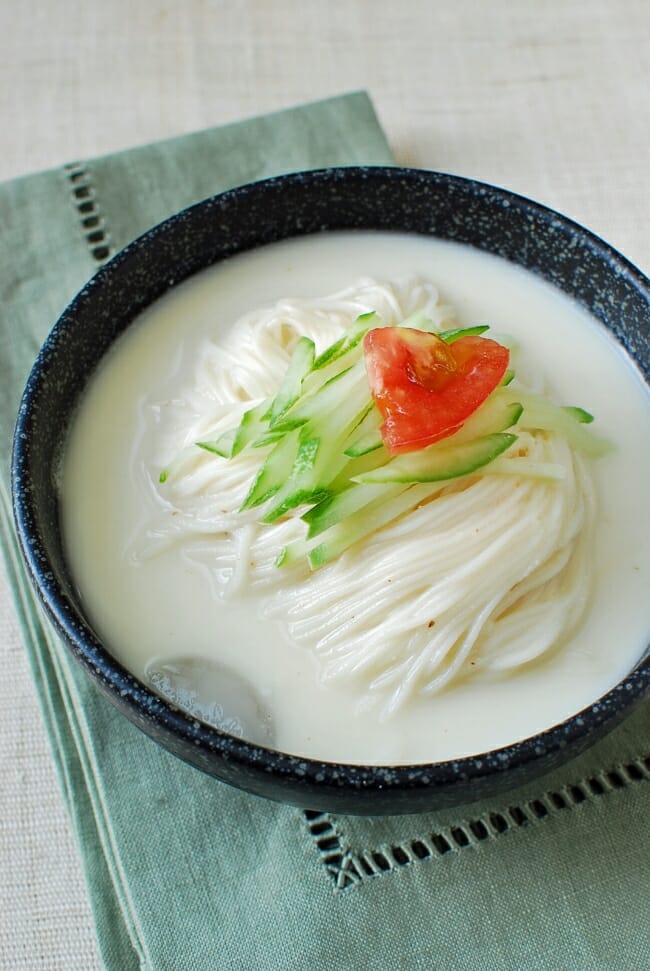 Here is another terrific noodle dish that's perfect for hot summer days! Kongguksu is a dish in which noodles are served in savory soy milk.
Back when I was a little kid in a small town in Korea, there was a lady who went around our neighborhood door to door selling freshly made kongguksu. I will never forget how skillfully she carried a big container of cold soy milk on her head holding it with one hand, while carrying a basket containing mounds of cooked noodles in the other.
A bowl of her refreshing kongguksu was always such a nice treat in the summertime. I can only imagine how much my mother appreciated this lady since she would get a break from cooking on a hot summer day and still be able to feed her family a delicious and healthy meal.
Those good old days are gone, but kongguksu has remained as my family's summer favorite. My mother still makes kongguksu quite often every summer. A few days ago, she called and told me to pick up some soy milk she had made. I am 50 some years old – oops now you know, but my mother still feels that she needs to take care of me. How lucky am I! I just had to cook some noodles and add the garnish to enjoy it for lunch next day.
How to make soy milk
Making soy milk is less work than you might imagine. Soaked soybeans are cooked, then pureed and filtered through a sieve.
The key to making delicious soy milk for kongguksu is not to overcook the beans so that they retain their natural flavor. More often than not, a small amount of sesame seeds and/or nuts (such as pine nuts, peanuts, almonds, and walnuts) are pureed with the soybeans for an extra-nutty flavor.
This recipe uses yellow soybeans as well as pine nuts and sesame seeds. You can also use black soybeans and other nuts such as peanuts and almonds. The result is creamy soy milk with a delicate nutty flavor. It is delightful and refreshing!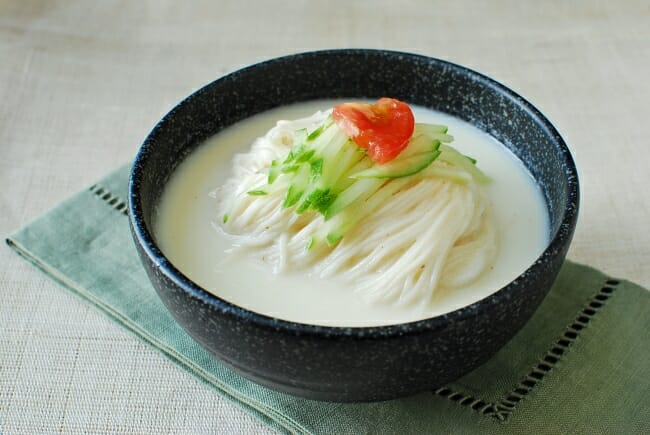 For more Korean cooking inspirations, follow along on YouTube, Pinterest, Twitter, Facebook, and Instagram.
Ingredients
1

cup

dried soybeans

meju kong

4

tablespoons

roasted pine nuts

or any other nuts of your choosing

2

teaspoons

roasted sesame seeds

more for garnish

salt to taste

1

small Kirby

pickling cucumber, julienned

1

small tomato

sliced (or watermelon) - optional

somyeon/somen

thin wheat flour noodles - about 4 ounces per serving
Instructions
Rinse and soak 1 cup dried soybeans for 5 to 6 hours or overnight. (Yields about 2 to 2 1/4 cups soaked beans.)

Add enough water to cover the beans, bring to a boil and cook for an additional 3 – 4 minutes. (Do not overcook.) Drain and place the beans in cold water to cool. Rub the beans with your fingers to remove the skins. Pour out the skins that rise to the top. Add more water. Repeat this process to remove as much as possible.

In a blender, puree 1/2 of the cooked beans, 2 tablespoons of nuts, and a teaspoon of sesame seeds, if using, in about 2 cups of cold water as fine as you can. (The finer it is, the creamier the result will be.) Repeat with the remaining beans. Add water (no more than a cup) to adjust the thickness of the liquid.

Run the puree through a fine strainer for a smooth milk-like texture, stirring with a spoon to force it through. (This step is optional.)

Lightly salt to taste. Stir well. Refrigerate to chill.

Bring a medium pot of water to a boil. Cook somyeon noodles according to the package instructions (about 3 minutes). Drain quickly and shock in cold water to stop cooking. Drain again and rinse in icy cold water. Make serving size mounds. Place the mounds in a colander to drain.

Stir up the solids settled on the bottom of the soy milk and pour over the noodles in a serving bowl. Garnish with the julienned cucumbers, tomato pieces and/or sesame seeds. Drop in a few ice cubes and serve very cold.
Notes
Any leftover soy milk can be refrigerated for 3 - 4 days.