This simple and refreshing Korean shrimp salad is packed with flavors and heat! It's an easy recipe that's perfect as an elegant starter, side dish or light meal!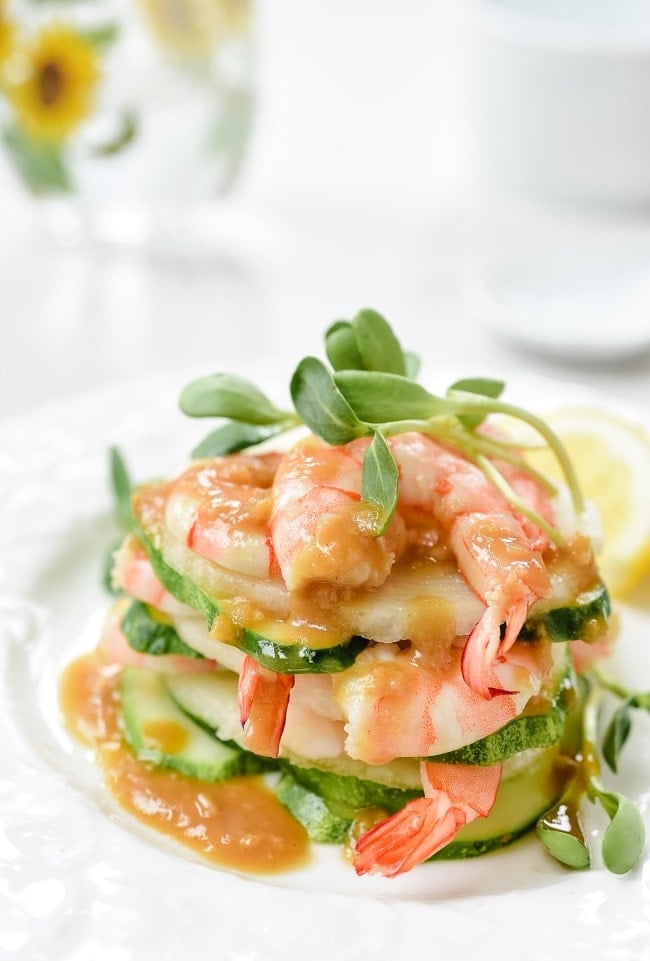 Here's another great Korean-style salad recipe! It's a shrimp salad with a hot mustard (gyeoja) dressing (겨자소스), which is a classic Korean sauce. As mentioned in the chicken salad post, this type of cold salad dish is called naengchae in Korean, so the Korean name of this dish is saewu naengchae (새우냉채) or saewu gyeoja naengchae (새우겨자냉채). The simple and refreshing dish is perfect as an elegant starter, side dish or light meal!
The shrimp
For this salad, any size of shrimp works. I typically use 21 to 25 count, but smaller ones are fine too. To stack the ingredients up as seen in the first photo, I cut the shrimp in half lengthwise by cutting along the back all the way through. It's up to you whether to leave the tails on.
I poached the shrimp in a simple salt and lemon water. You can, of course, use your favorite way to poach them for cocktail shrimp. If you want, buy good quality peeled and deveined cooked shrimp to make it even quicker and easier.
Vegetables for shrimp salad
I typically pair the shrimp with cucumber and Korean pear slices for this salad. Korean pears are sweet, juicy and crunchy, making it perfect for salads. You can use apple slices instead if Korean/Asian pears are unavailable. Colorful bell peppers are also great additions.
For the presentation, I sometimes stack the thinly sliced salad ingredients, especially for individual or small servings, but you can arrange them on a plate anyway you want. When I use bell peppers, I julienne the fruit and vegetables and arrange them by color with the shrimp on top.
Here, I'm showing you two different ways to serve this Korean shrimp salad. However, feel free to use your creativity to make your own beautiful plate. You can easily double this recipe for a potluck or dinner party.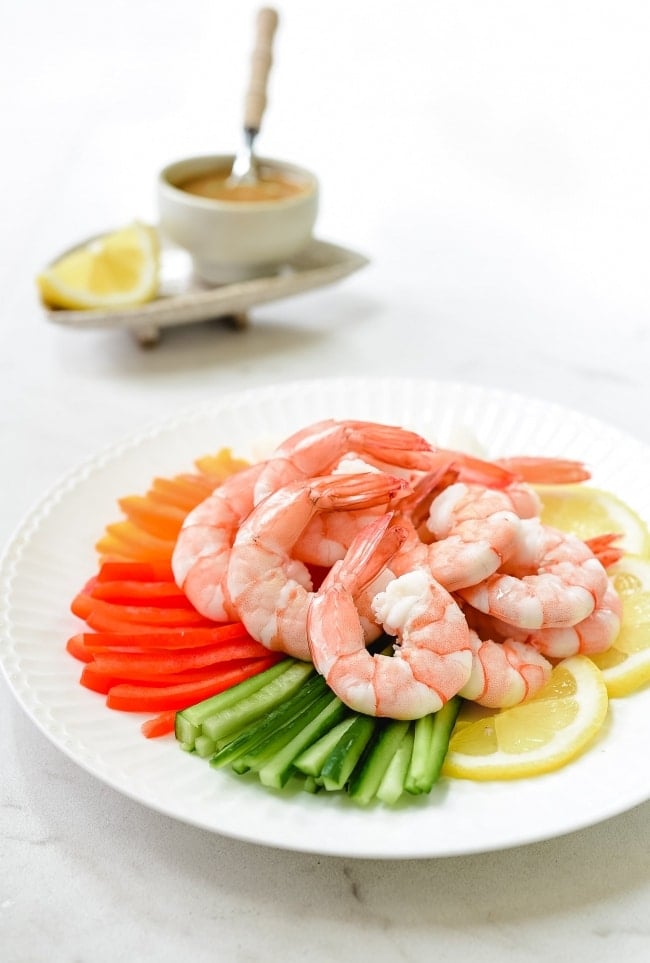 How to make hot mustard dressing (gyeoja sauce)
The hot mustard (gyeoja), also known as spicy yellow mustard, adds flavorful heat to this salad. When first mixed, the heat can be intense, but it gradually dissipates over time. You can use a powder version (gyeojabun, 겨자분, or gyeoja garu, 겨자가루) or a paste version (called yeongyeoja, 연겨자) sold in a tube for this recipe. Although not traditional, you can use yellow or dijon mustard if you like.
Making the dressing is simple! Combine the ingredients and whisk together until smooth. You can serve the dressing drizzled over the salad or on the side.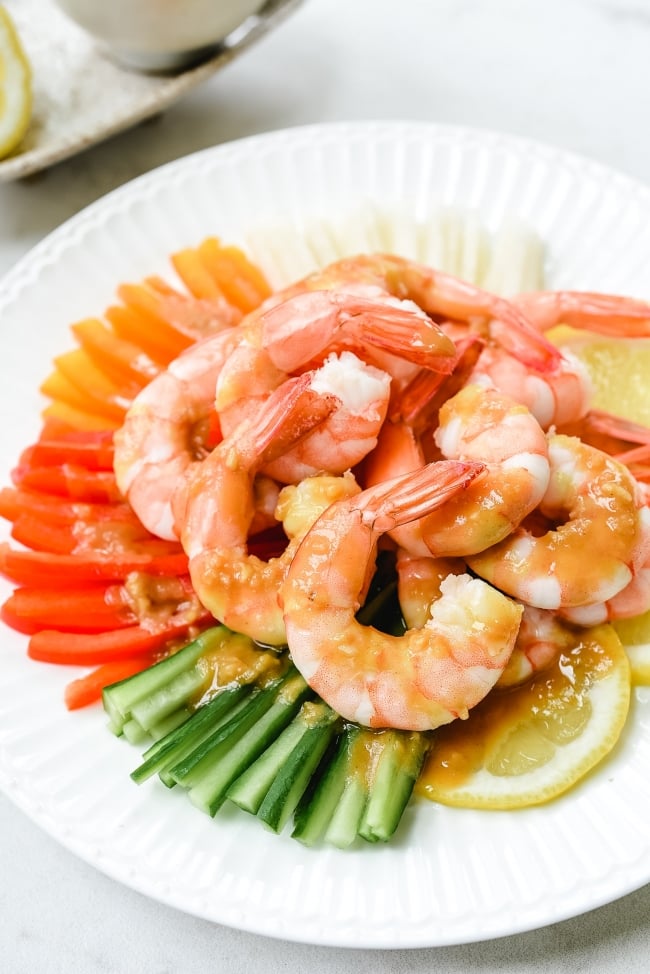 More Korean cold salad recipe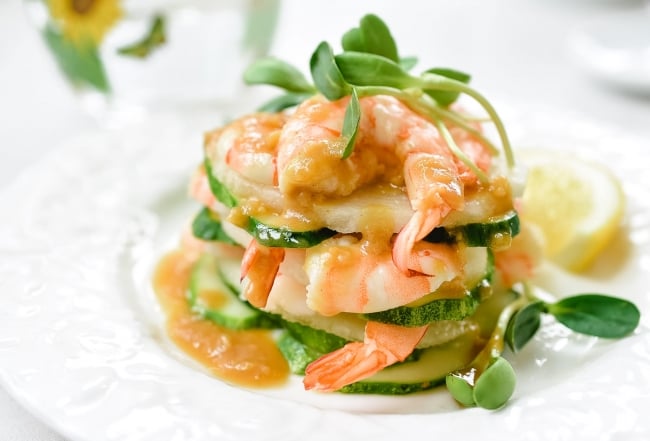 For more Korean cooking inspirations, follow along on YouTube, Pinterest, Twitter, Facebook, and Instagram.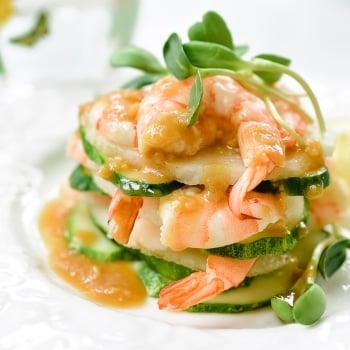 Korean Shrimp Salad with Hot Mustard Dressing
Appetizer
Print Recipe
Equipment
This simple and refreshing salad is packed with flavors and heat! Perfect as an elegant starter, a side dish or a light meal!
Ingredients
Hot mustard dressing:
2

teaspoons

hot mustard powder (gyeoja, 겨자)

If using prepared paste, use 1 tablespoon and add 1 tablespoon water to thin it.

1

tablespoon

vinegar

1

teaspoon

soy sauce

2

teaspoons

sugar

1/2

teaspoon

minced garlic

⅛

teaspoon

salt
Vegetables:
2 Kirby (pickling) cucumbers (or 1 Korean cucumber)

1/2

Korean pear

radish sprouts for garnish

optional

1/4

lemon

Optional vegetables:

1/4

red bell pepper

1/4

orange bell pepper
Shrimp
10

large shrimp

21-25 counts, shelled and deveined (more if using smaller shrimp)

1/4

lemon

1

teaspoon

salt
Instructions
Mix the mustard with 1 tablespoon of warm water. Set it aside for 5 to 10 minutes. Add the remaining dressing ingredients and mix well. Refrigerate while preparing the other ingredients.

Cut the cucumbers and pear into thin slices

OR if using optional bell peppers, julienne the fruit and vegetables.

Have a bowl of ice water ready near the stove top. Bring a small pot of water (4 cupto a gentle boil over medium heat. Add salt, lemon and shrimp and simmer uncovered until the shrimp turn opaque and curl, about 40 seconds. Remove immediately and plunge them into the ice water to stop cooking and chill. Drain.

Remove immediately and plunge them into the ice water to stop cooking and chill. Drain. Cut each shrimp in half lengthwise, if desired.

Nicely arrange the cucumber, pear and shrimp (or optional julienned vegetables and pear) on a plate. Spoon the dressing over, or serve it on the side. Garnish with optional radish sprouts and/or lemon.