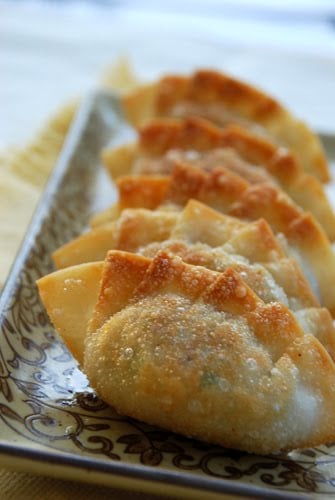 Mandu is a Korean dumpling stuffed with a mixture of various meat and vegetables. There are many variations of mandu. Some classic versions are: gogi mandu (which has meat as the main ingredient in the filling), yachae mandu (vegetables) and kimchi mandu. The cooking method also varies. Mandu can be steamed (jjin mandu), deep fried (tuigin mandu), pan fried (gun mandu), boiled (mul mandu), or used to make soup (mandu guk). Koreans usually make mandu in large quantities and freeze them for later use. Frozen mandu is easy to prepare as a delicious snack, appetizer, or meal, making it a home-cooked favorite for my two kids away at school.
1 package mandu pee (dumpling skins/wrappers) (about 40 pieces)
Filling
3/4 pound ground pork (or other meat if preferred)*
1/4 pound ground beef (or shrimp)
8 ounces zucchini, finely chopped
12 ounces green cabbage, finely chopped
8 ounces fresh mushrooms, finely chopped (Shiitaki preferably )
1/2 medium onion, finely chopped
3 scallions, finely chopped
1 tablespoon minced garlic
2 teaspoons finely minced ginger (or juiced)
1 tablespoon soy sauce
1 tablespoon sesame oil
1 egg
1 tablespoon all-purpose flour
1/2 to 1 teaspoon salt to season the filling and more for salting vegetables
1/2 teaspoon pepper
* Mandu is so versatile that you can use any type of meat you like (or none at all). Although pork is classic, I typically use two types of meat/seafood for the complexity of flavor: pork and beef or pork and shrimp.
In two separate bowls, generously sprinkle salt over chopped zucchini and cabbage and set aside (for at least 15 minutes) while preparing other ingredients. (This process will draw out water, soften the texture, and add flavor.) Squeeze out as much water as possible from salted zucchini and cabbage by hand. Mix all ingredients well in a large bowl with hands.
Place one heaping teaspoonful of the filling on a wrapper. Wet the edges of the wrapper with water and seal tightly (pushing the air out with your fingers) into a half-moon shape. Repeat this process until all the filling/wrappers are used.
For tuigin mandu (deep-fried dumplings), heat a deep fryer or skillet with about 2-3 inches of canola or vegetable oil over medium-high heat to 350°F. Fry the dumplings for 2-3 minutes until golden brown.
For mul mandu (boiled), bring a pot of water to a boil. Add mandu (stirring gently so they don't stick to the bottom of the pot), a few at a time, and cook until all of them come up to the surface. Serve hot with sauce.
Tips for freezing: Freeze mandu pieces on a tray without pieces touching for about an hour before storing them in a freezer bag. Otherwise, the mandu skins will get soggy from the moisture in the filling and stick together in the freezing process. You can also freeze cooked mandu the same way. Frozen mandu don't need to be thawed before being cooked. Just cook a little longer.
Sauce
1 tablespoon soy sauce
1 teaspoon vinegar
1 tablespoon water
1/2 teaspoon sugar
pinch of black pepper
pinch of red pepper flakes (gochugaru)