Samgyupsal gui, which is grilled fresh pork belly, is highly popular in Korea. It's easy to prepare because you don't need to marinate the meat.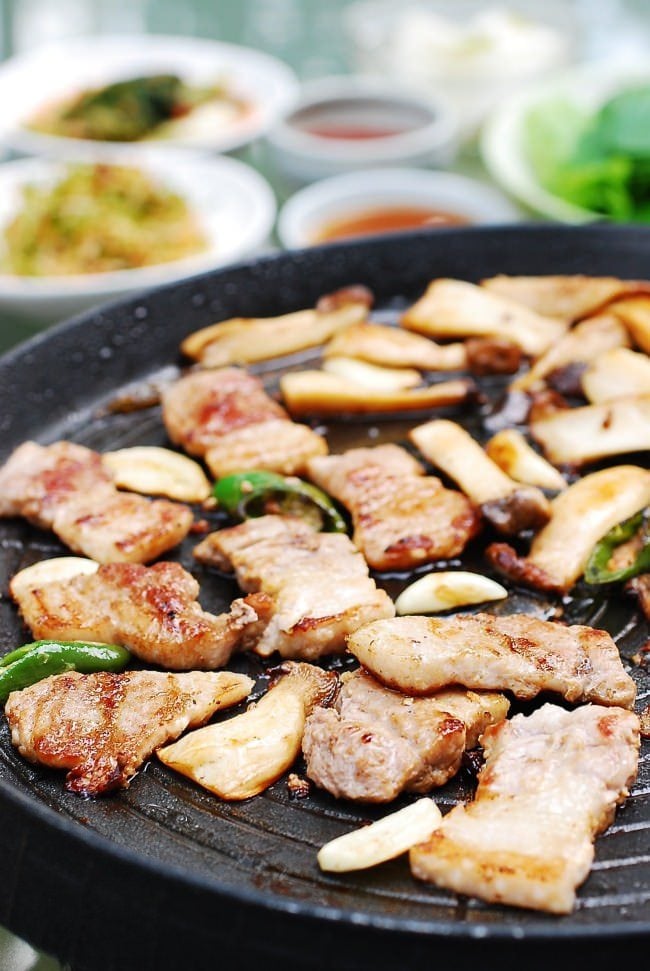 Grilling is enormously popular in Korean cuisine. I'm sure many of you have been to a smoke-filled Korean restaurant where you grill your meat at the table. I've shared a number of marinated Korean BBQ recipes. Samgyupsal gui (삼겹살구이), which is grilled fresh pork belly, is highly popular in Korean homes. It's an absolute favorite!
You can easily find thinly sliced pork belly in Korean markets. The thickness varies from paper thin (or shaved) slices to about 1/4 to 1/2-inch thick ones. I usually get my pork belly from a Korean butcher shop. Their cut is pretty thick, which we like.
The fresh meat is grilled without seasoning or marinating. You can cook the strips of pork belly in large pieces or in bite size pieces. When cooking large pieces, you can cut cooked pieces with a pair of kitchen scissors on the grill/pan.
You can simply grill pork belly but we also throw in other vegetables such as garlic, mushrooms, and chili peppers. Onions, scallions and kimchi are all great options as well.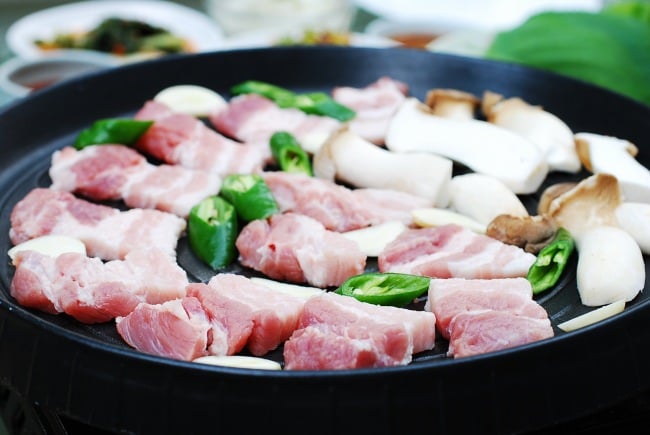 At home, we use a portable gas grill or electric grill to cook at the table, or we fire up the grill outside. Traditionally, grilling is done over wood charcoal (sootbul, 숯불), which is considered the best heat source for Korean grilling and used by many good Korean BBQ restaurants.
Korean table grills usually have a hole for the fat to drain off to a drip pan or a plate. If using a regular pan, you will need to use a paper towel to soak up the fat so it doesn't smoke.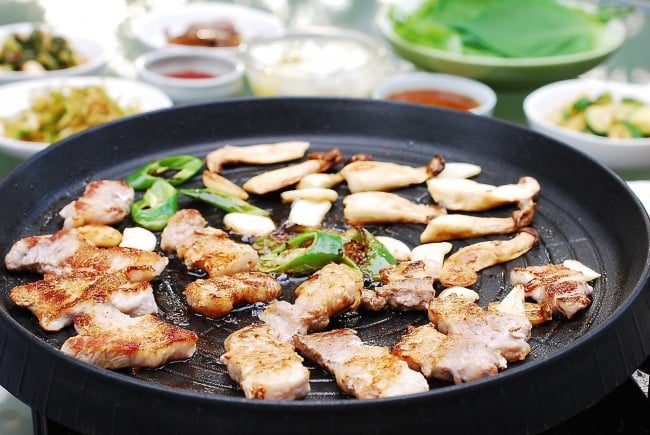 Lettuce wraps are a must! We also love kkaennip (perilla leaves) as wraps. They are delicious with pork belly. Dip a piece of cooked pork belly in the sesame oil sauce and wrap it in a lettuce leaf with a dollop of ssamjang and pa muchim (scallion salad) or simply sliced scallions.
As is the case with bossam, saewujeot (새우젓), fermented salted shrimp, is always delicious with pork.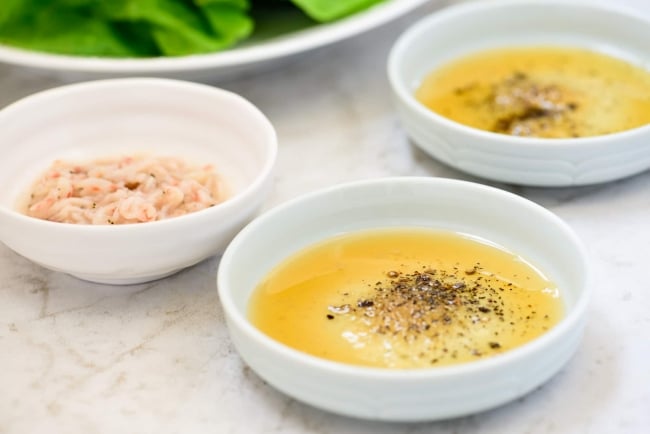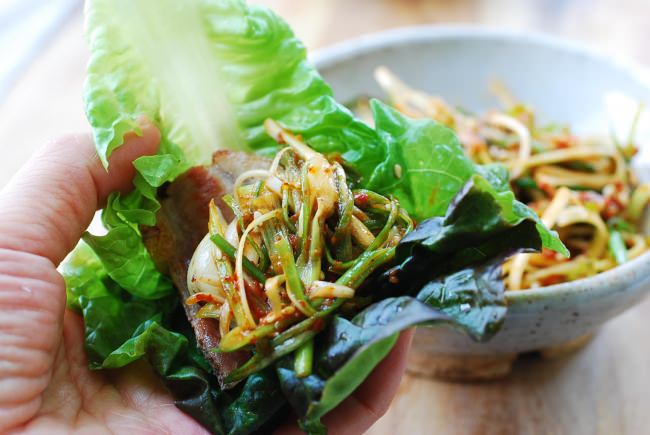 Have you tried this samgyupsal gui recipe? Please rate the recipe below and leave a comment! Stay in touch by following me onYouTube,Pinterest,Twitter,Facebook, andInstagram.
Ingredients
1

pound

sliced fresh pork belly (samgyupsal, 삼겹살)

8

cloves

garlic, thinly sliced

4

green chili peppers, roughly sliced

3 - 4

scallions, thinly sliced (or pa muchim)

2 to 4

ounces

mushroom caps - white, crimini, or king mushrooms - optional

4

chili peppers - optional

2

heads of red or green lettuce

16

perilla leaves, kkaennip (깻잎) - optional
Sesame oil sauce (per person):
1

tablespoon

sesame oil

1/2

teaspoon

salt

black pepper to taste
Ssamjang (for wraps) - serves 4
2

tablespoons

doenjang 된장 (Korean soybean paste)

1

tablespoon

gochujang 고추장 (Korean red chili pepper paste)

1

teaspoon

minced garlic

2

teaspoons

sesame oil

1

teaspoon

sesame seeds

1

tablespoon

rice wine or mirin - optional

If the sauce is too thick, use a tablespoon of water to thin it.
Instructions
Prepare the vegetables. Mix the sauce ingredients for each sauce.

Heat the grill (or a flat pan or grill pan). Cut the pork belly strips in shorter bite size pieces. You can also grill first and cut into bite sized pieces with kitchen scissors.

Add the meat to the grill along with the garlic, chili peppers, and any other vegetables you are using. Grill over moderate heat until cooked through, flipping once. It's best to serve right off the grill or pan as you cook.