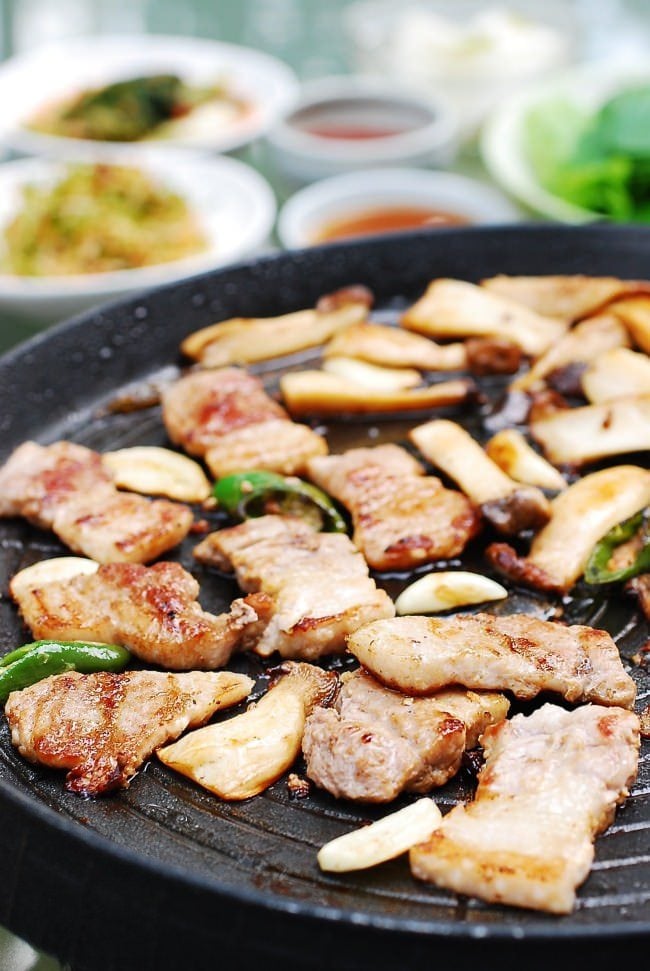 The warm weather is definitely here to stay! That means it's grilling season. Grilling is enormously popular in Korean cuisine. I'm sure many of you have been to a smoke-filled Korean restaurant where you grill your meat at the table. At home, we use a portable gas grill or electric grill to cook at the table, or we fire up the grill outside. Traditionally, grilling is done over wood charcoal (sootbul, 숯불), which is considered the best heat source for Korean grilling and used by many good Korean BBQ restaurants. In the past, I've shared a number of marinated Korean BBQ recipes.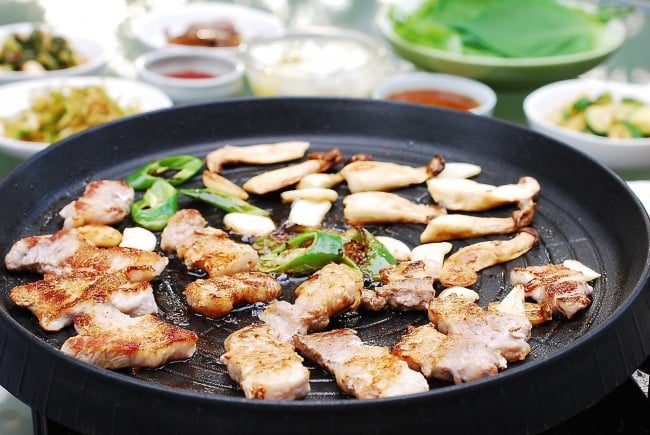 Here, I decided to introduce a very simple yet popular grilled dish called
samgyupsal
(fresh pork belly)
gui
(grilled), which is an absolute favorite. The thick strips of pork belly can be cooked in large pieces or in bite sizes.
The fresh meat is grilled without seasoning or marinating. You dip a piece in the sesame oil sauce and wrap it in a lettuce leaf with a dollop of
ssamjang
and
pa muchim
(scallion salad) or simply sliced scallions
.
Simple enough?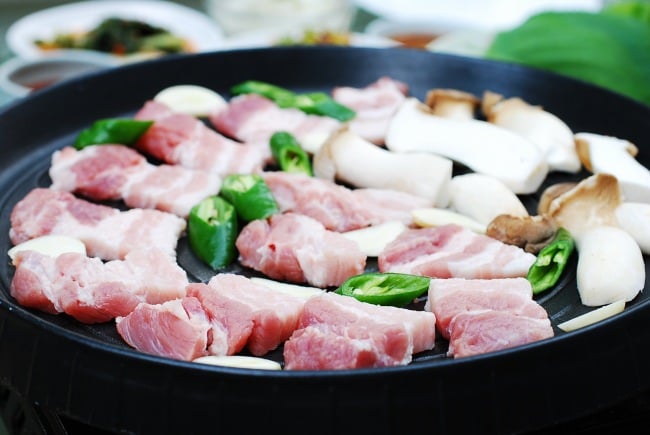 3 – 4 servings
Ingredients:
1 pound thick sliced fresh pork belly (Samgyupsal)
3-4 cloves garlic, thinly sliced
2 green chili peppers, roughly sliced
(It's also common to grill sliced onions, mushrooms and/or kimchi with the pork.)
3 – 4 scallions, thinly sliced (or pa muchim)
2 heads of red or green lettuce
(You can also use perilla leaves, kkaennip.)
Sesame oil sauce:
2 tablespoons sesame oil
1 teaspoon salt
black pepper to taste
Ssamjang (sauce for wraps):
1 tablespoon gochujang, Korean red chili pepper paste
2 tablespoons doenjang, Korean soybean paste
1 teaspoon minced garlic
2 teaspoons sesame oil
1 teaspoon sesame seeds
1 tablespoon rice wine (optional)
(If the sauce is too thick, use a tablespoon of water or soda to thin it.)
Prepare the vegetables. Mix the sauce ingredients for each sauce.
Heat the grill (or a flat pan or grill pan). Cut the pork belly strips in shorter bite size pieces. You can also grill first and cut into bite sized pieces.
Add the meat to the grill along with the garlic, chili peppers, and any other vegetables you are using. Grill over moderate heat until cooked through, flipping once. It's best to serve right off the grill or pan as you cook.
For additional summer grilling ideas, I am also sharing a roundup of great Korean grilled dishes. Happy grilling!
Galbi (Korean BBQ Short Ribs)
These grilled ribs are so tasty that everyone loves it every time. The smooth balance of sweet and savory flavors is certainly palate pleasing!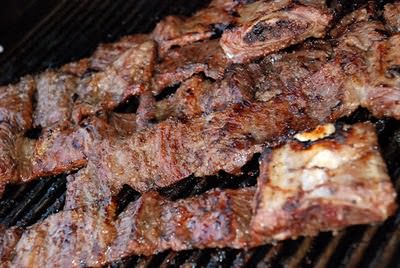 Dwaeji Galbi/Kalbi (Korean-Style Pork Ribs)
The two different Korean marinades for these ribs will be a nice change from the usual dry rub and BBQ sauce versions.
Dak Bulgogi (Korean BBQ Chicken)
If you like sweet and savory bulgogi flavor but don't like red meat, this one's for you! For easier outdoor grilling, marinate the chicken pieces without cutting into bite sizes.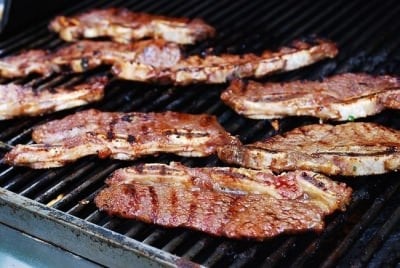 Godeungeo gui (Grilled Mackerel)
The fish is simply salted and
grilled.
The high oil content, firm flesh, and strong flavor of mackerel makes it perfect for grilling.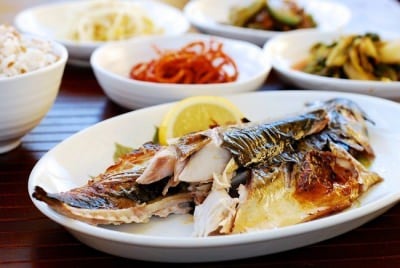 Korean-flavored Baked Chicken Wings
You can also grill these chicken wings over moderate heat for 15 to 20 minutes, turning frequently.