These Korean dumplings filled with a kimchi mixture are highly popular in Korea. If you like kimchi, you'll love this dumpling recipe. Kimchi adds tons of spicy and savory flavors!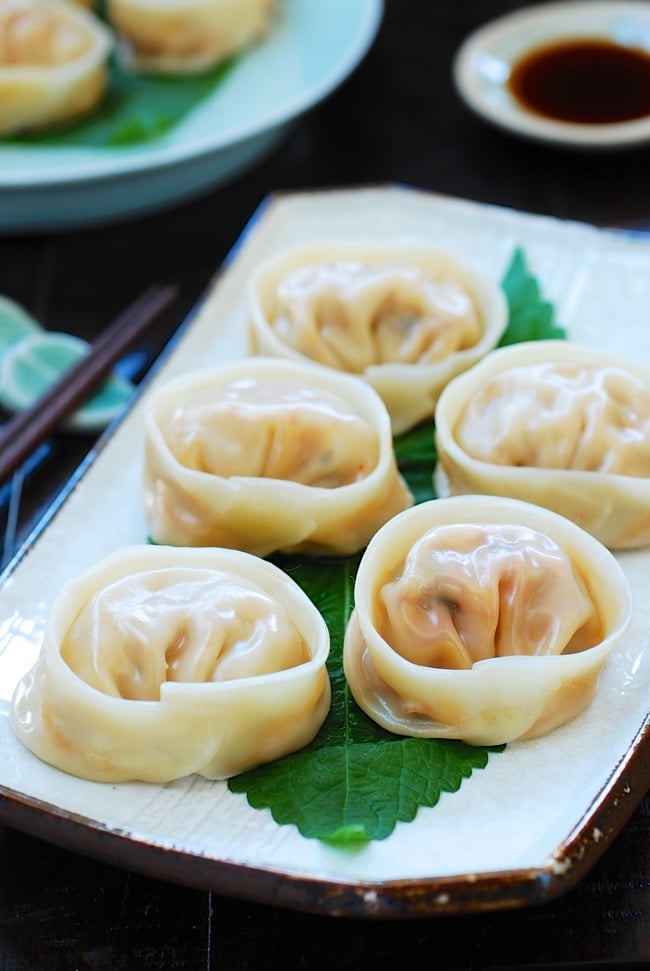 What's your favorite dumpling variation? Filled with a kimchi mixture, these Korean dumplings, known as kimchi mandu (김치 만두), are highly popular in Korea. Needless to say, kimchi adds tons of spicy and savory flavors to the dumplings.
Kimchi mandu is great for making soup, such as manduguk (dumpling soup) or tteok-manduguk (tteokguk with dumplings), which is a must-eat New Year's dish. As such, it's a popular dumpling variation for the New Year's feast. Kimchi mandu gives nice flavor and textural contrasts to the mildly-flavored broth and soft rice cake slices.
In Korea, steamed kimchi mandu is also popular as a street food and at restaurants.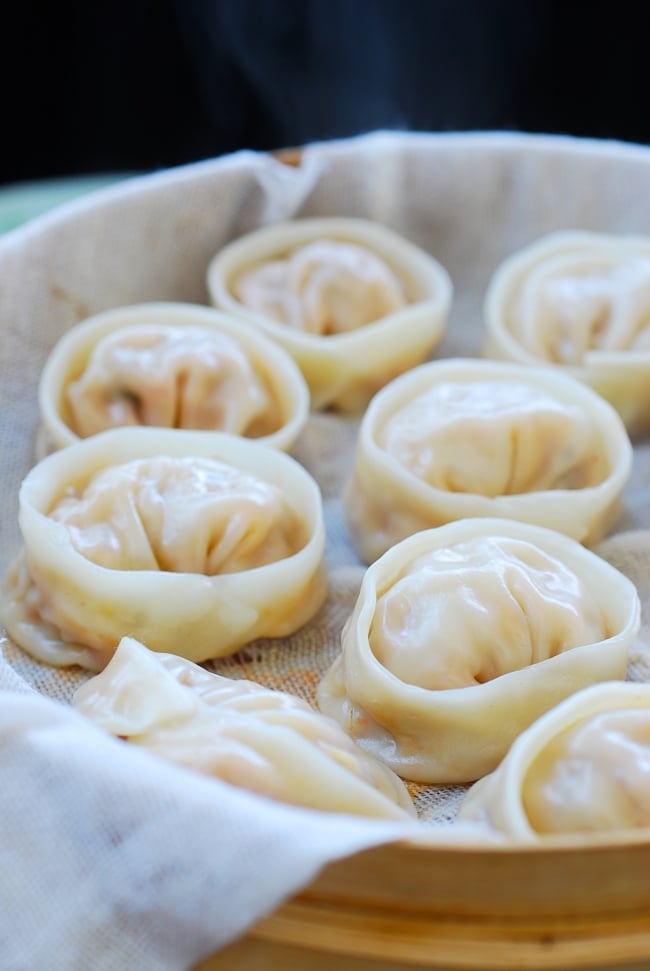 Kimchi dumpling filling
Typically, kimchi dumplings are filled with a mixture of kimchi, pork, tofu, bean sprouts, onions, and scallions. In this recipe, I also used dangmyeon (당면), sweet potato starch noodles, which is also common in mandu fillings.
The key to making good kimchi mandu is to use fully fermented kimchi. I usually add some gochugaru (Korean red chili pepper flakes) for extra spicy dumplings, but you can skip it or use less (or more) to your taste.
By now, you should probably know that kimchi and pork are a classic match in Korean cooking, but feel free to use beef or other protein if preferred. You can also replace the meat with mushrooms. Or, simply omit the meat, and increase the other ingredients such as kimchi, tofu, etc. If you start with vegan or vegetarian kimchi, you can even make the dumplings vegan.
If you have perilla seed oil, try using it instead of sesame oil. It lends a distinct nutty flavor to the kimchi filling. It's even better if you add ground perilla seeds if available! Mix in a generous amount and enjoy the complexity of the flavors that perilla seeds add to the dumplings.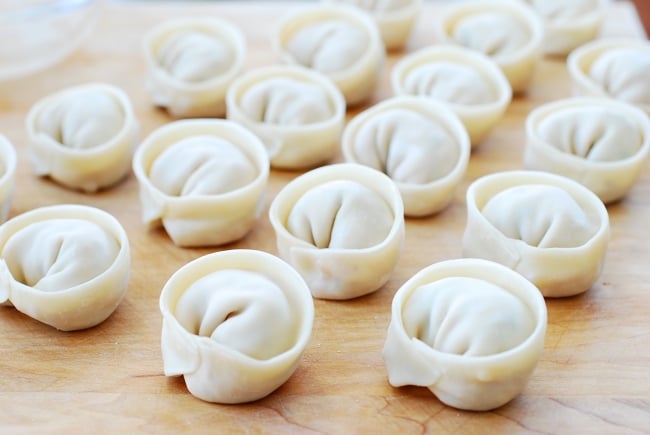 Dumpling wrappers
In this recipe, I used store-bought dumpling wrappers for convenience. They come in refrigerated or frozen, and are available at Korean/Asian markets or even at your local grocery stores. If you want to try making wrappers at home, see my How to Make Dumpling Wrappers.
How to fold dumplings
As I said in my other mandu recipe, a dumpling can be fold in many different ways. The easiest is a half-moon shape, which you can do by simply folding the dumpling wrap in half and sealing it by tightly pinching the edges together. Typically, dumplings made for soups are shaped to a round by glueing the ends of the half-moon shape together. Wet the edges of store-bought dumpling wrappers so they can be glued together. Be light on the filling for easier folding and crimping.
More dumpling recipes
Mandu (dumplings)
Saewu mandu (shrimp dumplings)
Hobak (zucchini) mandu – vegan
Watch how to make it
For more Korean cooking inspirations, follow along on YouTube, Pinterest, Twitter, Facebook, and Instagram.
Kimchi Mandu (Kimchi Dumplings)
Appetizer, Main Course, Snack
Print Recipe
Ingredients
Makes about 40 dumplings

40

dumpling wrappers

slightly thick
Filling:
2

ounces

dangmyeon

sweet potato starch noodles, soaked in warm water for about 30 min.

1

cup

packed finely chopped kimchi

8

ounces

tofu

10

ounces

mung bean sprouts, sukju namul (숙주나물)

1/2

medium onion

2 to 3

scallions

8

ounces

ground pork or beef (or mix)

1

tablespoon

minced garlic

1

teaspoon

finely grated ginger or juiced

1

tablespoon

sesame oil

1

tablespoon

soy sauce

1

tablespoon

gochugaru (adjust to taste)

salt to taste

about 1/4 teaspoon

pepper to taste

about ⅛ teaspoon
Optional ingredients
1

tablespoon

Perilla seed oil (in lieu of sesame oil)

2 to 4

tablespoons

ground perilla seeds
Instructions
Finely chop the kimchi and squeeze out excess liquid by hand.

Blanch the bean sprouts in boiling water, drain, chop and squeeze out water.

Squeeze out water from the tofu. Using a cheesecloth will make squeezing easier. Finely chop the noodles. Finely chop the onion and squeeze out water. Finely chop the scallions.

Combine all the filling ingredients in a large bowl. Mix well by hand.

Place one heaping teaspoonful to a tablespoon of the filling on a wrapper. Wet the edges of the wrapper with water or egg wash and seal tightly (pushing the air out with your fingers) into a half-moon shape. (Stop here if you want a half-moon shape dumpling.) Then, bring the two ends together, apply water or egg wash to one end and press tightly to create a round shape. Repeat this process until all the filling/wrappers are used.

Kimchi mandu can be steamed for about 10 minutes in a steamer (12 minutes if frozen). Make sure to line the steamer with a wet cheesecloth, paper towel, or cabbage leaves to prevent mandu from sticking.

For boiling, pan-frying and deep-frying dumplings, see my other mandu recipe.
Notes
Kimchi mandu is well seasoned, but you can serve them with a dipping sauce if preferred.
Tips for freezing: Freeze the dumplings on a tray with the pieces not touching for about an hour, and then store them in a freezer bag. Otherwise, the skins will get soggy from the moisture in the filling and stick together in the freezing process.