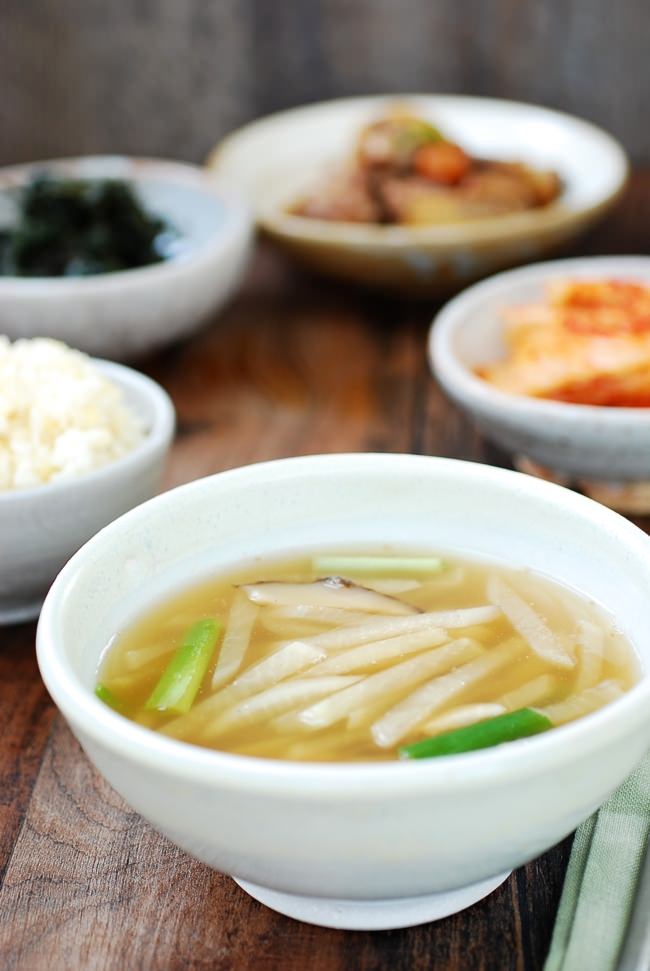 Korean radish, mu (무), is back in season, which means it's sweet and juicy! As the weather gets cooler, I've decided to show you another soup recipe you can make with Korean radish, which is a variety of white radish that's with a crunchy texture. While the radish soup (muguk) made with beef broth is more common, we occasionally enjoy this doenjang (Korean fermented soybean paste) based radish soup, called mu doenjang guk (무된장국).
Look for the radish that's firm and heavy for its size by comparing similar size radishes. For this doenjang based soup, the radish is usually cut into matchsticks not thin squares as in the beef muguk. Don't ask me why — that's how we had it growing up! But, you can cut it either way.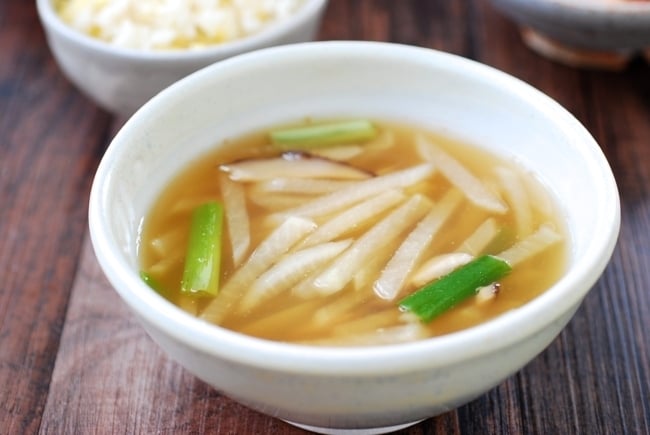 As shown in my baechu doenjang guk, I usually make doenjang guk with anchovy broth. Here, I made it with vegetable broth to show you a vegan option. Simply boil some basic aromatic vegetables, such as onion, garlic, scallion, dried kelp (dashima) and dried shiitake mushrooms — all common ingredients for making Korean broth. In this recipe, I thinly sliced and reused the boiled mushrooms in the soup, adding a meaty texture to the soup.
To make the broth for a doenjang based soup or stew, always start with the water used to rinse rice, ssalddeumul (쌀뜨물). The rice water adds starch to the soup and works as a binding agent between the soybean paste and the broth. It also enhances the flavor of the doenjang. If you don't have it, stir-in a teaspoon of flour or rice flour.
Also, I used a couple of dried red chili peppers when making the broth. This adds a hint of spiciness without gochugaru or gochujang. The soup turns out light and clean this way!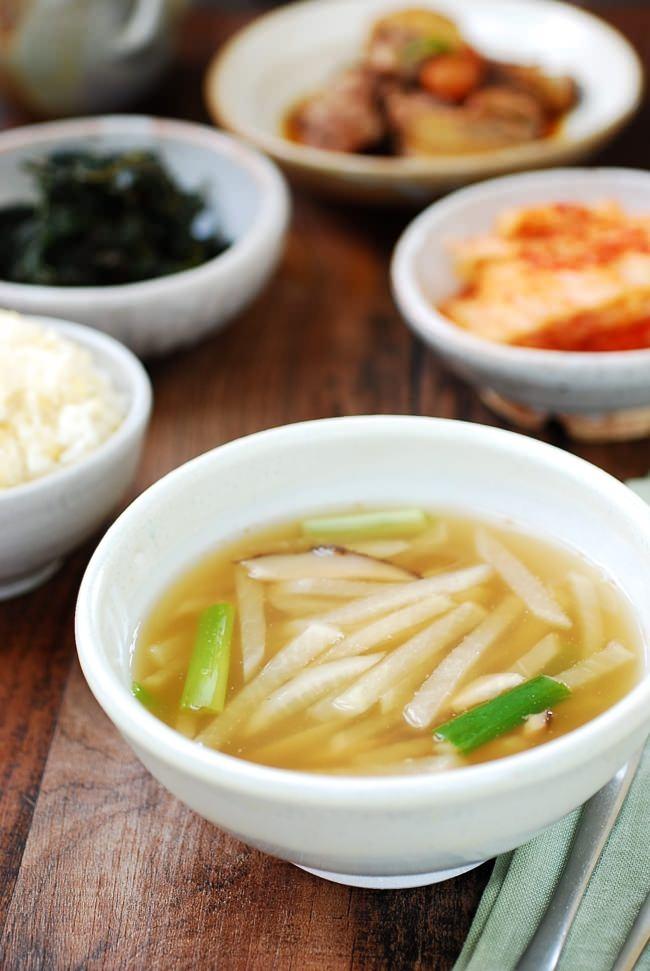 For more Korean cooking inspirations, follow along on YouTube, Pinterest, Twitter, Facebook, and Instagram.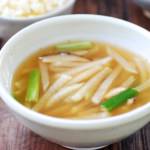 Mu Doenjang Guk (Korean Soybean Paste Radish Soup)
Print Recipe
Ingredients
1

pound

Korean radish

mu (무)

2

tablespoons

doenjang

된장 (Korean fermented soybean paste)

1

green part of a large scallion

soup soy sauce or salt to taste

For the vegetable Broth:

Or use anchovy broth

1/4

medium onion

2

dried shiitake mushrooms

1

small piece dried kelp

about 3 inch square, dashima 다시마

1

white part of a large scallion

3 to 4

plump garlic cloves

1

or 2 dried whole red chili peppers

or fresh hot chili peppers - optional

6

cups

of rice rinsed water

ssalddeumul (or plain water with 1 teaspoon of flour or rice flour)
Instructions
Add the water to the pot along with all of the broth vegetables. Bring it to a boil over high heat. Reduce the heat to medium, and boil, covered, for 10 minutes.

Cut the radish into thin disks (about 1/4-inch thick), and then into slightly thick matchsticks.

Remove the aromatic vegetables, reserving the mushrooms.

Thinly slice the mushrooms.

Stir in the soybean paste, or run them through a strainer in the broth if you don't want the bean pieces in your soup.

Add the radish and mushrooms, and boil until the radish turns translucent and soft, about 10 minutes.

Drop the scallions in, and boil for a couple more minutes. Add soup soy sauce or salt, if necessary, and pepper to taste.