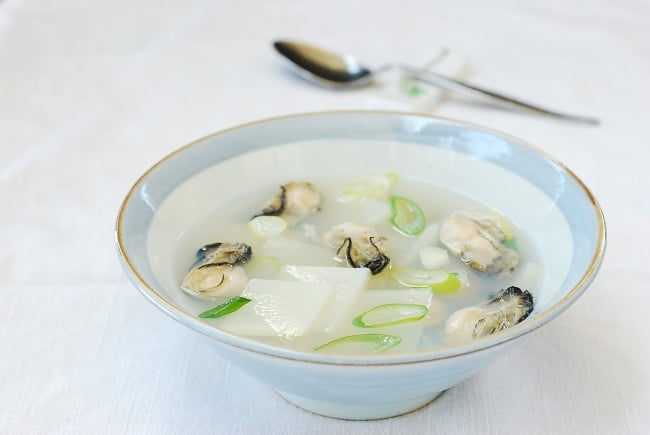 Oysters (gul, 굴) are widely used in Korean cuisine. They are delicious with bossam, and in so many other dishes such as jjigae, hot pot, pajeon, rice, kimchi, musaengchae, etc. Oysters take these dishes to the next level of flavor. Oysters are also great in soups! Although there are many minor variations, Korean oyster soups (gulguk, 굴국) are simple, refreshingly clear, and incredibly briny!
Due to their high nutritional value, oysters are often called "the milk of the sea". They contain several essential vitamins and minerals including protein, iron, omega 3 fatty acids, calcium, and zinc. See more.
In Korea, fresh oysters are plentiful and relatively inexpensive, especially during the cold months when oysters are in season. Around here, fresh oysters are quite pricey and sometimes hard to find. I usually get jarred oysters in the refrigerated section of grocery stores, or sometimes resort to frozen ones in Korean markets.
Interestingly, according to this photo essay by Bloomberg, The World of Oysters: How South Korea's Sea Farms Feed Global Appetites, Korea is the World's second largest exporter of oysters. Be sure to check out the essay. The photos are amazing!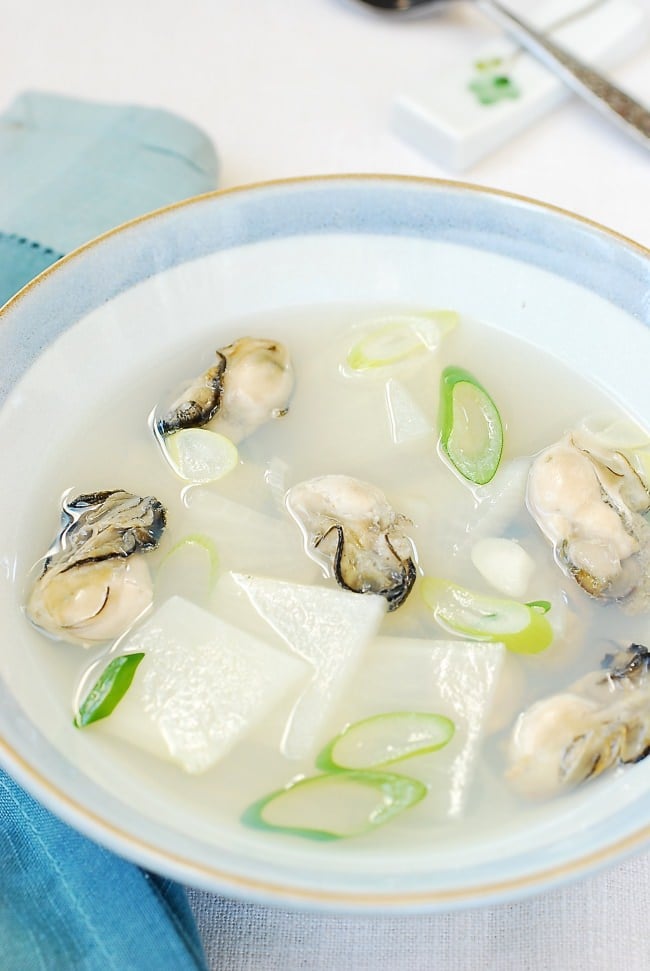 As far as making this soup, simple is best! This recipe uses 2 main ingredients — oysters and radish. The oysters impart a strong briny flavor, so you don't need to use a flavorful broth, such as anchovy broth, as a soup base. I simply add a small piece of dried kelp (dashima) to boost umami, and use salt to season andhighlight the brinyflavor of the oysters. You can use a little bit of soup soy sauce if you want.
The radish makes the soup even more refreshing. Some napa cabbage and/or soybean sprouts (kongnamul) can be good additions as well. You can even add some tofu if you want to make the soup a bit more substantial.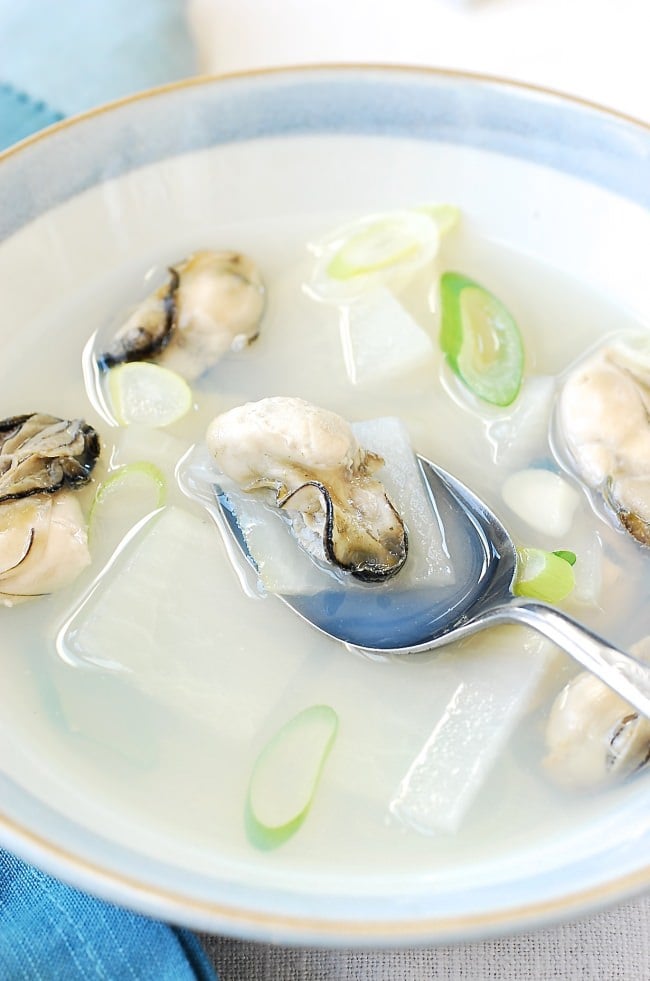 Ingredients
8 to 12

ounces

shucked oysters

1

pound

Korean radish

mu, 무

1

scallion

1

small piece dried kelp

dashima, 다시마 (about a 3-inch square) - optional

1

teaspoon

minced garlic

1

tablespoon

soup soy sauce (or you can just use salt to taste)

Salt and pepper
Instructions
Clean the oysters by gently swishing around in salted water. Drain. Rinse again in clean water and drain again.

Cut the radish into thin, bite size pieces (about 1-inch square, 1/4-inch thick). Thinly slice the scallions crosswise and slightly diagonally.

Add 6 cups of water, the radish and optional dried kelp to a medium size pot. Bring it to a boil over high heat. Reduce the heat to medium high, and cook until the radish is softened, about 5 minutes.

Remove the kelp if used, and drop the oysters in. Add the garlic, and season with salt (about 1 teaspoon) and pepper to taste. Cook for another minute after the soup comes to a boil again. Do not overcook oysters. Remove the scum. Drop the scallions in right before turning off the heat.