Galbitang is a hearty, nourishing soup made with beef short ribs. This recipe shows you how to make traditional galbitang with the delicately clean taste it's known for.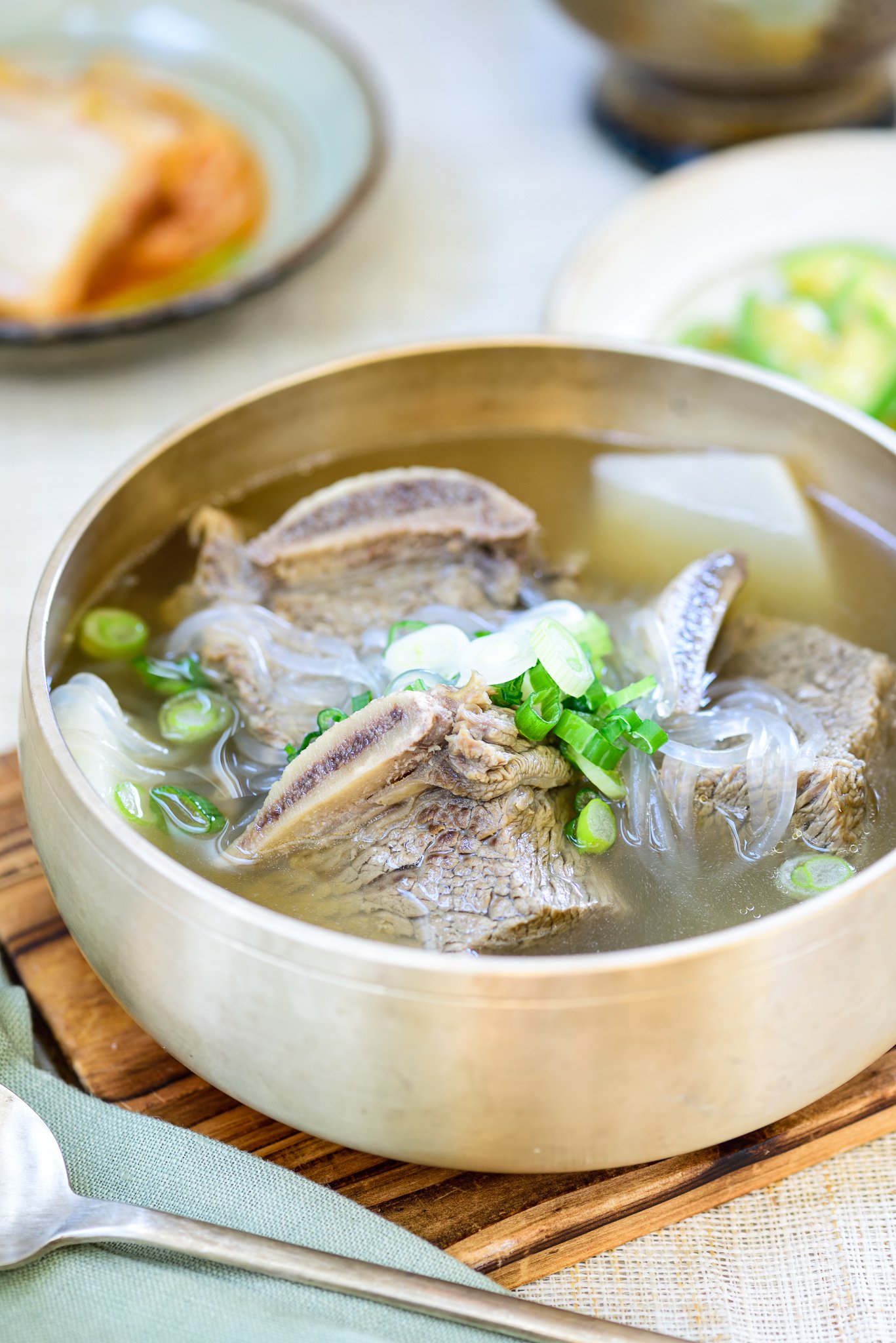 Galbitang (갈비탕) is a clear soup made with beef short ribs (galbi, 갈비). It's a hearty, nourishing soup with a delicate flavor. Typically, the ribs are boiled along with Korean radish (mu, 무), onion, garlic, and ginger until tender.
Beef short ribs are an expensive cut of meat, so this soup is considered a luxury among Korean soups and often served for special occasions such as wedding receptions.
How to make galbitang
Galbitang is fairly simple to make. However, you need to know a few tips to give the soup the nice, clean taste it's known for.
First, soak the ribs in cold water to draw out some blood. Then, blanch them in boiling water to remove remaining blood and some fat, Rinse everything nicely before boiling them again. It should be boiled over high heat for the first 30 minutes to draw out flavor from the bones. The second part of the boiling is done over reduced heat until the meat reaches the desired tenderness, which takes about an hour, depending on the ribs.
A good soup soy sauce (guk ganjang,국간장) is also important for the flavor of this soup. If you don't have Korean soup soy sauce, you can use light fish sauce or regular soy sauce. However, regular soy sauce can make the soup very dark, so just use a little bit and season with salt.
You can skim off any remaining fat or use a fat separator if you're serving while still hot. If you have time, you can also let the entire pot sit in the refrigerator for the fat to solidify so it can be removed effortlessly.
It's common to add starch noodles (dangmyeon, 당면) to the soup at the end of cooking.
Galbitang variations
In Korea, this soup is sometimes upgraded with abalone, especially at restaurants. Lately, I've been able to find fresh abalone from Korea around here, so I've been making abalone porridge and adding to this soup. Abalone nicely elevate galbitang to the next level! It's really easy to add abalone to galbitang as they only take a few minutes to cook.
Sometimes, other ingredients such as ginseng, jujubes, chestnuts, etc. are also added to this soup.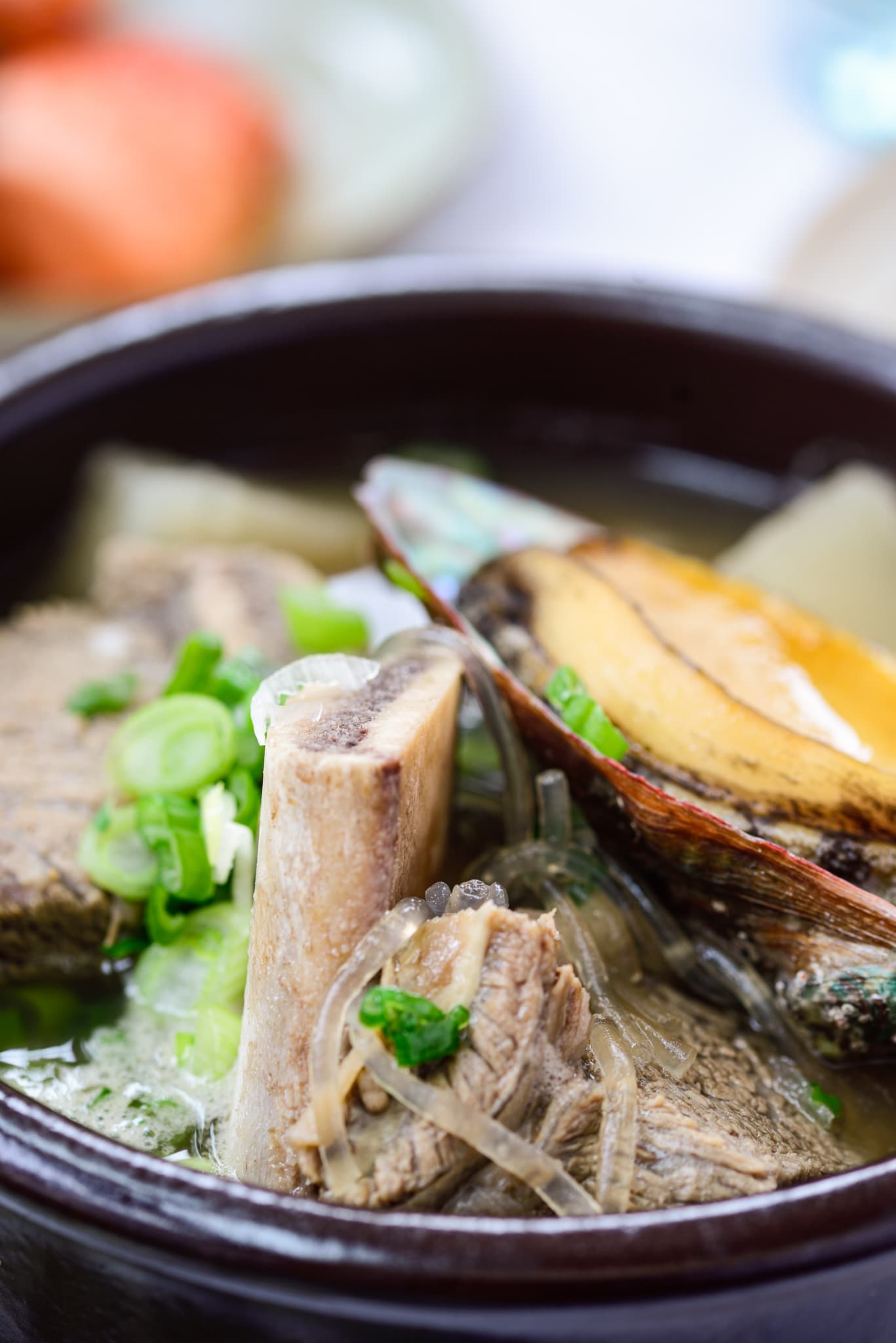 More beef short rib recipes
Instant Pot galbitang
Galbijjim
Instant Pot Galbijjim
Instant Pot Spicy Galbijjim
Slow cooker galbijjim
LA Galbi (BBQ short ribs)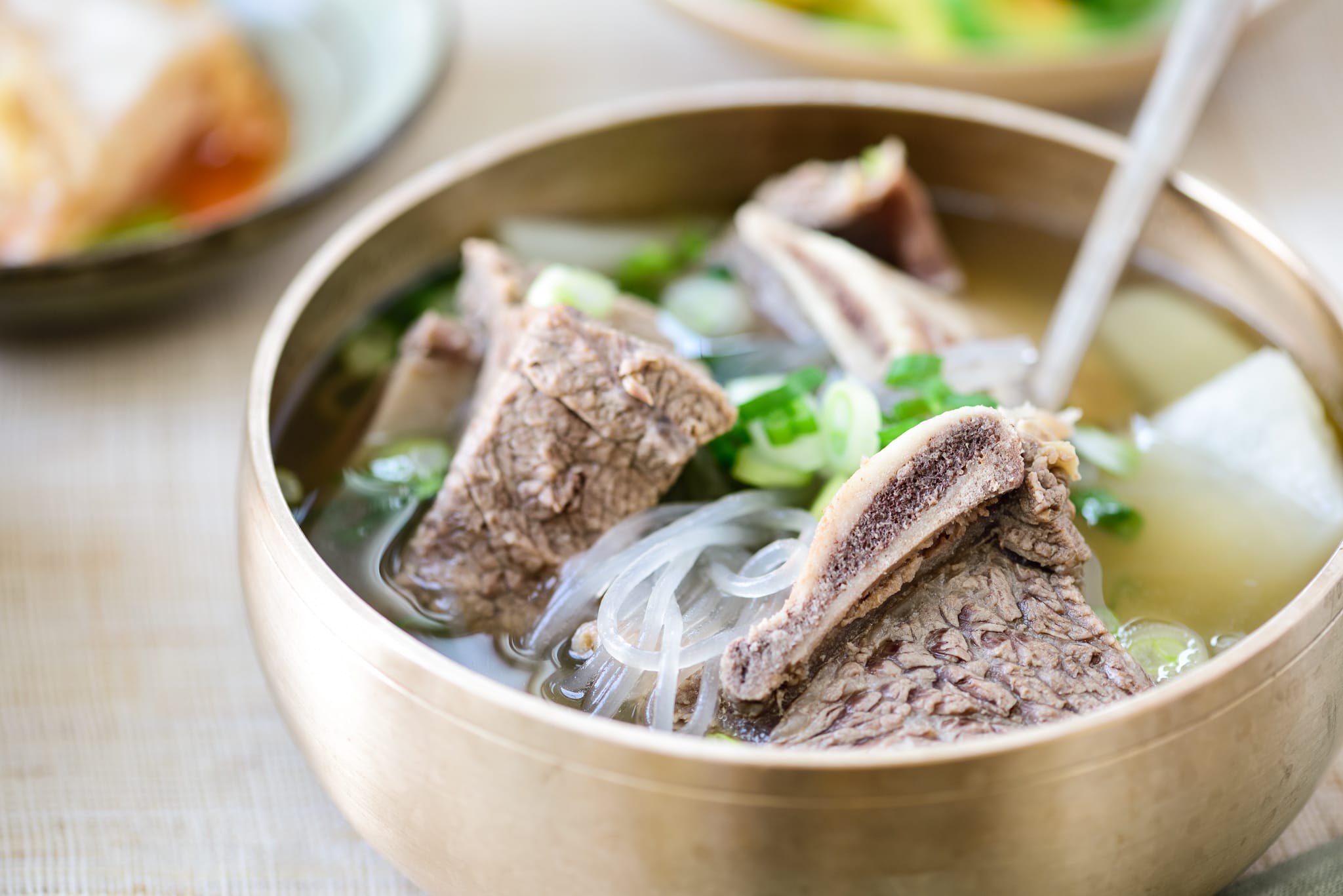 For more Korean cooking inspirations, follow along on YouTube, Pinterest, Twitter, Facebook, and Instagram.
Ingredients
about 3 pounds short ribs

1

pound

Korean radish, mu (무)

1

medium onion

2

large scallion white parts

8

plump garlic cloves

3

thin ginger slices

1-inch rounds

2

tablespoons

soup soy sauce

Use 1 T if your soy sauce is dark

salt and pepper

3

ounces

starch noodles - optional

dangmyeon, soaked in warm water for about 20 minutes

1

teaspoon

minced garlic

2

scallions

finely chopped

4

abalone - optional

See note
Instructions
Soak the ribs for 30 minutes in cold water. Drain.

Fill a large pot with enough water to cover the ribs, about 8 cups. Bring water to a boil, and then drop the ribs in. Let it come back to a boil. Continue to boil for 2 to 3 minutes.

Return the ribs back to the pot. Add 13 to 14 cups of water, radish, onion, garlic and ginger. Add 2 tablespoons of soup soy sauce and 1 teaspoon of salt (use less if your soup soy sauce is dark and more salt). Bring it to a boil. Continue to boil, uncovered, for 30 minutes over high heat.

Reduce the heat to medium. Remove all the vegetables. Transfer the radish to a cutting board. Discard the other vegetables.

Add 2 cups of water. Continue to boil, covered, for about an hour until the meat is tender. Add 1 teaspoon of minced garlic and the optional noodles 3 or 4 minutes before turning the heat off. Cut the radish into thick bite size pieces and add to the soup. Bring everything to a boil again. Salt and pepper to taste. Skim off fat or use a fat separator to remove excess fat. Garnish with the chopped scallions to serve.
Notes
If using abalone, clean them well, and add to the soup 7 to 8 minutes before turning the heat off at the end of cooking. See my abalone porridge to learn how to clean them.
This recipe was originally posted in December 2015. I've updated here with new photos, more information, and minor changes to the recipe.