Galbitang (갈비탕) is a clear soup made with beef short ribs (galbi, 갈비). It's a hearty, nourishing soup with a delicate flavor. Typically, the ribs are boiled along with Korean radish (mu, 무), onion, garlic, and ginger until fork tender. A good soup soy sauce (guk ganjang,국간장) is also important for the flavor of this soup. It's common to add starch noodles (dangmyeon, 당면) to the soup at the end of cooking. Beef short ribs are an expensive cut of meat, so this soup is considered a luxury among Korean soups and often served for special occasions such as wedding receptions.
For me, this soup now holds special meaning. My family suffered the loss of my mother-in-law who passed away a few days before Thanksgiving Day last month. She was 85 years old. She was an incredibly strong lady who endured many hard times, including the Korean war, immigrant life, and most recently cancer and declining health. I visited her 3 days before her passing with a pot of galbitang. I shredded the meat for her and served it with some rice in it. She finished the entire bowl and said it was really good. I had no idea that was going to be the last meal I personally prepared for her.
Galbitang is fairly simple to make. However, you need to know a few tips to give the soup the nice, clean taste it's known for. First, you will have to soak the ribs in cold water to draw out as much blood as you can. Then, blanch them in boiling water to remove any remaining blood and rinse everything nicely before boiling them again. It should be boiled over high heat for the first 30 minutes to draw out flavor from the bones. The second part of the boiling is done over reduced heat until the meat reaches the desired tenderness, which takes about an hour to an hour and a half, depending on the ribs.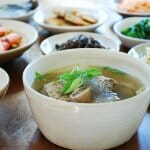 Galbitang (Beef Short Rib Soup)
A hearty, nourishing soup made with beef short ribs
Ingredients
about 3 pounds short ribs

1

pound

Korean radish

1

medium onion

2

large scallions

8

plump garlic cloves

3

thin ginger slices

1-inch rounds

soup soy sauce

salt and pepper

3

ounces

starch noodles

dangmyeon, soaked in warm water for 30 minutes

1

teaspoon

minced garlic

2

scallions

finely chopped