Nokdujeon, aka nokdu bindaetteok, is a savory pancake made with ground nokdu (mung beans). These crispy golden brown pancakes are soft on the inside with some crunch from the vegetables and deliciously nutty!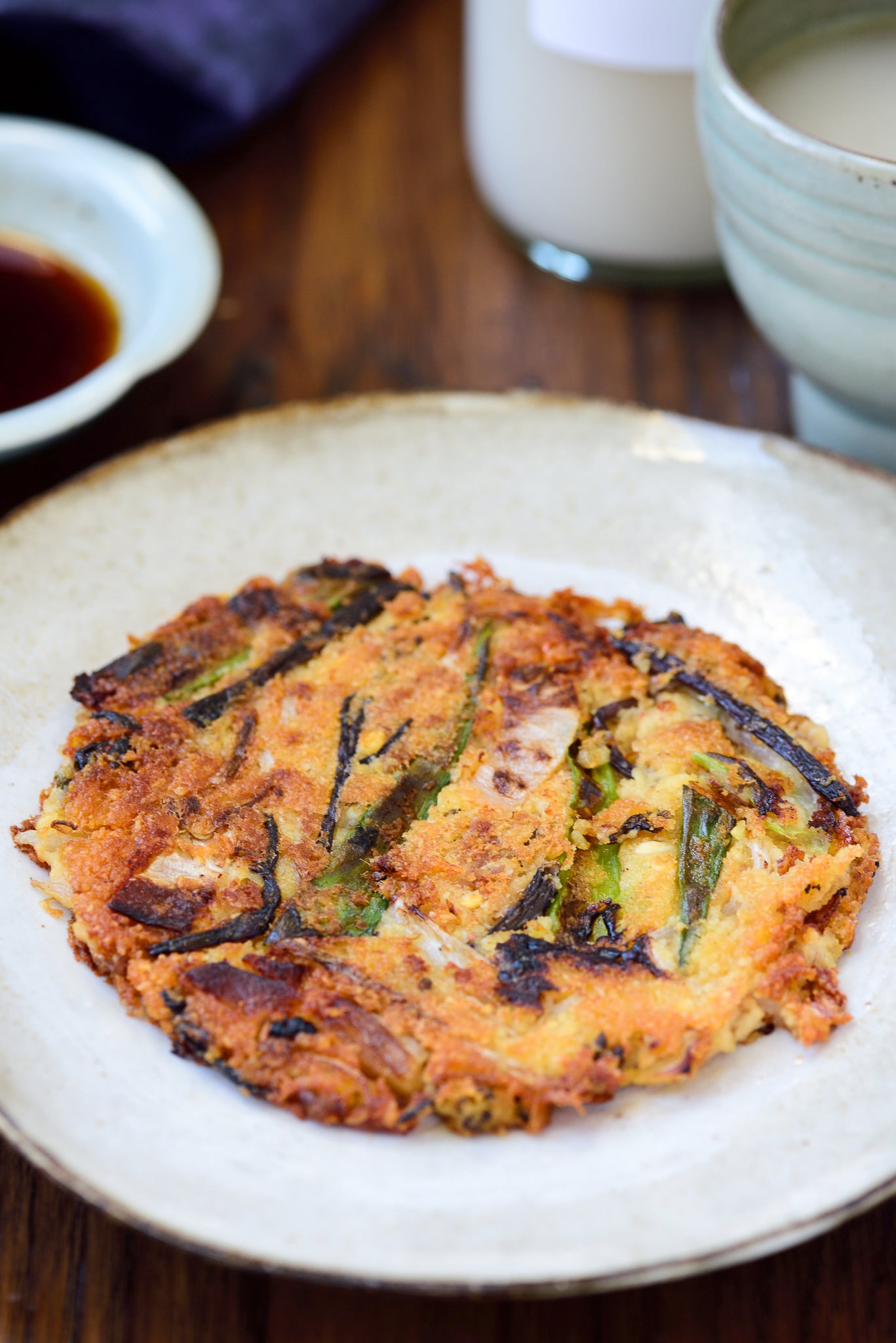 In Korea and many other Asian countries, the holiday season is not over until after the lunar New Year, which falls on January 25 this year. Called Seollal (설날) in Korea, it's one of the two most celebrated traditional holidays. Along with tteokguk (떡국, rice cake soup), nokdujeon (녹두전) is a must for the New Year's Day feast.
As for my family, these crispy golden brown savory pancakes are a favorite year round!

What is nokdujeon?
Nokdujeon is a type of savory Korean pancake made with ground mung bean batter. It's also called bindaetteok (빈대떡) or nokdu bindaetteok (녹두 빈대떡). While nokdujeon is a classic holiday dish, it's highly popular also as a street food, as you may have seen in the Netflix Street Food episode of Gwangjang Market in Seoul.
You may think you've never heard of mung beans. Actually, you may know these beans better by their sprouts — those bean sprouts which are common in many Asian dishes. The most well known Korean dish made with mung bean spouts is the side dish called sukju namul (숙주나물).
Importantly, mung beans are highly nutritional and provide many health benefits. In Korea, they are well known as a detoxifying food. Hope you add more mung beans and their sprouts to your diet this new year.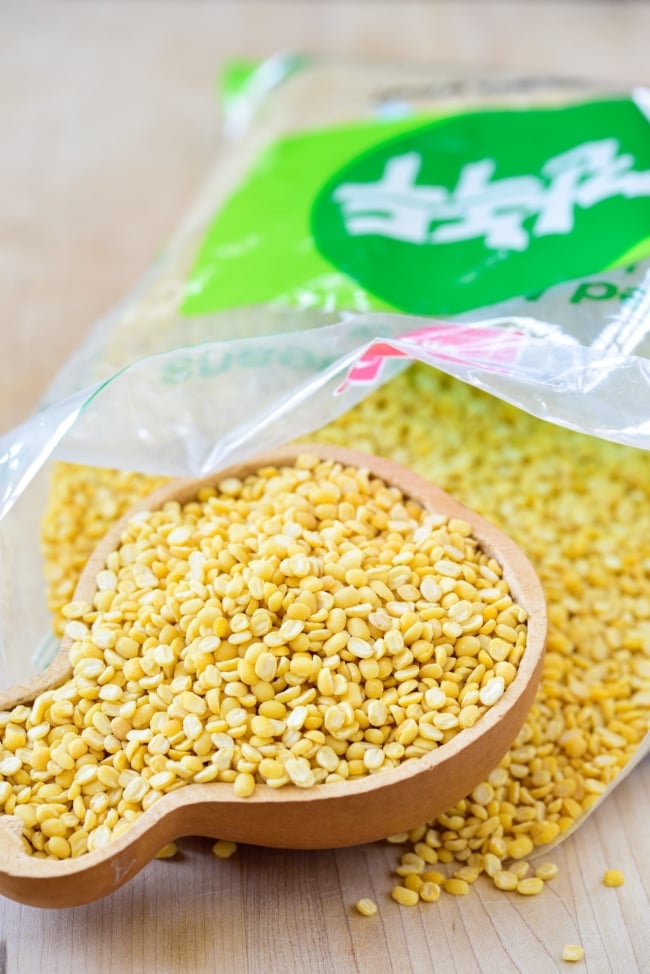 How to make mung bean pancakes
To make these pancakes, you'll need to soak the dried mung beans in water for a few hours, and then ground into a batter. I usually buy pre-hulled and split ones, so soaking and preparing the beans is fairly simple.
Growing up, we used to have a stone mill, called maetdol (맷돌), to grind soaked beans. These days, most people use an electric blender. Be sure not over blend the beans. The batter should be creamy but slightly coarse and sandlike.
Typical additions to the batter include ground pork, bean sprouts, gosari (fern brakes), scallions, and kimchi. These add tons of flavors and textures to the pancakes. I blanch the bean sprouts before adding to the batter, but you can add fresh sprouts if you want.
For a vegetarian or vegan bindaetteok, you can simply omit the pork and use vegetarian/vegan kimchi.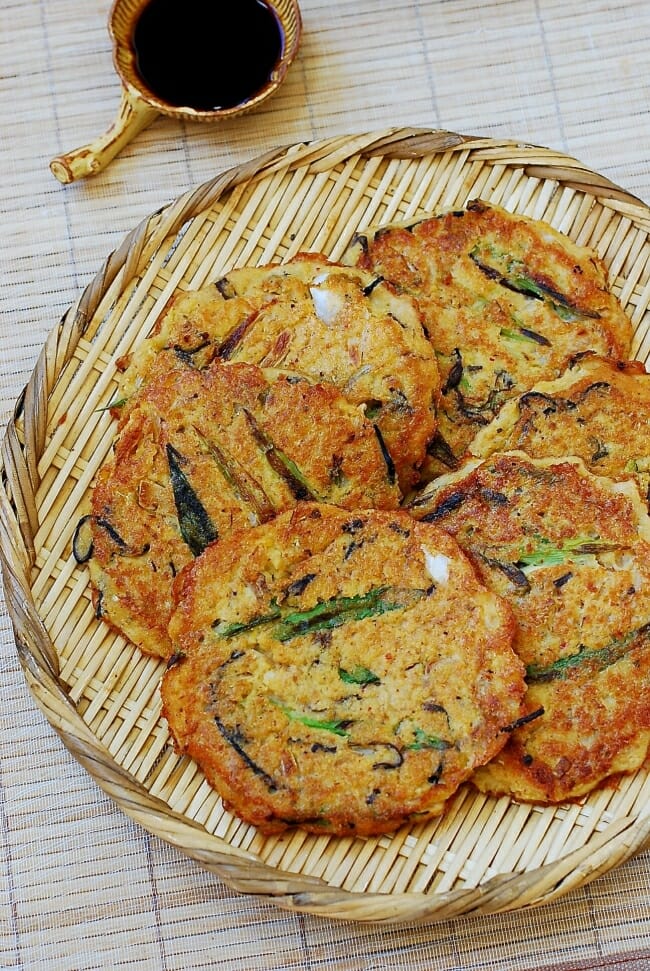 If you've seen these pancakes being made on the streets of Korea, you've probably noticed that the vendors deep fry them in a bath of hot oil. At home, we pan fry these pancakes with much less oil. However, for crispy, delicious pancakes, use a generous amount of oil.
This recipe makes quite a few pancakes, but it's very easy to cut the recipe in half if desired.
These pancakes will keep well in the fridge up to 4 days. They also freeze well. Simply defrost them at room temperature, and then reheat in a pan over low heat or in the microwave. Also try adding the frozen nokdujeon to your kimchi jjigae within the last few minutes of cooking. Delicious!
More Korean pancake recipes
Haemul pajeon (seafood pancakes)
Buchujeon (garlic chives pancakes)
Kimchi jeon (kimchi pancakes)
Gamjajeon (potato pancakes)
Hobak buchim (zucchini pancakes)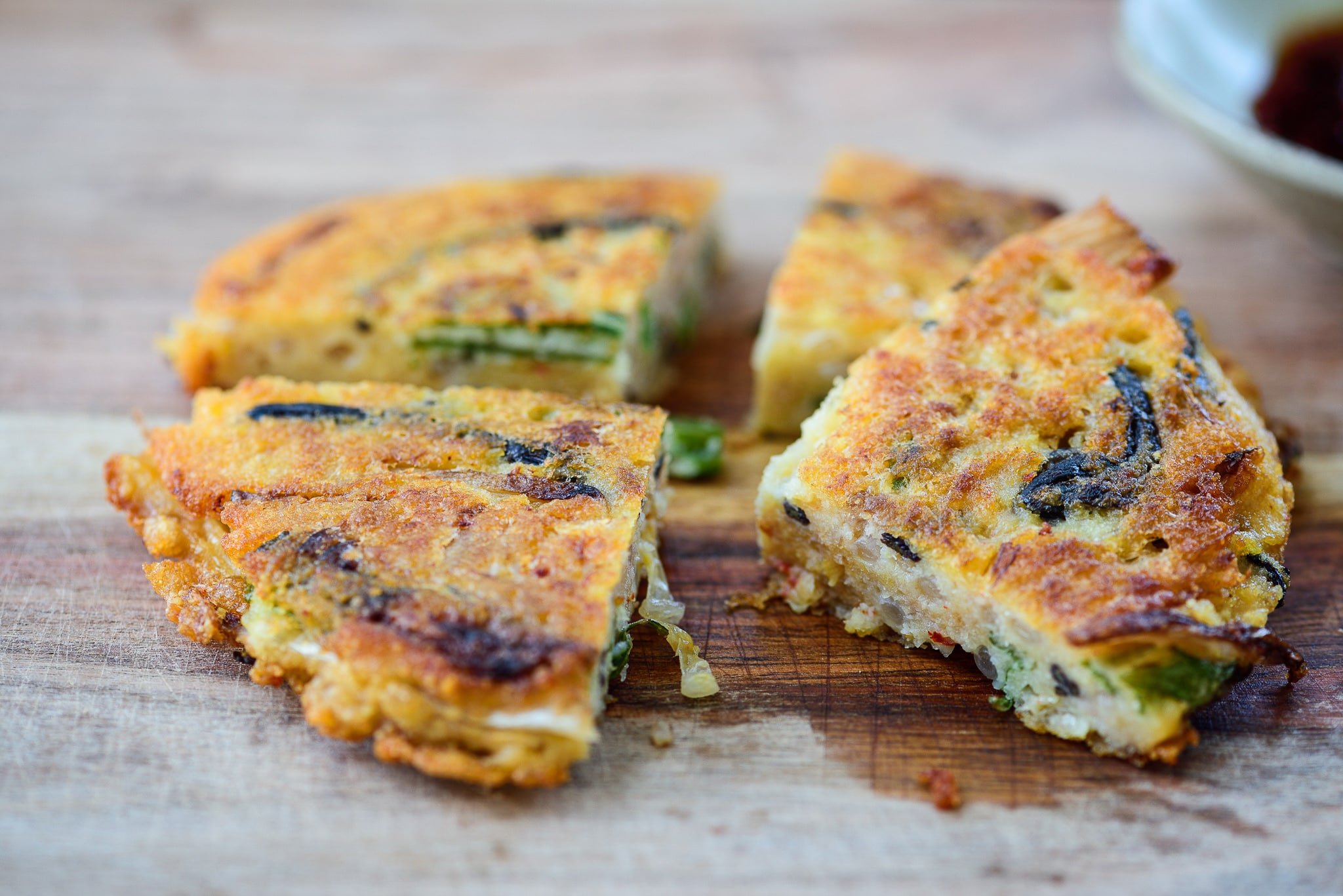 For more Korean cooking inspirations, follow along on YouTube, Pinterest, Twitter, Facebook, and Instagram.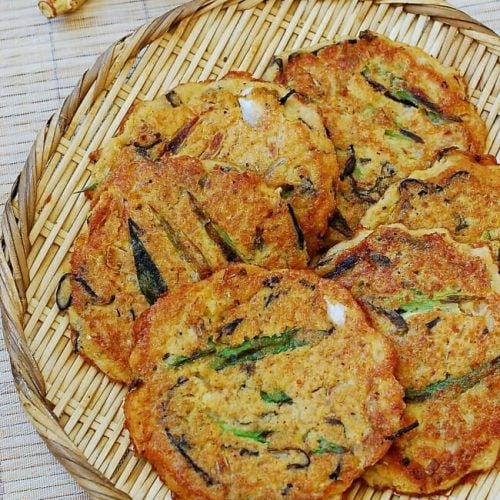 Nokdujeon or Nokdu bindaetteok (mung bean pancakes)
Appetizer
Print Recipe
Ingredients
2

cups

dried peeled and split mung beans*

yields about 4 cups soaked

8

ounces

sukju namul (mung bean sprouts)

8

ounces

kimchi

6 - 8

scallions

4

ounces

pork , ground or finely chopped

2

teaspoons

soy sauce

1

teaspoon

garlic

1

tablespoon

sesame oil

salt

vegetable oil for pan frying
Dipping Sauce
2

tablespoons

soy sauce

1

tablespoon

vinegar

(or to taste)

2

tablespoons

water

pinch

of black pepper

pinch

of red pepper flakes

gochugaru - optional
Instructions
Rinse and soak the mung beans in water for 3 - 4 hours. Drain.

Meanwhile, cook the mung bean sprouts in boiling water for about 2 minutes (you can skip this blanching if preferred). Rinse in cold water to stop cooking. Drain and gently squeeze out excess water. Thinly slice the kimchi and scallions. In a large bowl, combine the kimchi, bean sprouts, scallions, meat, soy sauce, sesame oil and garlic. Mix well.

In a blender, grind 2 cups of the soaked beans in 3/4 cup of cold water with 1/2 teaspoon of salt until it has a coarse, sandlike consistency.

Add to the vegetable and meat mixture. Repeat with the remaining beans. Gently mix the mung bean batter until the ingredients are evenly distributed.

Heat 2 tablespoons or more of oil in a non-stick pan over medium to medium high heat. (See note.) Ladle the mixture into the pan and spread it evenly into a thin round shape. Cook until the bottom is golden brown (2 - 3 minutes), and turn it over, adding more oil. Press it down with a spatula, and cook for another 2- 3 minutes. Repeat the process with the rest of the mixture.

Serve hot off the pan with a dipping sauce.
Notes
Use a generous amount of oil for crispy pancakes.
This mung bean pancake recipe was originally posted in December 2011. I've updated it here with new photos, more information and minor changes to the recipe.