This super easy kimchi pancake is crispy on the outside and chewy and flavor-packed on the inside thanks to spicy fermented kimchi, scallions and squid. Serve these savory Korean pancakes with my sweet and sour dipping sauce.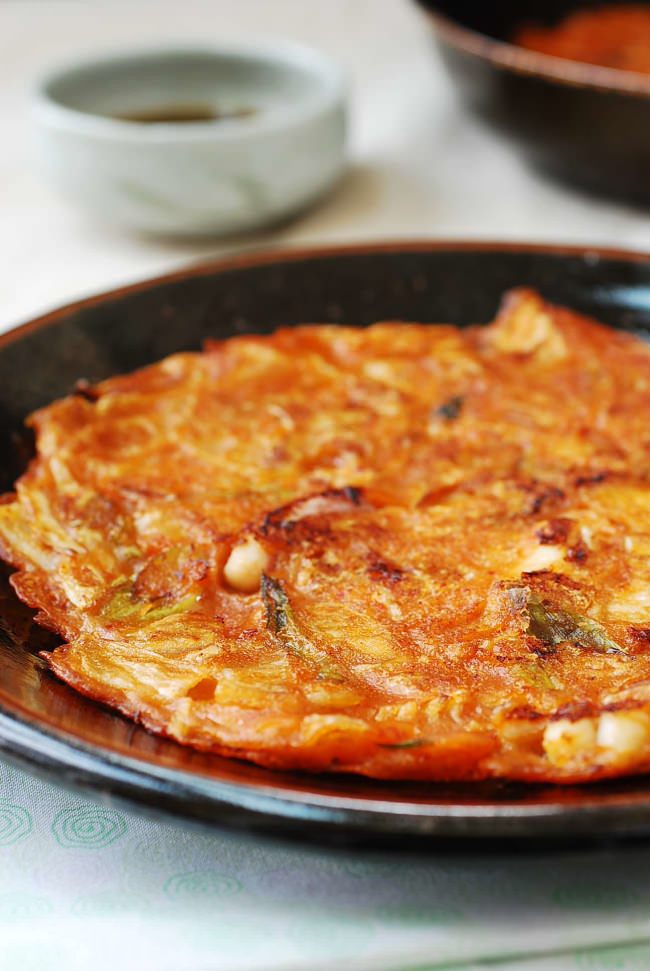 Another major snowstorm (Blizzard of 2010) is paralyzing many states along the East Coast of the U.S. I have already been snowed in for a few days, and it does not seem like it will end anytime soon.
So since there is nothing I can do about it, I decided to enjoy it by staying warm inside and doing the things I love. Cooking is at the top of the list. I've been making and eating so much food that it's almost embarrassing to talk about it. But my poor husband who's been out shoveling the never-ending amount of snow appreciated all the comforting and warming food I made.
On a rainy or cold snow day, Koreans like to make some sort of
jeon
(savory pancakes) for a snack, and kimchi pancakes aka.
kimchi jeon
is a popular choice. So crispy pancakes served piping hot with a homemade pancake sauce were one of many things I made in the last few days.
I had previously posted this
kimchi jeon
recipe as a supplement to the
seafood scallion pancake
recipe, but I decided that this popular Korean snack/appetizer deserved its own spotlight.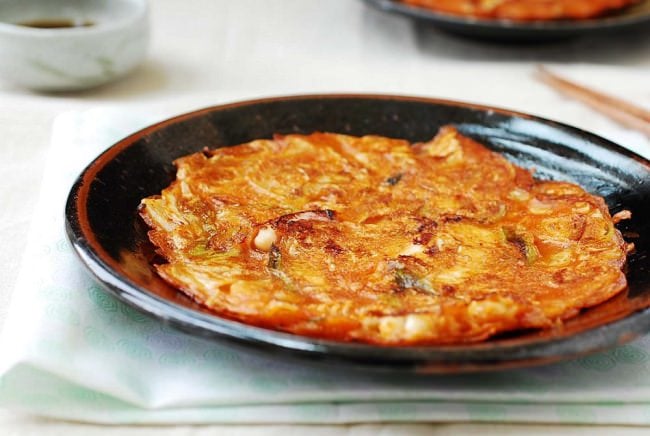 A traditional Korean Kimchi pancake is made from a simple batter of kimchi, scallions, salt, and water fried to a crispy pancake in the skillet and served with a dipping sauce.
If you have nicely fermented kimchi and a bag of flour, you could make this popular snack in no time. The flavor-packed sour kimchi does a wonder when it's fried in a simple batter. Everything else is nice to have, but not necessary.
Here, I added sweet rice powder to give a little bit of elastic texture to the kimchi pancakes. The juice from the kimchi is a must. It gives the pancake batter its distinct flavor and a nice orange hue.
The chewy squid lends a nice textural contrast to the crunchy kimchi. For a slightly spicier kimchi pancake, add a spoonful of gochujang (Korean red chili pepper paste) to the batter. Enjoy these crispy kimchi pancakes piping hot as a snack, appetizer, or a light meal – it will be a delicious treat!
How to make the perfect Kimchi Pancake:
Make sure not to overmix the pancake batter to allow for a light texture. Use ripe, well-fermented kimchi for this kimchi pancake recipe to get best results.
The addition of rice flour transforms the pancake batter into a lighter, crispy pancake so don't skip the rice flour if at all possible. All-purpose flour alone leads to a mushy, gooey pancake.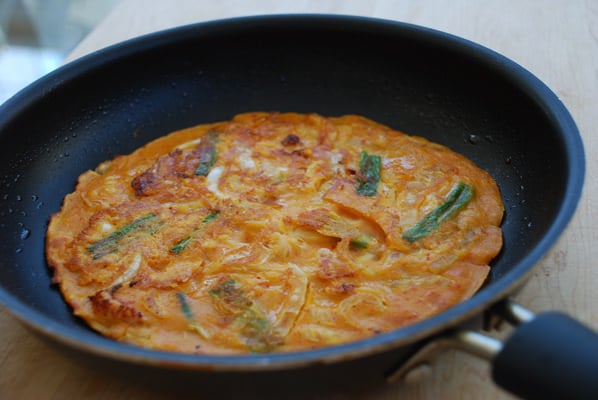 For a milder kimchi pancake, reduce the amount of gochujang. If you're not a fan of squid, just swap it for shrimp or skip the seafood altogether.
How to make a Korean pancake dipping sauce?
Add soy sauce, rice vinegar, water, and sugar or honey in a bowl. Mix well till the liquids have blended, and stir in the crushed chili peppers, black pepper and (optional) sesame seeds. Mix well and serve!
What is Korean sweet rice flour?
While rice flour is made from long- or medium-grain rice, sweet rice flour is ground from short-grain glutinous rice, aka "sticky rice."
Sweet rice flour is used to make various Korean doughs and batter. Sweet rice, although it's also known glutinous rice, does not contain any dietary gluten. The name "glutinous" comes from its characteristic of being very sticky or glue-like.
Don't let the fact that it's called "sweet" rice throw you off. Its flavor is mild and really not at all sugary sweet. You often find this Asian flour labelled as mochiko in Asian groceries.
More Korean savory pancakes recipes
Nokdujeon (savory mung bean pancakes)
Gamjajeon (potato pancakes)
Hobak buchim (zucchini pancakes)
Haemul Pajeon (Scallion seafood pancakes)
Buchujeon (garlic chives pancakes)
Have you tried this kimchi pancake recipe? Please rate the recipe below by either clicking the stars or leaving a comment! And make sure to share your creations by tagging me on Instagram! Stay in touch by following me on Pinterest, Twitter, Facebook, and Instagram.
Kimchi Pancakes (Kimchijeon)
Appetizer, Main Course, Snack
Print Recipe
Ingredients
Ingredients
1

cup

thinly sliced kimchi

fully fermented

2

scallions

roughly chopped

1/4

medium onion

thinly sliced

80

grams

squid

cut into small strips
Batter
1

cup

flour

or pre-made Korean pancake mix

1/4

cup

sweet rice flour

or rice powder (or use more pancake mix or flour)

1

tablespoon

gochujang

Korean red chili pepper paste

1/4

cup

juice from kimchi

1

lightly beaten egg

1

cup

icy cold water

use more water if juice from kimchi is not available

Vegetable or canola oil for pan frying
Dipping Sauce
1

tablespoon

soy sauce

1

teaspoon

vinegar

1

tablespoon

water

1/2

teaspoon

sugar

pinch

of black pepper

pinch

of red pepper flakes

gochugaru
Instructions
Prepare all the ingredients before making the batter.

In a large bowl, mix the flour (or pancake mix) with the next 5 ingredients. Do not overmix. Stir in the kimchi, scallions, onion and squid.

Combine all the ingredients for the sauce in a small bowl and set aside.

Heat one tablespoon of oil in a non-stick pan over medium heat. Ladle the mixture into the pan, and spread it evenly into a thin round shape. Cook until the edges turn light golden brown, about 3 minutes. Reduce the heat to medium-low if the pancake browns too quickly. Turn it over, adding more oil, and press it down with a spatula. Cook until the other side is light golden brown, about 3 minutes.

Repeat the process until there is no remaining batter. Serve hot with a dipping sauce, if desired.