Korean savory pancakes made with summer zucchini are quick and easy to make and so delicious! Make these for a snack, an appetizer, or a light meal!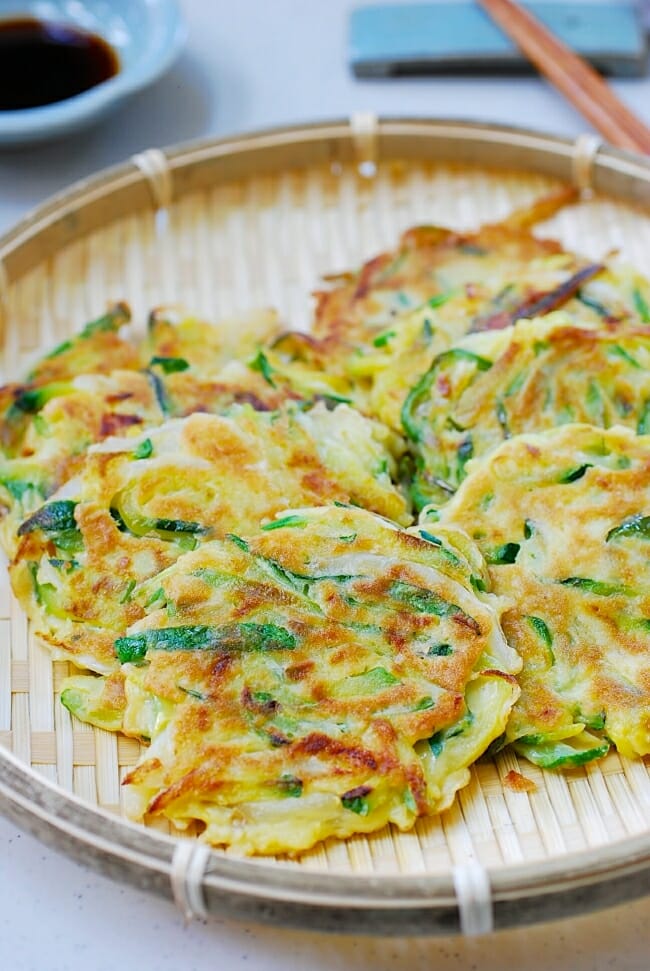 What's your favorite things to make with summer's bountiful zucchinis? These Korean savory pancakes, called hobak buchim (호박부침) or buchimgae (부침개), are quick and easy to make and so delicious with summer zucchini! Perfect as a snack, an appetizer, or a light meal!
Over the years, I posted several different Korean savory pancakes. They are essential in Korean cuisine and made with all sorts of ingredients — kimchi (kimchijeon, 김치전), seafood and scallions (haemul pajeon, 해물파전), potato (gamjajeon, 감자전), garlic chives (buchujeon, 부추전), mung beans (nokdujeon, 녹두전), and many more.
If you wonder why the zucchini version is not called hobakjeon, it's not wrong to call it hobakjeon, but hobakjeon generally refers to zucchini rounds that are pan-fried in egg batter.
This is a recipe I make over and over every summer. It was originally posted in August 2013. Here, I'm updating it with more information, new photos and minor changes to the recipe.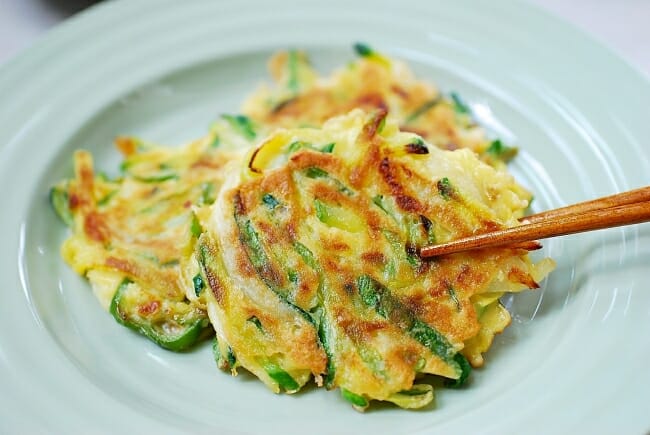 Zucchini and Vegetables
You can make these zucchini pancakes simply with a zucchini, but I like to throw in thinly sliced sweet onion and green hot chili peppers to complement. The onion adds delicious sweetness to the pancakes, and the hot chili peppers give a nice spicy kick, kal-kal-han-mat (칼칼한맛) as Koreans say. Or, try a little bit of perilla leaves (kkaennip, 깻잎) or garlic chives (buchu, 부추).
Since zucchini contains lots of water, you will need to salt the julienned zucchini and squeeze out the liquid as much as you can, reserving the liquid for the batter. Squeezing will give a little bit of crunch to the zucchini. The zucchini-flavored liquid along with a lightly beaten egg is all you need for the batter.
Korean savory pancake batter
As I mentioned in the other Korean pancake recipes, commercially available savory pancake mix (buchimgaru, 부침가루) is best to use for Korean savory pancake mix. The ready-made mix typically includes flour, cornstarch and/or rice powder for crispy pancakes. It's flavored with garlic and onion powder and seasoned with salt. If unavailable, use flour with a couple of tablespoons of cornstarch for this recipe. The cornstarch gives a slightly elastic texture and crispness to the pancakes.
This recipe makes 6 to 8 small pancakes. You can make 2 large pancakes instead if you want, and cut into small pieces before serving, or simply tear with the chopsticks to eat.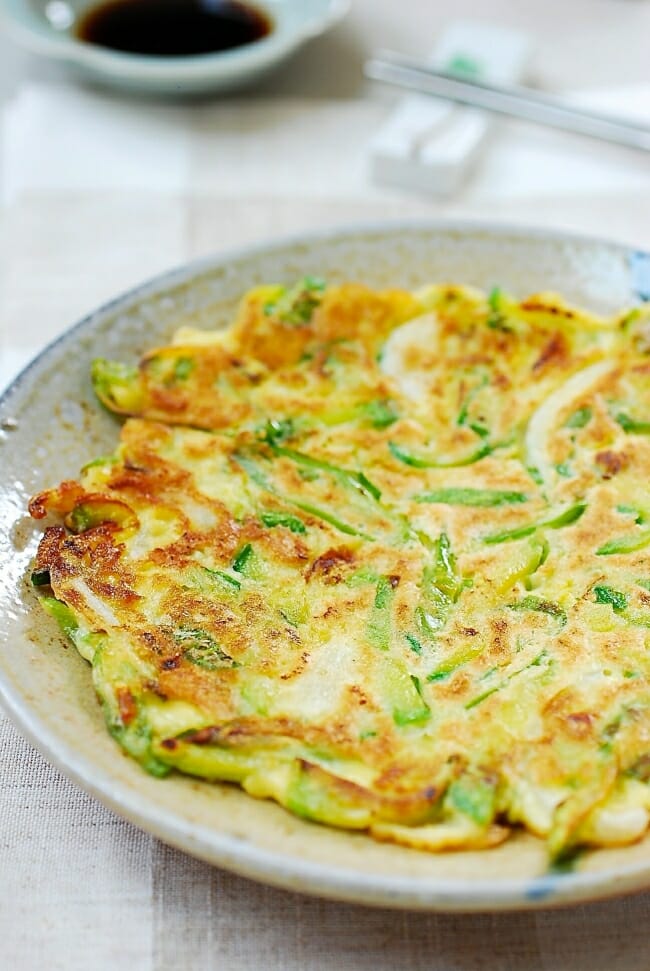 More zucchini recipes:
Modeumjeon (Fish, Shrimp and Zucchini Pan-fried in Egg Batter)
Hobak Bokkeum (Stir-fried Zucchini)
Hobak Gochujang Jjigae (Korean Spicy Zucchini Stew)
Gaji Hobak Muchim (Grilled Eggplant and Zucchini with Korean Seasoning)
Doenjang Jjigae (Korean Soybean Paste Stew)
More Korean savory pancakes recipes
Kimchijeon (kimchi pancakes)
Haemul Pajeon (scallion seafood pancakes)
Buchujeon (garlic chives pancakes)
Nokdujeon (savory mung bean)
Gamjajeon (potato pancakes)
Have you tried this zucchini pancake recipe? Please rate the recipe below by either clicking the stars or leaving a comment! And make sure to share your creations bytagging me on Instagram!Stay in touch by following me onPinterest,Twitter,Facebook, andInstagram.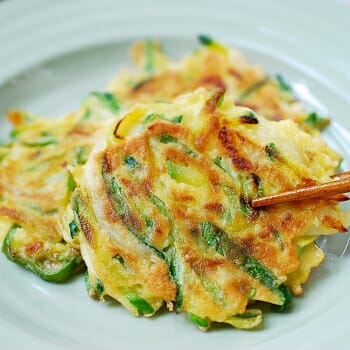 Ingredients
1

medium zucchini

about 8 ounces

1/2

teaspoon

salt

1/4

medium sweet onion

thinly sliced

2

green hot chili peppers

thinly sliced

1/2

cup

buchim garu (Korean savory pancake mix)

or flour (see note)

1

large egg (omit for a vegan version and add some water)

vegetable or canola oil for frying
Dipping Sauce:
1

tablespoon

soy sauce

1

teaspoon

vinegar

1

tablespoon

water

1/2

teaspoon

sugar

pinch

of black pepper

pinch

gochugaru (Korean red chili pepper flakes)
Instructions
Cut the zucchini into matchsticks. Place them in a bowl, and sprinkle with 1/2 teaspoon of salt. Let sit for about 10 minutes until wilted and released some liquid. Squeeze the liquid out from the zucchini as much as possible, reserving the liquid in the bowl. Set the zucchini aside.

Add the egg and pancake mix (or flour) to the bowl with the zucchini squeezed mix. Mix everything well with a spoon, and then combine with the zucchini, onion and chili peppers. The zucchini mix may look stiff when mixing, but it will become more liquidly after a few minutes. If it's still too stiff, mix in some water (2 to 3 tablespoons to start with).

Heat a skillet with two tablespoons of oil over medium high heat. Add about 2 heaping tablespoons of the batter and spread it evenly into a thin round shape. Depending on the size of your pan, you can cook 3 to 4 pancakes at once. Reduce the heat to medium, and cook until the bottom is light golden brown, about 2 minutes on each side. Repeat the process with the remaining batter. Serve hot with a dipping sauce.
Notes
Use 5 tablespoons all purpose flour with 3 tablespoons cornstarch if available.
This recipe makes 6 to 8 3-inch round pancakes, or two large pancakes.
This recipe was originally posted in August 2013 and has been updated here with minor changes.