Need some quick kimchi? Or can't find napa cabbage where you are? Try this kimchi recipe made with a head of your normal green cabbage. It's light, crunchy, and refreshing!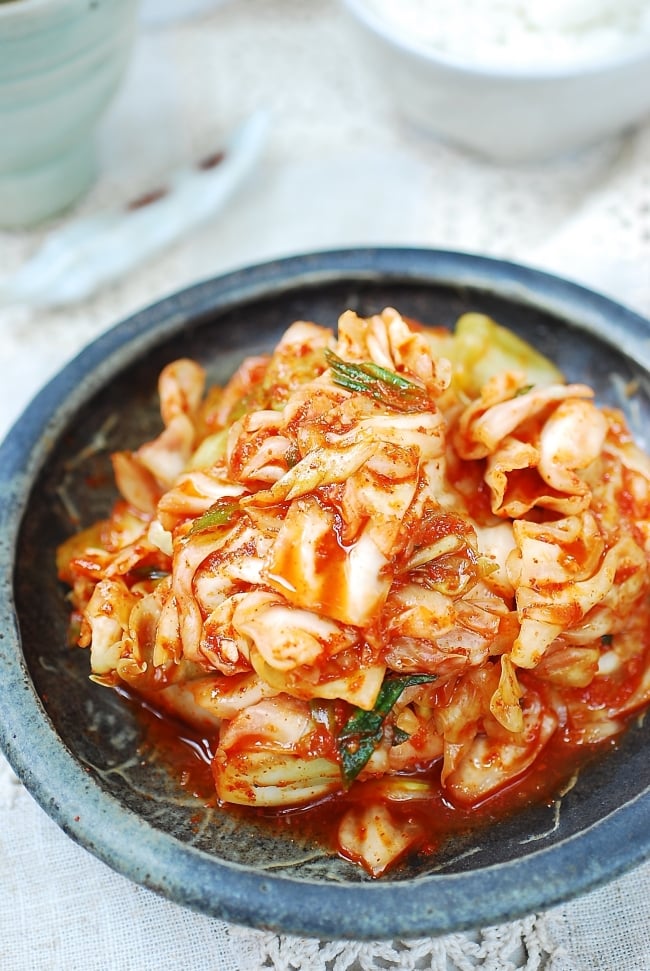 When napa cabbages are not in their prime season during the warm months, green cabbages (called yangbaechu in Korean, 양배추) come in handy for making kimchi. Great for kimchi beginners, this yangbaechu kimchi recipe is a good alternative if you can't find napa cabbages at your local groceries or need a quick kimchi.
The Korean name for green cabbage, yangbaechu, actually means Western cabbage. Green cabbages are healthy, naturally sweet and crunchy, which makes it a good vegetable for kimchi.
This recipe was originally posted in July 2011. I've updated it here with new photos, more information, and an improved recipe.
Unlike napa cabbage (baechu, 배추), you don't need to salt green cabbage for very long. All you need is about an hour or two to soften the cabbage and bring out the flavors. The salting time varies depending on the cabbage and the salt.
Salting the green cabbage
Koreans use coarse sea salt (aka Korean brining salt) for salting vegetables to make kimchi. It's natural salt with a coarse texture that was minimally processed. However, if Korean sea salt is unavailable, use your normal kitchen salt. If using finer salt, you'll need to use less than what's called for in the recipe.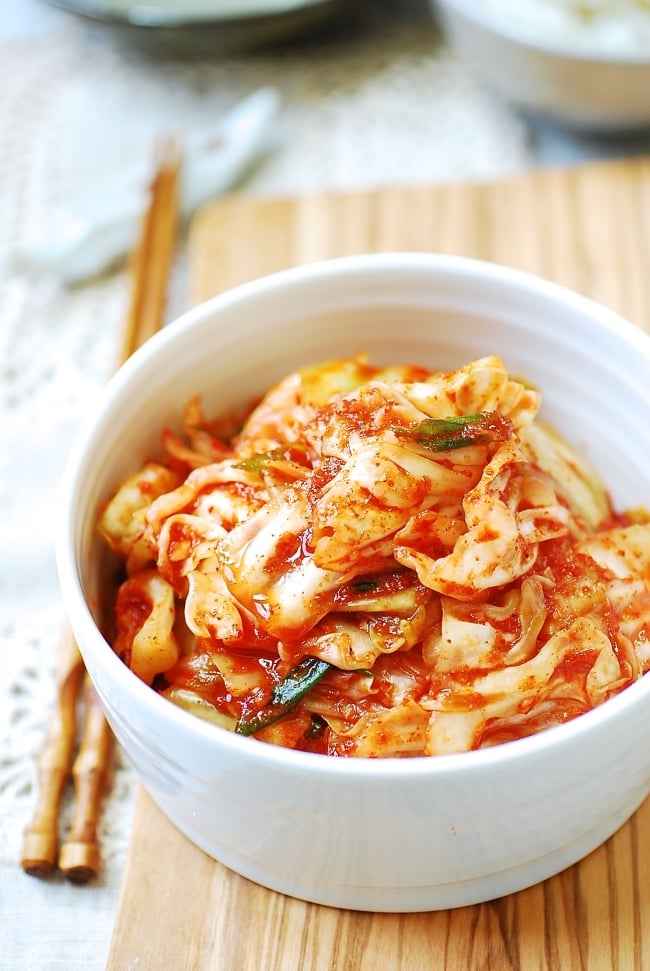 Yangbaechu kimchi seasonings
While Korean red chili pepper powder (gochugaru, 고추가루) is indispensable for authentic kimchi, this yangbaechu kimchi is a good kimchi for you to experiment with other types of chili pepper powder available to you. Some readers have reported a success with their substitution. Also, if your chili pepper powder is extremely spicy, puree some red bell pepper (or mild fresh red chili peppers) with a little bit of water and mix it with your chili pepper powder. It'll give the kimchi a bit more red color and flavor.
For a deliciously savory flavor, I used salted shrimp (saeujeot, 새우젓) in this recipe. Use fish sauce instead if preferred. For vegan kimchi, Korean soup soy sauce (guk ganjang, 국간장) is a good substitute. Many years ago while visiting my son who was in Berlin, Germany, at the time, I made this kimchi without any of these ingredients, and it was still very good!
Yangbaechu kimchi is one of my mother's favorite summer kimchi varieties, so we grew up eating it a lot. She would tell me not to use a lot of seasoning because this kimchi should be light and refreshing. However, feel free to increase the amount of gochugaru or salted shrimp (or fish sauce) to season the kimchi a bit stronger if preferred.
How to store yangbaechu kimchi
Keep the kimchi out at room temperature for a few hours or overnight before storing it in the fridge. You can start eating yangbaechu kimchi right away, but it'll taste better over a couple of weeks in the fridge. Because it's lightly seasoned, it's best consumed within 3 to 4 weeks.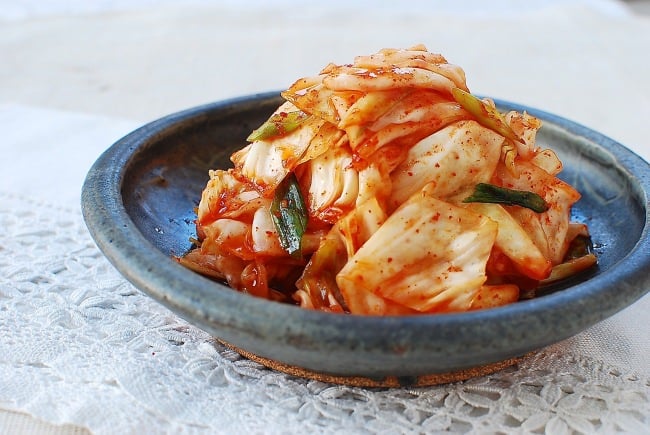 For more Korean cooking inspirations, follow along on YouTube, Pinterest, Twitter, Facebook, and Instagram.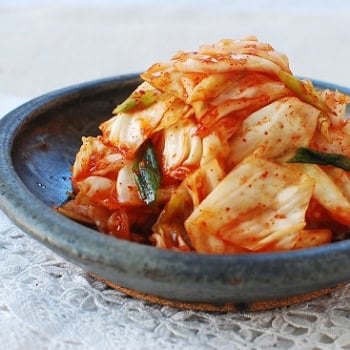 Ingredients
1

head green cabbage, 양배추

(about 2.5 pounds)

4

tablespoons

coarse sea salt

less if using table salt, about 3 tablespoons)

3

scallions

roughly chopped

1/4

cup

Korean red chili pepper flakes, gochugaru (고추가루)

(add 1 more tablespoon for spicier kimchi)

3

tablespoons

salted shrimp, saeujeot (새우젓)

finely chopped, (or fish sauce)

1

tablespoon

sugar

1

tablespoon

minced garlic

1/2

teaspoon

grated ginger
Instructions
Remove tough outer leaves of the cabbage if any. Cut the cabbage head into quarters and remove the core from each quarter. Cut each quarter into bite-sized pieces (about 2-inch squares). Rinse the cabbage and drain.

Place the cabbage in a large bowl. Dissolve the salt in 2 cups of water, and toss well to coat evenly. Leave it for an hour or 2 until the cabbages have softened, flipping over once or twice halfway through or every 30 minutes. Rinse the salted cabbage once, and drain to remove excess water.

Using a kitchen glove, mix everything well by hand until the cabbage pieces are well coated with the gochugaru mix.

Place in an airtight container or a jar, pressing down hard to remove air pockets. Leave it out in room temperature for half a day or overnight. Then, refrigerate.
Notes
This recipe was originally posted in July 2011. I've updated it here with new photos, more information and an improved recipe.