It's kimchi making season in Korea! Here's a collection of 15 easy kimchi recipes you can make right now and all year round.
In late fall, Korean households make a large batch of traditional napa cabbage kimchi (배추), also called pogi kimchi (포기김치), to last through the winter and early spring. Also, it's very common to make a few other kimchi varieties during this season. This annual kimchi making event is called gimjang (김장, also spelled kimjang). I grew up watching my mother make kimchi with over 100 cabbages for her gimjang. Her friends in the neighborhood would rotate their gimjang schedule to help each other. Most people don't make that much kimchi anymore, but the tradition of gimjang continues.
Here, I've collected 15 of my easy kimchi recipes! There's something for everyone and every season! You'll find kimchi recipes with or without gochugaru (red chili pepper flakes), vegan kimchi, kimchi made with other vegetables such as radishes, scallions, cucumbers, etc. These kimchi recipes feature pretty much all you need to know about how to make the most common kimchi types!
This napa cabbage kimchi is the most common kimchi in Korea. To help you start making kimchi at home, I came up with a recipe using one napa cabbage.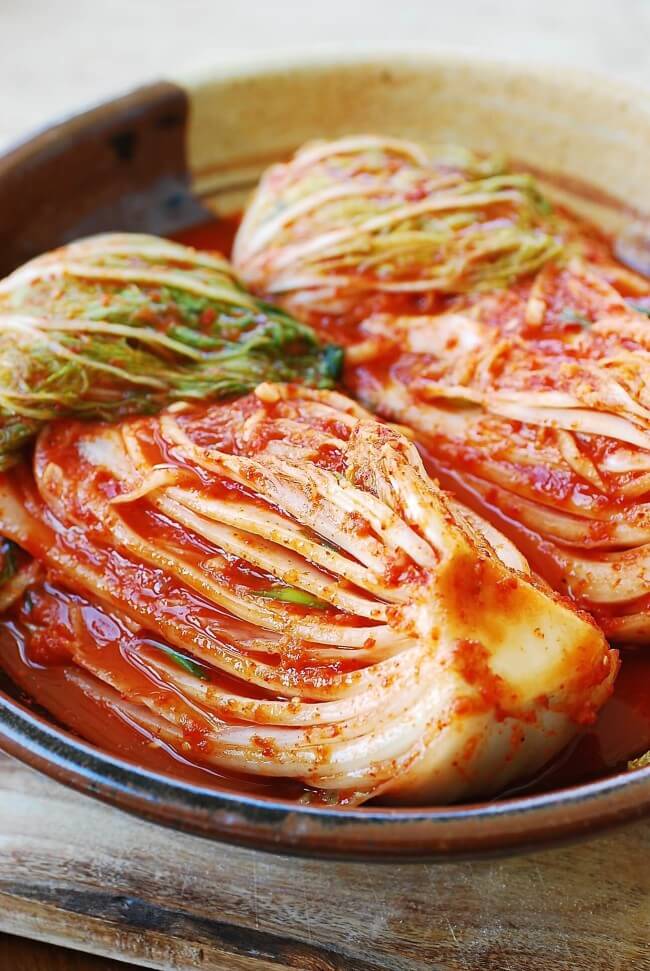 Vegan kimchi that's as good as the traditional version!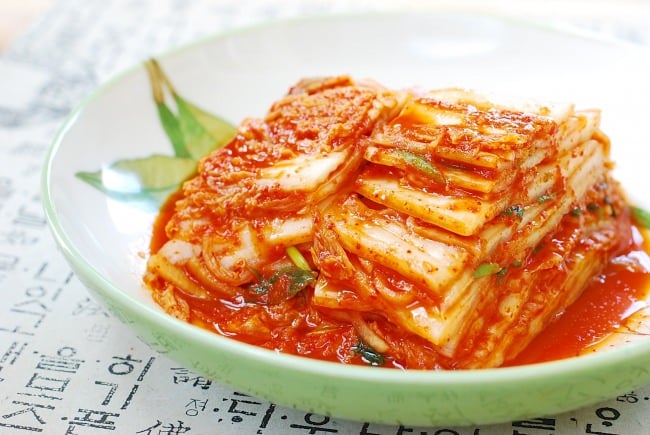 Made without gochugarau, this traditional white kimchi is light and refreshing!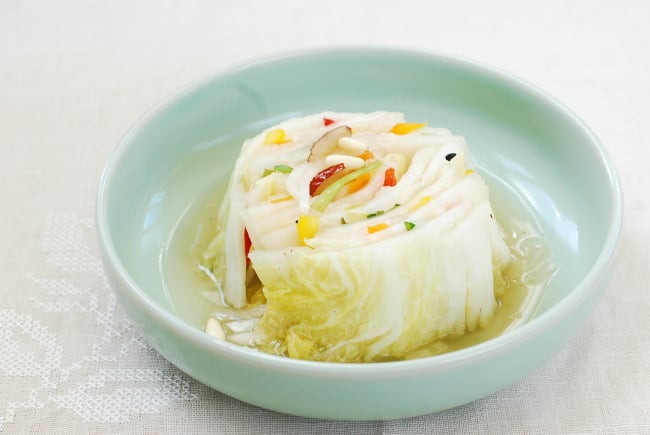 Cut up the cabbage, salt, rinse, and mix with the seasoning! Simple, right? That's what this easy kimchi recipe is about.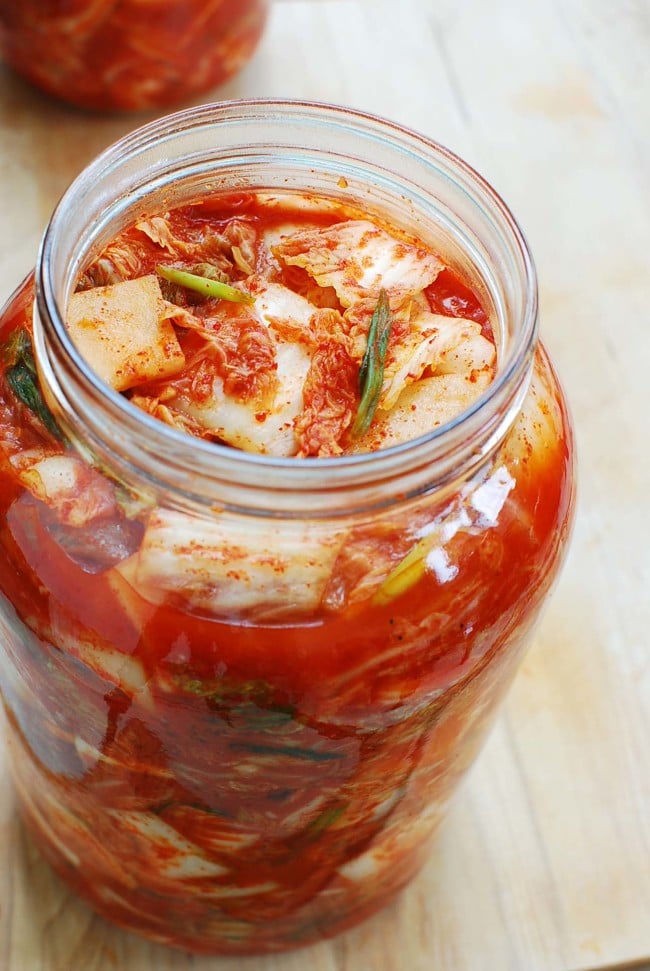 Getjeori is a kimchi that's made to be eaten fresh without fermentation. It's a quick, delicious kimchi you can enjoy right after making it!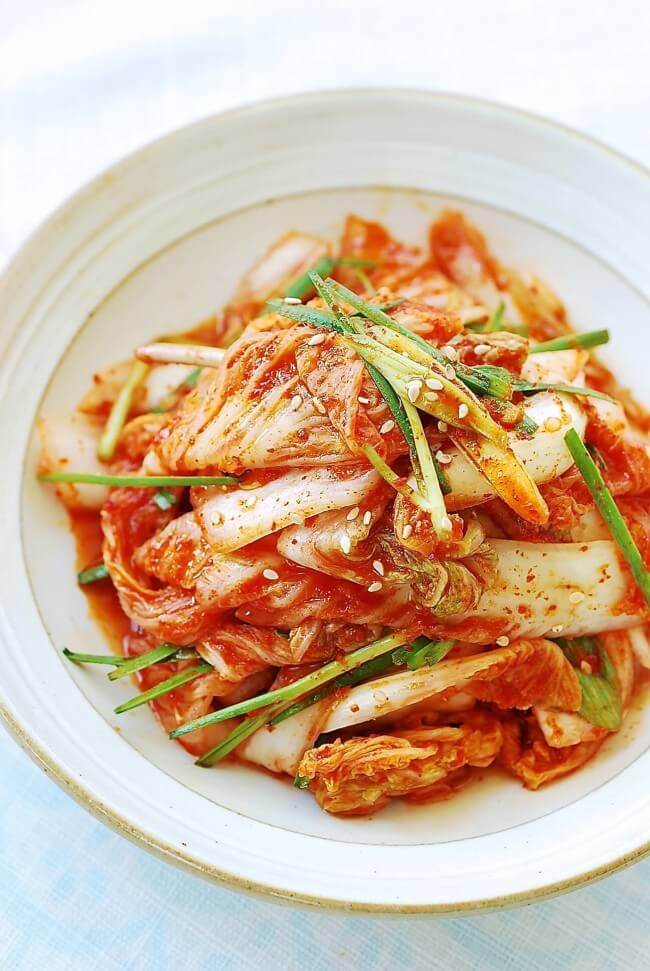 Can't find napa cabbage where you are? Try this kimchi recipe made with a head of your normal green cabbage. It's light, crunchy, and refreshing!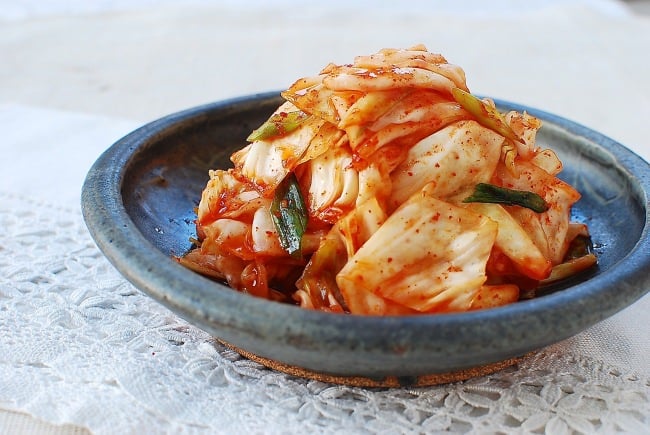 Kkakdugi is the most common kimchi that's made with Korean radish. Simply cut the radishes into cubes, salt for a short time, and then mix with the seasonings. Easy!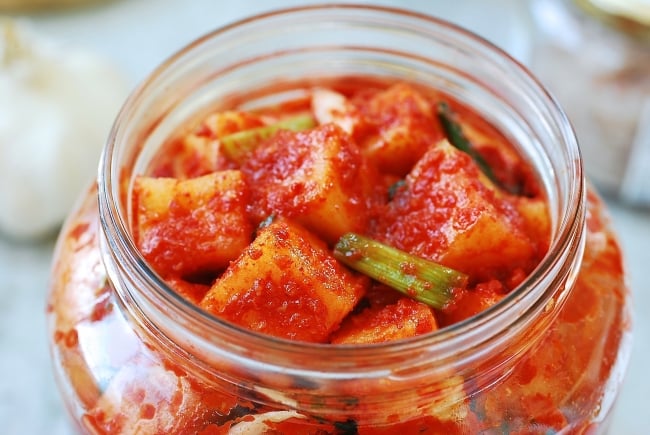 Chonggak kimchi is made with a small variety of white radish with long leafy stems, which is firmer and crunchier than the large varieties.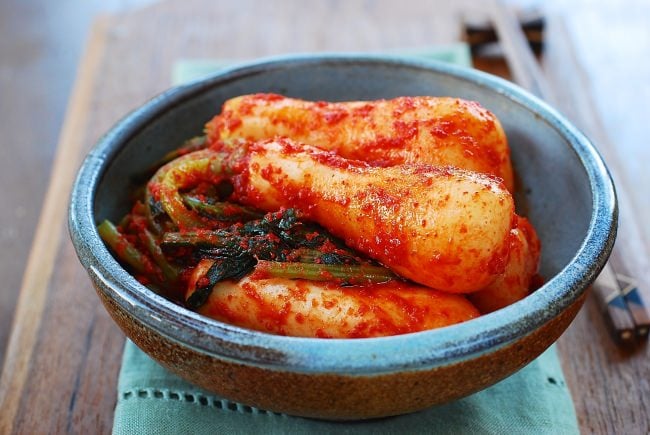 Dongchimi (동치미) is a mild water-based kimchi made with a small variety of white radish called dongchimi mu.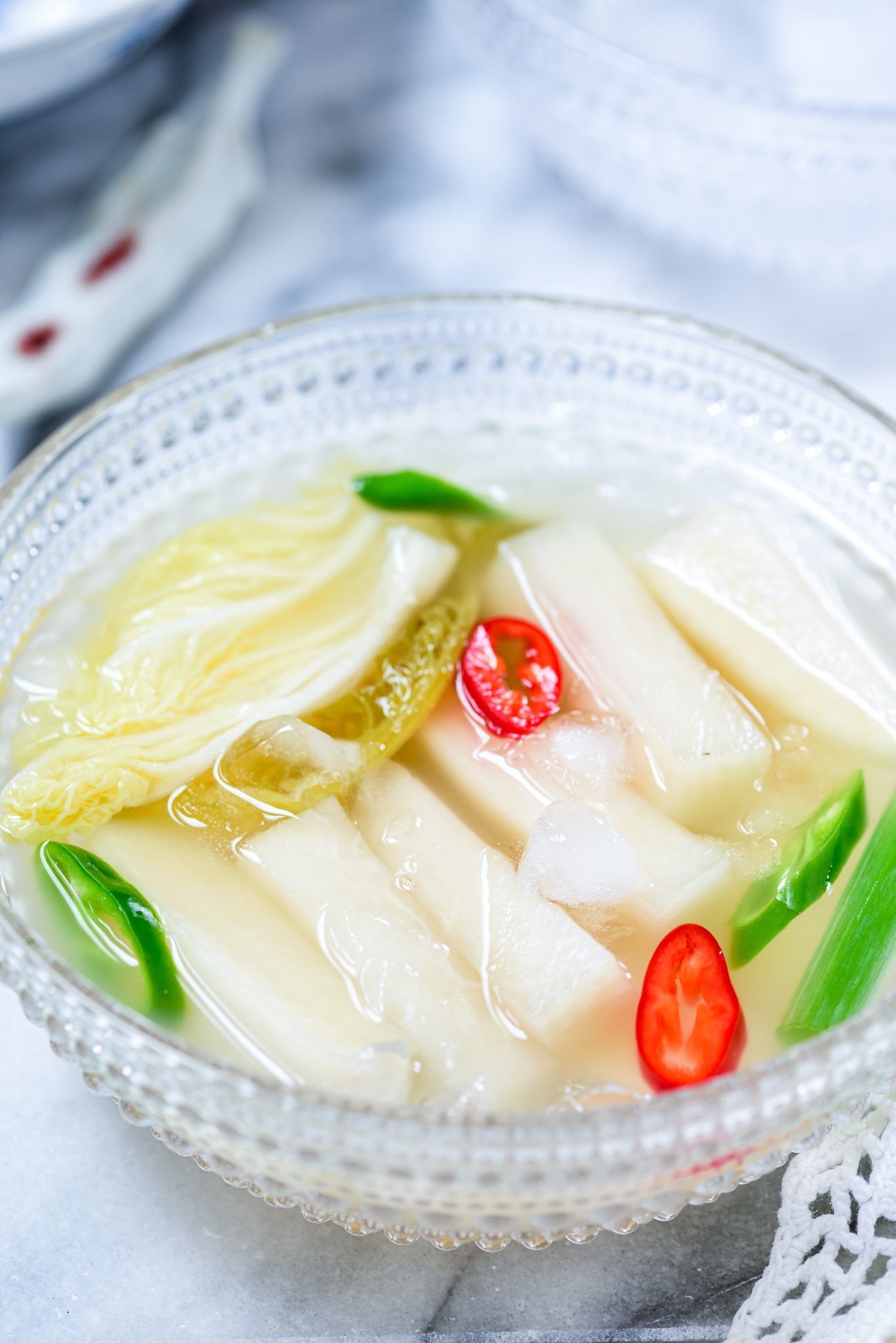 Nabak kimchi is a type of water kimchi that's made with thinly sliced radish squares and other vegetables. It is easy to make, yet deliciously refreshing!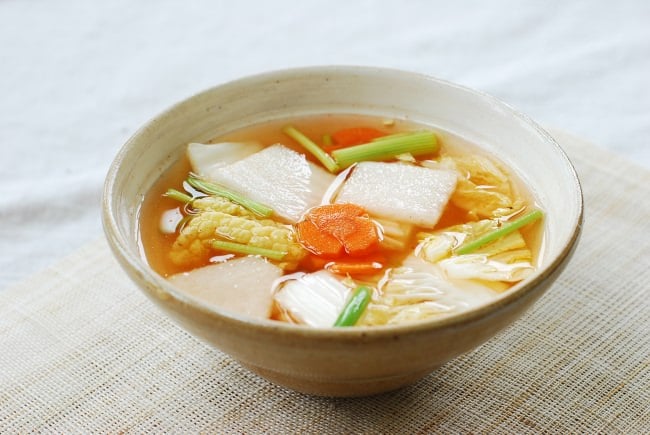 This easy kimchi made with tender green onions (also called scallions) is a favorite of mine!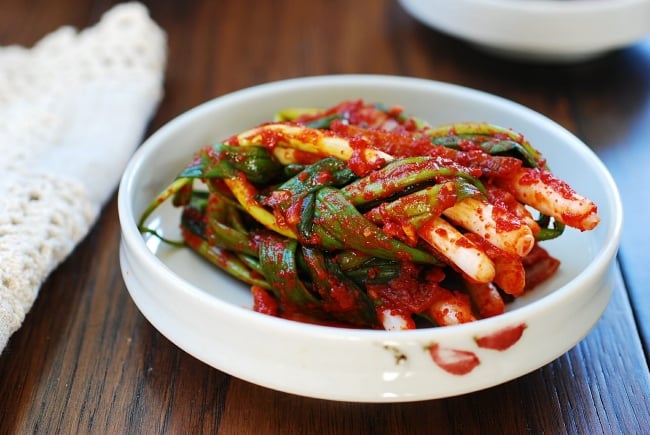 This kimchi made with tender garlic chives (buchu – 부추) is one of the easiest kimchi variety to make!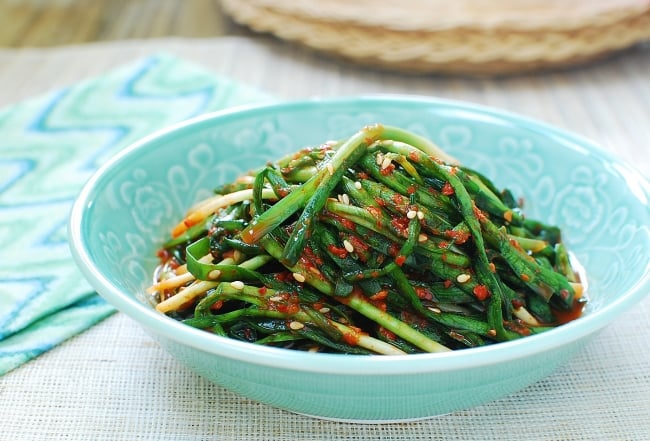 Cucumbers are salted and then stuffed with a seasoning mix. Oi sobagi is crisp, crunchy and delicious!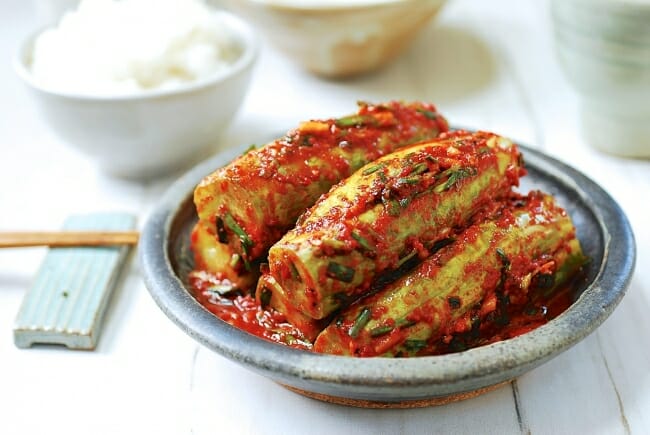 Kkaennip kimchi is a traditional way to preserve fragrant perilla leaves to be enjoyed during the off season.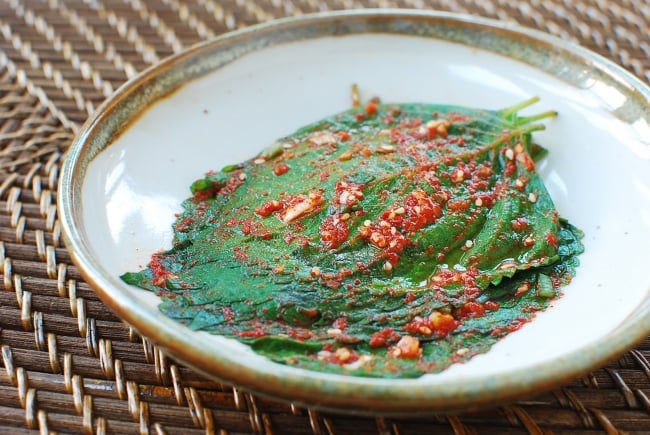 Geotjeori (fresh kimchi) is typically made with napa cabbage. This one is made with tender baby bok choy, cheongyeongchae (청경채) in Korean.