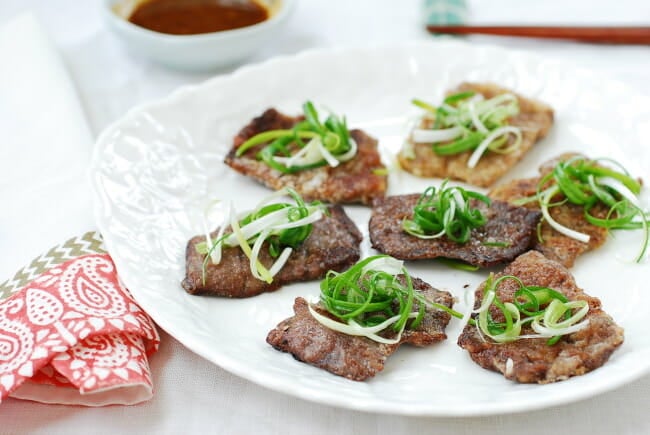 Yukjeon(육전) is a type of jeon (pan-fried battered food) that's made with thinly sliced beef. It's atraditional holiday or special occasiondish. A Korean feast always includes a variety of jeon dishes. Yukjeon is commonly pan-fried in egg batter. But, in this recipe, I simply dredged them in sweet rice flour to create a thin skin. I hadthis no-egg version as part of a course meal ata couple of restaurants in Korea last fall. I thought it was a nice change from the typical egg-battered ones. I think the beef flavor stands out better without the egg.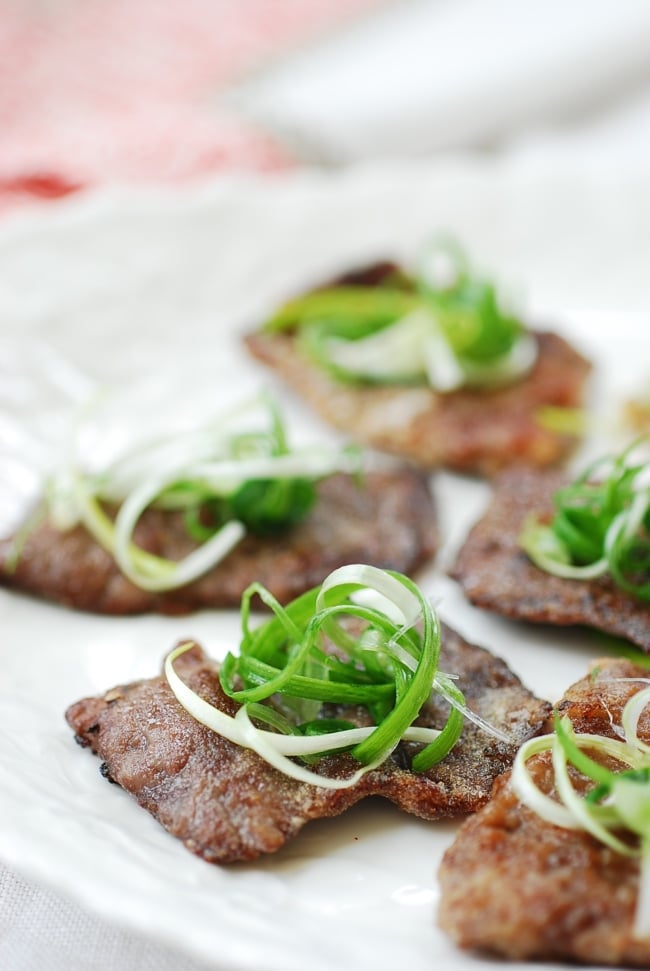 You can use pre-sliced bulgogi meat, but make sure it's not too thin or fatty. I marinated the beef slices in a soy-based sauce, but you can simply sprinkle with salt and pepper to season. It's an excellent first course dish if you're planning on a romantic Korean meal for the valentine's day. Or enjoy as part of your Lunar New Year feast that will be February 19 this year.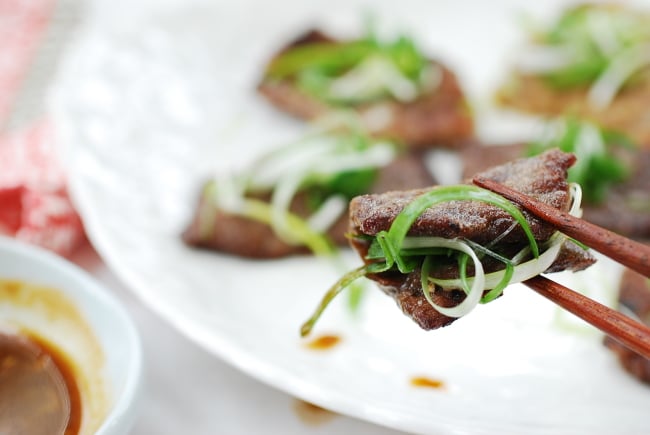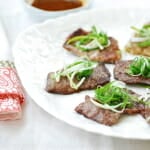 Ingredients
1

pound

thinly sliced beef

any tender cut such as loin and rib eye

1/2

cup

sweet rice flour

chapssal garu, 찹쌀가루

oil for pan-frying

2

scallions

thinly sliced
Beef marinade
1

tablespoon

soy sauce

1

teaspoon

rice wine

2

teaspoons

water

1

teaspoon

sesame oil

1

teaspoon

sugar

pinch

pepper

1/2

teaspoon

minced garlic
Hot mustard sauce (겨자장)
1

teaspoon

hot mustard

gyeoja, 겨자

1

teaspoon

hot water

1

teaspoon

soy sauce

1

teaspoon

vinegar

1

teaspoon

sugar

pinch

salt
Instructions
Thinly slice the beef if it's not pre-cut. Partially freeze the meat for about an hour to firm it up for easier slicing.

Dredge both sides of the beef slice in sweet rice flour, one piece at a time. Let it stand for a few minutes until the flour absorbs the marinade. Then, dredge again in the sweet rice flour to create a nice coating.

Heat a large non-stick skillet over medium low heat. Add a tablespoon of oil. Place in the skillet. Cook for 1 to 2 minutes on each side, adding more oil if needed, until lightly golden.

Repeat until all the beef slices are pan fried. Serve warm with a dipping sauce.