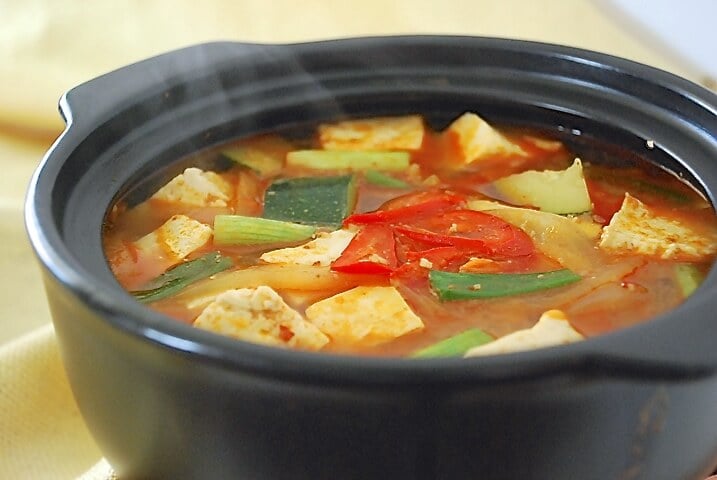 Doenjang
jjigae
is a stew made with fermented soybean paste,
doenjang
. Tofu is typically added along with some vegetables. It is one of the most representative dishes of everyday home-cooked Korean meals.
Doenjang
is an essential part of the Korean cuisine, and every Korean home has it all year round. Its deep, rich flavor is created by several months of fermentation and aging.
Doenjang
is traditionally homemade, but there are many high quality commercial versions available in Korean grocery stores.
This hearty stew is my husband's all-time favorite meal and my go-to dish when I want to make a quick satisfying meal. The distinct aroma of sizzling
doenjang
makes my mouth water every time I make this dish.
Doenjang Jjigae (Korean Soybean Paste Stew)
2015-05-01 04:24:26
Serves 2
A staple Korean stew made with fermented soybean paste (doenjang)
Ingredients
9 ounces tofu
1/2 medium zucchini (mushrooms and potatoes can be added if desired)
1/2 small onion
2 ounces pork belly, shoulder, or loin (or use beef, clams or shrimp if desired)
1 chili pepper (green or red)
1 scallion
2 tablespoons Korean soybean paste (doenjang)
1 teaspoon Korean chili pepper flakes (gochugaru)
1 teaspoon minced garlic
2 cups of anchovy broth or water (see note)
Instructions
Cut the tofu and zucchini into about 1-inch cubes. Thinly slice the onion and pepper. Roughly chop the scallion. Slice the meat into thin strips.

Preheat a small pot with a little bit of oil. Sauté the meat, soybean paste, chili pepper flakes, and garlic over medium heat for 3 to 4 minutes.
Add the water (or anchovy broth) and stir well to dissolve the soy bean paste. Cover and boil over medium high heat for 4 to 5 minutes.
Add the onion, tofu, zucchini, and chili pepper. Boil for an additional 10 minutes. Throw in the scallion with 2 minutes remaining.
Serve with rice while it is still bubbling from the heat.
Notes
Use the water used to rinse rice, ssal ddeum mul for jjigae/stew or anchovy broth. For anchovy broth, boil about 7 or 8 medium dry anchovies and 1 3-inch square dried kelp in 3 cups of water for 10 minutes.
Korean Bapsang https://www.koreanbapsang.com/