Minari jeon is a simple Korean savory pancake made with minari (aka water dropwort or Korean watercress). This recipe is a great way to enjoy the vegetable's distinctive fresh herbal flavor.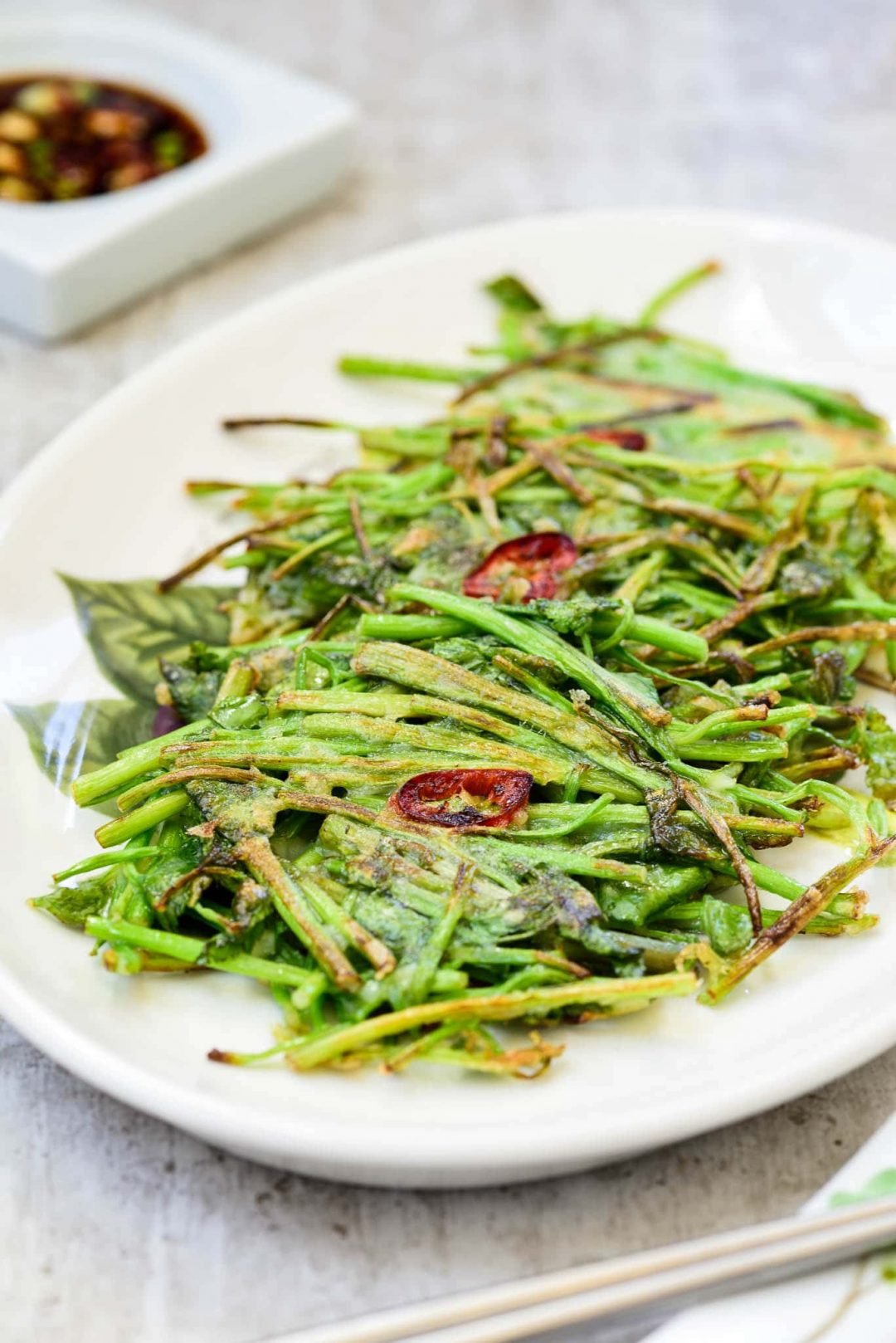 Movie Minari (2020)
Have you watched Minari? It has received the highest accolades around the globe. With several awards under its belt already, it's heading to the Oscars this Sunday with an impressive list of nominations.
The movie captures a powerful story of an immigrant family. It's wonderfully acted with beautiful cinematography. The story, simple at first glance, does a deep dive into the complex web of personalities and relationships between family members who are individually struggling in a new place.
Grandma Soonja plants the minari seeds that she brought from Korea by the small creek. In his interview with NPR, Director Issac Chung explains why he named the film "Minari":
"I just thought there's something so poetic about the plant [minari] as well. It's a hearty plant. It kind of grows in places where you can't grow anything else. It can take root in very poor soil conditions. And what it ends up doing is actually revitalizes the soil and it cleans up the water. It has a purifying effect and so I thought there's a poetic resonance there that this plant speaks to."
Loosely based on Director Chung's own childhood memories, the film gives an almost biographical account of every Korean that has come to America with hopes and dreams of a better life. It's also a story of every immigrant who left behind his/her home to relocate to an unknown land and faced new struggles.
As a Korean immigrant myself, every detail of this movie is deeply personal, real, and relatable to me. I teared up when Monica cried over gochugaru and dried anchovies her mother brought with her from Korea. It reminded me of my late mother who would always come back with a luggage full of dried goods from Korea. And I've been doing the same thing.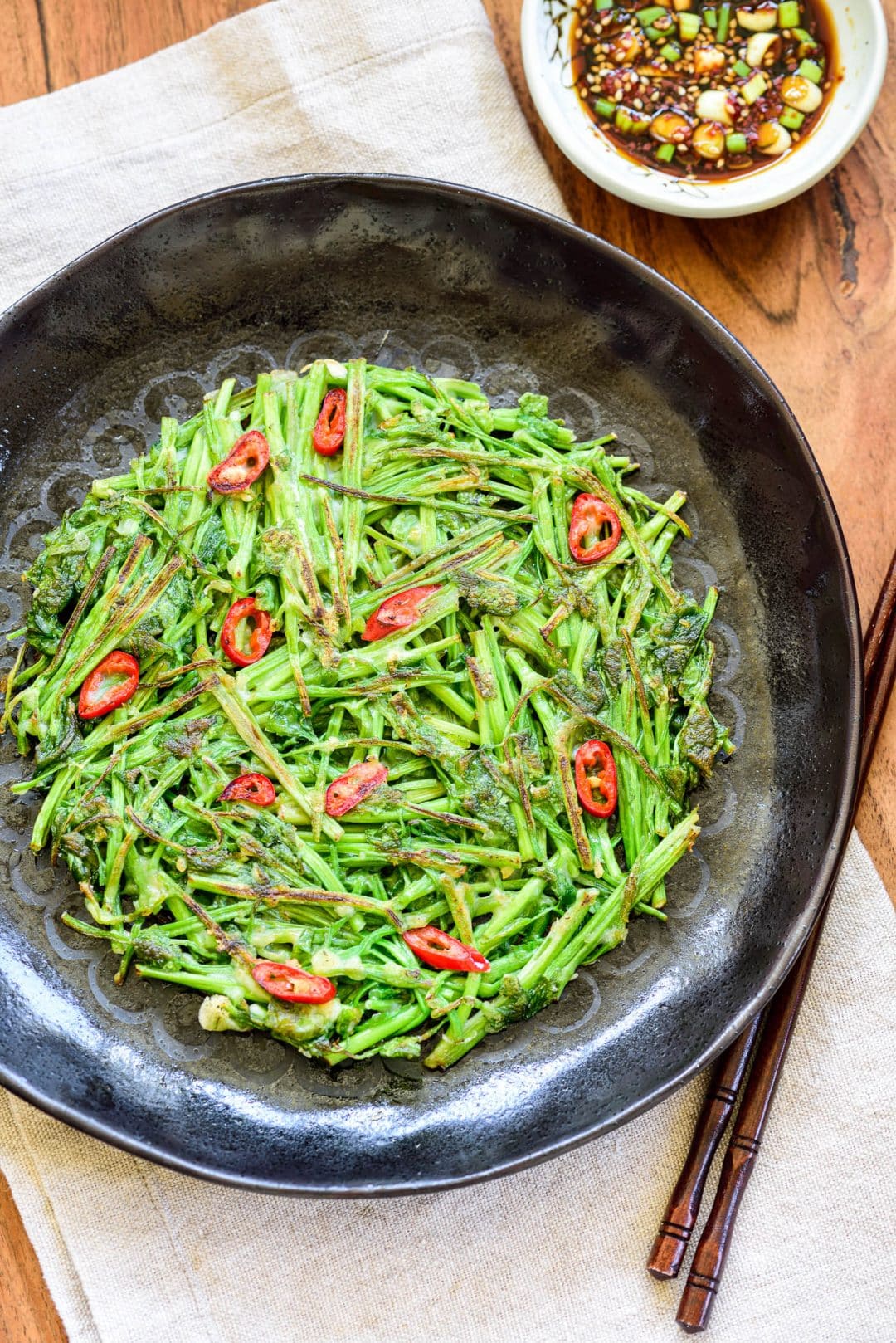 What is minari?
Known as water dropwort in the U.S., minari is a long-stemmed green vegetable with hollow stems and small green leaves with serrated edges. It has a slightly bitter and peppery taste with a sharp, distinctive fresh herbal accent.
Minari is a popular herb and vegetable in Korea not only for its flavor but for many health benefits including detoxifying effects. There are different varieties which peak in spring and fall.
How to eat minari?
Koreans use minari to add the distinctive fresh flavor to dishes such as maeuntang (spicy fish stew), agujjim (spicy braised monkfish), bulgogi jeongol (hot pot), ojingeo muchim (squid salad), various kimchi dishes, saengseon jjim, etc.
It's also blanched and made into a namul dish similar to siguemchi namul (spinach side dish). I often serve it fresh or lightly sautéed with a meat dish such as samgyupsal gui and maekjeok (doenjang marinated pork).
Although minari appears at Korean markets in spring and fall around here, the quality and availability is still limited. I pick up a bunch or two every time I go to a Korean market if available.
I use regular watercress as a substitute when minari is not available. Minari is often refer to as Korean watercress.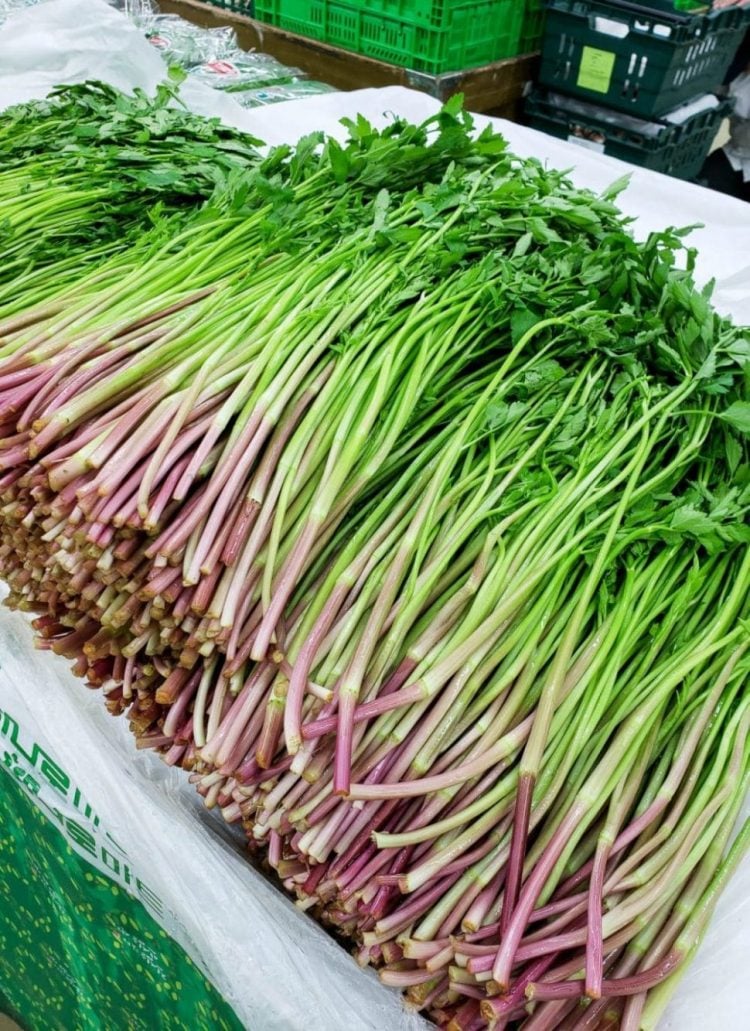 Minari recipe
Here, I made minari jeon (or minarijeon) to celebrate the movie. It's another very common savory pancake in Korea!
You can use my buchujeon recipe and just swap out the garlic chives with minari. However, I'm taking this opportunity to show you another way to make Korean vegetable pancakes.
This recipe uses a small amount of flour just enough to bind the vegetables together. It's a common technique used to highlight the vegetable part of the pancake.
Minari jeon can be made simply with minari, but you can also add other vegetables such as buchu (garlic chives), sliced onions, kkaennip (perilla leaves), chili peppers, etc. I sometimes dot it with chopped shrimp or squid.
You can make 2 large pancakes with this recipe or a few smaller ones.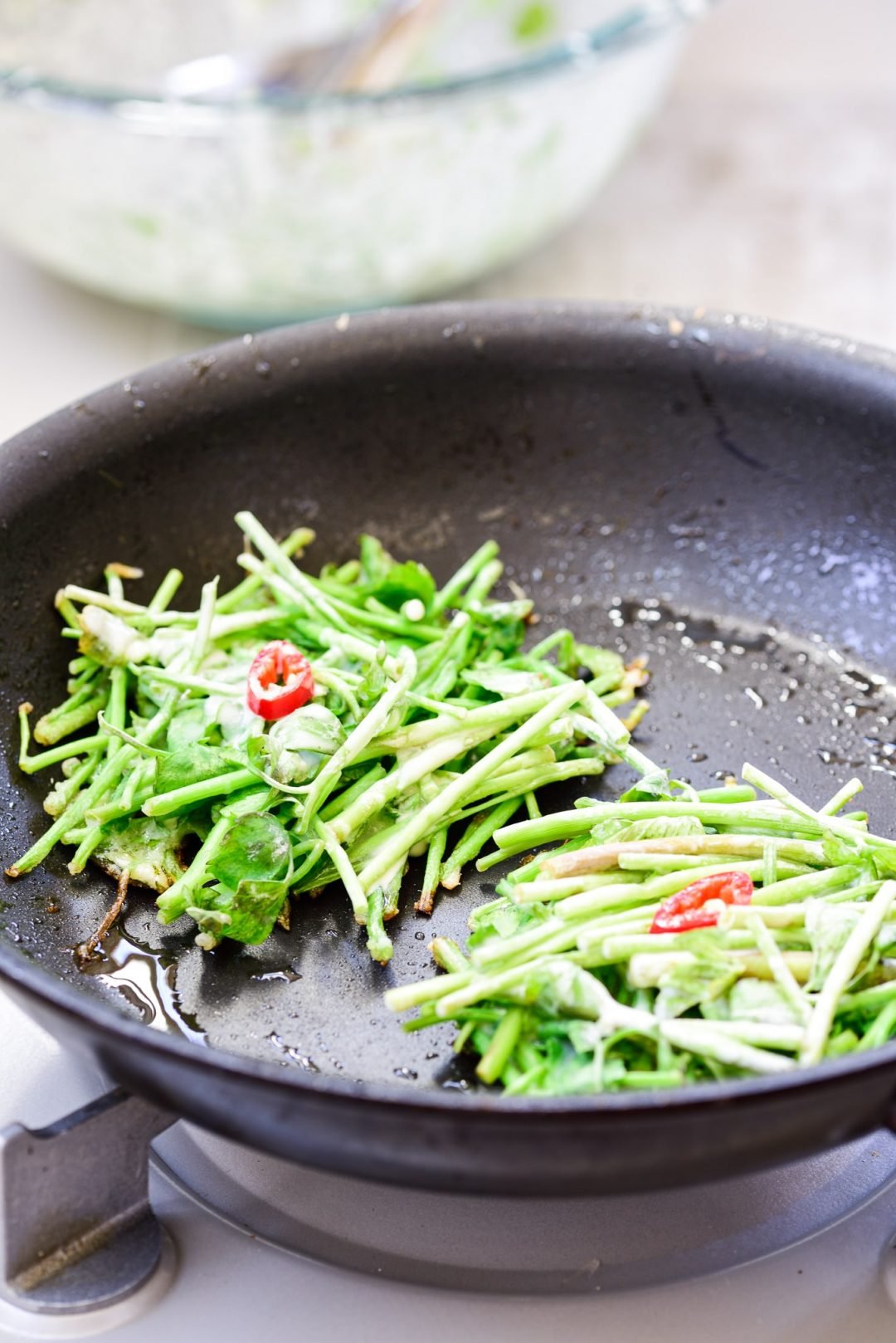 Korean pancake mix (buchim garu) is best to use for Korean savory pancakes. The ready made mix includes cornstarch, and/or rice powder for crispy pancakes and is flavored with garlic and onion powder and seasoned.
If you can't find it, use flour and add a couple of spoons of cornstarch or rice powder and season with salt.
More recipes with minari
Ojingeo muchim (squid salad)
Saengseon jjim (steamed/baked fish)
Maekjeok (doenjang marinated pork)
Maeuntang (spicy fish stew)
Agujjim (spicy braised monkfish)
Nabak kimchi (water kimchi)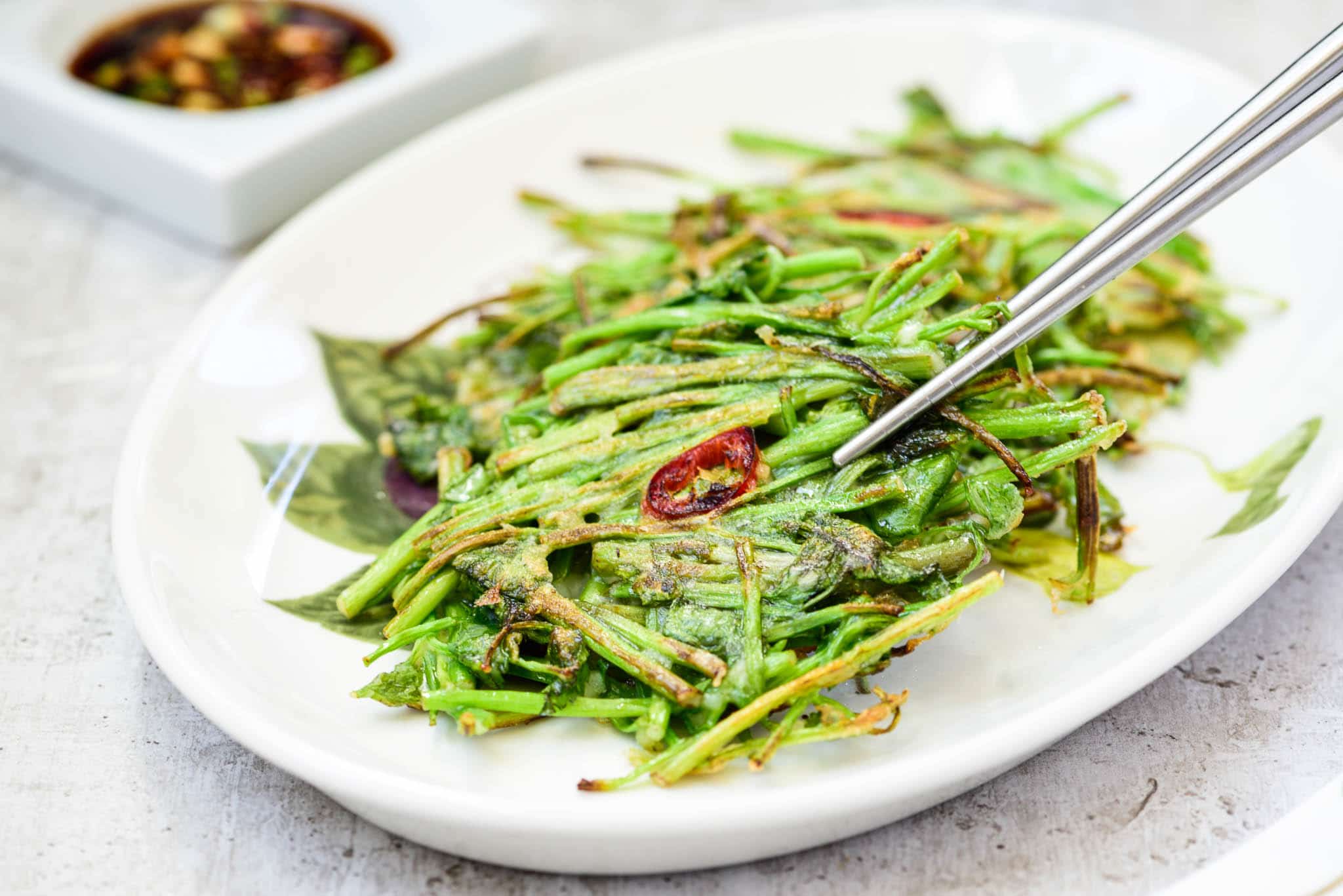 For more Korean cooking inspirations, follow along on YouTube, Pinterest, Twitter, Facebook, and Instagram.
Ingredients
1/2

cup

buchimgaru, 부침가루 (Korean pancake mix) or all-purpose flour (see note)

4

ounces

minari

1

red chili pepper - optional

oil for pan frying
Dipping sauce
1

tablespoon

soy sauce

1

teaspoon

vinegar

1

tablespoon

water

1/2

teaspoon

sugar

pinch

black pepper

pinch

gochugaru (Korean red chili pepper flakes) - optional
Instructions
Clean the minari thoroughly. Cut them into about 2 to 3-inch pieces.

Add the minari to a bowl along with the Korean pancake mix or all-purpose flour. Stir in about 1/2 cup of cold water.

Toss everything lightly to evenly coat the vegetable with wet flour.

Heat one tablespoon of oil in a non-stick pan over medium heat. Ladle the mixture into the pan, and spread it evenly into a thin round shape. Cook until light golden brown, about 2 minutes. Reduce the heat to medium low if the pancake browns too quickly. Turn it over, adding more oil to the sides of the pan, and press it down with a spatula. Cook until the other side is light golden brown, about 2 minutes.

Repeat the process with the remaining vegetable mix. Serve hot with a dipping sauce, if desired.
Notes
If using all purpose flour, you can also swap out a couple of tablespoons with corn/potato starch and add a pinch or two of salt.