When I was a small child, my parents raised a few chickens in our backyard. I remember feeding baby chicks, watching them grow, and finding it fascinating to see a mother hen lay her eggs. They were great company and provided us with warm fresh eggs every day. Occasionally, some of their lives were cut short by my father who had to do the unpleasant job to feed his family. These events apparently stirred strong emotions in one of my brothers. To this day, he does not eat chicken. As for me, I loved a sweet and savory braised chicken dish my mother used to make. It was a big pot full of flavorful chicken pieces loaded with potatoes, carrots, and other vegetables.
In general, braised chicken dishes are called jjimdak (also called dakjjim). Dak means chicken in Korean, and jjim means steamed, stewed or braised in a sauce. Andong Jjimdak, which originated from the city of Andong, is a spicy version that has become enormously popular since late 1990's. Braised in a sweet and savory braising liquid, the dish gets its spiciness from dried whole red chili peppers and fresh fiery hot green peppers called Cheongyang gochu. Unlike other braised dishes, Andong jjimdak is cooked over high heat. As such, it does not take nearly as much time to cook.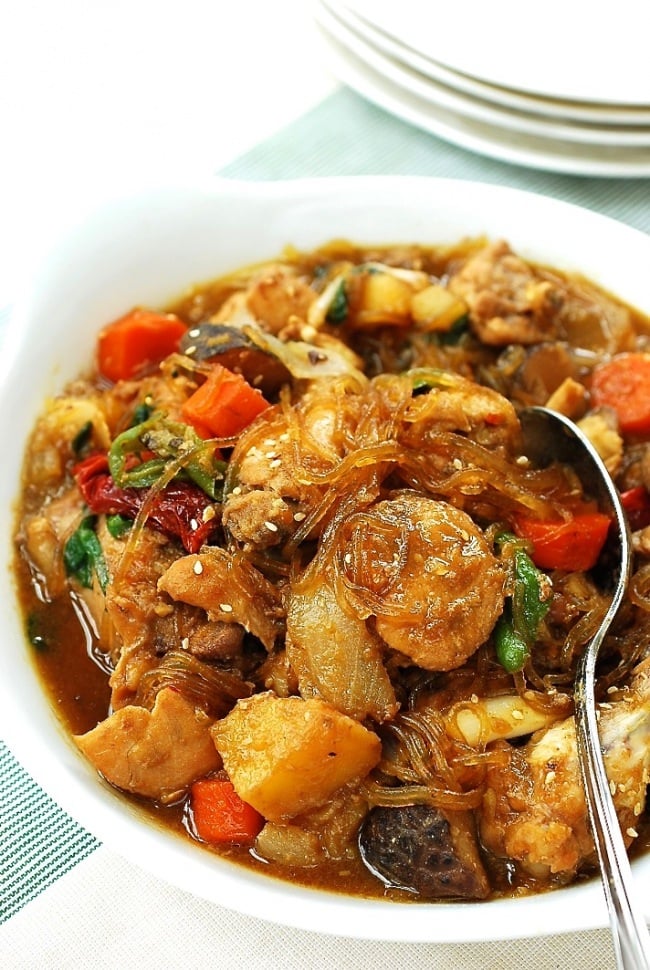 My recipe here is Andong-style chicken. I used some dried whole red chili peppers and jalapenos to add heat, but you can reduce or omit the peppers to make a sweet and savory version. This succulent chicken dish promises to be a perfectly satisfying meal for cold winter days!
4 servings
Ingredients:
1 medium size chicken cut up* (about 2.5 pounds of cut pieces)
2 medium potatoes
1 medium carrot
1/2 large onion
3 – 4 mushroom caps (shittake, white, or baby bella)
2 scallions
3 – 4 dried whole red chili peppers (optional)
1 – 2 green chili peppers or jalapenos (optional)
3 ounces starch noodles
Braising liquid:
1 tablespoon minced garlic
1 teaspoon grated ginger
1/3 cup soy sauce
2 tablespoons dark brown sugar
2 tablespoons oyster sauce (if not available – use a little more soy sauce )
2 tablespoons rice wine (or mirin)
1/4 teaspoon black pepper
2-1/2 cups water
2 tablespoons corn syrup or honey
2 teaspoons sesame oil
1 teaspoon sesame seeds
Soak the starch noodles in warm water while preparing the other ingredients for at least 20 minutes. Drain before using.
Clean the chicken and cut into small pieces (2 to 3-inch sizes). Trim off fat. Cut the vegetables into large chunks. Mix all the sauce ingredients up to the water. The last three ingredients are to be added at the end of the cooking process. Set aside.
In a large pot, place the chicken pieces in a single layer. Pour the sauce over the chicken. Add dried whole red chili peppers if using. Bring it to a boil over high heat. Remove the foam. Cover, and cook for 15 minutes.
Add the potatoes, carrots, mushrooms, and onion. Continue to boil over high heat, covered, for an additional 10 minutes until the liquid is reduced to about 1/3. This seems like a lot, but the potato and starch noodles will soak up a lot of the liquid. Stir in the corn syrup, sesame oil, and sesame seeds. Gently mix in the green chili peppers (or jalapenos), scallions and starch noodles, and continue to cook, uncovered this time, for an additional 3 – 5 minutes.