Last month, I introduced a salad-like kimchi called geotjeori (겉절이) using baby bok choy. Geotjeori is basically a kimchi that's made to be eaten fresh without fermentation. As such, the vegetables are lightly salted. Fresh kimchi goes especially well with dishes such as kalguksu (warm noodle soup) and Korean BBQ meat. Geotjeori is most commonly made with napa cabbage, baechu (배추).
Summer napa cabbages tend to be small with thinner leaves, and it's perfect for making baechu geotjeori. If you have a large cabbage, only use the inner tender parts. You can save tough outer leaves for baechu doenjang guk later.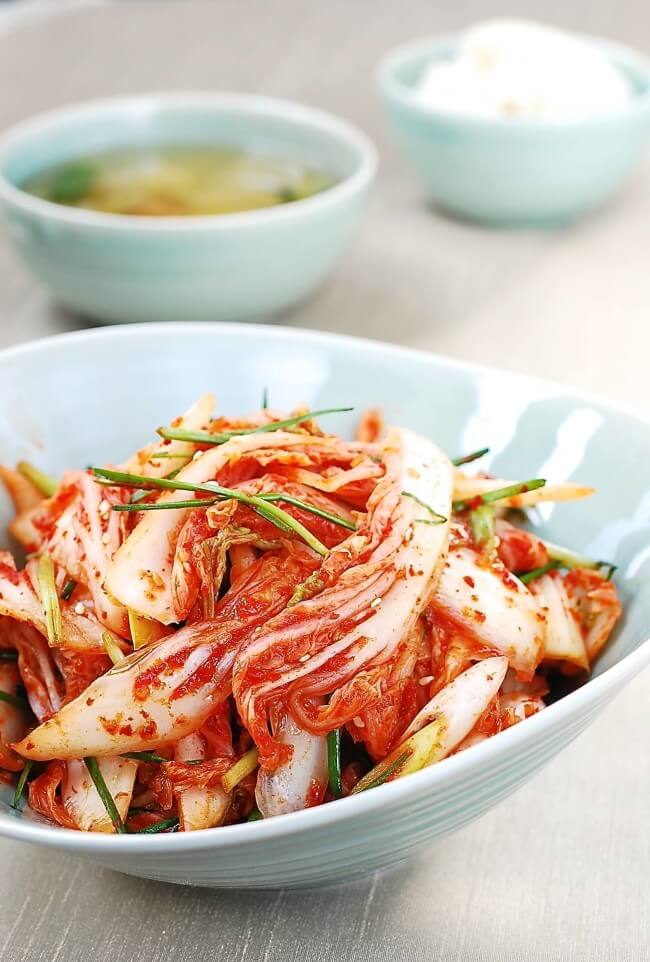 Because it's eaten without fermentation, during which a natural sweetness develops, the addition of sugar or corn syrup (or Korean rice syrup) helps round out the flavor of geotjeori. In this recipe, I also used Korean plum syrup called maesil chung (매실청). You can simply omit it if you don't have it, but it adds a natural fruity sweetness to the dish. Maesil chung is not an ingredient that I grew up with, but it has recently become a popular ingredient.
I also added minari (water dropwort) and buchu (garlic chives) to this recipe for extra flavors. They are in season and available in Korean markets in my area. You can omit them if you can't find them.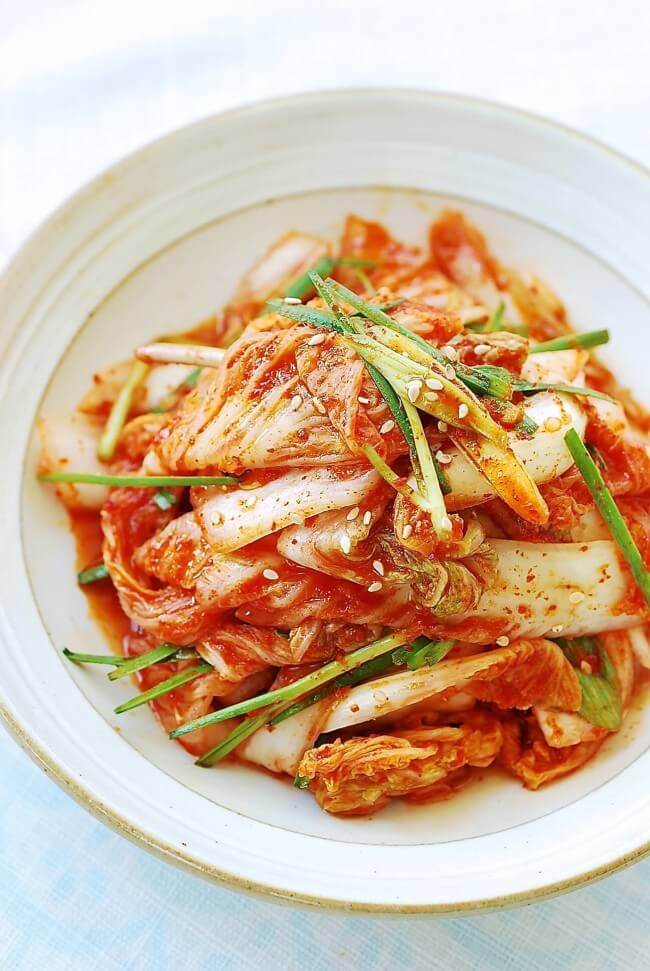 All the tableware shown in the final photos of this post are sponsored by Huue Craft, an online store dedicated to the finest Korean pottery tableware. They ship worldwide to over 25 countries. Please visit Huue Craft online store and check out their beautiful tableware!
Baechu Geotjeori (Fresh Kimchi)
2015-06-02 03:58:32
Quick salad-like kimchi that's made to be eaten without fermentation
Ingredients
1 small (about 2.5 pounds) baechu, (napa cabbage)
3 tablespoons coarse sea salt (less if using finer salt)
2 scallions
2 ounces buchu (garlic chives), cut into 2-inch pieces - optional
a few stalks minari (water dropwort), cut into 2-inch pieces - optional
Seasoning
4 tablespoons gochugaru, Korean red chili pepper flakes
3 tablespoons myulchi aekjeot, 멸치액젓 (fish sauce)
1 tablespoon corn syrup (or Korean rice syrup)
1 tablespoon maesil cheong, 매실청 (Korean plum syrup) - or a bit more corn syrup
1 tablespoon minced garlic
1 teaspoon finely grated ginger
1 teaspoon sesame seeds
Instructions
Separate the cabbage leaves. Cut each leaf lengthwise, and then cut crosswise once or twice into long bite sizes. Rinse in water and drain.

Korean Bapsang https://www.koreanbapsang.com/