This baked fish dish is inspired by the traditional saengseon jjim, which is steamed whole fish. The same great taste but much easier!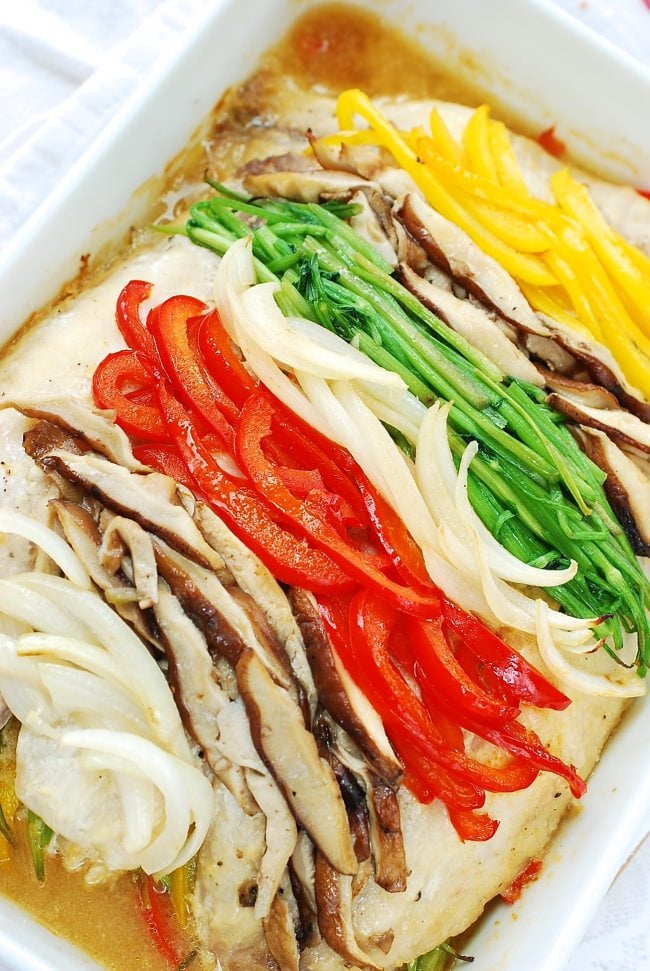 Hello everyone! It's been a while. I just came back from a vacation in Spain with my daughter. We went to Madrid, Toledo, Barcelona, and Montserrat, and had a fantastic time! Spain is a beautiful country, and the food is simply amazing! We especially enjoyed the rich food culture.
We tried and loved all sorts of dishes such as jamon (ham), paella, Galician octopus, fried anchovies, gazpacho, pig ears, chorizo, olives, and churros dipped in chocolate sauce. How is your summer going (oh, winter if you're in the southern hemisphere, which a wonderful couple from Australia we met in Spain reminded me).
What is saengseon jjim?
Saengseon jjim (생선찜) generally refers to a steamed or braised fish dish. Saengseon means fish, and jjim means steamed or braised. Traditionally, it's made with a whole fish, most commonly with a red snapper (domi, 도미) — hence domi jjim (도미찜).
The whole fish is stuffed and garnished beautifully with vegetables and other delicacies for special occasions such as weddings, traditional holidays, and birthdays for elders.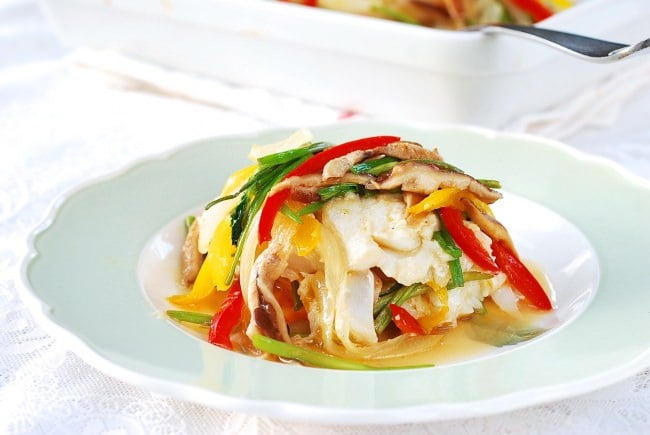 I used to make two batches of the whole fish version for our extended family gatherings until I realized steaming two large red snappers was a bit too much work when I had to make many other dishes at the same time.
I created this recipe as an alternative! It's basically a baked fish inspired by the traditional saengseon jjim.
You can use any white fish fillets — cod, flounder, haddock, tilapia, etc. Typically, egg jidan (thinly sliced omelette) is used for the white and yellow garnish for domijjim, but I used yellow bell pepper and onion instead.
Minari (미나리, water dropwort) is great for a green color and its unique herbal flavor, but you can use a green pepper or green chili peppers. Julienned cucumber (without seedy part) or garlic chives (buchu, 부추) work well too. Any mushrooms will work, but to get some color, use brownish/blackish mushrooms.
This baked version is much easier to make and equally delicious. The diners don't need to eat around the fish bones. It's also versatile!
You can easily make a larger batch by using more fish and other ingredients, using a larger baking dish as necessary. The tender, flaky white fish with colorful vegetables is perfect for a dinner party! You can do all the prep work ahead of time and bake it before serving.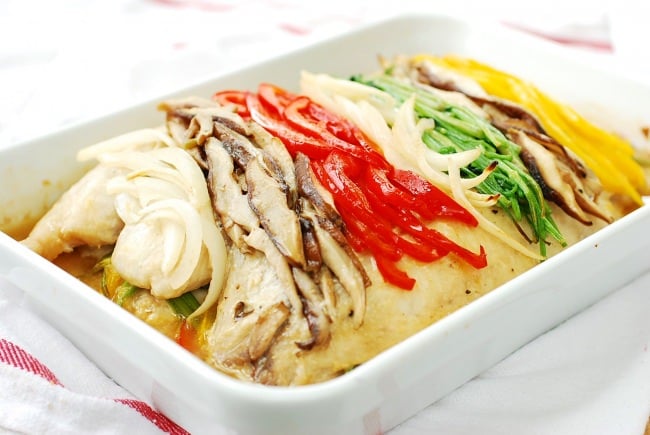 For more Korean cooking inspirations, follow along on YouTube, Pinterest, Twitter, Facebook, and Instagram.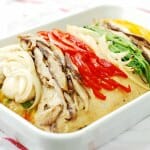 Ingredients
1.5 to 2.5

pounds

fresh white fish fillets

haddock, tilapia, cod, or flounder

1/2

large red bell pepper

1/2

large yellow bell pepper

6

ounces

minari

water dropwort (or 1/2 green bell pepper or a few green chili peppers)

4

ounces

fresh shiitaki mushrooms

1/2

large onion

⅓

cup

flour
Sauce
1/2

cup

dashima

dried kelp broth (or any other flavored broth)

2

teaspoons

soy sauce

1

teaspoon

minced garlic

1/2

teaspoon

ginger

1

tablespoon

lemon juice