This bubbling hot, hearty stew is made with extra soft tofu (sundubu or soondubu) and seafood. It cooks up very fast, making it perfect for a weeknight meal on a cool day!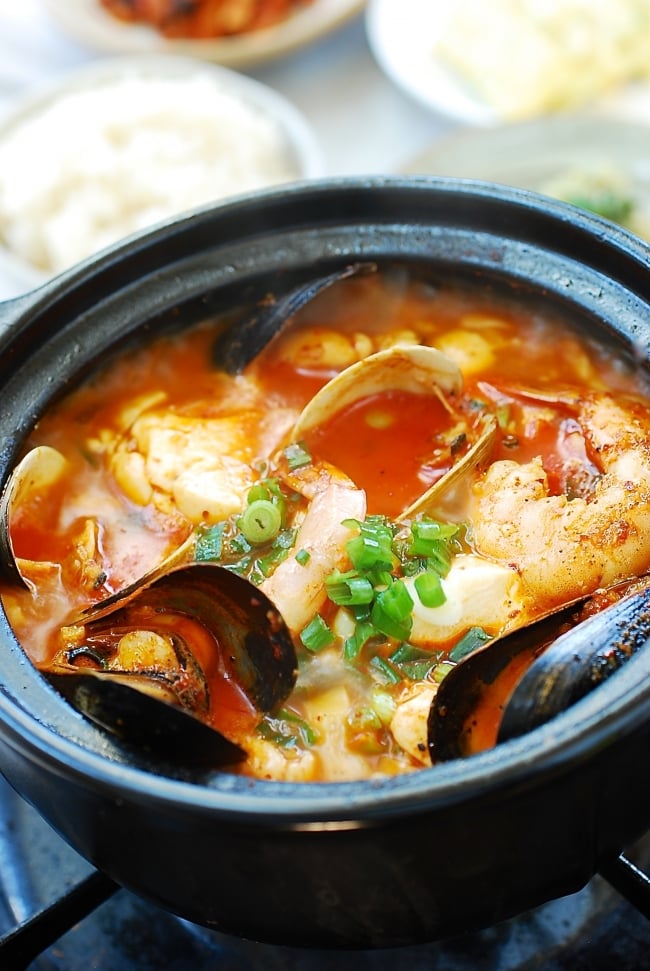 The Korean stew (jjigae, 찌개) made with
sundubu
(or soondubu, 순두부) is enormously popular both in and outside Korea. There are even tofu houses that specialize in this dish, offering several variations (seafood, meat, vegetables, combination, etc.) on the menu.
For me, sundubu jjigae is a flavorful, hearty stew I can quickly whip up in less than 30 minutes, making it perfect for a weeknight meal. I always keep a package or two of sundubu in the fridge. I think you should too. Here's a variation made with seafood (haemul, 해물)!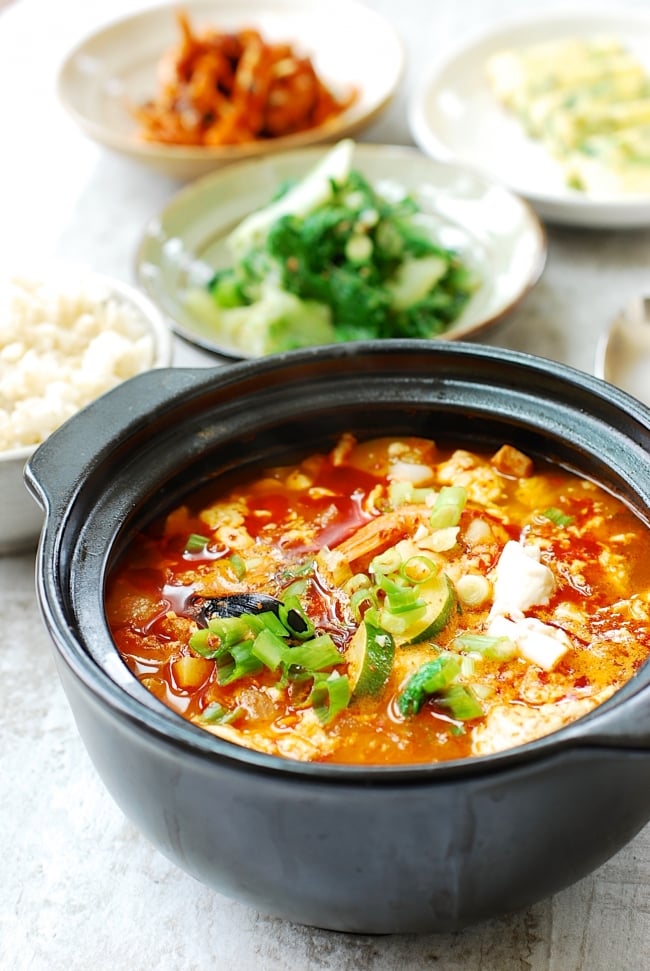 What is sundubu (or soondubu)?
Sundubu is unpressed tofu with high water content. It's normally labeled as extra soft tofu in English, and also known as silken tofu. However, Korean sundubu is not exactly the same as silken tofu which usually comes in a square box and in different consistencies such as soft, firm, and extra firm. Sundubu only comes in extra soft consistency.
Whenever I make a sundubu jjigae, I remember my trip to Gyeongju, a historic city in the southeast coast of Korea, many years ago. It was our first meal after a long train ride from Seoul. Recommended by the hotel staff, we ate at a restaurant well-known for its freshly made sundubu. The bustling restaurant, which had been converted from an old traditional house, had a homey feel. They make their tofu the old-fashioned way, using maetdol (grinding stone) and seawater. Needless to say, it was unbelievably fresh and delicious – the best sundubu I've ever had!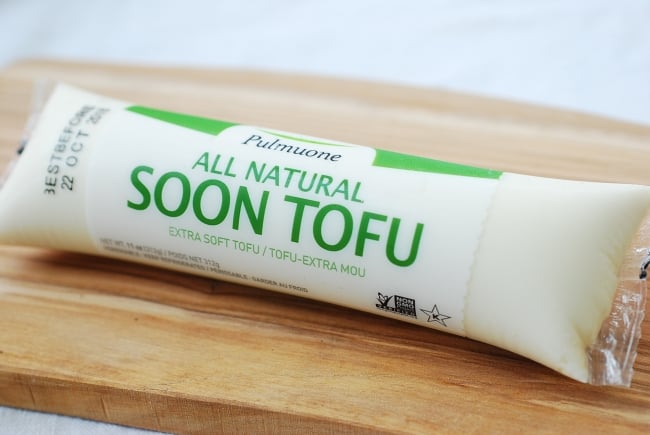 How to make sundubu jjigae
I like to use anchovy broth, which is typical, but beef or vegetable broth will also work well. If you have a commercially prepared anchovy packet, making anchovy broth is as easy as making a tea.
While you can always use chili oil, I simply sauté some gochugaru in sesame oil to create the chili oil effect. You can then stir in whatever ingredients you are using with the chili infused oil. Using the same basic technique, you can make different variations of sundubu jjigae.
The rest is easy! Simply stir-fry the aromatic vegetables along with the meat, if using, add the liquid of your choice (water or broth), boil, and add the tofu.
Whatever you do, let the soft tofu be the star of the dish and do not overcrowd it with a lot of other ingredients. The delicate soft tofu nicely contrasts with the spicy broth and bold flavors of chili infused oil and seafood, making a delicious stew. Who can resist this bubbling pot of hearty stew on a cold day? Or, any day?
More sundubu jjigae variations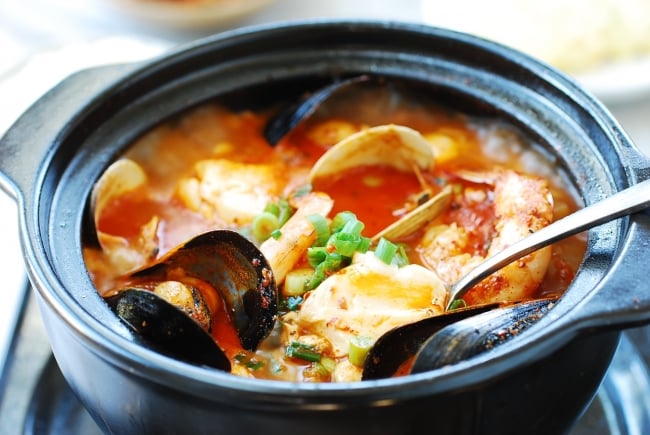 Haemul Sundubu Jjigae (Seafood Soft Tofu Stew)
Main Course
Print Recipe
Ingredients
1

package (about 12 ounces) sundubu (extra soft tofu)

2

ounces

beef or pork (rib eye, sirloin, pork loin or pork belly)

7 - 8

pieces

of seafood assortment (shrimp, mussels, clams, and/or oysters)

1/2

small zucchini (2 - 3 ounces)

1/4

onion (2 - 3 ounces)

1

scallion

1

tablespoon

gochugaru (red chili pepper flakes)

adjust to taste.

1

tablespoon

sesame oil

use a little more if using more gochugaru

1

teaspoon

minced garlic

1

teaspoon

soup soy sauce (or regular soy sauce)

salt to taste

about 1/2 teaspoon

pinch

pepper

1

cup

anchovy broth (or other broth or water)

1

egg - optional
Instructions
Cut the meat into small (about 1-inch long) thin strips. Clean the seafood. Cut the the zucchini into about 1-inch pieces. Dice the onion and scallion.

Add the gochugaru and sesame oil to a small pot, and place it over medium heat. Stir until the pepper flakes become a bit pasty in the heated pot. (The red chili pepper flakes burn easily, so do not preheat the pot.)

Stir in the meat, onion, garlic, and soy sauce. sauté until the pork and onion are almost cooked, 2 - 3 minutes.

Pour in the broth (or water). Bring it to a boil and continue to boil for 3 - 4 minutes.

Add the soft tofu in big chunks along with the zucchini. Bring to a boil again. Gently stir at the bottom of the pot once or twice so the tofu does not stick to the bottom. Cook for 3 - 4 minutes.

Drop the seafood in and boil until the clams and mussels open, 2 - 3 minutes. Salt and pepper to taste. Add the chopped scallion right before turning the heat off. If desired, crack an egg into the stew right before serving while it's still boiling hot.
This haemul sundubu jjigae recipe was originally posted in February 2012. It's updated here with new photos and minor changes to the recipe.