A healthy, warming Korean hot pot made with mushrooms! It's a great way to enjoy the deep earthy flavors of mushrooms.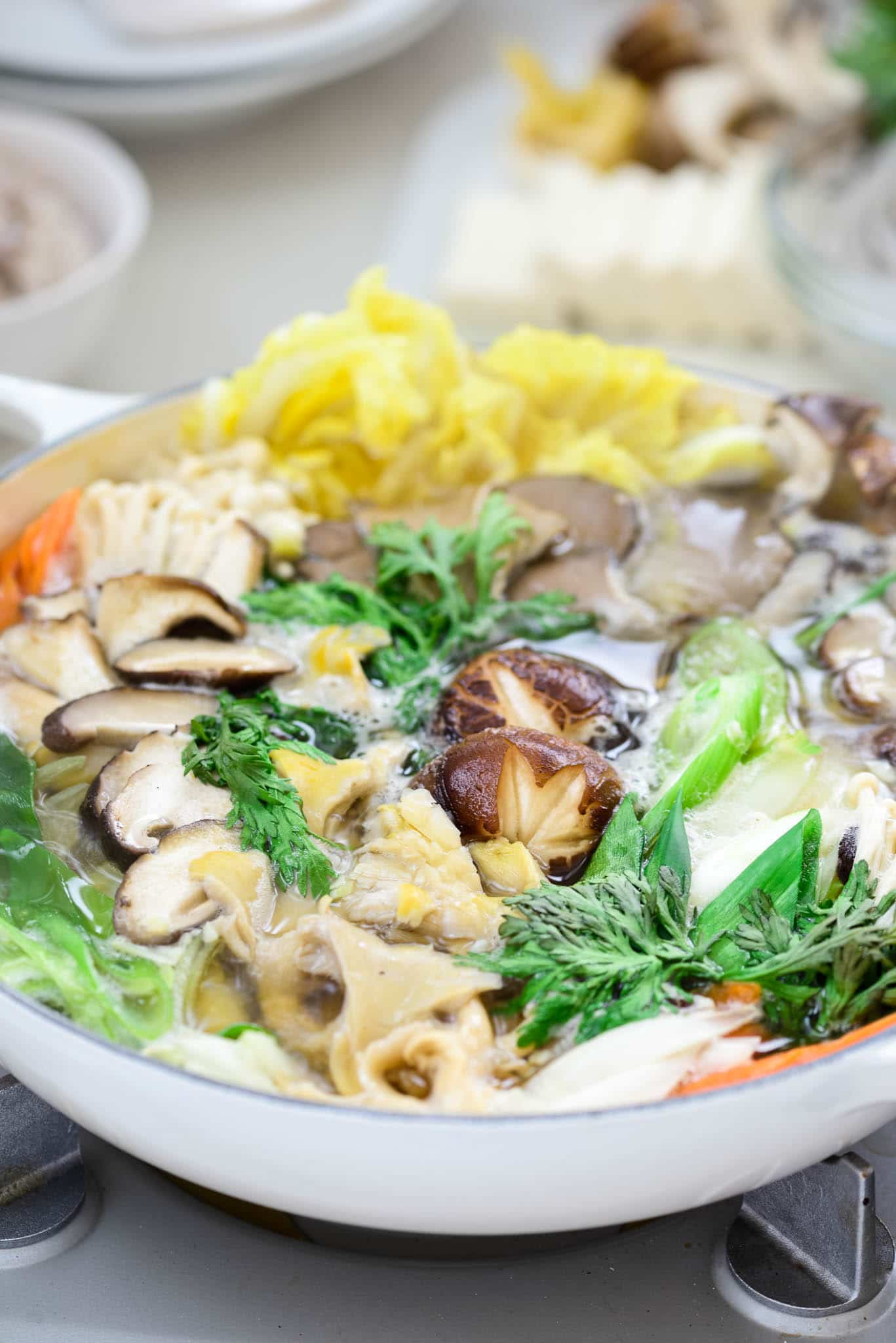 Jeongol (전골) is an elaborate Korean stew or hot pot that used to be part of the royal court cuisine. Depending on the main ingredient, there are many variations, including dubu (tofu) jeongol, bulgogi jeongol, haemul (seafood) jeongol, mandu (dumplings) jeongol, etc. This recipe is the mushroom version, called beoseot jeongol (버섯전골).
To make a jeongol dish, you basically arrange a variety of (mostly raw) ingredients neatly in a shallow pot, then add the seasoned broth, and cook at the table. It's highly versatile and easy to put together!
Depending on the size of your pot, you can cook in two batches, or you can add more ingredients as you cook, or take some out to eat if you're cooking at the table.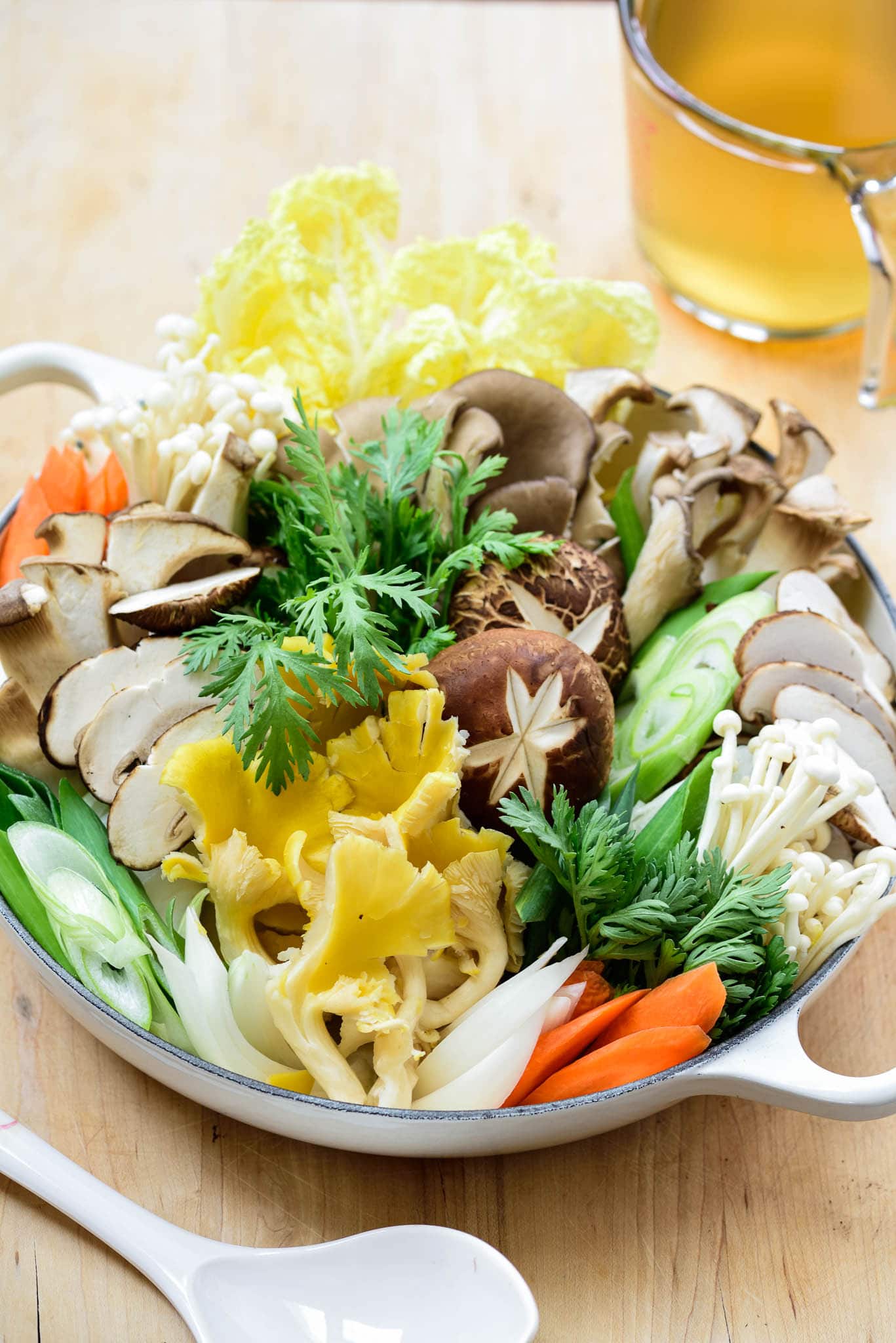 The mushrooms
Beoseot (mushroom) jeongol is made with an assortment of different types of mushrooms as the main ingredient. Feel free to use any combination of mushrooms. Some of the common types are shiitake, oyster, button or white, king, and enoki. Sometimes, I see beautifully yellow oyster mushrooms at Korean markets. I used them here.
This hearty, steaming one-pot meal is a great way to enjoy healthy mushrooms with strong earthy flavors. They are loaded with fiber, protein, vitamins, and minerals and a good source of antioxidants.
This is one of those dishes you really don't need exact amounts for ingredients, so the recipe serves only as a guideline.
The broth
Beoseot jeongol is commonly made with a beef broth or anchovy broth. Use a vegetable broth to make a vegetarian/vegan hot pot. Good commercially prepared broth/stock is always a convenient option as well.
You can pre-season the broth before adding to the pot, or add the seasonings directly to the pot when ready to cook.
Other ingredients
While you should let the mushrooms shine in this dish, you can use other vegetables and proteins to complement. There's really no right or wrong thing to include. Try baechu (napa cabbage), bok choy, green cabbage, mu (radish), onion, carrot, ssukgat (crown daisies ), watercress, and/or minari (water dropwort).
Tofu and sweet potato starch noodles (dangmyeon, 당면) are great as well. Soak the starch noodles in warm water for 20 minutes, if using. You can, of course, add any meat or seafood of your choice. A little bit goes a long way.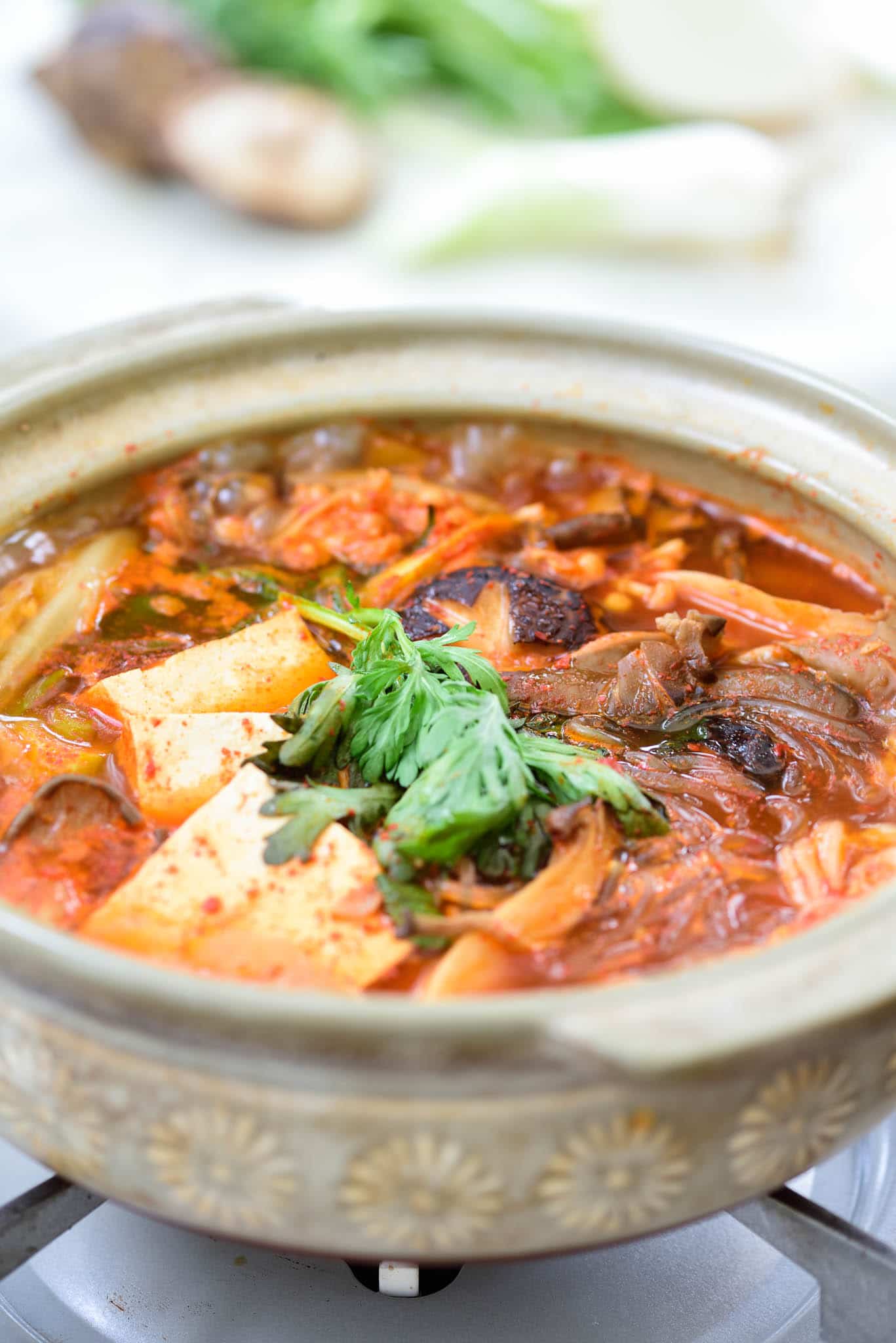 Spicy variation
To make your jeongol spicy, simply add some gochugaru to the broth or use my spicy seasoning mix in the haemul jeongol (seafood hot pot) recipe. If using the seasoning mix, you don't need to separately season the broth.
As always, adjust the heat level to your taste by adjusting the amount of gochugaru (Korean chili pepper flakes).
More jeongol (hot pot) recipes:
Haemul (seafood) jeongol
Bulgogi jeongol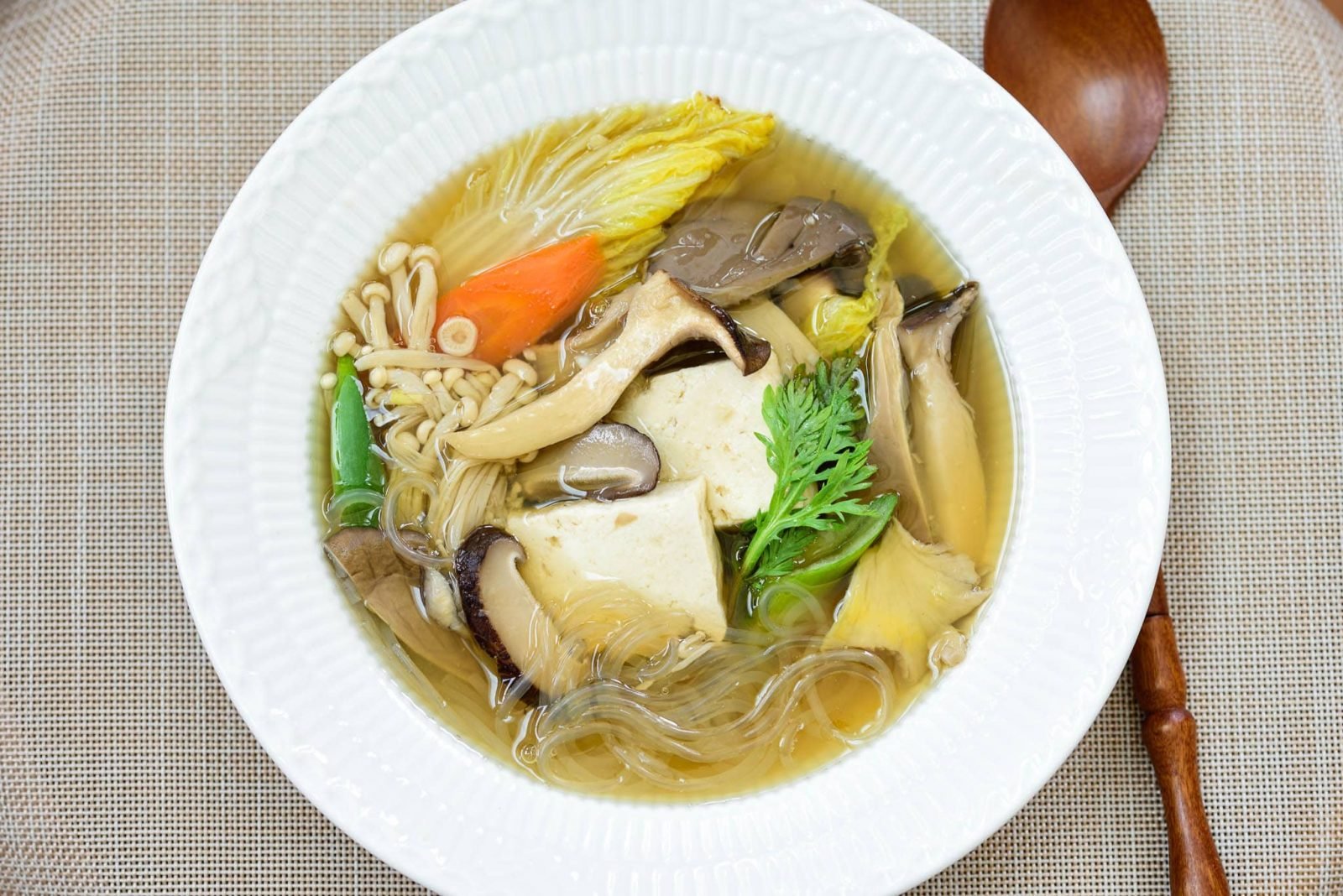 For more Korean cooking inspirations, follow along on YouTube, Pinterest, Twitter, Facebook, and Instagram.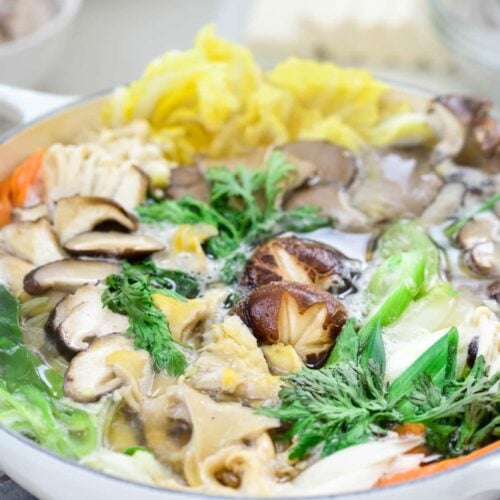 Ingredients
Vegetable broth (see note 1)
1/2

small onion

cut into big chunks

3

ounces

Korean radish

cut into big chunks

1

piece

dried kelp (about 3 inch square), dashima

a few mushroom stems

1

tablespoon

soup soy sauce

salt and pepper to taste
Vegetables:
12

ounces

assorted mushrooms (button, shiitake, oyster, crimini, enoki, king, etc.)

2

large napa cabbage leaves (or green cabbage or bok choy)

1/2

medium onion

sliced into 1/2-inch thickness

1

small carrot

thinly sliced

2

scallions

cut into small pieces

2

ounces

ssukgat (쑥갓, crown daisies), watercress, or minari (미나리, water dropwort)

1

teaspoon

minced garlic
Other ingredient options (see note 2)
1/2

package

tofu (about 8 ounces)

2

ounces

dangmyeon (당면, sweet potato starch noodles)
Instructions
Add 5 cups water and the broth vegetables to a medium size pot. Bring it to a boil over high heat. Reduce the heat to medium and simmer for about 15 minutes. Discard the vegetables. Season with the soup soy sauce, salt and pepper to taste. Yields 3 to 4 cups.

Cut the mushrooms into bite size slices (about 1/4-inch thick). Mushrooms cook down quite a bit, so don't cut too thin. If using oyster mushrooms, split lengthwise into bite size pieces.

Neatly arrange the mushrooms and scallions in clusters along with other vegetables, if using, in a shallow pot. Add 2 cups of broth. Boil over medium to medium high heat until mushrooms are softened, 4 – 5 minutes. You can add more broth and any remaining ingredients while eating if you're cooking at the table.
This recipe was originally posted in December 2012. I've updated it here with new photos, more information, and minor changes to the recipe.