A healthy, delicious Korean hot pot made with mushrooms! It's vegan and so easy to put together!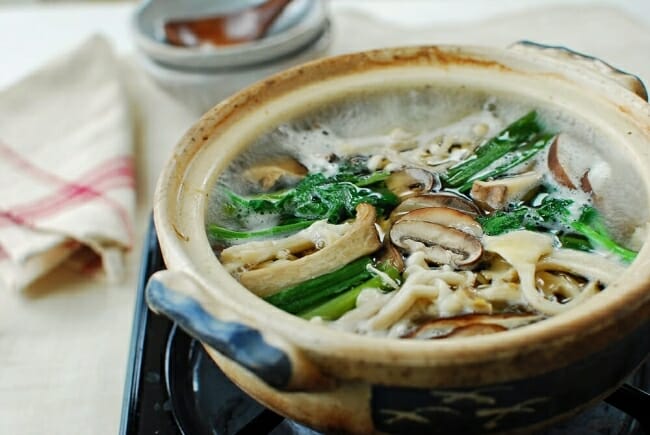 Today's recipe is a very simple version of Korean hot pot dishes calledJeongol (전골). It's a hearty, steaming one-pot mealthat's cooked at the table. Jeongol is an elaborate Korean stew thatused to be part of the royal court cuisine. There are many variations, includingdubu (tofu) jeongol, haemul(seafood)jeongol, mandu (dumplings) jeongol, etc. To make a jeongol dish, you basically arrange avariety of(mostly raw)ingredients neatly in a shallow pot, then add the seasoned broth, and cook at the table.
Beoseot (mushroom) jeongol is made with an assortment of different types of mushrooms. It's a great way to enjoy thestrong earthy flavor of mushrooms. This dish istraditionally made with other vegetables, beef, seafood and/or tofu in a beef or anchovy broth.I made it simple and completely vegetarian!The recipe can be easily doubled for more people. It's a healthy meal that will warm you up on a cold winter day!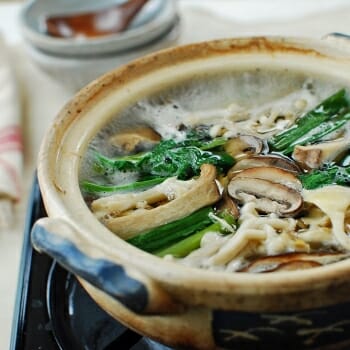 Ingredients
Vegetable broth:
1/2

small onion

cut into big chunks

3

ounces

Korean radish

cut into big chunks

3

x 3 inches dried kelp

aka dashima/kombu

a few mushroom stems

1

tablespoon

soup soy sauce

salt and pepper to taste
Vegetables:
8 - 10

ounces

assorted mushrooms

button, shiitake, oyster, crimini, enoki, etc.

2

scallions

cut into small pieces

2

ounces

watercress

1/2

teaspoon

minced garlic

You can add tofu and/or other vegetables such as Korean radish, napa cabbage, onion, and carrots.
Instructions
Put 5 cups water and the broth vegetables in a medium size pot. Bring it to a boil over high heat. Reduce the heat to medium and simmer for about 15 minutes. Discard the vegetables. Season with the soup soy sauce, salt and pepper to taste.

Cut the mushrooms into bite size slices (about 1/4-inch thick). Mushrooms cook down quite a bit, so don't cut too thin. If using oyster mushrooms, split lengthwise into bite size pieces.

Neatly arrange the mushrooms and scallions in clusters in a shallow pot. Add 2 cups of broth. Boil over medium to medium high heat until mushrooms are softened, 4 – 5 minutes. You can add more broth and any remaining ingredients while eating if you're cooking at the table.