This slow cooker pork belly (samgyupsal) dish can be enjoyed as bossam (pork wraps) or simply as a main dish with some salad vegetables.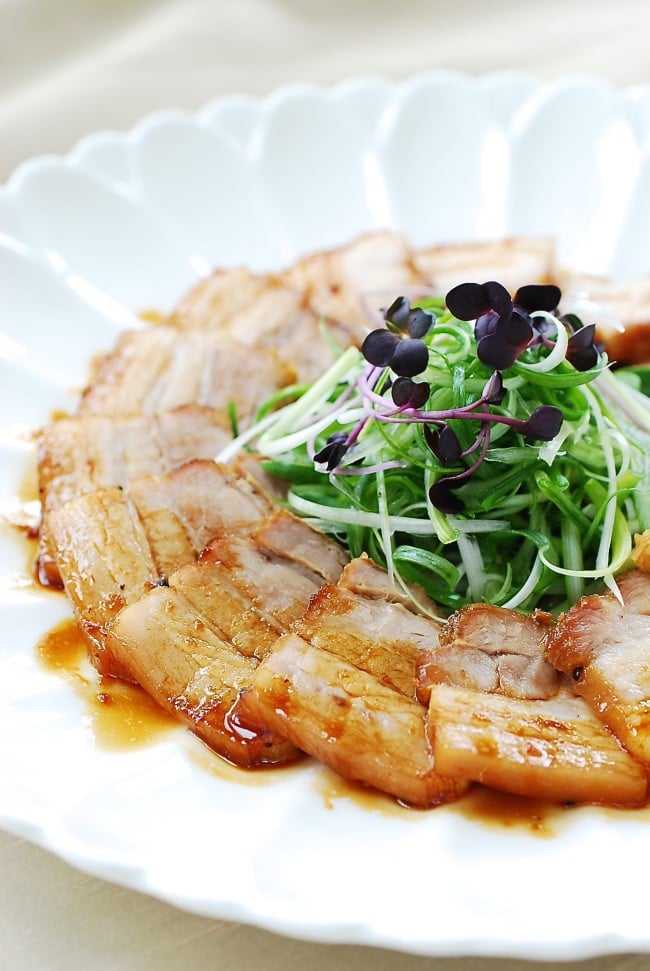 Back in March, I posted my slow cooker beef shank recipe and said there will be another slow cooker recipe coming soon. This one is a slow cooker version of the boiled pork, similar to bossam (보쌈, pork wraps). However, in this recipe, I created a sauce to drizzle over the pork belly. As such, it's great to serve it as is with pachae (scallion salad) or some fresh salad vegetables. You can, of course, enjoy it as bossam with vegetable wraps.
Slow cooking pork belly renders more fat than boiling if you are concerned about the fat content of pork belly.
Sometimes, I use Boston butt (moksal, 목살) or picnic shoulder (apdarisal, 앞다리살), which also works nicely. If you're using a big roast cut, simply cut it into 2 to 3 thick strips so the seasoning can better penetrate the meat.
Speaking of the seasoning, I used a tablespoon of doenjang (Korean fermented soybean paste) along with garlic, ginger, salt and pepper. Doenjang is commonly used in Korean cooking to flavor pork, and I also use it for the boiled version of this pork belly. You can omit it and simply use more salt if you want (I do that sometimes).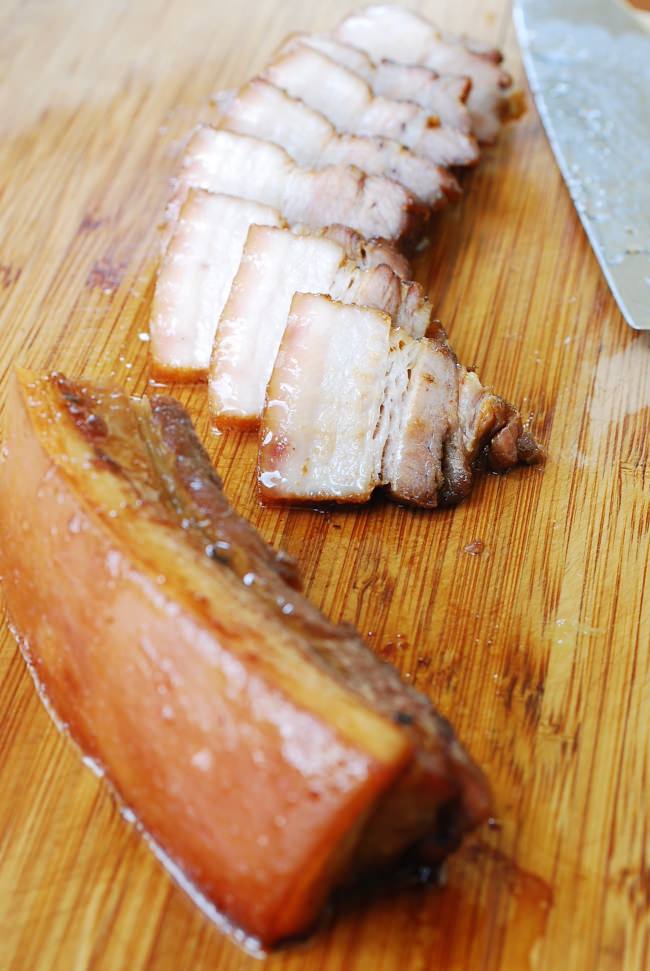 After 3 hours, the meat was tender enough but firm enough for slicing. My old slow cooker takes an additional 30 minutes to an hour to come to the same tenderness. I bought a new slow cooker mainly to test cooking time because the other one is very old. I've noticed a vast difference between the two. So, adjust the cooking time depending on your slow cooker, how thick your meat is, and how tender you'd like it to be.
For this recipe, I seared the meat in a pan with a simple sauce to kick it up a notch. This adds a nice flavor and color, but it's an optional step. You can also double the sauce recipe and drizzle over the pork slices to serve. I recommend this if you're serving it without cabbage or lettuce wraps.
For a collection of slow cooker (or crock pot) Korean recipes, visit here.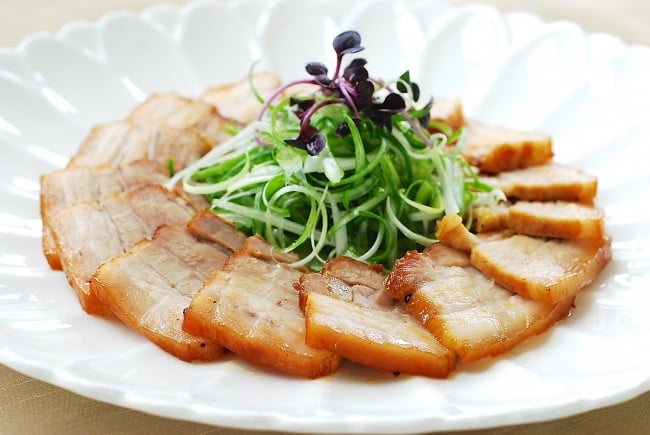 For more Korean cooking inspirations, follow along on YouTube, Pinterest, Twitter, Facebook, and Instagram.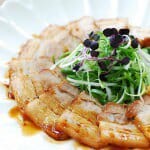 Ingredients
2 to 3

whole fresh pork belly

about 2 to 3-inch wide cut - 2.5 to 3 pounds

1

medium onions
Seasoning for the pork
1

tablespoon

minced garlic

1

tablespoon

grated ginger

2

teaspoons

salt

1

tablespoon

doenjang

Korean fermented soybean paste, or use 1 more teaspoon salt

1/4

teaspoon

black pepper
Sauce for glazing
Double this if you want to serve with a sauce.

2

tablespoons

soy sauce

2

tablespoons

rice wine

or dry white wine

4

tablespoons

liquid from cooking the pork belly,

strained through a strainer.

1

tablespoon

sugar
Garnish
Pachae

파채, (thinly sliced scallions) - 3 to 4 scallions

A handful of radish sprouts
Instructions
Cut the onion in half, and roughly slice each half, and place the slices at the bottom of the slow cooker in a single layer. Add 1/2 cup of water (or brewed coffee) to the slow cooker. Rub each pork belly with the seasoning mix. Place them on top of the onion.Cook on high for 3 to 4 hours (5 to 6 hours on low) until the pork reaches the desired tenderness.

Combine all the sauce ingredients in a small bowl. Pour the sauce to a large pan, and bring to a boil over medium heat. Using a pair of kitchen tongs, add the meat and sear until all sides are nicely glazed with the sauce and the meat is slightly caramelized, a minute or two on each side. Do not burn the sauce.

If doubling the sauce, use the same pan, after removing the meat, to boil the sauce over medium heat until slightly thickened. Adjust the salt level by adding a little bit of water if needed.

Serve simply with the thinly sliced scallions, or serve with some lettuce and ssamjang. Drizzle the sauce over the meat if using extra sauce. See note.
Notes
To serve the pork belly the traditional way, see my bossam (pork wraps) recipe.