Chonggak kimchi is made with a small variety of white radish with long leafy stems. With typical kimchi seasoning ingredients, you can easily make it at home!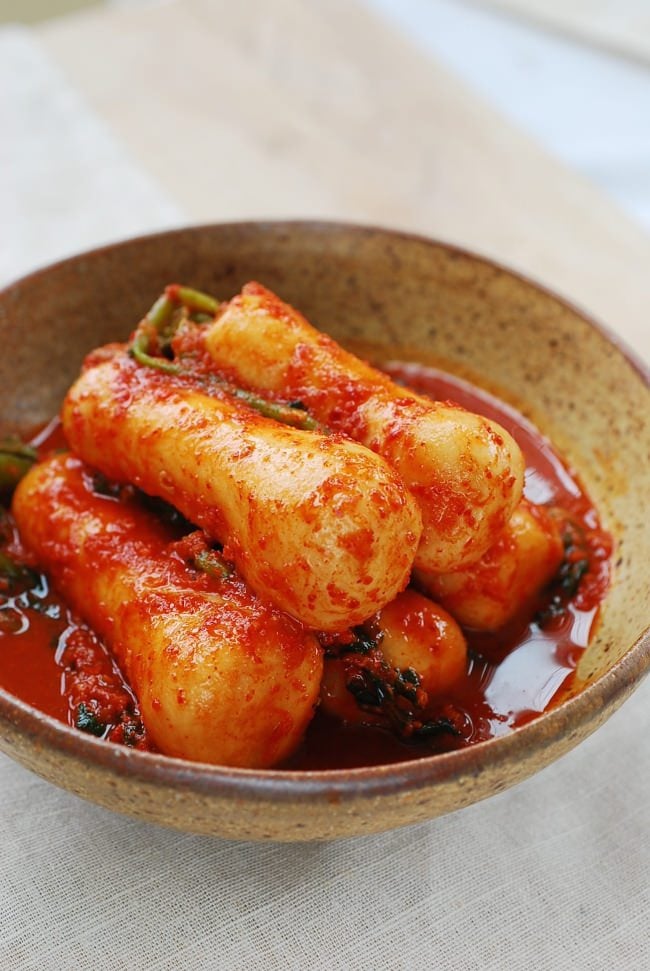 What is chonggak kimchi?
Chonggak kimchi (총각김치) is another popular type of kimchi in Korea. It's made with chonggak mu (총각무), which is a small variety of white radish with long leafy stems. This small variety is firmer and crunchier than the large varieties of white radishes. Chonggak mu isalso called altari mu (알타리무).
The word chonggak (총각) means "bachelor" in Korean, and the word originated from the ponytail hairstyle, called chonggak, young boys/men used to have in the old days. It's commonly believed that this radish was given its name because of long leafy stems resembling ponytails. This kimchi is often translated to "bachelor kimchi" in English.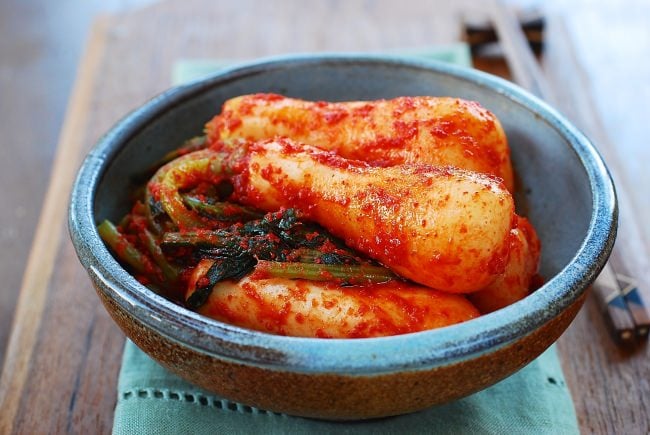 Look for small to medium radishes with smooth skin and fresh, tender green leaves. This reminds me of the chonggak kimchi my mother-in-law used to make with her own crop from her backyard. She would always pull the radishes while they were small to make sure they were sweet, tender, and crisp. Her chonggak kimchi was the best!
How to make chonggak kimchi
Chonggak kimchi is made with the stems intact. You can cut the stems into shorter lengths, leaving some attached to the radish. Also, if the radish part is too thick, you can half (quarter) it lengthwise.
The salting time varies depending on the size/thickness of the radishes and the salt you use. The radishes don't need to be salted all the way to the center. In fact, kimchi will taste better if you don't draw out all the radish water content by over salting them.
I used a combination of fish sauce and saeujeot (salted shrimp) using more fish sauce. The taste will be milder if you use more saeujeot than the fish sauce. You can also make it with fish sauce only.
You can serve chonggak kimchi whole or cut into smaller pieces. Most Koreans enjoy picking up a whole radish with chopsticks, and biting off a piece at a time making loud crunching noises. Fun and delicious!
More kimchi recipes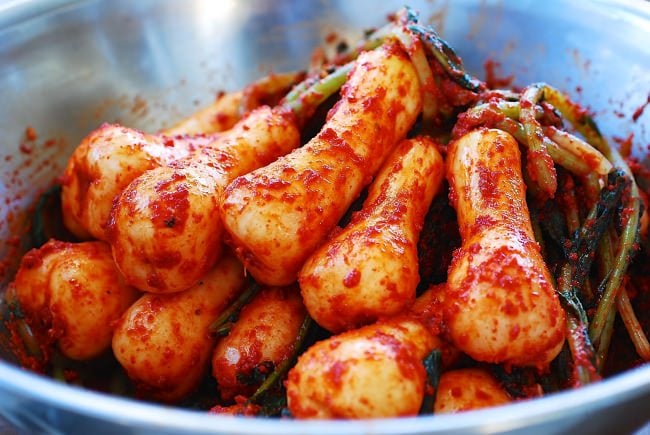 For more Korean cooking inspirations, follow along on YouTube, Pinterest, Twitter, Facebook, and Instagram.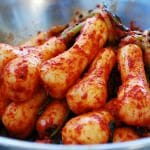 Ingredients
4 to 5

pounds

or about 15 small to medium young radishes with leaves

chonggak mu, 총각무

1/2

cup

Korean coarse sea salt - use less if using finer salt
Seasoning
4

tablespoons

sweet rice paste

1 tablespoon sweet rice powder simmered in 1/2 cup water

1/2

cup

gochugaru

Korean red chili pepper flakes

2

tablespoons

saeujeot, salted shrimp

4

tablespoons

myeolchiaekjeot

fish sauce made with anchovies

2

tablespoons

minced garlic

1

teaspoon

grated ginger

1/2

gallon

airtight container or jar.
Instructions
Wash the radishes a couple of times to remove excess dirt. You will wash them again after salting. Cut off the root end of each radish. Trim off the darkish skin on the top end that is connected to the stem. Scratch off the stubborn impurities with a small knife. Do NOT peel the skin. Remove any bad leafy stems.

In a large bowl, place a few radishes and generously sprinkle with some salt. Add another layer of radishes and sprinkle with salt. Repeat as necessary until all the radishes and salt have been used. Let sit for 2 to 4 hours until the radishes become slightly flexible. Flip them over 2 to 3 times while salting.

Meanwhile, make the glutinous rice paste and cool. Mix all the seasoning ingredients well. Set it aside for a while for the red pepper flakes to dissolve a little and become pasty.

Place the radishes back in the large bowl. Add the seasoning. Mix everything well by hand (use kitchen gloves), until the radishes and stems are evenly coated with the seasoning. The radishes will be a little dry at this point, but they will release water during the fermentation process.

Store in an airtight container or jar. Before closing the lid, press the radishes down hard with your hand to pack them. Leave it out at room temperature for two days before storing them in the fridge. Kimchi will be ready in a few days in the fridge but takes about two weeks to fully develop the flavors. It maintains great flavor and texture for several weeks.