Kkakdugi is a kimchi made with Korean radish, mu (or moo). It's an easy kimchi to make! Simply cut the radishes into cubes, salt for a short time, and then mix with the seasonings.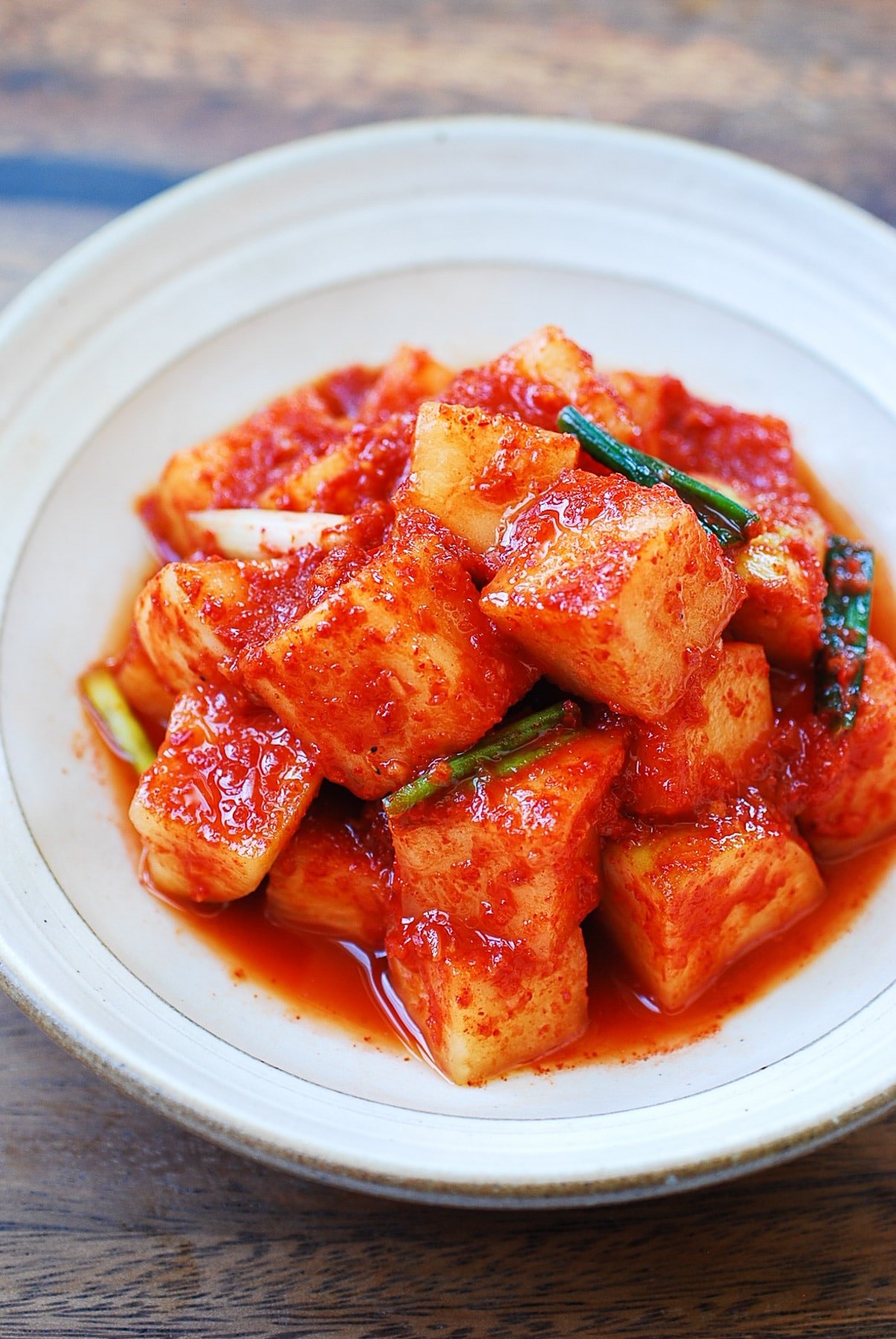 Kkakdugi (깍두기) is a kimchi made with Korean radish, mu (or moo, 무). It's an easy kimchi to make! Simply cut the radishes into cubes, salt for a short time, and then mix with the seasonings. The name kkakdugi comes from how the radish is cut — cubed, and it's known as cubed radish kimchi in English.
Korean radish, mu (무), is a variety of white radish and has firm crisp flesh and a slightly sweet and peppery taste. It's a cool weather vegetable, so it tastes best in fall and winter. Summer radish can be quite bitter. You can add more sugar than what the recipe calls for to balance out the bitterness.
Kkakdugi Seasonings
The taste of kimchi depends a lot on the types, the quality, and the ratio of the seasoning ingredients. Each Korean household has its own ways. I find myself making it differently each time.
Traditionally, various jeotgal (젓갈, salted seafood) are used in kimchi for the depth of flavors. Saeujeot (새우젓, salted shrimp) and myulchiaekjeot (멸치액젓, fish sauce made with anchovies) are the two that are most commonly used. I almost always use both of these in my kimchi. Sometimes, I also use fresh shrimp which is my mother's secret ingredient for adding extra savory freshness to the kimchi flavor.
In this updated recipe, I didn't use fresh shrimp. However, if you can't find saeujeot in your area, consider using some raw shrimp instead.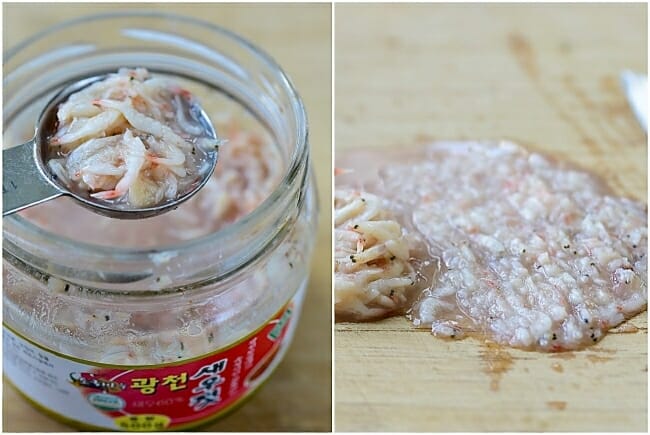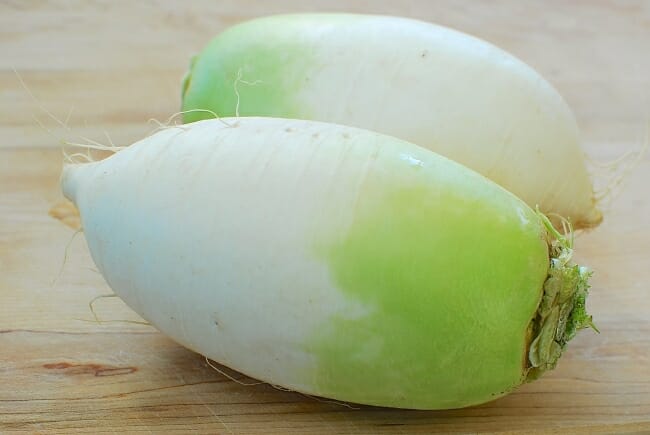 You can enjoy kkakdugi with any Korean meal, but it's especially good with a bowl of mild soup such as seolleongtang, samgyetang, galbitang, and dak gomtang. It's a delicious side dish that will add a robust spicy kick and some crunch to a meal!
More recipes made with Korean radish
Mu guk(soup)
Mu Doenjang Guk (Korean Soybean Paste Radish Soup)
Musaengchae (spicy radish salad)
Musaengchae (sweet and sour radish salad)
mu namul (stir-fried radish side dish)
Quick Dongchimi (Radish water kimchi)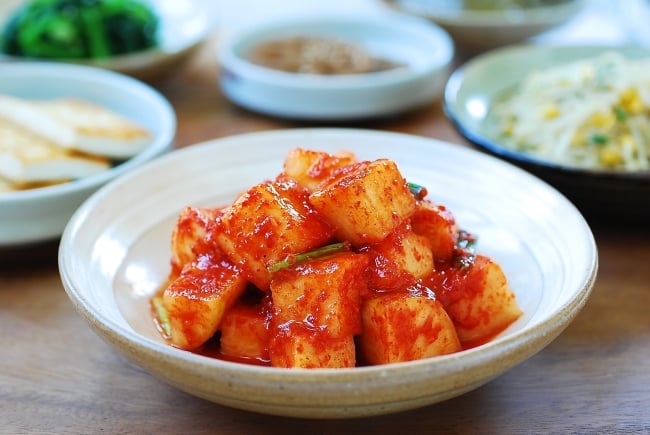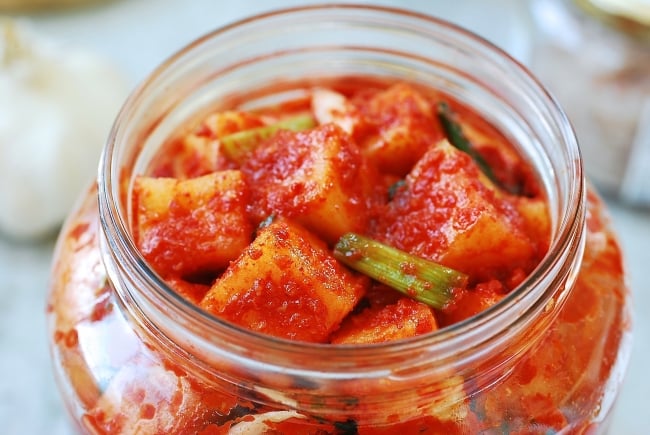 For more Korean cooking inspirations, follow along on YouTube, Pinterest, Twitter, Facebook, and Instagram.
Ingredients
3

medium to large Korean radishes

about 6.5 pounds - see note 1

⅓

cup

coarse sea salt

less if using finer salt

3 - 4

scallions

cut into about 1-inch lengths
Seasonings
⅔

cup

gochugaru (고추가루)

Use 1/2 cup for a lighter, less spicy kkakdugi

1/4

cup

saeujeot

새우젓, salted shrimp, finely minced - see note 2

2

tablespoons

myulchiaekjeot

멸치액젓, fish sauce

3

tablespoons

minced garlic

1

teaspoon

grated ginger

2

tablespoons

sugar (adjust to taste or omit)

You may need more if your radish is bitter.

1/2

Korean pear, bae (배), grated - optional
Kitchen Tools
a large bowl

7 – 8 qt

a large colander

kitchen gloves

1

gallon

or 2 half-gallon airtight container or jar
Instructions
Clean the radishes by scrubbing with a brush and/or scratching off the stubborn impurities with a small knife. Peel the skin only if necessary. You don't need to peel if the skin is smooth and clean. Cut into 1-inch thick discs, and then cut each disc into 1-inch cubes, placing in a large bowl. (The cubes will look big but will shrink during the salting and fermentation processes.)



Sprinkle the salt over the radishes and toss well to coat evenly. Let sit for about 40 minutes (up to an hour), rotating them the half way through, until the radish cubes have softened and released some liquid.

Meanwhile, prepare the seasoning ingredients. Mix everything well. Set it aside for a while for the red pepper flakes to dissolve a little and become pasty.

Drain the radishes in a colander and discard the liquid. Do NOT rinse. Rinsing will wash the flavor away. (The radishes still contain sufficient water content that will be released during the fermentation process. With this method, the resulting kkakdugi will have a nice thick juice.)

Place the radishes back in the bowl. Add the seasoning mix and scallions.

Mix everything well, preferably by hand, until the radish cubes are evenly coated with the seasonings. (Make sure to wear kitchen gloves.) Taste a little bit of the seasoning off of a radish cube. It should be a little too salty to eat as is. Add more salted shrimp or fish sauce if necessary. (The radishes will be a little dry at this point, but they will release water during the fermentation process.)

Store in an airtight container or jar. Before closing the lid, press the kkakdugi down hard with your hand to remove air pockets between the radish cubes. Leave it out at room temperature for a full day or two, depending on the room temperature and how fast you want your kimchi to ripe. Then, store in the fridge. Kkakdugi tastes best after a week or two in the fridge to fully develop the flavors. It maintains great flavor and texture for several weeks.
Notes
1. Buy the ones with smooth skins that are firm and heavy.
2. If salted shrimp is not available, increase the fish sauce by the same amount.
This recipe was originally posted in Nov. 2011 and updated here with new photos and streamlined recipe steps.