Sataejjim is a traditional braised dish that's made with bite sized beef shank meat. Make it in your slow cooker with lots of root vegetables.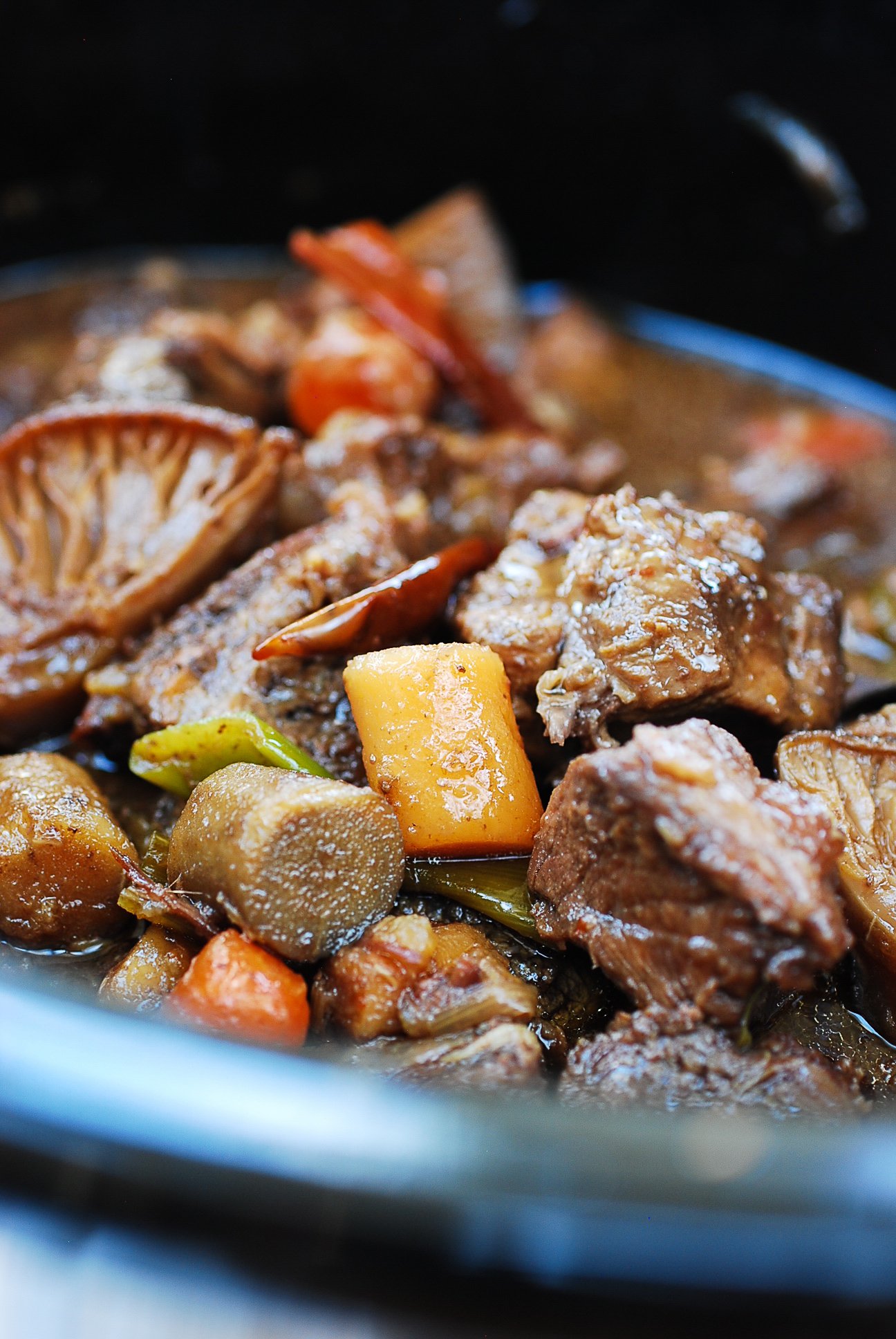 For those of you who have been asking for more slow cooker recipes, here's another one for you! Sataejjim (사태찜) is a traditional braised dish that's made with bite sized beef shank meat (satae).
The method and flavor are similar to galbijjim (갈비찜), braised short ribs. Beef shank meat is a tough cut of meat with lots of connective tissues. Slow cooking breaks down the collagen into a rich, flavorful gelatin.
Sataejjim is often a cheaper or less fatty alternative to galbijjim in Korea. Beef shank is typically sold bone-in here in America, but you can fine is sold boneless in Korea. It's a popular cut of meat for making soup and braised dishes such as jangjorim (soy braised beef). You can find boneless beef shank meat at Korean markets.
If you are using bone-in pieces, cut the meat off the bones into bite sizes and throw both the meat and bones in the slow cooker. The bones will impart great flavor to the dish.
The seasoning is very similar to the one used for galbijjim. Traditional sataejjim (and galbijjim) calls for grated Korean pear. For this recipe, I experimented with apricot preserve. It worked great! But, you don't have to.
Instead of Korean radish, which is traditional in Korean braised dishes, I used some other root vegetables here for a change. I used a combination of parsnip, celery root, and burdock root, which I had in the fridge. You can, of course, use Korean radish, and turnip can also be good.
More Slow Cooker Recipes
Slow cooker beef bulgogi
Slow cooker dakjjim
Slow cooker spicy pork ribs
Slow cooker galbijjim (beef short ribs)
Slow cooker chicken soup with napa cabbage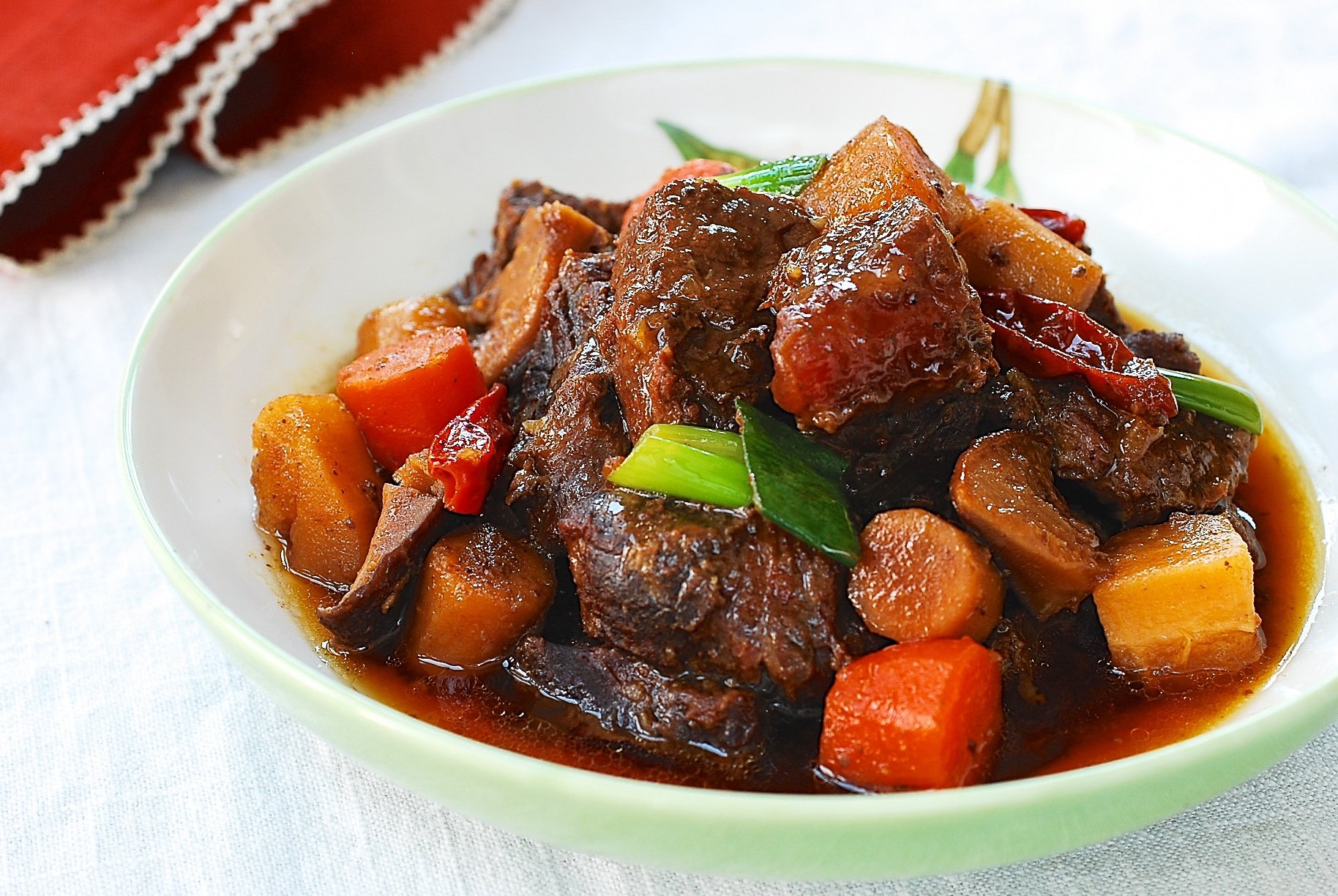 For more Korean cooking inspirations, follow along on YouTube, Pinterest, Twitter, Facebook, and Instagram.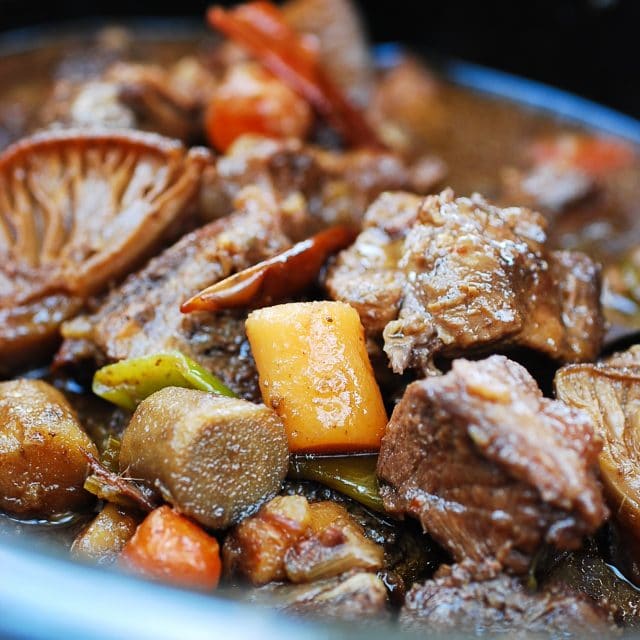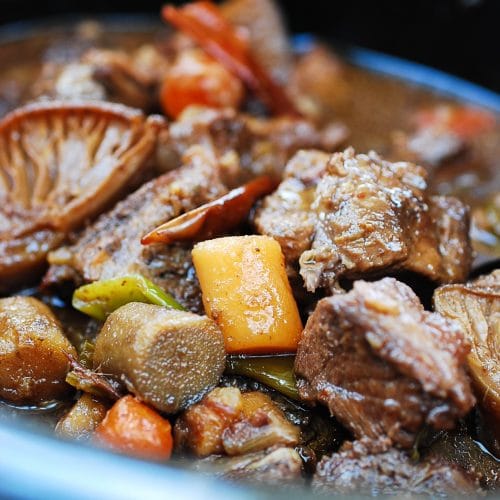 Ingredients
3

pounds

beef shank meat

satae, 사태

10

ounces

root vegetables

parsnip, celery root, burdock root, turnip, and/or Korean radish

1

medium carrot

1/2

medium onion

2

scallions

8

plump garlic cloves

3 to 4

thin ginger slices

about 1-inch round

4

dried shiitake mushrooms

or any other dried mushrooms, broken up into 2 to 3 pieces

4

small dried red chili peppers

or 1 teaspoon crushed red peppers - optional
Sauce
⅓

cup

soy sauce

1/4

cup

rice wine

or dry white wine

2

tablespoons

apricot preserve

or honey - see note

1

tablespoon

sugar

pepper to taste

salt

1

tablespoon

sesame oil
Garnish
1

scallion

roughly chopped
Instructions
Place the meat and vegetables in the slow cooker. Mix together the soy sauce, rice wine, apricot preserve (or honey), sugar and pepper in a small bowl, and pour over the meat and vegetables. Toss everything to coat with the sauce. Cover, and cook for about 4 hours on high or 6 to 8 hours on low. Flip the meat over midway through the process, if you're home. Adjust the cooking time, depending on how tender you want your meat to be.

If necessary, sprinkle with a pinch (or two) of salt, and add more sugar or honey to taste. Stir in the scallions and sesame oil before turning the slow cooker off.

Remove the meat and vegetables from the slow cooker to a large serving bowl. Pour the sauce over the meat to serve. You can run the sauce through a strainer for a clearer sauce if you'd like.
Notes
If you want to use Korean pear, skip apricot jam. Use 1/2 of a medium size pear by cutting into chunks. Use the same amount of honey and sugar in the recipe for sweetness.