Nabak kimchi is a type of water kimchi that's made with thinly sliced radish squares and other vegetables. It is easy to make, yet deliciously refreshing!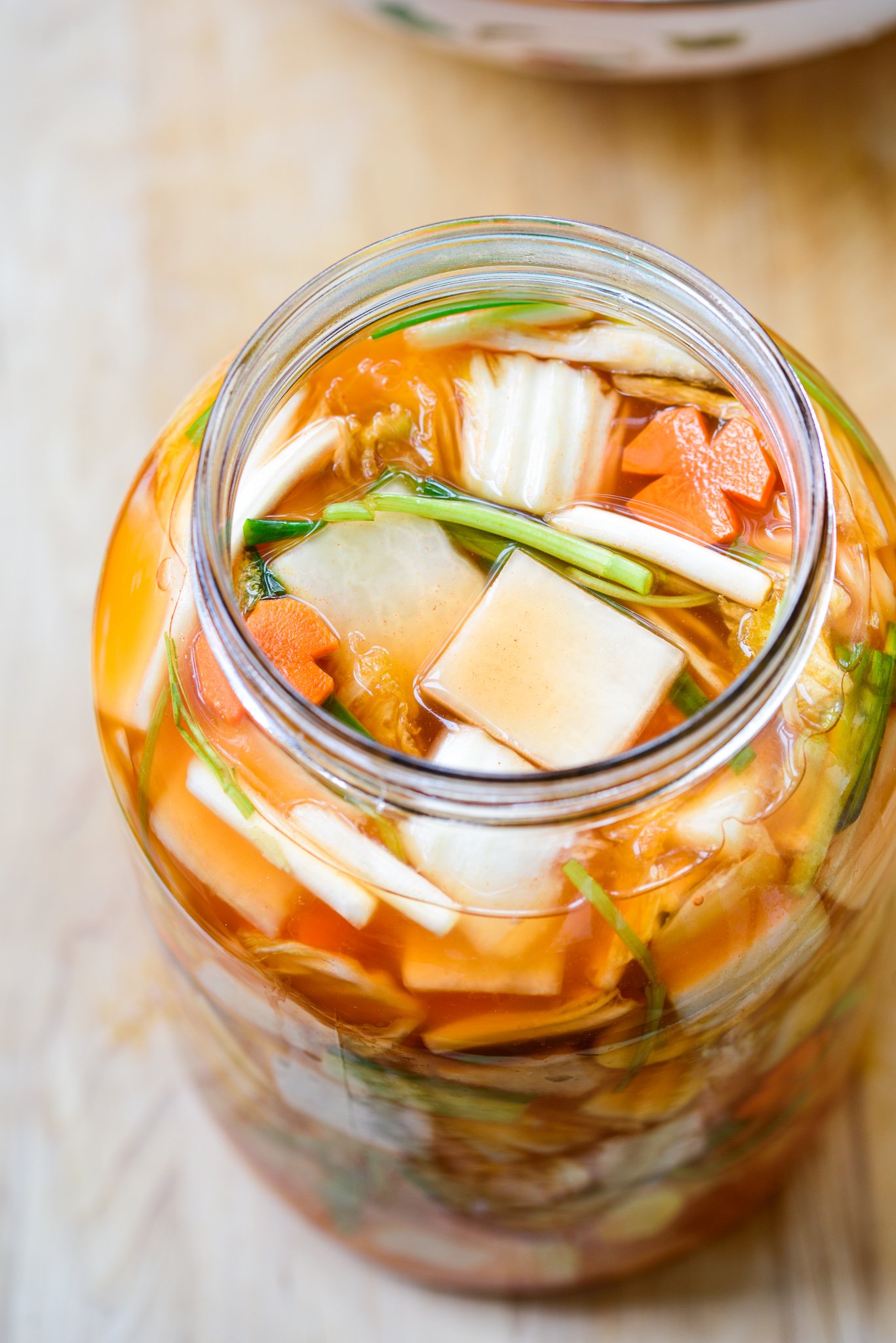 When I visited my parents the other day, they were making this nabak kimchi (나박김치). It's definitely one of their favorite kimchi dishes! Nabak kimchi is a type of water kimchi that's made with thinly sliced radish squares and other vegetables.
It is easy to make, yet deliciously refreshing! The name of the kimchi stems from the way the radish is cut for this kimchi. Cutting into small, thin squares is called nabak sseolgi (나박썰기). Sseolgi refers to a cutting technique. Watching them make it, I realized I had not made this kimchi for a while, so I decided to make it for the blog!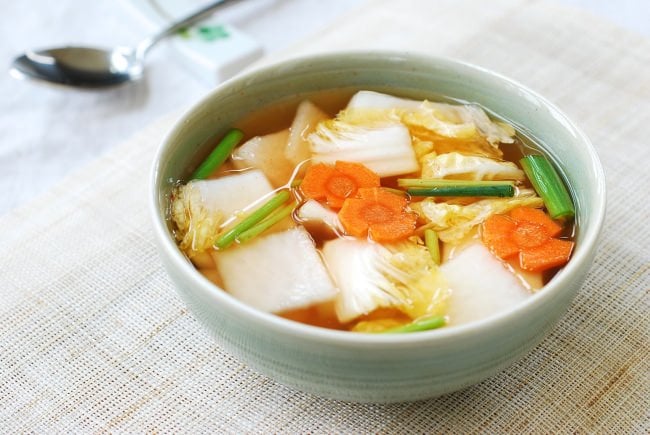 Nabak kimchi is commonly enjoyed in the springtime when the kimchi made in the fall gets old. It's also a traditional holiday kimchi. Growing up, we always had nabak kimchi with tteokguk (rice cake soup), which is a New Year soup. They are delicious together!
This water kimchi is a mild, clean tasting kimchi, so it doesn't call for fish sauce or salted shrimp. If you've been looking for a vegan kimchi, here's one for you!
The radish and cabbage squares are lightly salted and then mixed with all other ingredients. The water is seasoned with salt, and colored lightly with gochugaru (Korean red chili pepper flakes) through a strainer or cheesecloth to keep the kimchi broth nice and clean. The garlic and ginger are thinly sliced, rather than minced, again to keep the broth clear.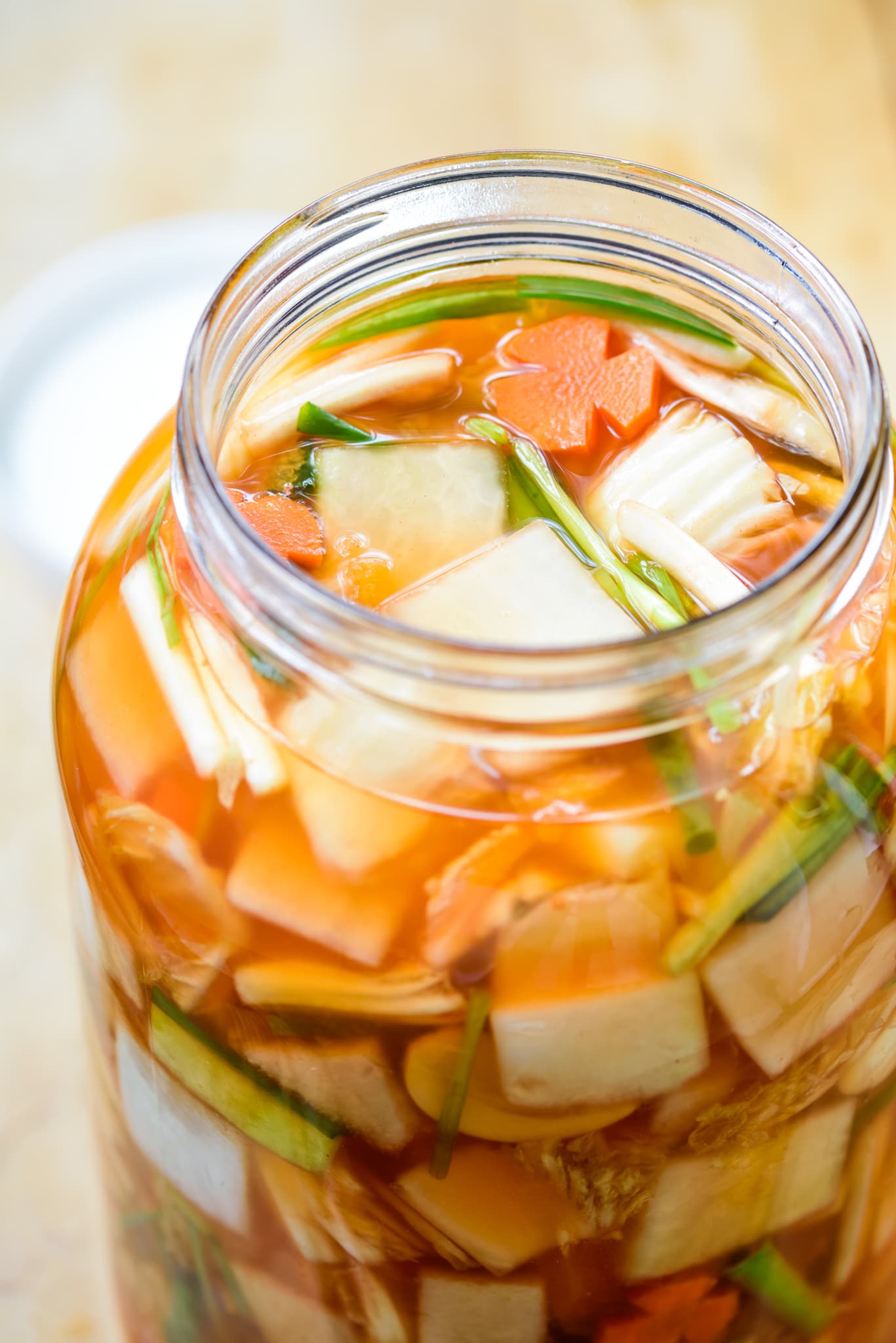 The addition of Korean pear is traditional, but an apple is also commonly used. The fruit gives the kimchi a slight fruity sweetness. Minari (water dropwort), which is a crisp herb with a distinct taste, is also traditional and adds a delicately pleasant flavor to the kimchi.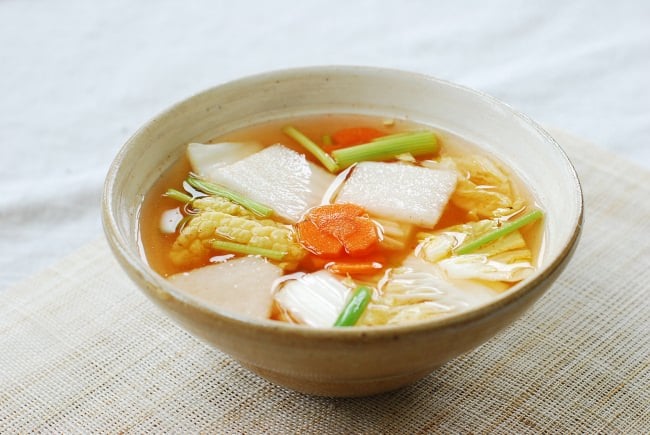 Have you tried this nabak kimchi recipe? Please rate the recipe below and leave a comment! Stay in touch by following me on YouTube, Pinterest, Twitter, Facebook, and Instagram.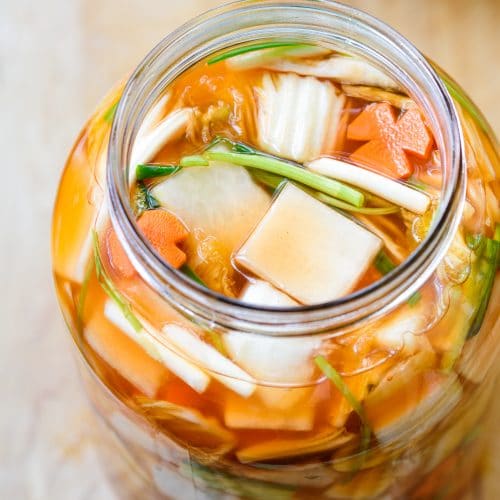 Ingredients
1.5

pound

Korean radish, mu (무)

16

ounces

napa cabbage (baechu, 배추) -- inner yellowish leaves

1 to 1.5

tablespoons

gochugaru (Korean red chili pepper flakes)

Adjust to taste

1

medium carrot

1/2

Korean pear or apple

3

thin scallions

8

stalks of minari - optional

5

plump garlic cloves, thinly sliced

5

thin ginger slices, about 1 inch rounds

Salt

1

gallon

airtight container or jar
Instructions
Clean the radish by scrubbing with a brush and/or scratching off the stubborn impurities with a small knife. Do not peel the skin. Cut into about 1-inch thick discs. Cut each disc into 3 pieces, and then slice thinly into about 1-inch squares, placing in a large bowl.

Rinse the cabbage leaves a couple of times. Cut each leaf lengthwise into 1-inch wide pieces, and then crosswise into about 1-inch pieces. Add to the bowl with the radish. Sprinkle with 2 tablespoons of salt, and toss well to evenly distribute the salt. Let it sit until wilted, about 30 minutes. Do not rinse.

In a small bowl, soak the gochugaru in 1/2 cup of warm water.

To cut the carrot into flower shapes, cut 3 to 4 "'V" shape grooves lengthwise, and then cut into thin slices. Or simply slice crosswise into thin rounds. Cut the pear into about 1-inch squares. Cut other vegetables into about 1-inch lengths. Add to the bowl with the salted radish and cabbage.

In a large bowl, dissolve 2 tablespoons of salt in 10 cups of water. Strain the soaked gochugaru into the water through a fine mesh.

Pour the broth over the radish mix and stir well to combine everything. Adjust the seasoning to taste if necessary. It will actually be easier to handle if you place the radish mixture in the container or jar first, and then add the broth.

Keep it in an airtight container or jar. Leave it out at room temperature for a couple of days before storing in the fridge. The kimchi can be eaten within a few days. Stir to the bottom each time before taking some out to serve.