You can make this soothing, comforting Korean chicken soup recipe without a trip to a Korean market! It's made with a whole chicken and a few aromatic vegetables. Use chicken parts if that's all you have.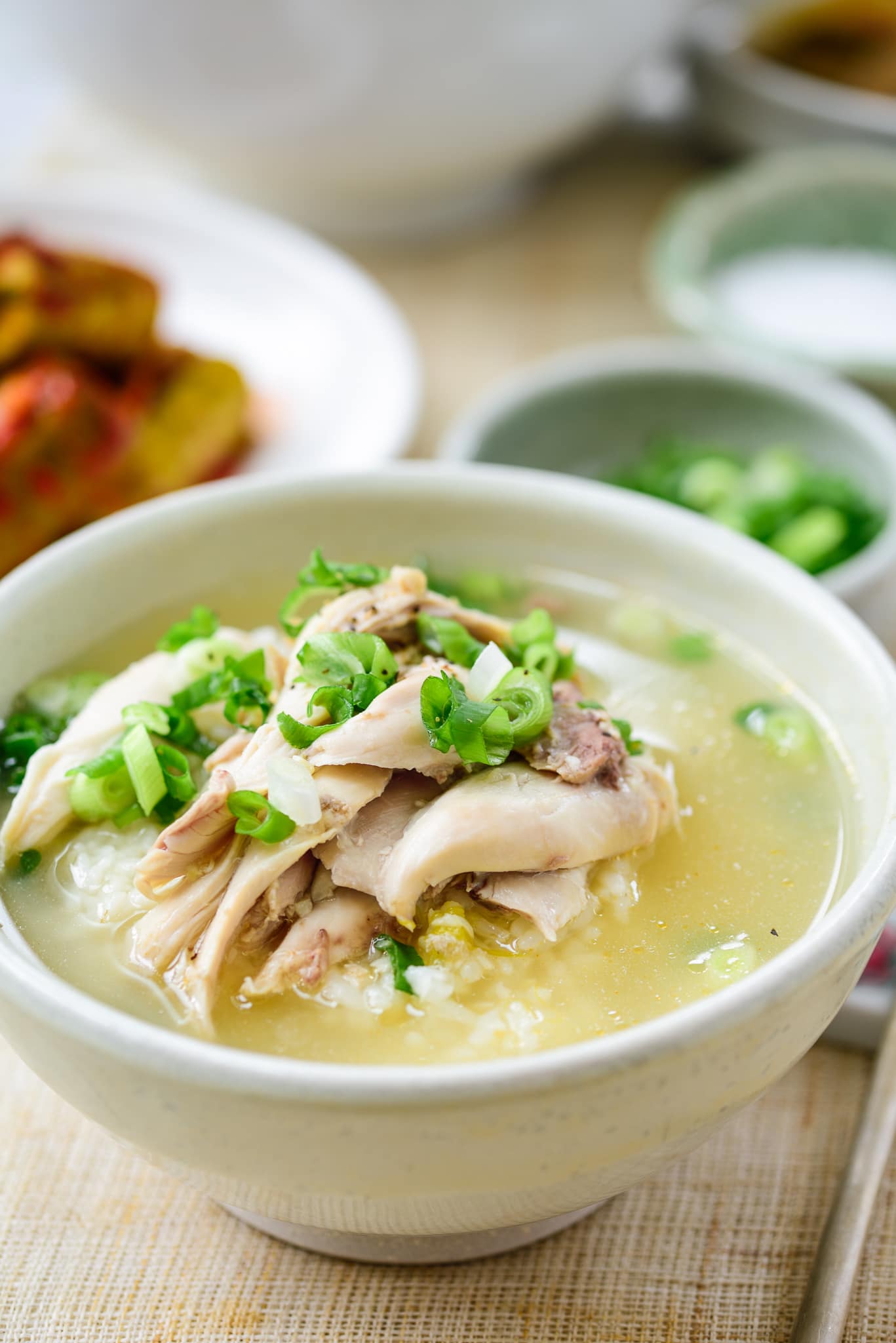 Here's a Korean chicken soup recipe you can make without a trip to a Korean market! It's called dak gomtang (닭곰탕), and in my house this soothing, comforting soup is a go-to soup, especially when one of us feels under the weather. It's also a good alternative to samgyetang (삼계탕, ginseng chicken soup), if you don't have ginseng.
Gomtang generally refers to a soup made by simmering beef bones and meat for several hours. The result is a comforting milky broth with tender meat.
Dak gomtang is a variation made with chicken, but the chicken does not take as much time to cook. It's simple to make and typically served with cooked rice in the soup with shredded chicken meat on top along with lots of chopped scallion.
However, you can serve the rice separately so the diner can enjoy it any way he/she prefers.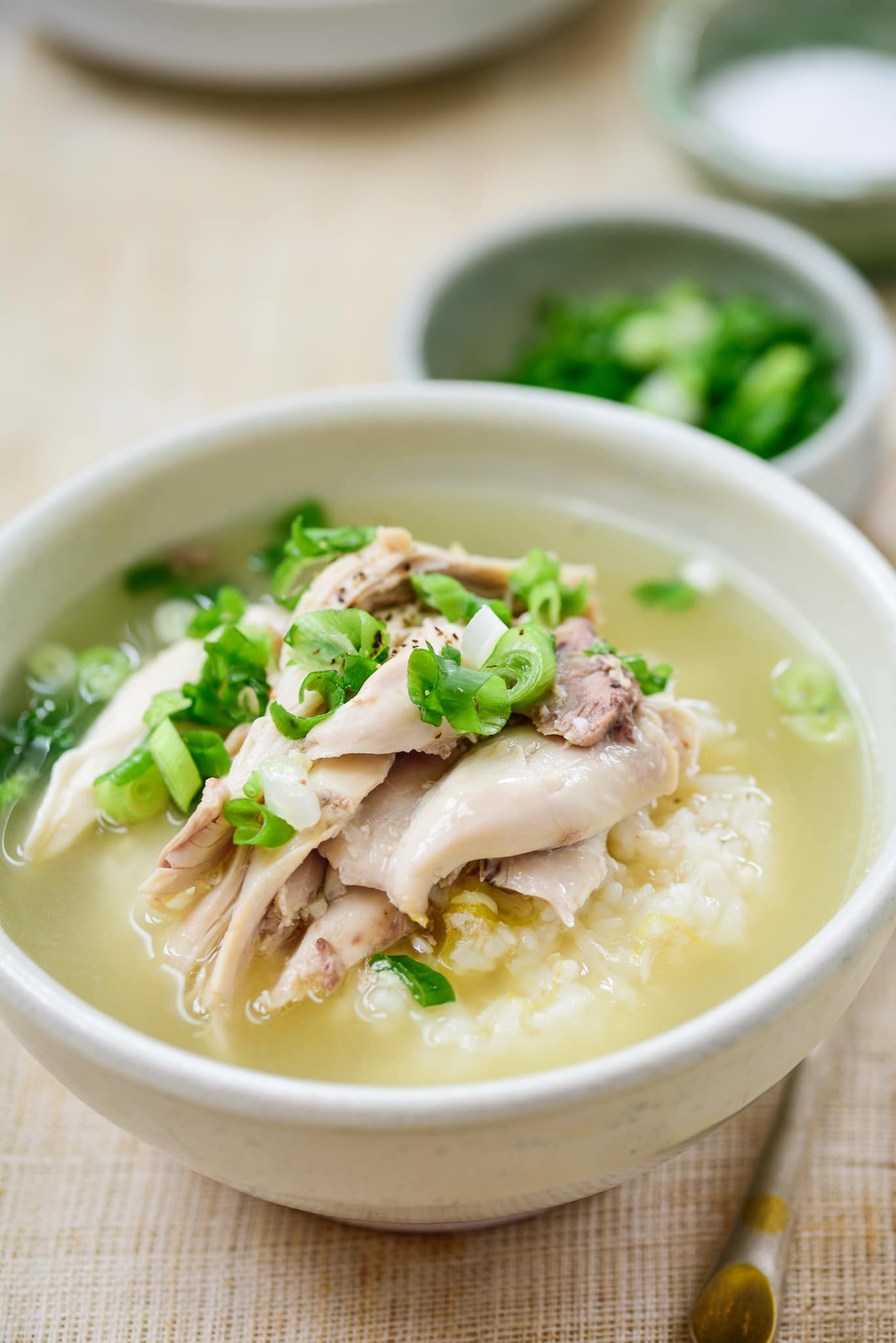 The chicken
In Korea, this dish is traditionally made with a whole chicken. It's the cheapest way to feed the whole family, and the resulting stock is rich and flavorful with all the bones, cartilage and skins. You can cut up a whole chicken before boiling if you want to cook it a little faster. Simply boil the chicken, with some aromatic vegetables and shred the meat to use as a topping. The key is to use a lot of garlic!
Bone-in chicken parts such as thighs or legs are also great for making this soup.
For a short cut, you can use a good quality commercially made chicken stock and boneless breast or thigh pieces. The chicken cooks faster, but the broth is still flavorful with the help from the quality chicken stock.
If you want to add some vegetables, try napa cabbage (baechu, 배추) or Korean radish (mu, 무).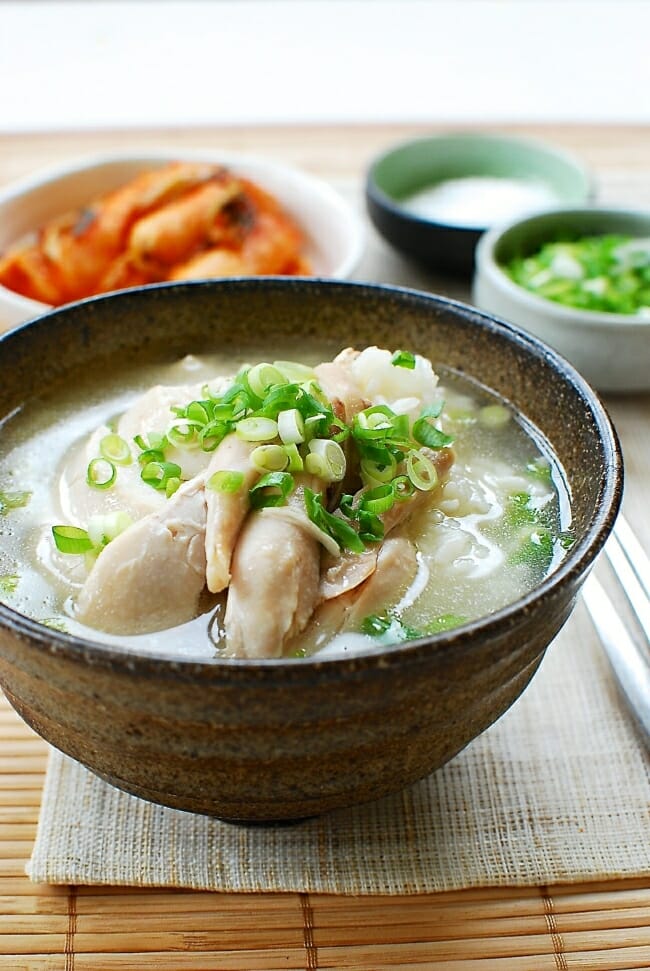 Instant Pot or Slow Cooker Cooking
You can make this recipe in your Instant Pot. My 6-quart Instant Pot is big enough for 3 to 4 pounds chicken. Use 8 cups of water since the water will not evaporate as it will over stovetop. It will take about 35 minutes for the pressure to build up. Pressure cook on Manual for 25 minutes at high pressure. Then, release after 15 minutes.
For a slow cooker, add enough water to cover most of the chicken. Cover, and cook for 4 to 5 hours on high or 6 to 8 hours on low. Also see my Slow Cooker Chicken Soup with Napa Cabbage made with chicken parts.
More chicken soup recipes
Samgyetang (ginseng chicken soup)
Dak Kalguksu (Korean chicken noodle soup)
Slow cooker chicken soup with napa cabbage
Dakgaejang (spicy chicken soup with scallions)
Watch how to make it
For more Korean cooking inspirations, follow along on YouTube, Pinterest, Twitter, Facebook, and Instagram.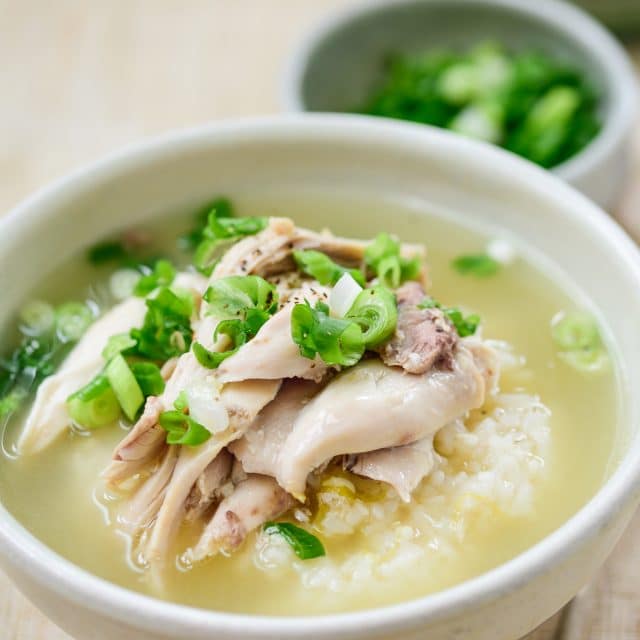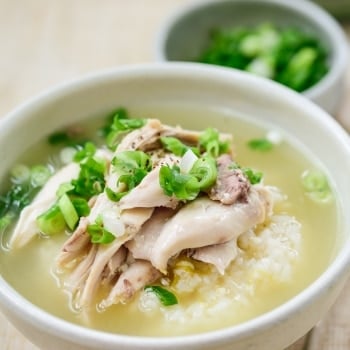 Ingredients
1

whole chicken (3 to 4 pounds)

10 - 12

plump garlic cloves

1

1-inch piece ginger, sliced

1/2

medium onion

2 - 3

scallion white parts

1/2

teaspoon

whole black peppercorns (if available)

3

scallions, finely chopped to garnish

salt and pepper to taste
Spicy sauce (dadaegi, 다대기) - Optional
3

tablespoons

gochugaru

2

teaspoons

minced garlic

1

tablespoon

soup soy sauce (guk ganjang, 국간장)

use regular soy sauce if unavailable

3

tablespoons

chicken broth from the soup
Instructions
Place the cleaned chicken in a stock pot large enough to hold the chicken and 10 cups of water (6 - 8 quarts pot). Add the garlic, ginger, onion, scallions, optional peppers and 10 cups of water (or enough to cover the chicken).

Bring it to a boil over high heat. Skim off any foam on top. Reduce the heat to medium and boil, covered, for about 40 - 50 minutes, depending on the size of the chicken. Cut through the thickest part of the breast, with a knife, to see if the chicken is cooked and tender.

Turn the heat off and carefully remove the chicken. When the chicken is cool enough to handle, remove the meat off the bones.

Shred the meat into small bite size pieces. You can strain the broth, remove the excess fat and serve at this point. But, I put the bones back in the soup and boil again for more flavorful broth.

Optional Step: Put the bones back in the broth and simmer over medium low heat for an additional 30 minutes to an hour depending on how much time you have.

Strain the broth and remove the excess fat. You can spoon off the fat, refrigerate the broth until the fat solidifies, or use a fat separator.

To serve, place some rice in a serving bowl, add chicken pieces, and then ladle the hot broth on top. Typically, chopped scallions, salt and pepper, and optional spicy sauce are served separately so each person can season to taste. Serve piping hot with kimchi.
This dak gomtang recipe was originally posted in August 2011. I've updated it here with new photos, more information and minor changes to the recipe.