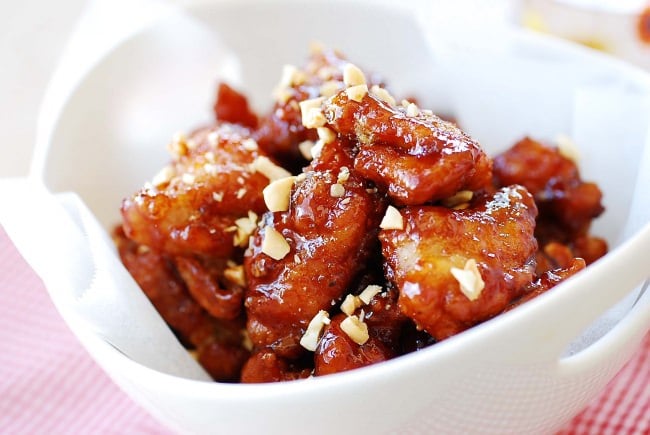 Dakgangjeong (닭강정) is a deep-fried crispy chicken dish glazed in a sticky, sweet, and spicy sauce. It's traditionally made with a whole chicken that's been cut up. Some people make it only with chicken wings.
However, dakgangjeong made with bite sized boneless chicken pieces has become a recent food craze in Korea, adding to the growing trends of Korean fried chicken. I personally like the boneless version because it's quicker and easier to make.

Dak
means chicken in Korean.
Gangjeong
is a type of traditional Korean confectionery. It's made by deep-frying sweet rice batter into crackers, coating with a syrup, and finally covering with puffed rice, sesame seeds, or nuts. Traditionally, the similar concept/technique — deep frying and coating with a sticky syrup — is also used to make various other sweet and savory dishes.
Dakgangjeong
is the chicken version.

To make this dish, I first soaked the raw chicken in milk for a couple of hours, but it's not absolutely necessary. The milk helps tenderize the meat and remove any odor, resulting in tender, juicy, and flavorful fried chicken. Then, the chicken gets marinated with a little bit of salt, ginger and garlic before being lightly coated with the potato starch.
The sauce is sweet and tangy with a little spicy kick from the gochujang (Korean red chili pepper paste). It's far from fiery hot, but reduce or omit the gochujang if you'd like. You can replace gochujang partially or entirely with ketchup. It's very common to use ketchup in a dakgangjeong sauce for a milder taste. You can also boost the heat level by simmering the sauce with a little bit of gochugaru (Korean red chili pepper flakes) or whole dried red peppers.
I try not to eat too much fried food, but I couldn't stop popping these into my mouth. So addictive! Who wouldn't like crispy tender chicken that's sweet, tangy, and spicy all in one bite?
Dakgangjeong (Sweet Crispy Chicken)
2016-07-23 04:58:32
Serves 4
Dakgangjeong - Sweet Crispy Korean Fried Chicken
Ingredients
1 pound boneless, skinless chicken thigh and/or breast
1/2 cup milk (optional)
1/4 teaspoon salt
pinch pepper
1/2 teaspoon minced garlic
1/2 teaspoon minced ginger
1 tablespoon rice wine (if not using milk)
1/3 cup potato starch (or corn starch)
oil for deep frying
Sauce
1 tablespoon soy sauce
3 tablespoons rice wine (or mirin)
2 tablespoons apple cider vinegar (or rice wine vinegar)
1 tablespoon gochujang (Korean red chili pepper paste)
3 tablespoons honey (or corn or rice syrup)
2 teaspoons sesame oil
2 tablespoons brown sugar
1 teaspoon minced garlic
1 teaspoon grated ginger
pinch pepper
1 to 2 tablespoons coarsely chopped peanuts (or almonds) for garnish
Instructions
In a pan, add all the sauce ingredients, and stir well. Bring it to a boil. When it starts to bubble, reduce the heat to medium low, and simmer until it thickens slightly, about 3 to 4 minutes. Turn the heat off.

Korean Bapsang https://www.koreanbapsang.com/