Daegu tang (or daegu jiri) is a mild Korean fish stew made with cod fish and vegetables. Refreshingly delicious!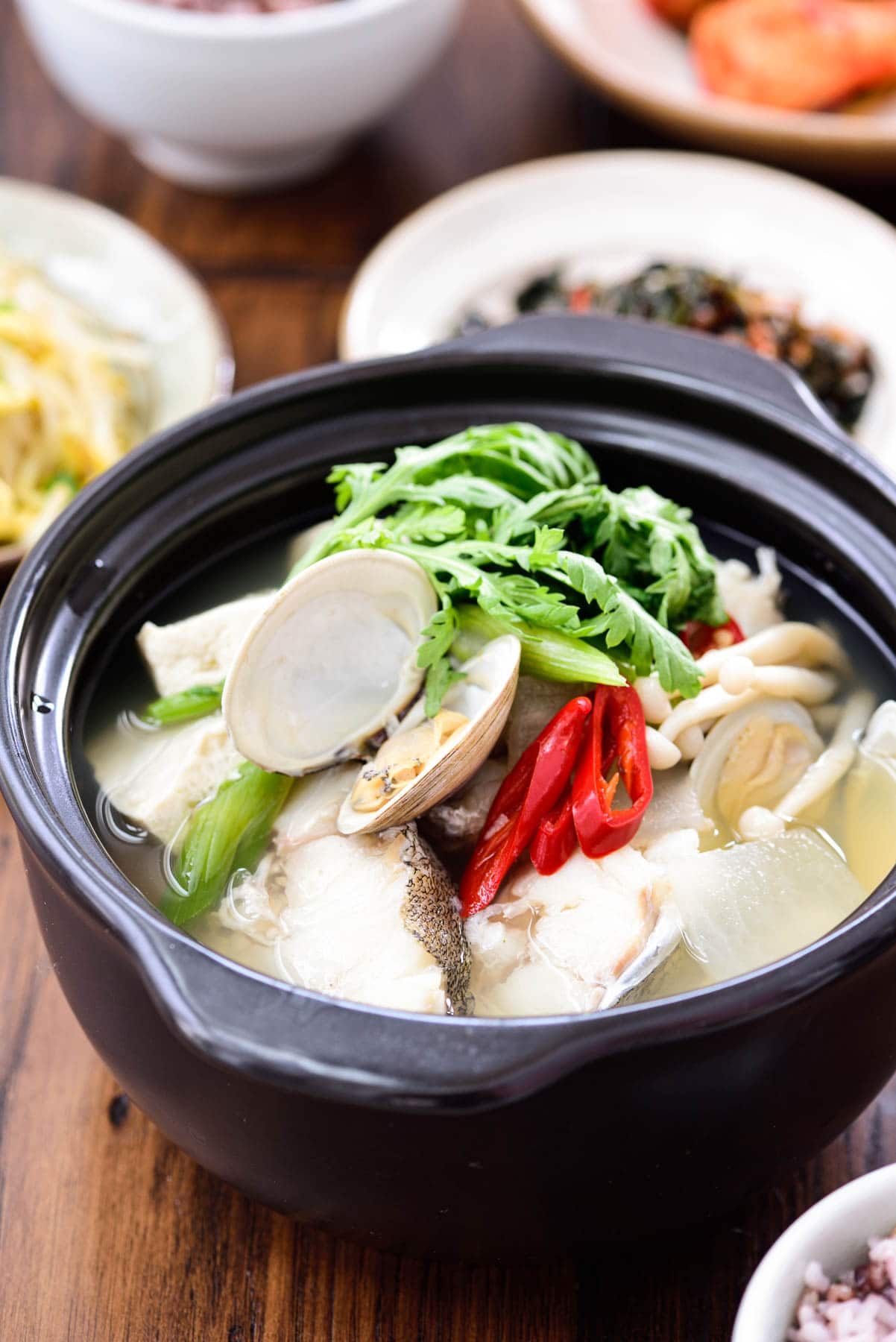 If you think all Korean stews are spicy and pungent, you're in for a pleasant surprise. Called daegutang (대구탕), this delicate stew made with cod fish, daegu (대구), is highly popular in Korea. This stew is very refreshing and satisfying! I love its subtle yet deep flavor! It's a healthy, warming stew.
Cod fish
Cod fish is mild-flavored and has white flaky flesh. There are two distinct types of stew made with cod fish – spicy (daegu maeuntang) and mild (daegu tang or jiri). You can probably find both dishes on the menu at most Korean restaurants.
Although it will no longer be called daegutang, you can also make a similar stew with any mild-flavored white fish, such as sea bass, tilapia, halibut, grouper, etc.
The broth
The broth should be light to highlight the natural taste of the fresh fish. Of course, the fish must be very fresh! Dasima (kombu) broth or Anchovy broth can be used for this dish to add depth to the stew. In this recipe, I simply boiled a piece of dasima with Korean radish (mu) to make a stew base. I also like to throw in some clams or shrimp to add another layer of flavor to the broth.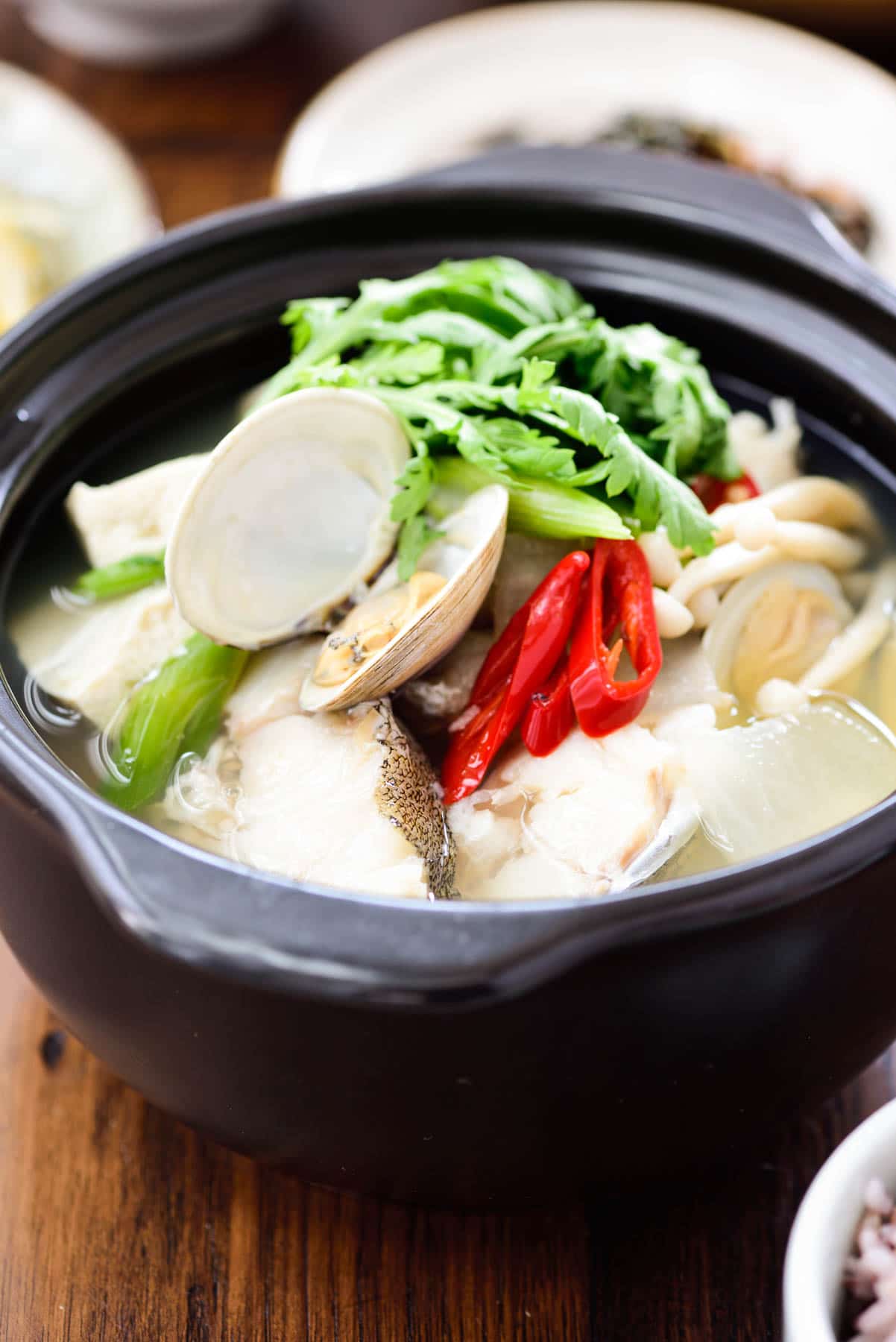 Vegetable options
The main vegetables used in this dish is Korean mu (white radish) and scallions. The radish is often used in a Korean soup or stew broth because it adds refreshing flavor. You can also use napa cabbage, zucchini, and/or kongnamul (soybean sprouts). It's also typical to add a fragrant herb type vegetable for this. Ssukgat (crown daisy) and minari are most common types. You can also use watercress, if the others are not available. The chili pepper adds a nicely clean spicy kick, but it can be omitted.
You only need a little bit of each one you decide to use. All these vegetables can be used for other dishes such as baechu guk and mu guk or namul.
More fish recipes
Domi maeuntang (spicy fish stew)
Daegujorim (braised cod fish)
Salmon bulgogi
Yeoneojang (soy marinated raw salmon)
Hongeojjim (steamed skate fish)
Agujjim (spicy braised monk fish)
Saengseonjjim (baked fish)
Godeungeo gui (Grilled mackerel)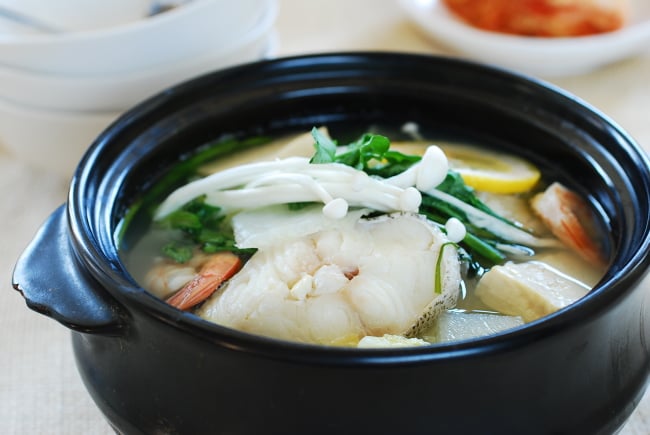 For more Korean cooking inspirations, follow along on YouTube, Pinterest, Twitter, Facebook, and Instagram.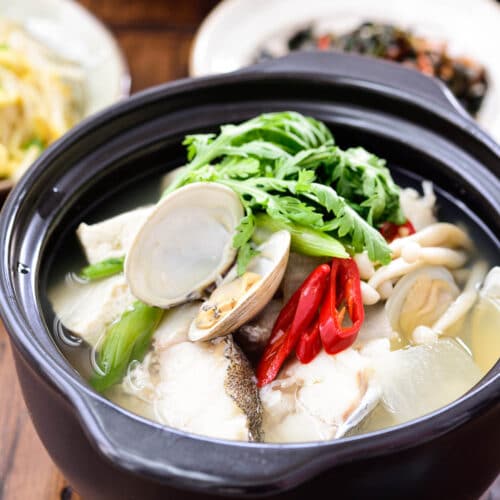 Ingredients
1

pound

cod fish (daegu, 대구)

preferably steak cuts, but fillets are okay too

3-4

little neck clams or shrimp

3

ounces

Korean radish

1

piece

dasima (dried kelp, kombu), about 3-inch square

6

ounces

tofu

1

tablespoon

minced garlic

1

or 2 scallions

1

red or green chili pepper

1

ounce

enoki mushrooms

optional

a handful of watercress, crown daisy leaves (ssukgat) or minari.

salt and pepper

(a little bit of saeujeot (salted shrimp or fish sauce is great as an additional seasoning.)
Instructions
Clean the fish and clams (or shrimp).

Clean the vegetables. Cut the radish into thin bite sizes. Roughly slice the scallions and chili pepper. Cut the tofu into 1/2-inch thick bite size pieces.

Add 4 cups of water (or anchovy broth) to a medium size pot along with the radish and dasima (dried kelp). Bring it to a boil over high heat. Cook until the radish turns soft, about 5 minutes. Remove the dried kelp. Season with salt and pepper to taste.

Drop in the fish, clams and tofu. Add the garlic. When it comes to a boil again, reduce the heat to medium high. Cook until the clams are open and the fish is almost cooked through, 4 to 5 minutes. (Do not overcook. The fish will continue to cook in the boiling hot broth while being served and eaten.) Adjust the seasoning if needed.

Add the enoki mushrooms, if using, scallions, and chili pepper. Continue to boil for a minute, and add the watercress or crown daisy leaves. Turn the heat off. Serve piping hot.
The original daegutang recipe was published in February 2012. I've updated it here with new photos, more information and improvements to the recipe.